"Happiness is the best cosmetic."
Bobbi Brown.
Hello, young Padawan
What if we continued our summer season by talking about trivialities? I've been testing a small make-up brand that claims to be "clean, cruelty-free, and super quality" for a few months.
I wanted to go deep into the test, in different seasons, if the products were easy to apply, if the eyeshadows held up in hot weather, on long, intense days, and if the formulas evolved; in short, I tell you all this, and above all, I tell you what I think. Let's go.
Gen See, the little rising brand.
Above all, they offer "all-purpose" products. Cute tubes containing a tinted cream of different colors, which can be used on the lips, cheeks, or even the eyelids. Some liquid eye shadows that can be applied with the fingers or a brush, on the eyelids, or as an illuminator on the top of the cheekbones. The lipsticks can, like all lipsticks, also be used as a blush. In short, each product allows you to create the makeup that suits you according to your creativity, budget, desires, or time.
In principle, I find this idea brilliant. First, the space-saving in the toilet bag is considerable. I remember that as a student, I used this trick not to have to buy 30 different products. However, a product for several uses is relevant when talking about liquid or cream products because they keep for much less time than dry products.
With this little introduction being done, let's move on to the products themselves.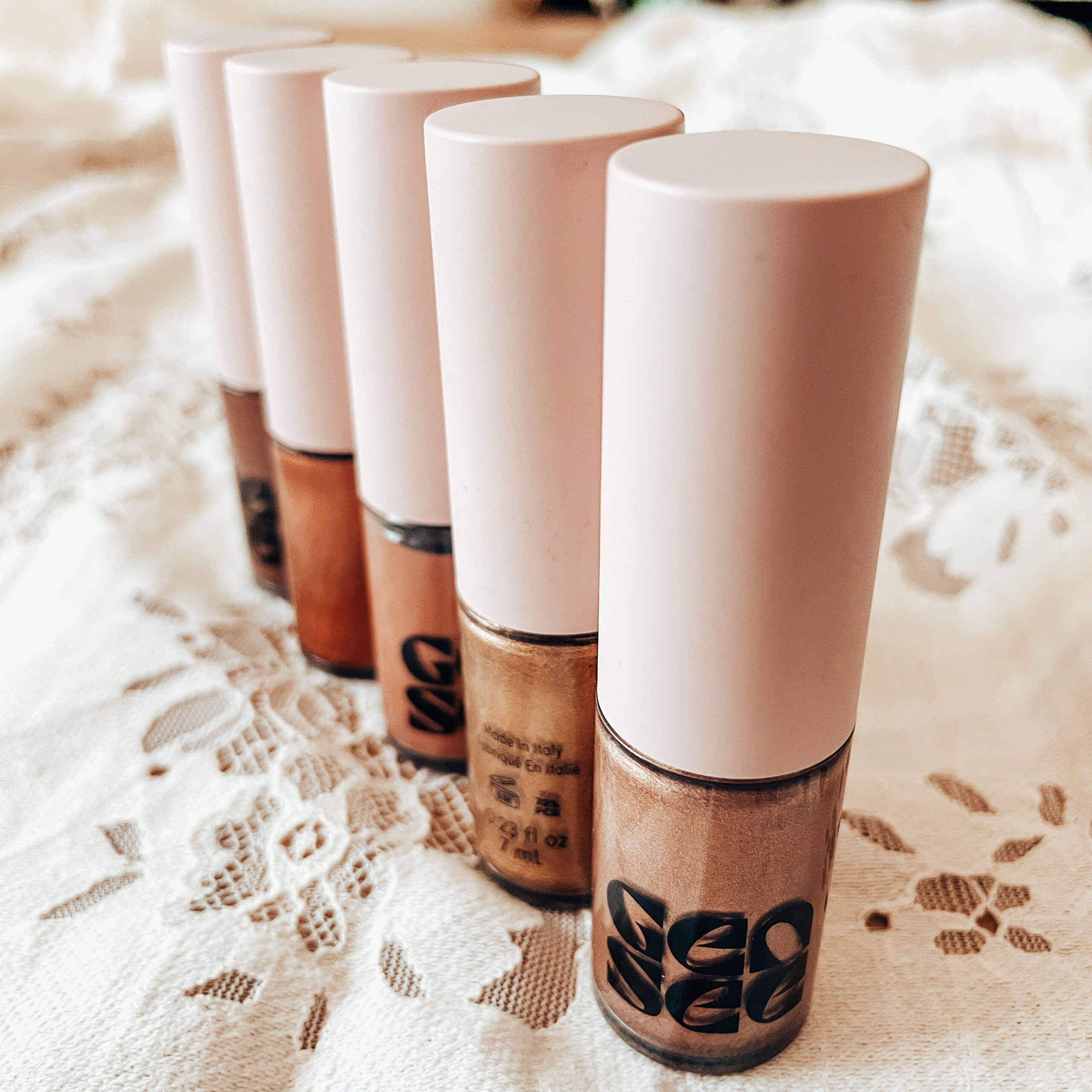 Liquid eye shadows.
There are different colors, in matte or metallic versions. I started with one of each first, and in the picture, you can see there are two mattes and three metallics. The deduction is, therefore, easy: the formulas are good, very good! Easy to blend; you can add more if needed. It does not dry too quickly, so even beginners can use it with pleasure. Easy to apply with fingers or a brush, knowing that the shadows will have less impact applied with fingers, as always with this type of formulation, and that's completely normal.
Once dry, they no longer move. The shadows last all day and don't fade or move, even in high heat, and I tested them on a summer hot wave. The makeup removal is like any liquid makeup: with makeup oil remover or any greasy remover.
A single shadow, whether matte or metallic, is enough to make a nice daytime makeup, but just a little advice, valid for any use of liquid eye shadow: if you choose to use two shadows, one matte for shade and a touch of light, always start with matte, because if you do the opposite, you will take away the light by blending your second shadow.
Clearly, you will have understood the crush is total. As for my preferences, it will just be a matter of personal taste. The matte color Plush, a pretty all-purpose brown, perfect for shading the eyelid in a minute, and metallic colors Desert Highway and First Light.
First Light is a super easy-to-use champagne. A little light on the eyelid, a touch on the top of the cheekbones, and presto, you're ready for new adventures. The perfect color for beginners, for no-makeup makeup, to apply in two minutes flat. Desert Highway is a gorgeous cold gold, which is pretty rare. This is a magnificent brass hue tint, therefore, rock n' roll to perfection, which can be worked quickly with a finger for a simple and easy look, or with a brush, for more intensity — to go with your punk dress and your Dr. Martens. Also, it is stunning over the Plush shade, applied in shaded beforehand, for a more dimensional makeup.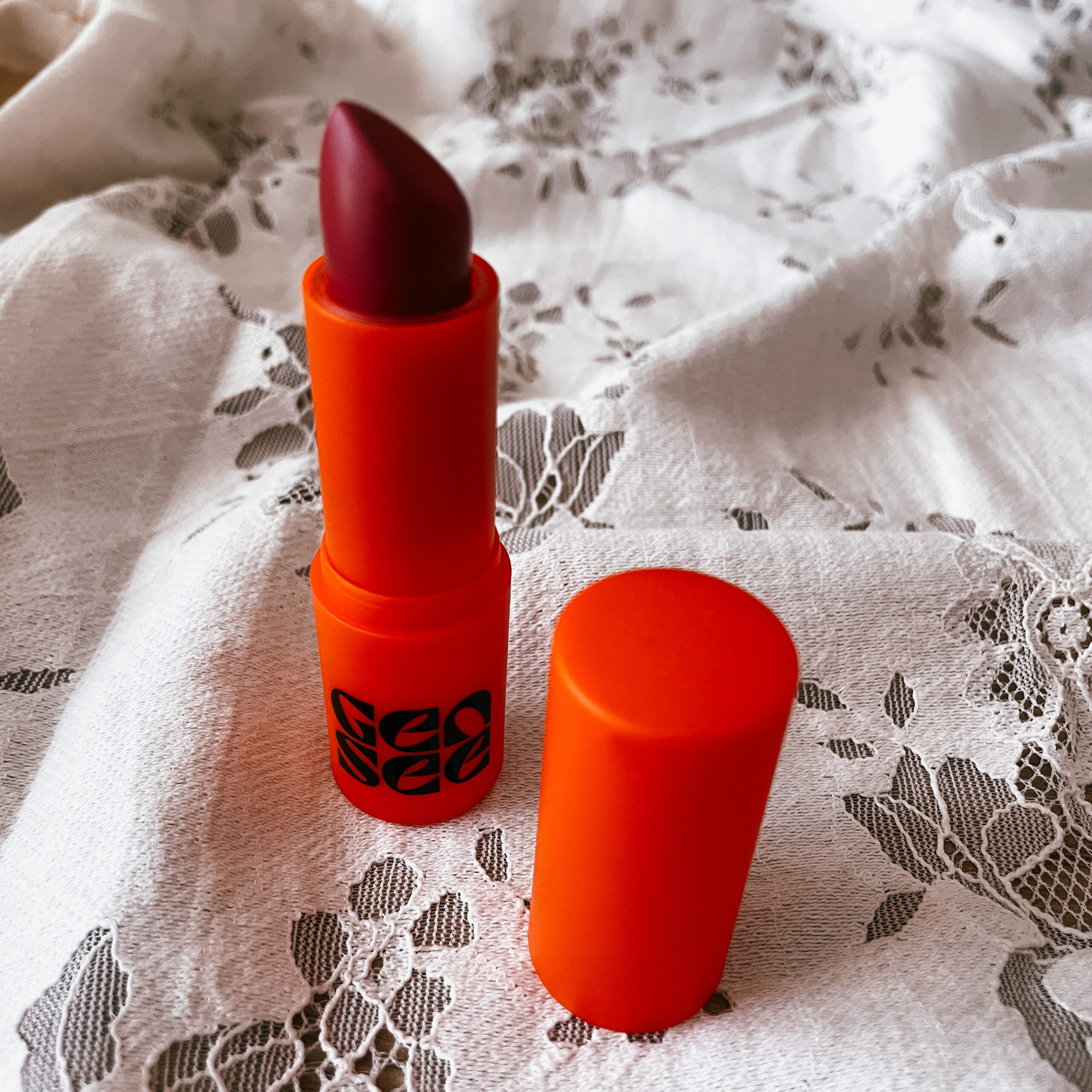 Lipsticks.
I chose the shade Tobi, a pretty dark pink/matte plum, and it reminded me a lot of the famous "Joli Môme" tint by Nars. I compared, and we are not far. The Gen See is just a bit more light. Matte, long-lasting, doesn't dry out the lips, at least not more than any good quality matte lipstick; its only flaw is perhaps its packaging.
Indeed, this little red plastic tube is not the most elegant, but the important thing is the quality of the lipstick, and on that, nothing to complain about.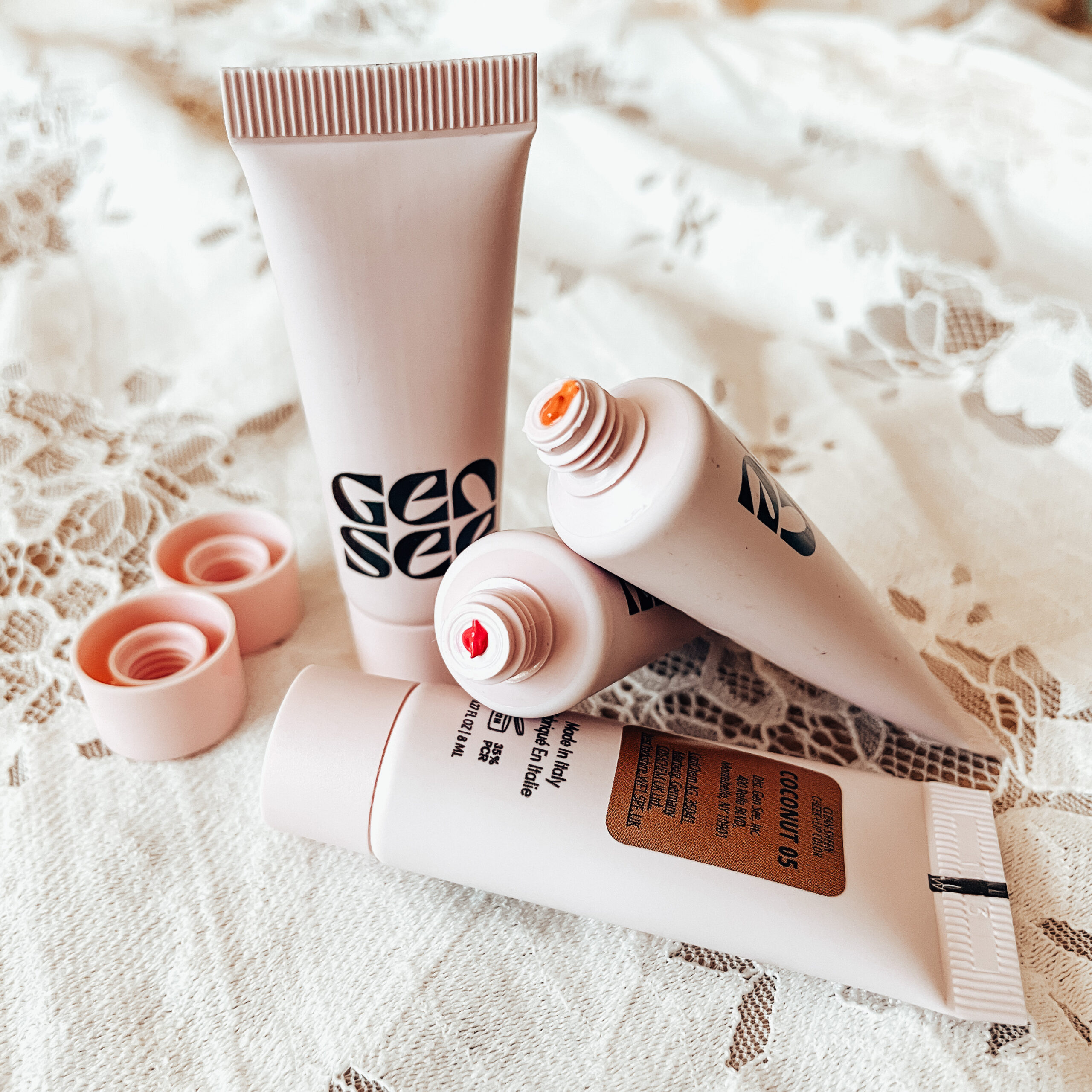 Sheen lip + cheek colors.
Also in love with them. A beautiful formulation, long-lasting. Indeed, as soon as the product is dry, it no longer moves. Easy to use with fingers, brush, or a sponge, depending on your preference, if you are already used to using this kind of product. Neophytes will place a micro-drop on the back of the hand, lightly mix the material using a brush or a damp sponge (beauty blender type), tap the excess and melt the product on the cheeks, with light tapping. On the other hand, only an expert hand will manage to apply it with fingers harmoniously.
As for the lips: it's child's play — to tap on your finger, and that's it. But it is a delicate color, a halo. You will in no case have a colorful rendering with this product. This is not an ultra-pigmented lipstick, but a cute tube of color to take everywhere, on the way to the office or a weekend, to subtly enhance the complexion and the lips. My favorite colors? To choose is to give up, lol. I love them all, but let's say, Lychee, a pretty old rose for an ultra-natural no-makeup makeup, Coconut for a perfect tanned effect for the summer, which I often use with Apricot, a pretty peach that goes with everything.
A little reminder about liquid or cream products for the complexion: if you use a powder-finish foundation or powder your face before using your cream product: it's dead. It will patch and lift your foundation, and you will end up with a terrible cakey look. Cream products don't like powder, so if your BB cream or your foundation has a more or less matte finish, it's up to you to see what is compatible or not by doing several tests if necessary, and above all, to powder after your cream products.
In conclusion, you will have sensed it: I loved them. Beautiful formulas, long-wear, and pretty colors, we can have fun creating the makeup that makes us happy, from the simplest to the most sophisticated. Those who don't have the time will love the versatility concept of the products. You can take a tube, an eye shadow and get a look in five minutes on the metro or on a weekend. I'll keep an eye on this up-and-coming little brand, hoping they'll develop new formulas as great as these.
So much for this beauty article, but sometimes, a little futility in this world of brutes feels good! I wish you a great weekend, and see you next Friday!
XO ✨