Hello, young Padawan
To follow up on the energy balls recipe from last week, I wanted to give you the translation of my famous coconut-date energy balls recipe, so that you too can appreciate it …
So on your marks, ready, go: Here is my recipe from the French part of my blog.
Zoom on heart function.
The superfoods of the day are: dates, almonds, and raw cocoa. In the form of a cute snack that you will be able to bring to work, on the beach or at your workout, to give you a rebound of energy when you feel drained and tired.
Three magic foods for heart function
– Dates are full of minerals and micro-nutrients. They contain copper, zinc, iron, they are full of amino acids that help reduce blood pressure. They are rich in antioxidants (because having a pink buttock is good, but if it is not wrinkled it is better! lol). Dates contain vitamins C, E, B2, B3, A, B1, B5, B6, and K. They are also rich in protein and with all these nutrients help the body to fight fatigue and strengthen its immune defenses.
– Raw cocoa (not to be confused with cocoa powder) is full of flavonoids, a powerful antioxidant that reduces the risk of heart disease, lower bad cholesterol, and could even prevent certain cancers.
It is also one of the biggest sources of magnesium (lowers blood pressure and excellent for the nervous system) and it is finally an excellent source of iron.
– Almonds help the body maintain good heart function. They regulate bad cholesterol by the presence of phytosterols and the arginine it contains helps with better blood pressure. Great source of omega 3, they are also rich in calcuim, magnesium and contribute to a good intestinal transit.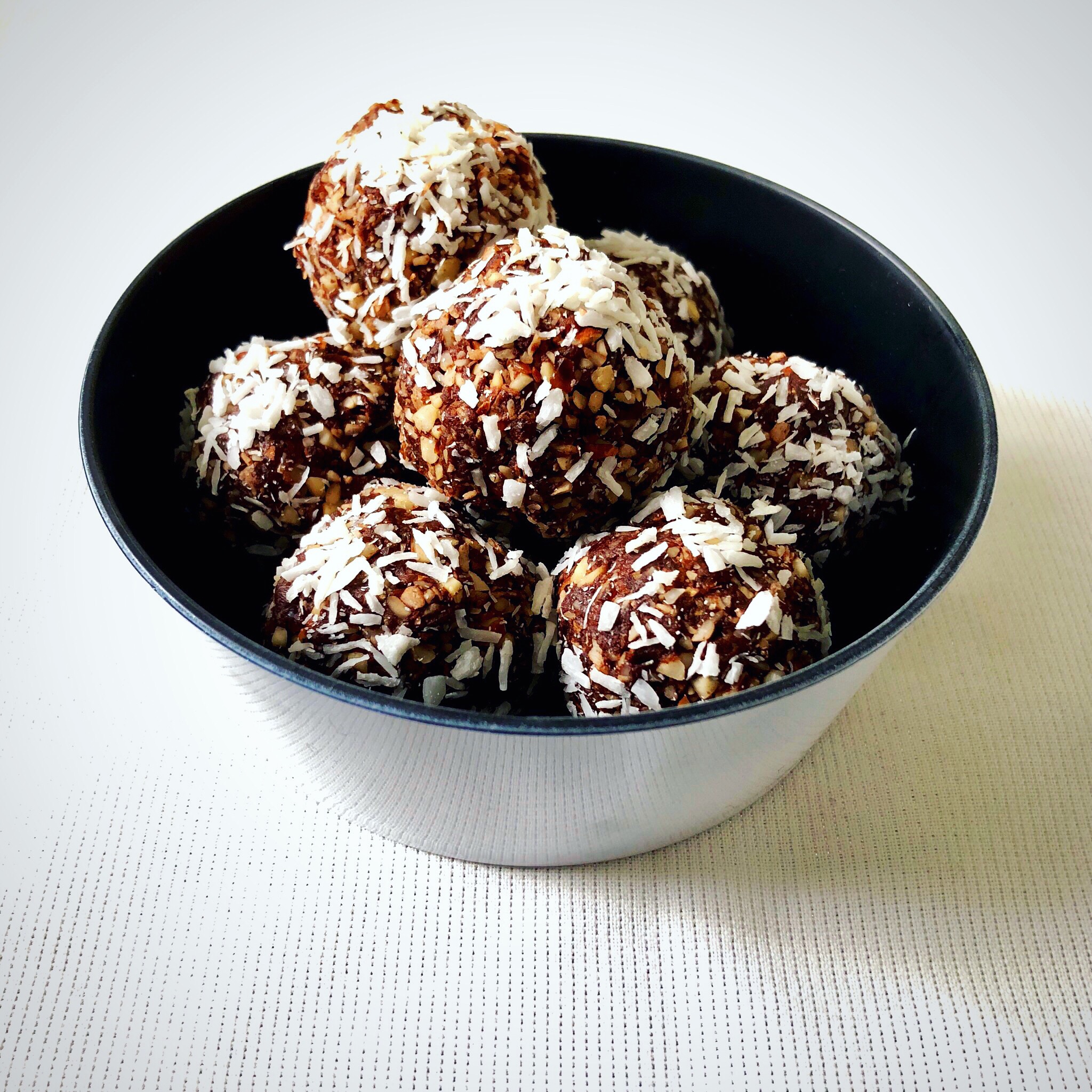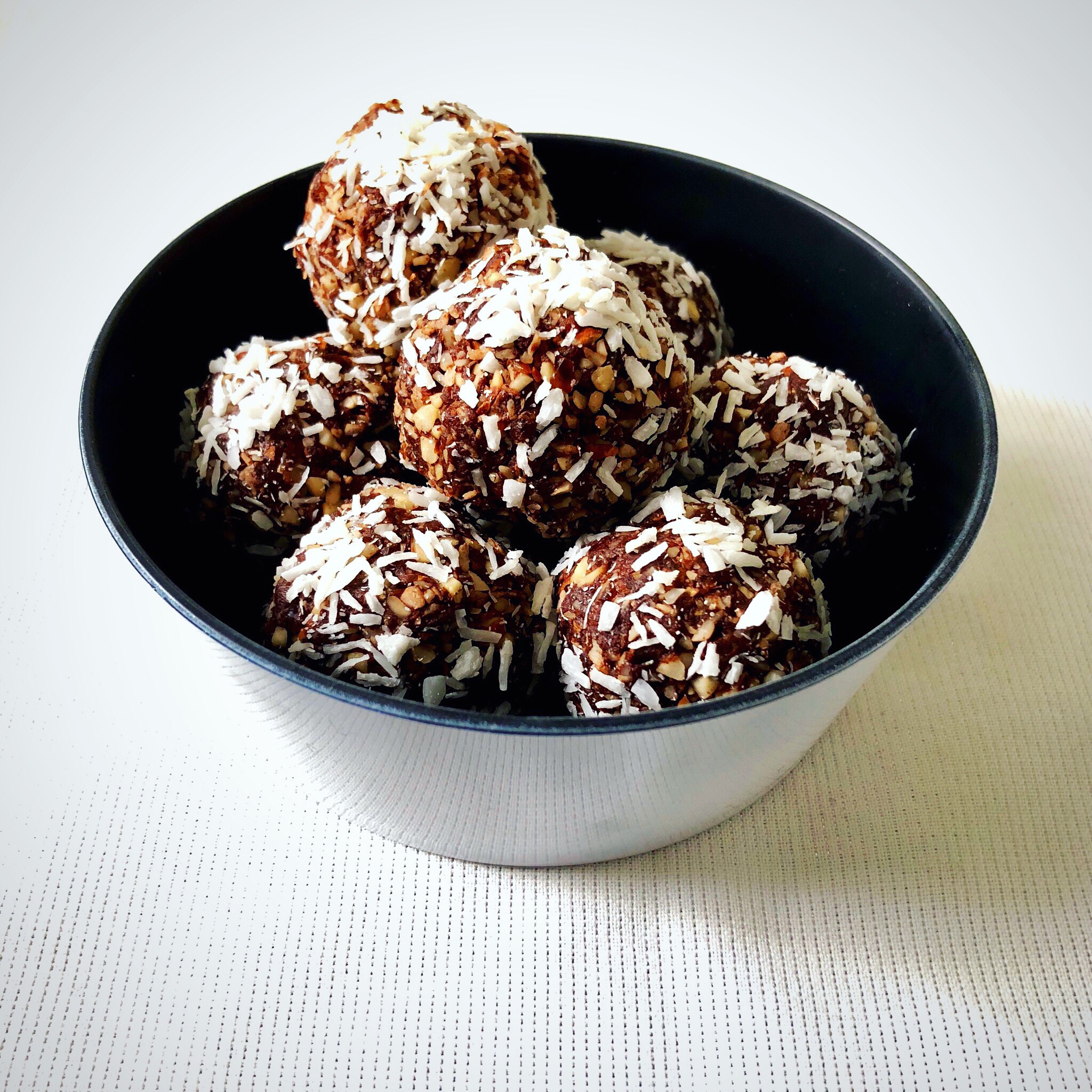 Coconut-date energy balls
For about 8 pieces.
6 Medjool dates
1/2 cup almonds soaked overnight in a bowl of clear water
1/4 cup coconut powder + a few for the coating
2 TBSP of raw cocoa powder
1 pinch of vanilla powder
1 TSP of virgin coconut oil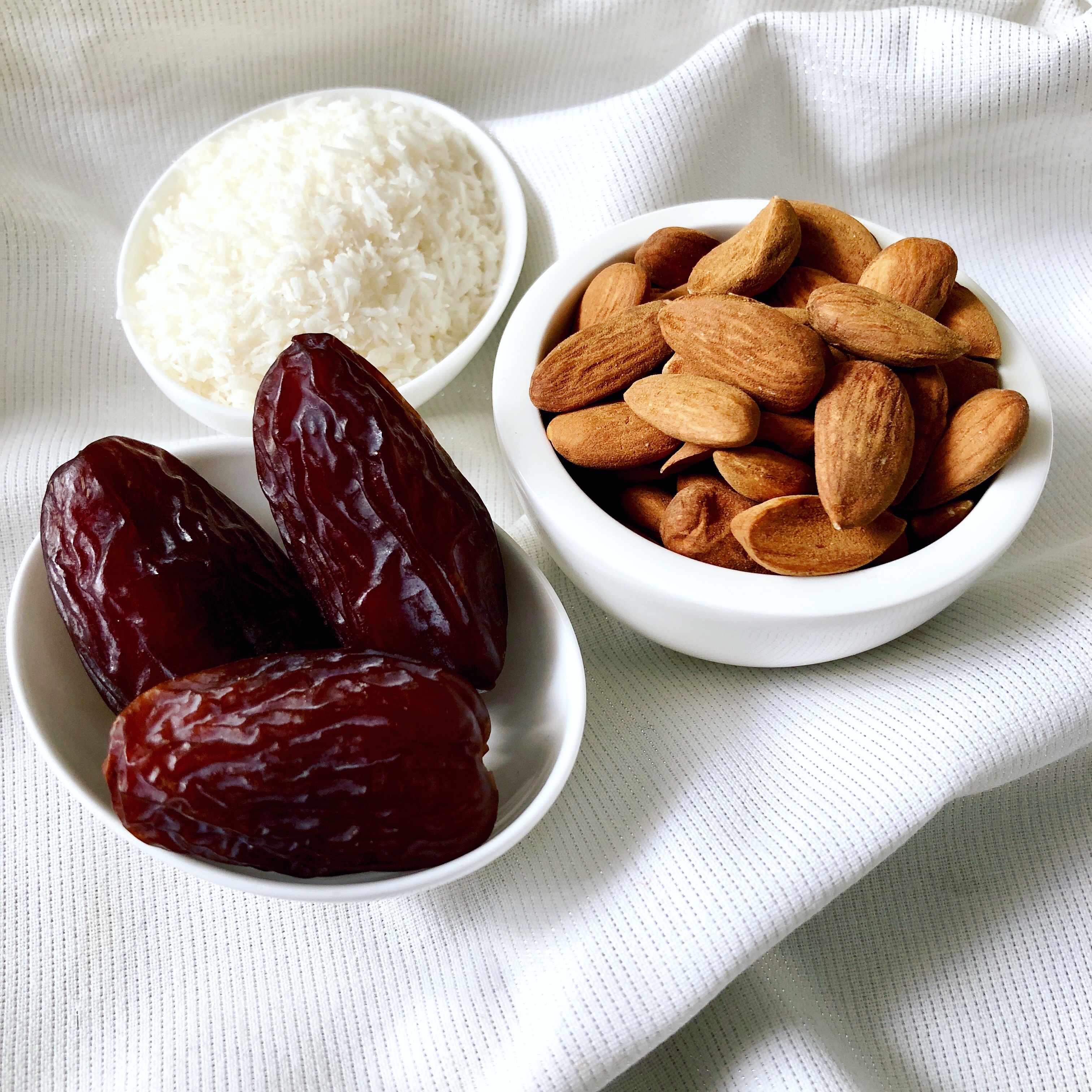 RECIPE
Be sure to soak the almonds overnight, rinse them, drain them a few minutes before the recipe and dry them in a clean cloth.
Remove the stone from the dates and place all the ingredients in the blender of your choice.
Mix until a sort of powder is obtained, without large chunks. Reserve in the refrigerator for one hour.
With clean hands (needless to say, but I say it anyway!) Form the balls with the help of a TBSP or a TSP measuring tool and roll them in the remaining coconut powder.
Presentation
For a great snack, serve 2 coconut date pearls with a portion of fresh fruit of your choice. Here I chose mango. And see, it is not very complicated to eat healthy snacks in complete happiness!
You can keep them about 3 days in the fridge.
With all these vitamins, you're going to have a pink and glowing buttock on the beach this summer, I guarantee it. 😉
XO ❤️