"We see the bee land on all the plants and get the best out of each one."
Isocrate.
Hello, young Padawan,
It had been a long time since you had dealt with one of my awful puns in the title; it was time to reconnect with the tradition. Here it is, lol!
If there is an ancestral natural treasure that we share from generation to generation, no matter where we are on earth, which can heal almost anything and everything, from burns to sore throats to cuts or skin disease, it's probably honey.
The adult bees are ready to sacrifice themselves to save the larvae, the succession, and the queen, who is the only one who can lay eggs. Why? Because they are aware that they are part of something much bigger than themselves, that it is for the survival of the tribe, the species, the bee world, the order things. Their little ego is far from all this, and curiously I am sure that they are mentally much more balanced because by being part of a community, of a whole, they know that after them, the next generation—a passing of the baton, in short. If nature allows it, the best we give on earth will last for eternity. Thus the inevitable is understood; death is no longer an unbearable drama but becomes a continuity of the great cycle of life and the order of things. Long live the bees, and long live honey.
Let's go.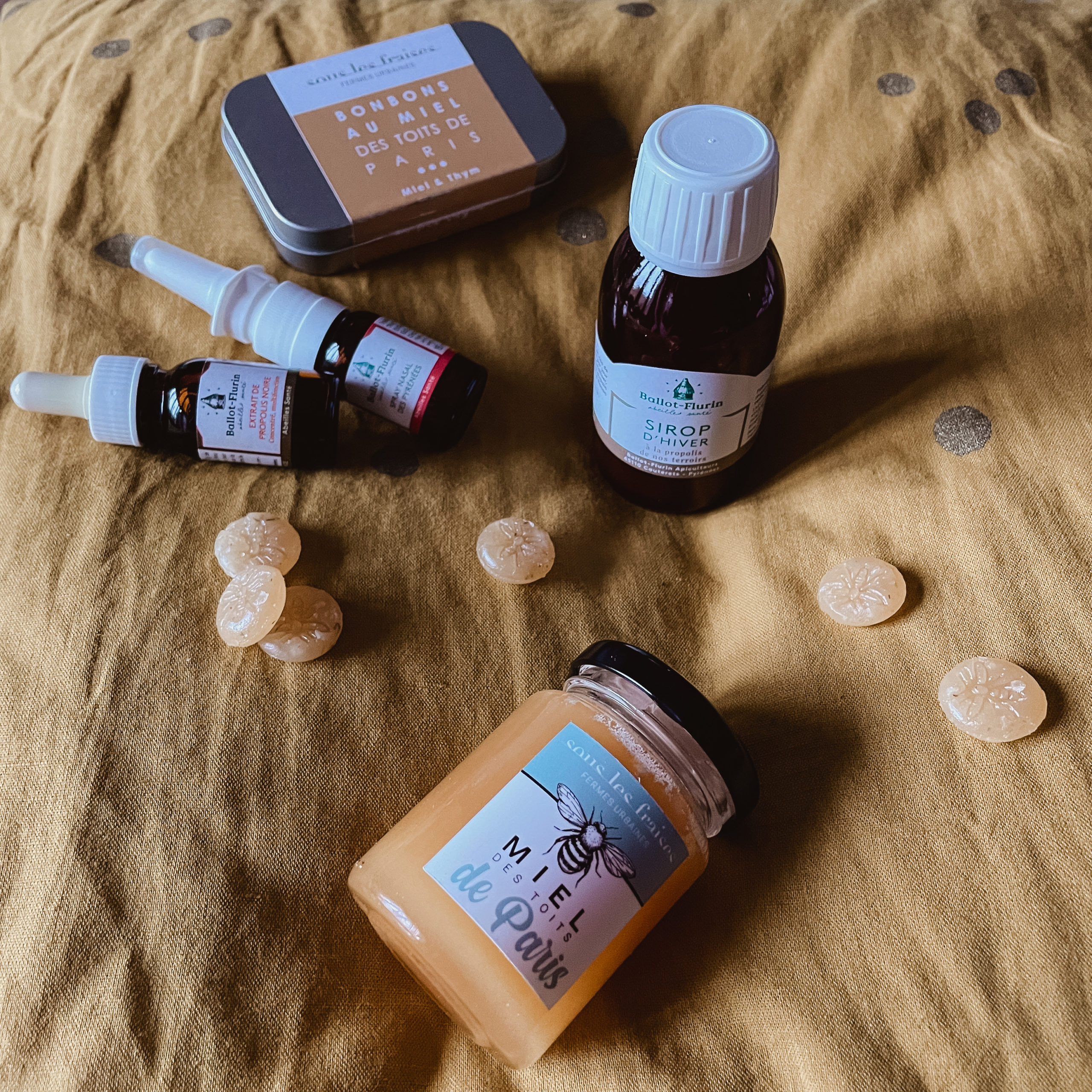 Winter S.O.S treatments
When it's freezing in the realm of runny noses and scratchy throats, there is one thing that works: honey. Alone or accompanied by herbal teas, decoctions, essential oils, you make your little mess, and presto, you are back on your feet in less time than it takes to say it. Here are my favorite remedies to start with as soon as you get cold symptoms.
It goes without saying that self-medication is a personal responsibility, and you have to check your allergies and know yourself—so I'm saying it anyway. We are among adults gifted with reason here on this blog.
-The classic thyme-honey herbal tea. Nothing like it to cleanse and soothe burning throats. In your prettiest mug containing a tea filter, place a few spoons of organic dried thyme, then pour boiling water. The more thyme you put in, the more effective it is but difficult to drink—the taste of efficiency, in short. When the herbal tea is ready to drink, that is to say, hot but more boiling, pour a spoon of thyme or lavender honey. Drink slowly while thinking about the meaning of life or while watching your favorite series.
–Black propolis – These are throat drops that help mucous membranes being attacked by germs or bacteria from space … or at least the space you caught your thing in, lol. It is strong to drink, but I have never had such an effective remedy for the onset of angina. FYI, this solution contains alcohol, but there are some alcohol-free formulations.
–Propolis nose spray – For colds with the feeling that "it is running behind" the throat. Sorry for the yucky thing, but I think we all understood each other. You know, colds that start with a runny nose and end with a stupid cough.
–Winter honey syrup – It is either for the youngest who cannot stand black propolis because it is too strong or for persistent sore throats. It forms a beautiful protective film, as insulating, comforting.
-Honey-thyme candies to soften throats on fire between two doses of syrup or propolis.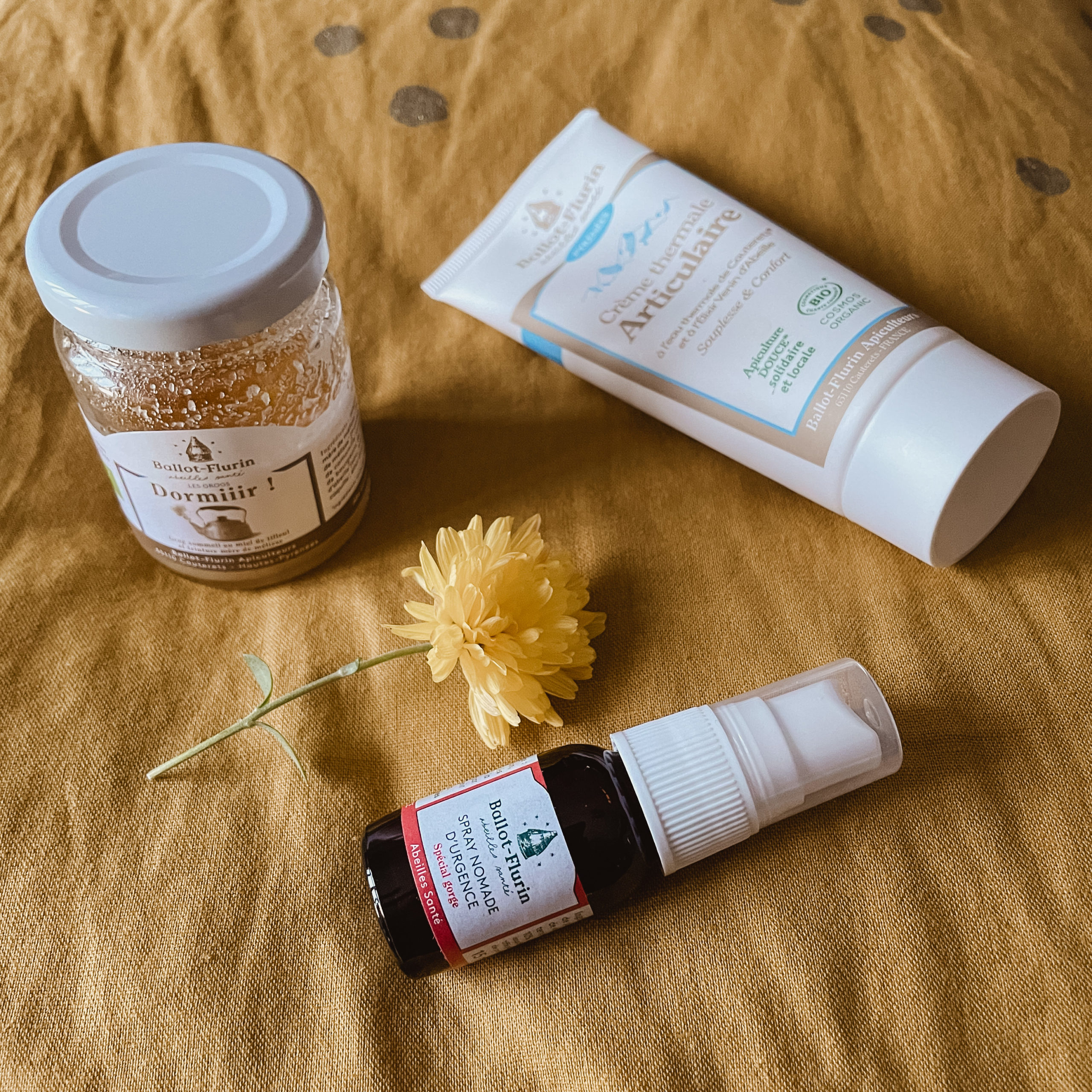 Honey tips
Because the benefits of the beehive go beyond a runny nose …
-For times of stress, there is something that works great, at least on me and on the people around me: the special sleepy grog. It contains linden honey and lemon balm mother tincture; these are the two magical ingredients of this trick that sends you into a royal and regenerating coma to wake you up in great shape on an important date.
-For singers, or those with a tendency for voice loss or vocal weakness: this propolis and honey spray does wonders. You will be able to speak loudly throughout your conference without ending up voiceless. You're welcome.
–The gel for joint pain, but also muscles and tendons. For boxers, swimmers, for those who trail, run, cycle, … or who simply get old. To be massaged in the place of discomfort or stiffness, without any pun intended, little rascal! Lol.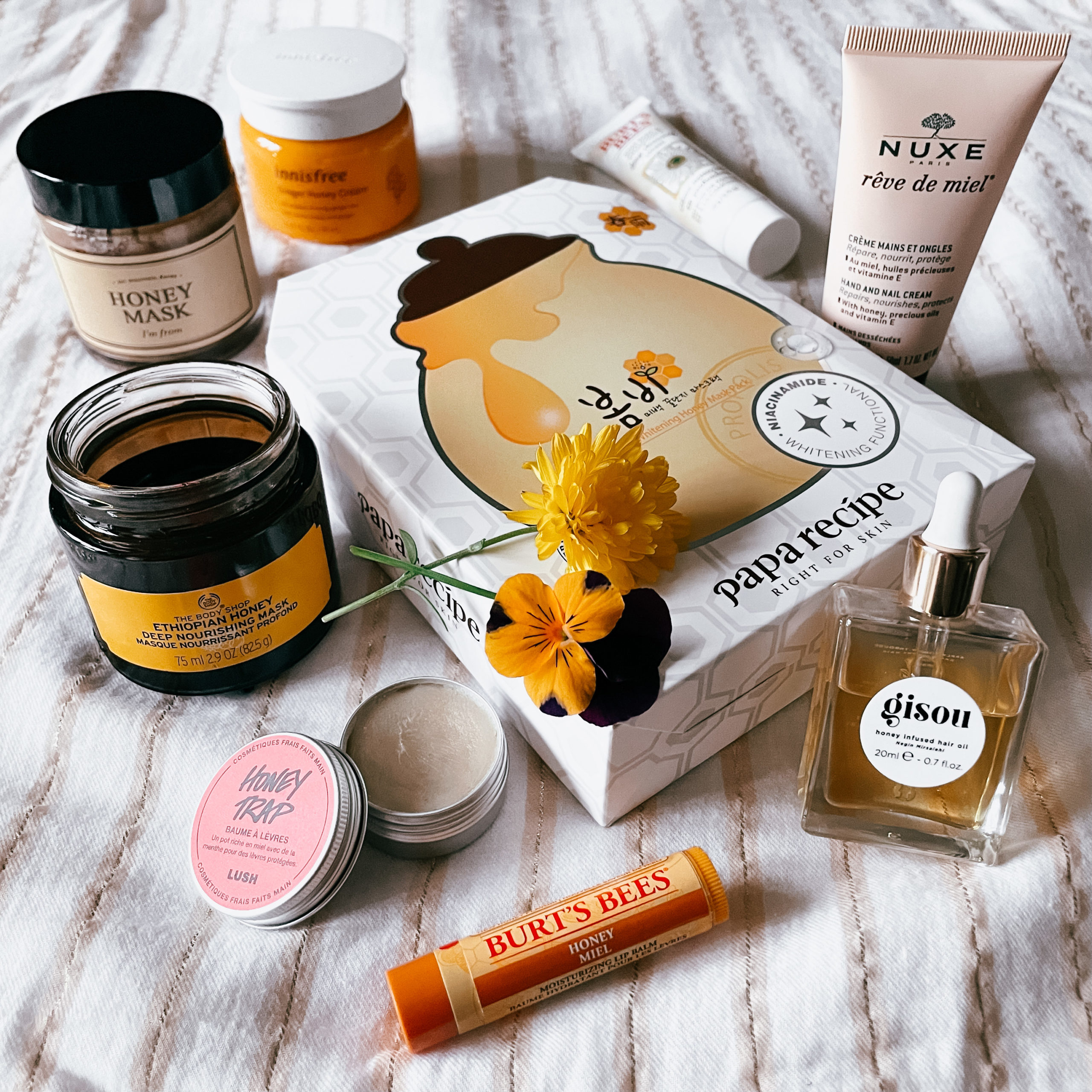 Honey cosmetics
Did you know that honey is used in certain hospital wards for severe burns to improve healing, reduce swelling, redness, prevent infections, and improve the general appearance of scars? Honey is an excellent solution for people who have acne-prone skin or for whom winter rhymes with tightness, discomfort, and redness.
-For a prettier skin texture, a fresher complexion, less redness or to reduce acne scars, for example:
Honey mask in jar: The body Shop – Ethiopian Honey (they are currently out of stock, ed) or the Honey Mask by I'm From. They do the same thing, and are both of the same quality.
-Sheet masks: (bombee honey mask from Papa Recipe). To bet on the repairing side of honey, and hydrating hyaluronic acid. A magical moment for sensitive skin having a little trouble in winter.
–A soothing cream with honey and ginger from Innisfree. It is nourishing for the winter without being too heavy. No more tight skin and uncomfortable cheeks.
-Gently cleanse the skin enjoying the soothing benefits of honey: Burt's bees deep cleansing cream.
-For calm hands that smell good, the rêve de miel hand cream from Nuxe.
-For soft and delicious lips, the Burt bees lip stick or the one from Lush, the honey trap.
-And finally, for nourished, supple, shiny hair that smells divinely good, the honey infused hair oil from Gisou.
That's it for today, or almost, because here is the recipe for one of my favorite desserts and of a disconcerting simplicity, just to give you perhaps a nice idea: In a bowl, place a few spoons of soy yogurt ( or oats, hemp, sheep, or goat yogurt …), a few crushed nuts, a pinch of vanilla powder and a spoon of honey—a real moment in heaven.
XO 🐝