"The goal is to learn to take care of yourself to feel free."
Deborah Day
Hello, young Padawan
I take advantage of this period when you have time to take care of yourself to discuss the evening skincare ritual. For once, no excuses, lol. Softness and care, we all need it.
Well, you will still have to manage my sense of humor that is in the total opposite direction, but I suppose that you will have more patience since you do not have to see Brandon, the guy from the accounting department, or Brenda from the archives.
Here, we don't talk about a "routine" or "cocooning", because we don't like boredom nor caterpillars. I prefer the elegance of the evening skincare ritual, which takes us to the SPA, bath with rose petals as in magazines, dim lights, make yourself a good herbal tea, light a candle (but don't put it under the towel holder, it is not a good idea, ed). Do you feel the atmosphere? We are fine. If you don't have rose petals, carrot slices will do the trick (kidding, unless you have a horse at home).
Keeping in mind that everyone does absolutely what ones want, that cosmetics are not a vital obligation and that if it annoys you, it is useless to enter into the ritual of face care because you are not going to enjoy it. Therefore you will not have the expected results. It's like yoga. If you don't join the mind, you may buy the greatest mat, the "master yogi" outfit, you will stop after two weeks, or you will do it without love, and you won't get any benefit from it.
If your thing is to make jams or marmalade, take out your cauldron and read no further, I see you next week; or continue to read if you're curious… Last week I read an article on permaculture seedlings, however, I do not have a garden. Do you follow me? I think you do, lol. So, let's go.
Face care
The general rule is: The morning is dedicated to the protection (sun, pollution, etc.), the evening to regeneration.
This is basically what you have to understand, even if there are dermatologists who question these great principles … Skincare is a science in perpetual evolution, and each one has his own belief. It is not easy to throw out great truths here and there. This article also contains my own confirmation bias. This is just my example, my truth. What makes (with my diet and my assumed immaturity, ed) that I am still called miss at 39 also has a genetic part (and very very immature personality, lol). But in resumé, you have to experience for yourself what is good for you, how many steps, what products, find what suits you. And your truth will not be mine, nor your brother's or your neighbor's. These two principles seem to be logical to me, however, so I apply them.
When it comes to skincare in general and moisturizer in particular, I'm from the team that pats and dab, not the raccoon team that disassembles the face by rubbing hard. If I have to move my hands on my face, I slide upwards, like for hyaluronic acid. But you do well as you want my Padawan, as I said.
In what order and what to do?
I would say that the minimum evening ritual would be: cleanse – moisturize. Now, as you might expect, your faithful servant is doing a little more. Just a bit, lol. Let's say that with retinol, your skin needs a little more "maintenance", lol.
Here are the steps of my evening skincare ritual which differs depending on whether I use retinol or not:
For evenings without retinol :
Double cleanse including make-up remover then a cleanser
Mist
Hyaluronic acid
Mist
Targeted serum (two different serums in two different zones, in zoning)
Eye serum
Eye cream
Mist
Night cream
Night mask (twice a week) or 3 drops of oil
Lip balm or lip night mask (twice a week too).
It takes me a total of 5-7 min. I timed three evenings in a row to be sure of it. If I do a mask, I position it either after cleaning if it is one I need to rinse or after hyaluronic acid/mist if I just need to remove the excess after the pause time and I move on to the rest of my ritual. And in this case, of course, it takes me a little longer.
When I use retinol :
Double cleanse including make-up remover then a cleanser
Mist
Hyaluronic acid
Mist
Simple moisturizer on the areas to be protected from retinol
Eye cream
Lip balm
Application of retinol
Simple moisturizer on the treated areas.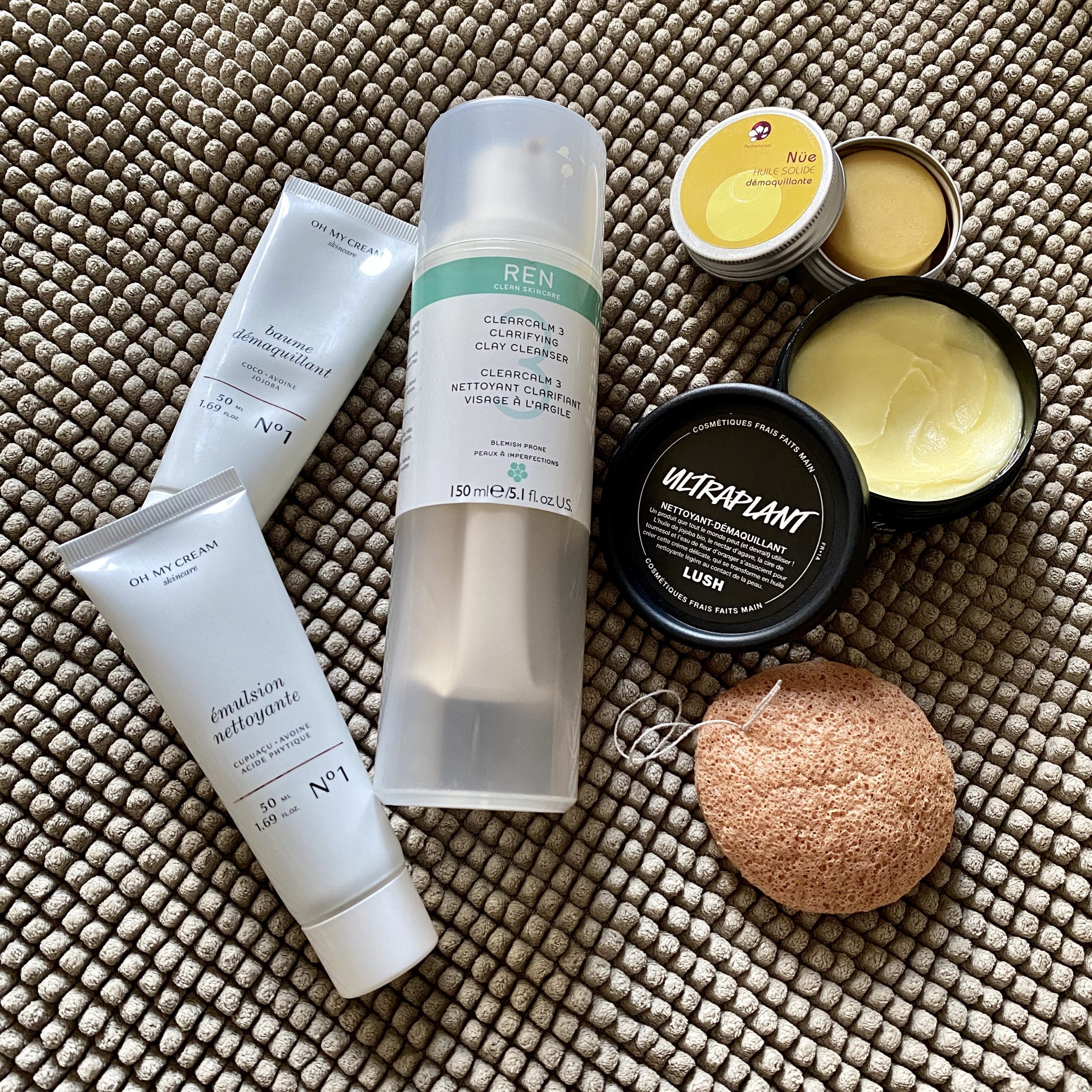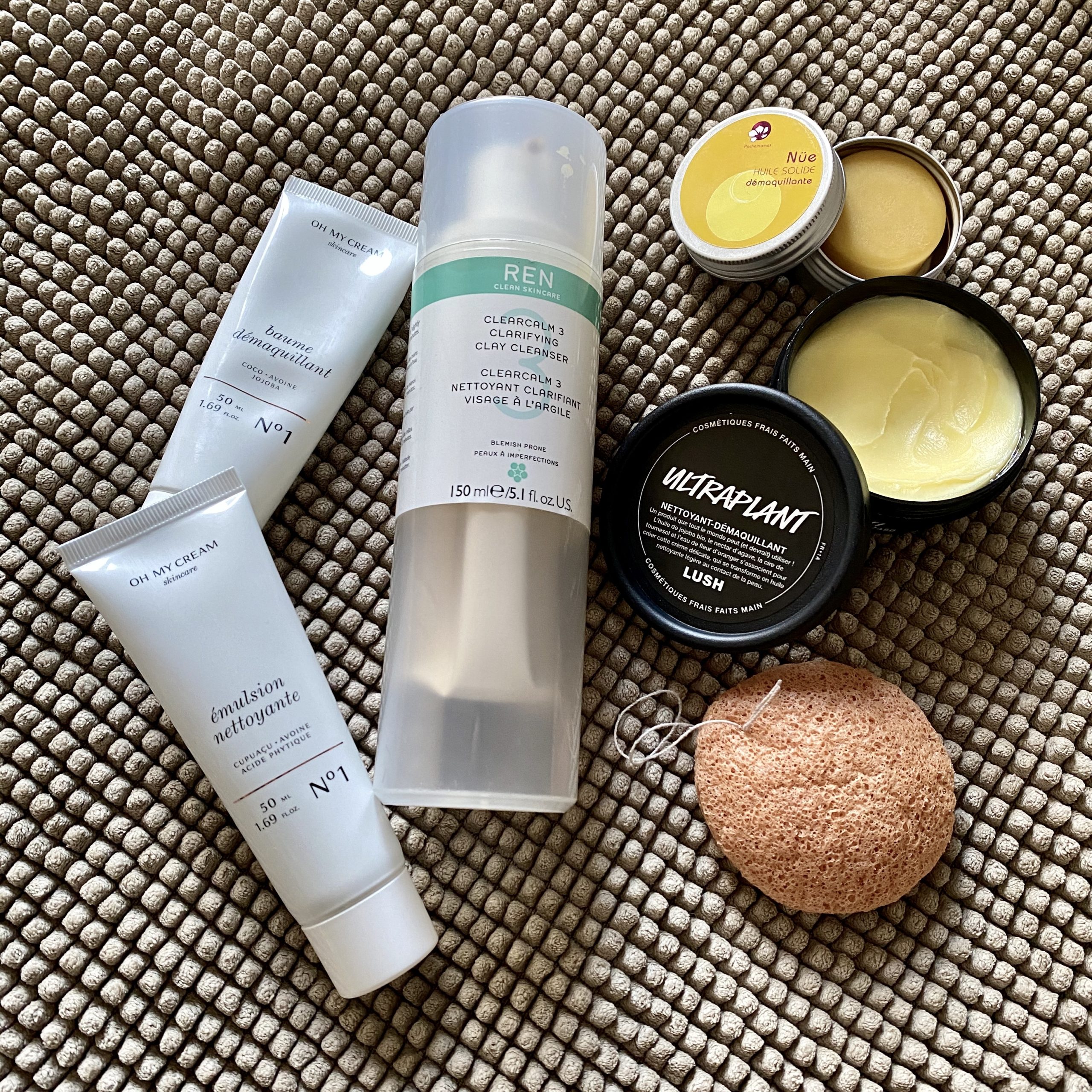 How to properly cleanse your skin?
Of course, it's not the same if you live in Montana, doing goat cheese without makeup or NYC, taking the subway and doing makeup like a YouTuber.
I have adopted the Korean layering technique for more than fifteen years, which begins with a double-cleansing. What is it? It is firstly to remove make-up from your skin with an oily substance or a cream depending on what there is to remove, then clean it with a cleansing product, knowing that the second product is not necessarily a foaming product, it can just be a cream, paste or gel.
Essential questions to determine if you need it :
Do you choose (= and/or) a sunscreen, a foundation, a BB cream, a waterproof mascara? If yes: double cleansing with cleansing oil or balm first.
Just powder and a touch of light mascara? One-step makeup removal may be enough.
No makeup at all? One-step makeup removal may be enough too, but you do as you want.
There are two types of balms or cleansing oils, those which emulsify into a kind of milk and are easy to rinse, which can possibly be self-sufficient, and those which do not emulsify. For them, it will, therefore, be necessary to use a konjac sponge (I use the Honest Beauty one), or a warm damp cloth to remove the oil, then proceed to the second step of the double-cleansing. No choice for these ones.
When to use a cleansing cream? When it is not useful to use an oily substance. If you don't have a UV filter, just a shot of concealer, powder, light mascara, eye shadow. It can be used as a single cleanser if, for example, you were not wearing make-up, but you can choose to continue double cleansing with a cleanser right after if you want. Your skincare, your rules.
What product to use as a "cleanser" after removing makeup? As a sensitive skin, I use a non-foaming cleansing cream, or a non-foaming cleansing gel, after my makeup cleansing oil or balm. Clearly: I avoid surfactants. No foaming product here, otherwise I will make a remake of "the walking dead" on my cheeks, but I bet you would like to see that, little rascal.
Why are many people (me too!!) against micellar waters? Because the famous "micelles" used in these products are surfactants, some are even sulfates. So it's a product that you must rinse off like you rinse off your shower gel, except that people don't rinse it off. And that is not right. In the long term, the skin becomes tarnished, can make pimples, the skin is attacked so it cannot regenerate at night, the pores can become clogged … It's no for me, but as I said before: you do you.
Eye make-up removers, like "two-phase" ones? It's not for me too. They give me milia or eye irritations. In addition, rubbing this delicate area with a cotton pad leaves me …speechless.
How to apply hyaluronic acid (properly)?
On clean skin, moisten the skin with a tonic or floral or thermal water corresponding to the skin type. Thoroughly saturate the liquid on the face by dabbing with both hands flat. Then apply hyaluronic acid on the face before the skin dries.
Wet the skin again, then before it dries, apply the rest of the ritual, perhaps a serum, moisten again if necessary and fix the hydration with a moisturizer. It is the cream that blocks the hydration into the skin. For skin in need of nutrition, you can finish the ritual with a few drops of oil.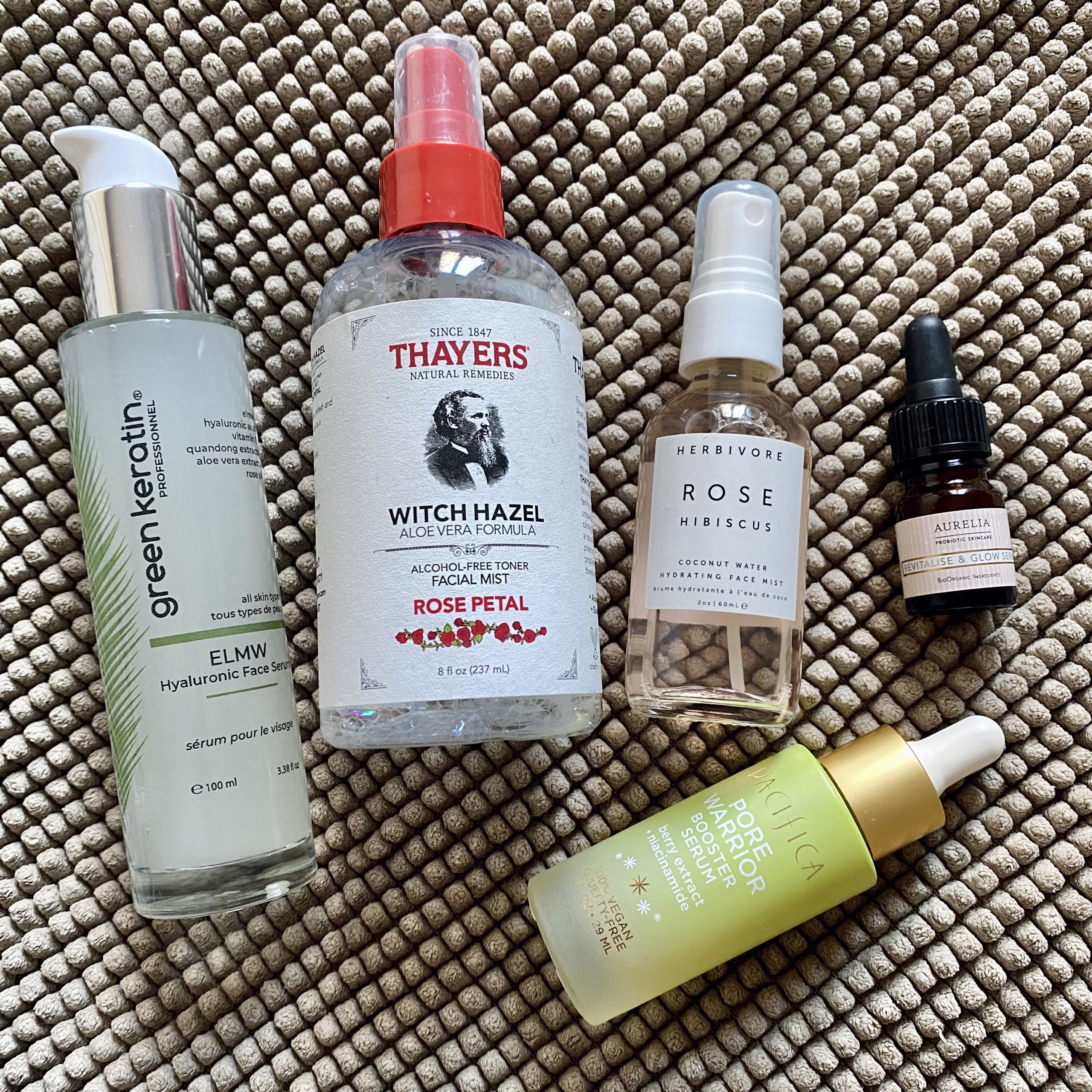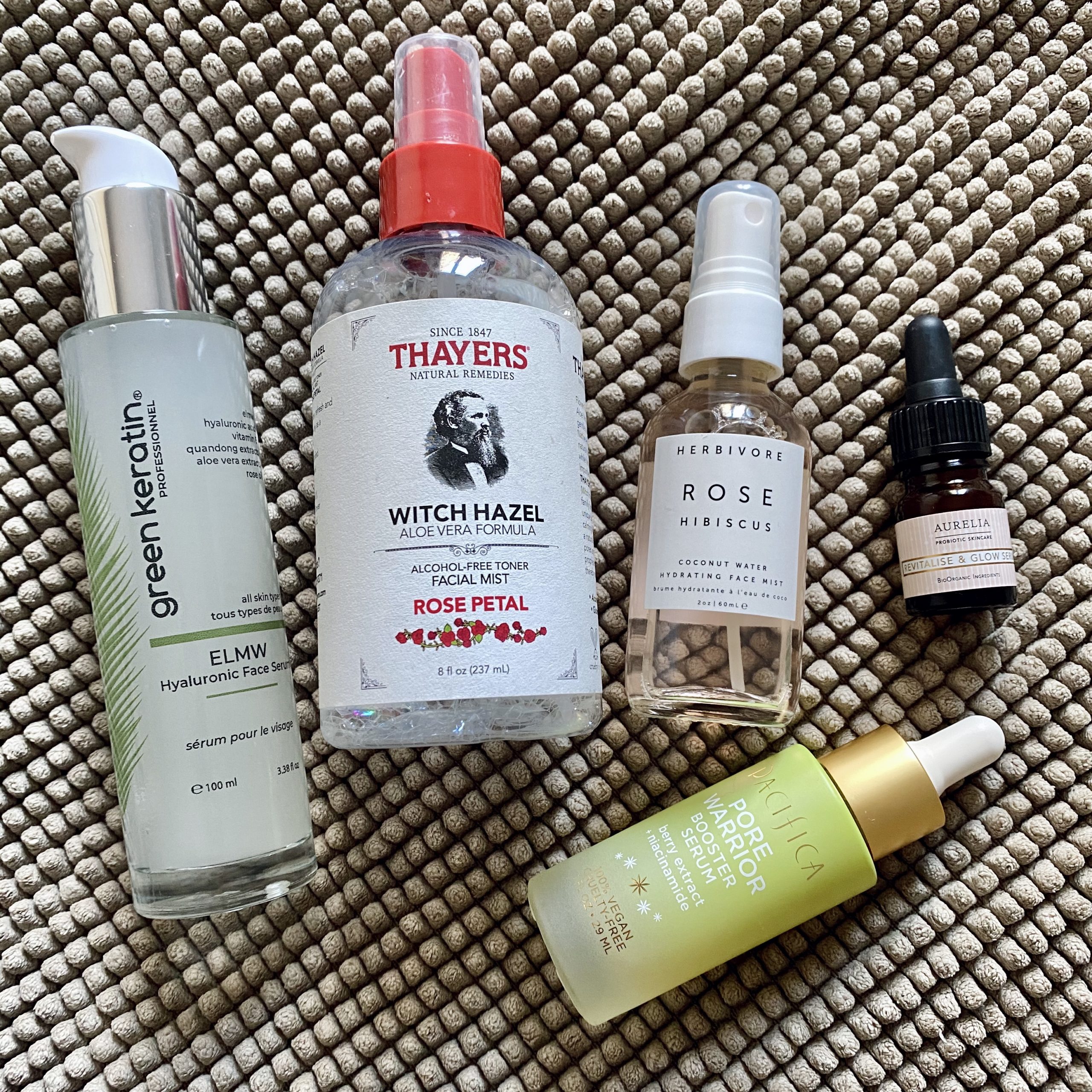 serums
Regarding the serums, I follow the same logic as for the masks: Knowing that the skin has different areas with different needs, it can be interesting to do some zoning, meaning to use a serum for the nose, forehead or chin, and another one for the cheeks, the neck, another for the ears, nah I'm kidding.
Pores
A visible pore is a thirsty one. It needs water. Hyaluronic acid will wonderfully regulate the appearance of pores and make them less visible.
To unclog them, these days I use "Bye Bye Blackhead" from Some By Me. Gel product to be placed only on visible or clogged pore areas, which foam after one to two minutes and make you look like a lil'monster. Leave on for 5 min maximum. There is also one from Pacifica: The Pineapple bubbles clarifying mask. Gel mask that foams too, to be used in the concerned area. These are two equivalents, one is Korean, the other American.
Still in the spirit of zoning, only on the pore area and after hyaluronic acid, I use the "Pore Warrior Booster" serum from Pacifica, which contains niacinamide, another excellent active ingredient for refining the skin texture.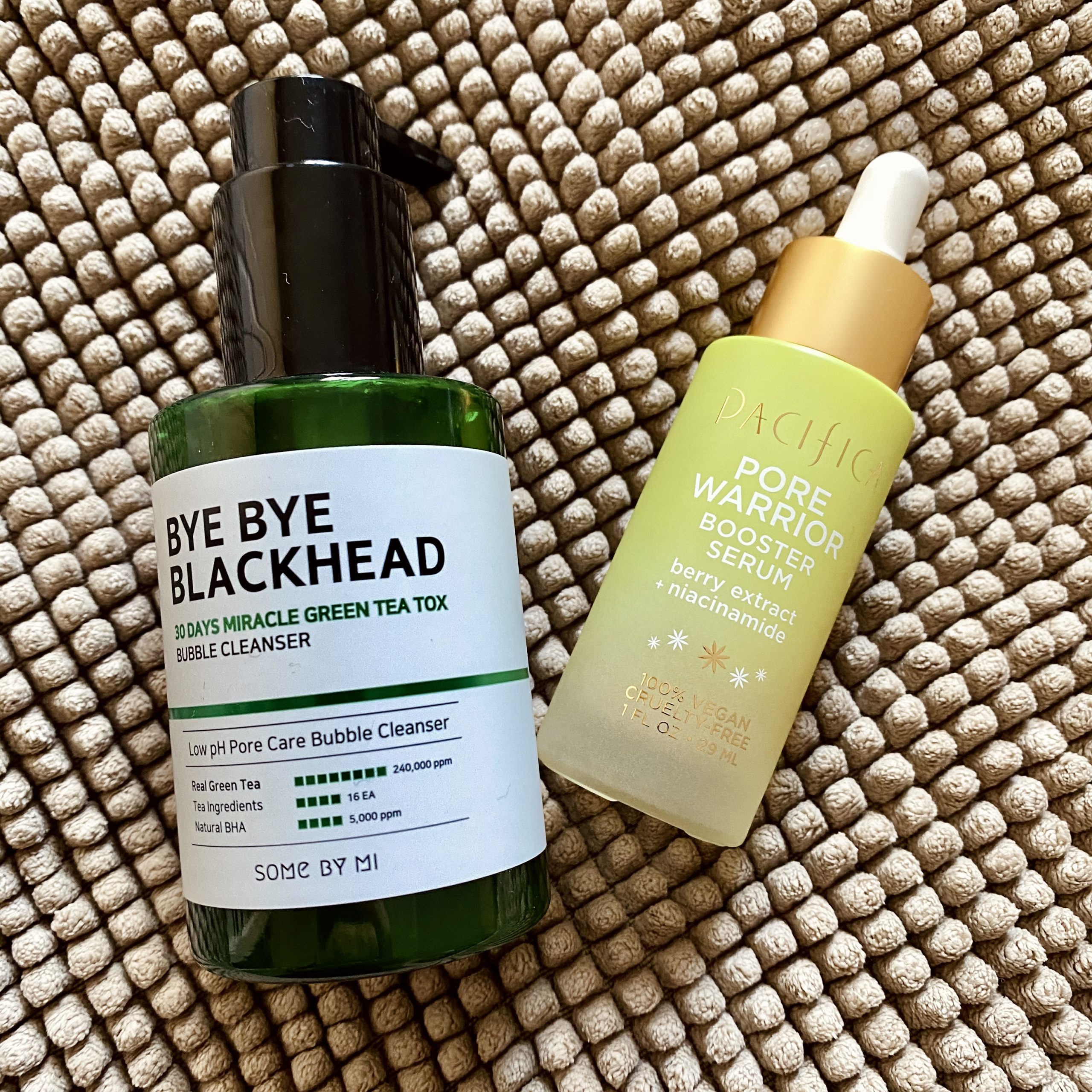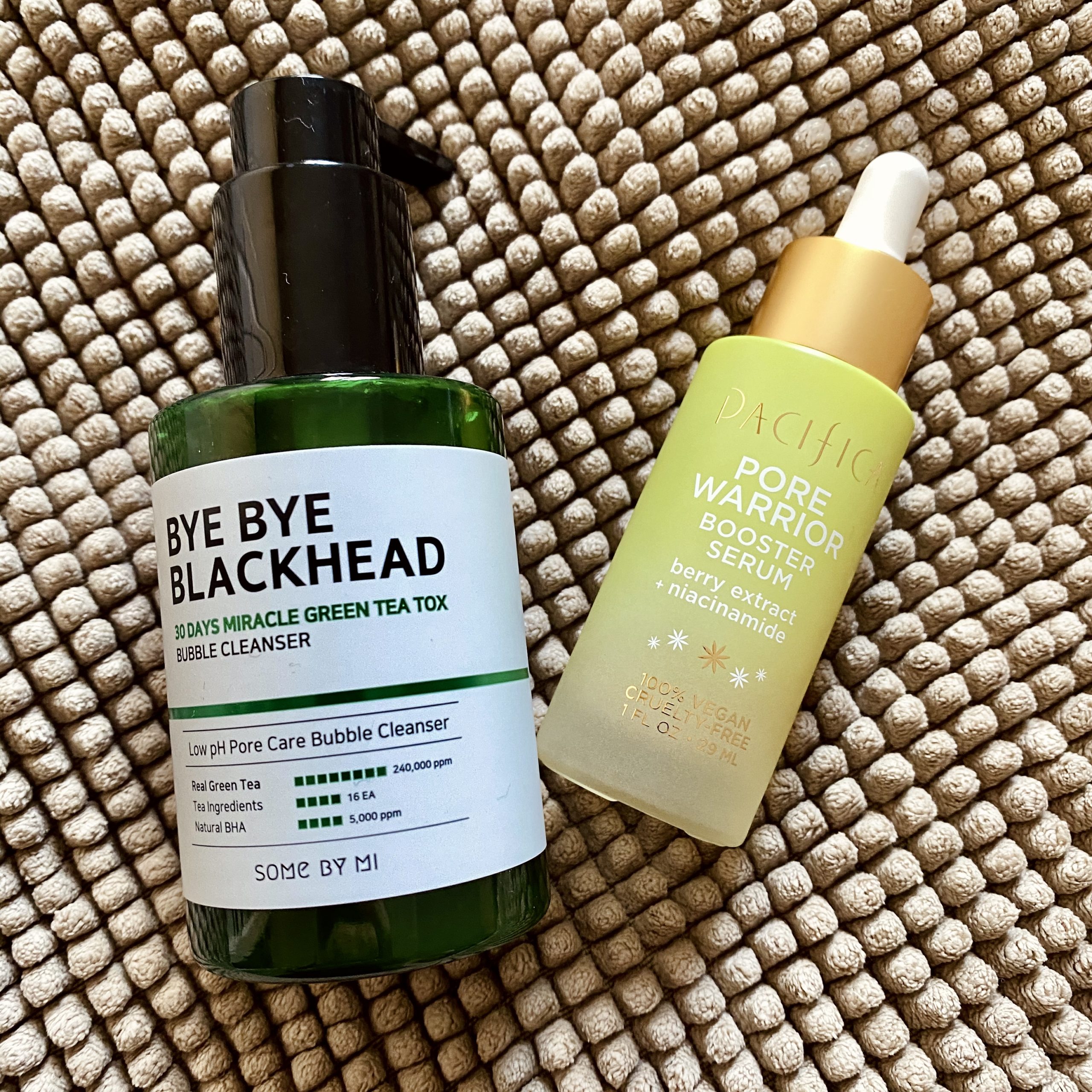 How to apply retinol (correctly)?
Warning. This is a very interesting active ingredient against skin aging, dark spots, scars, and even acne. Retinol is available everywhere, and your dermatologist can prescribe it to you under the molecule called tretinoin, which is is the acid form of vitamin A. One or another, it's not like just applying carrots on your face AT ALL, lol.
Retinol, even if it is sold at Sephora or whatever, is not to be used without caution and especially not every day at the start, sometimes never ever every day for sensitive skin. If if you decide to switch to retinol (I like the one from Honest Beauty, or Drunk Elephant, for example), or the medical formulation (tretinoin): it is MANDATORY to use sun protection SPF 30 or 50 every day and NEVER expose yourself to the sun (meaning large hat and walk in the shade outside …). If you are not ready for the sacrifice: forget retinol, do not even try it, you will see unsightly brown spots appear, or even be subject to melasma. We don't mess around with retinoids. Period.
Always apply it in the evening. Start with once a week for a month, if your skin no longer peels, you can go to two applications a week… etc. Never apply retinol on peeling skin, you wait a few more days, even if you go once every two weeks.
The application:
Beforehand, isolate with a simple moisturizer on the parts that the retinol should not touch (because otherwise you will peel to death for 2-3 days and you will no longer want to reuse it), namely:
Around the nose (or there yes !!)
The eyelids
The millimeter above the eyebrows
If your skin is sensitive: the contours of the scalp
Around the mouth and especially the corner of the mouth with a good fat lip balm in thick layers.
Once the areas isolated, mist and spread a nut of retinol on the face, with one finger to be precise. Do not forget the neck and decolletage. All my care is applied from the forehead to the decolletage.
Once the retinol is applied, put a layer of simple moisturizer (without any other active ingredient) with the same finger used to keep this same precision, avoiding the previously mentioned areas. In particular, do not touch up in isolated areas during this stage.
Wait at least 30 min before going to sleep. I recommend, the next morning, to apply a soft moisturizing mask like a sheet mask, if you have the time, then this same simple moisturizer without any other active ingredients to let the skin recover (then sun protection !! ed). We will talk about it in the daily ritual.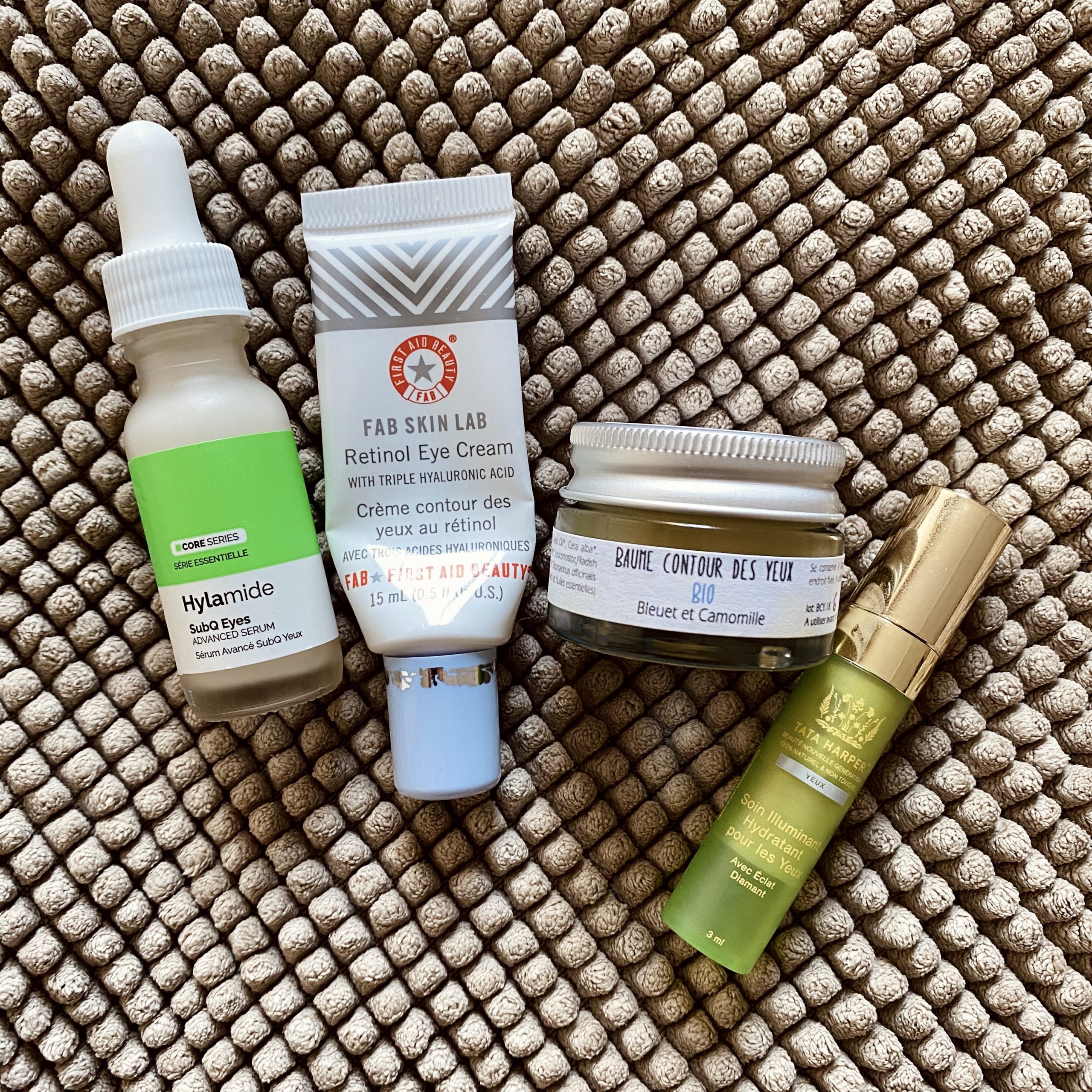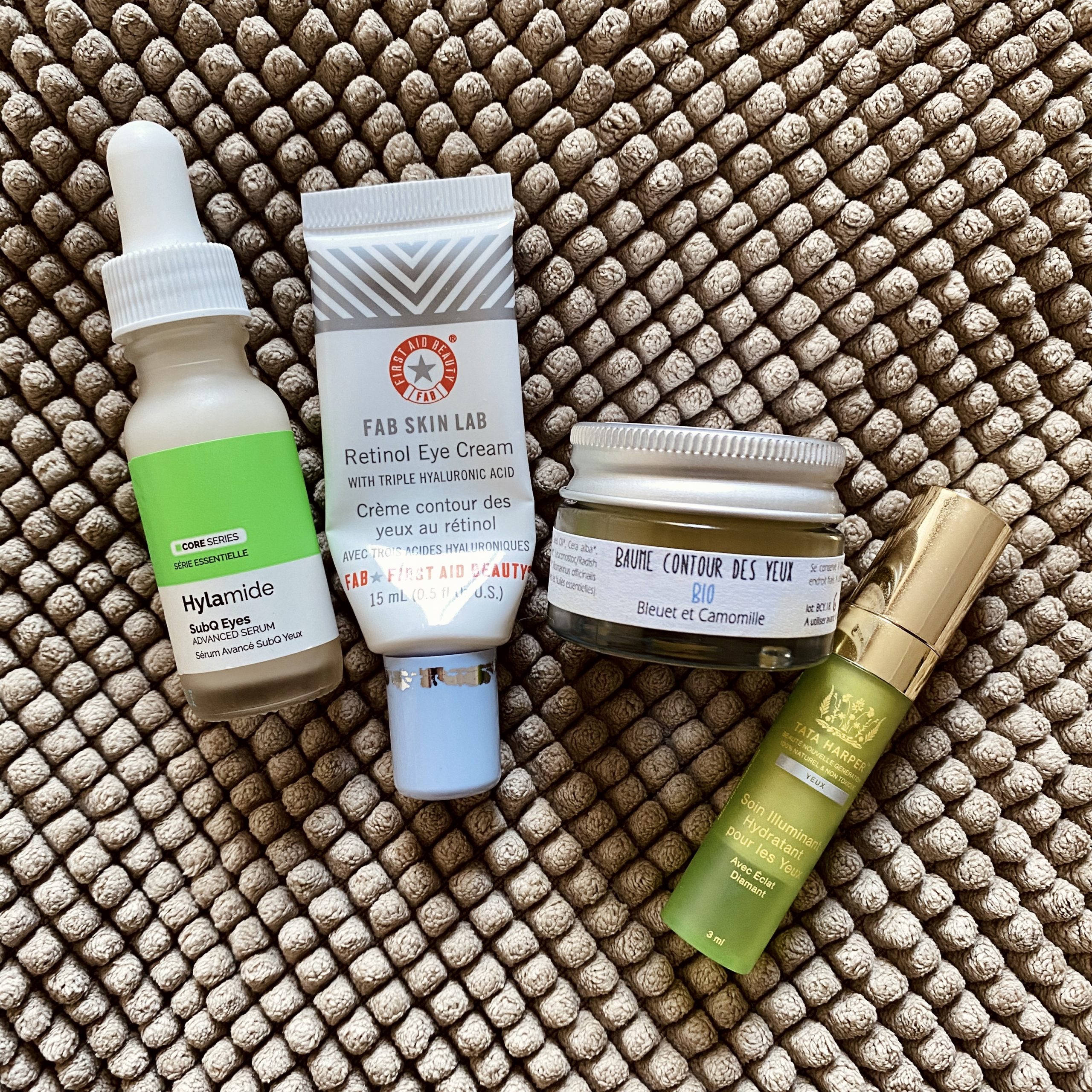 Which products to use?
Beyond the products, I want to talk to you again about ethics.
Cruelty-free is not an option on this blog. I take care of my skin, my food, this is a gesture of love, to put the right fuel in the right engine and bring it good vibes. So it would be illogical, in my opinion, to induce suffering, animal or human. I try to consume more ethics, to the best of my knowledge by trying to stay advised and without forgetting that unfortunately sometimes some brands change sides without notification, on one side as on the other. And as always: No one has judgment on anyone here, you do what you want because no one is perfect and certainly not me. That is said.
There are lots of ways to use natural products like cosmetics, but I find them sad and terribly lacking in effectiveness when used alone, because my belief is that the active ingredients must be in synergy to work, hence the cosmetologist profession. But this is probably only confirmation bias. So the hazelnut or avocado oil, I eat it in a salad, lol, but if it suits you, go for it!
There is a multitude of homemade mask recipes depending on your skin type and what you have left in the drawers and fridge, I let you go find your grail, in these times when ethical cosmetics can be more difficult to access. Do not forget to do a test in the hollow of your forearm before applying it to your face whether it is a homemade product or a cosmetic product that has never been used.
I have nevertheless given the recipe here for a cute breakfast and mask that you can, after testing in the forearm (because it contains a very small amount of cinnamon, ed), apply on your face for soft, radiant and healthy skin. I love it too, hum yes, your faithful servant does it when she is no longer hungry, lol.
Last but not least, here is a selection of masks if you are in lack of inspiration. For the rest of the skincare ritual, you had some photos of the products I use, but the best is to adapt your treatments to your skin type. As a reminder: mine is normal with a mixed tendency, and sensitive. And if you want to know more about it, I can detail in a future post what exactly I use and why.
The Body Shop's masks :
The whole range of smoked glass with a black cover and small colored label, namely: the one with coffee (dull complexion), the one with ginseng and rice (exfoliating mask), the one with matcha (clarifying), and especially the one with oats which is soothing (I do not like the charcoal one, it is too fragrant, and I did not test the others except the hemp which I speak below). They are great at a nice value for money, $22 to $28 each and there is a travel size too. They are all to be rinsed if I remember well.
Brightening: Evolve (rinse off mask) – Resurfacing mask Tata Harper (rinse off mask)
Hydratating: sheet masque, n'importe lequel (ne pas rincer sauf si la notice te le dit)– calendula hydrating toning mask de John master organics…
Sleeping mask: The "HEMP" sleeping mask from The Body Shop, in the same brand there is the Drops of youth sleeping mask, which I did not like but maybe will fit you (too sticky, hard to penetrate the skin, ed) – Tata Harper hydrating mask – REN "Wake Wonderful" night mask (received it in a sample, did not suit my sensitive skin, but it was indicated, lol).
Clarifying (acne): clarifying mask, Tata Harper – Clarimatte Invisible Pore Detox, REN.
Firming: firming mask, Andalou Naturals, my favorite.
Hydrating eye mask: I apply an eye balm from "Les Fleurs de Basile" (made in the south of France) in a thicker layer to have a mask. I just finished the Drop of Youth eye contour mask from the body shop, which is a night eye mask. I did not particularly like it because, in the morning, I did not feel hydrated enough in this area.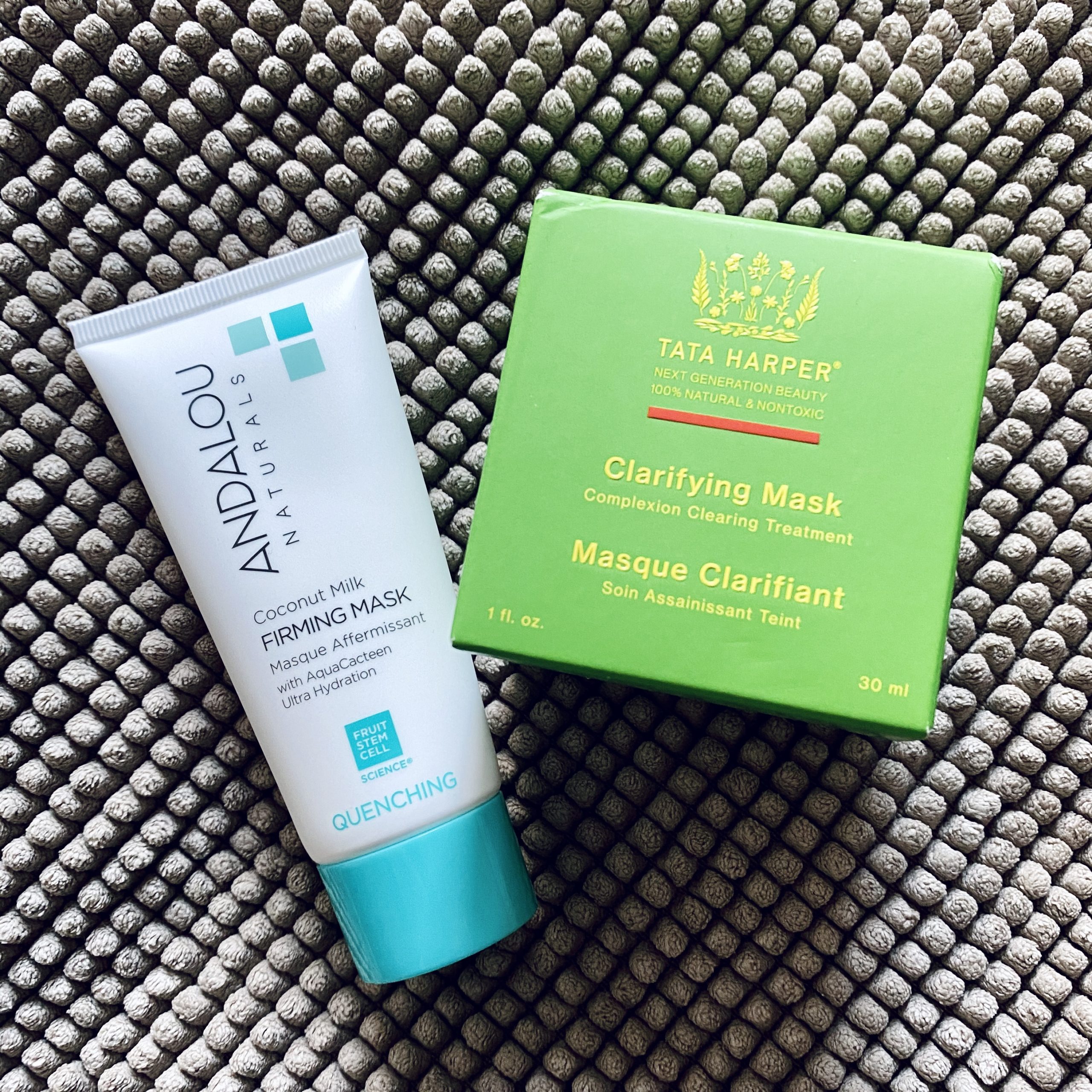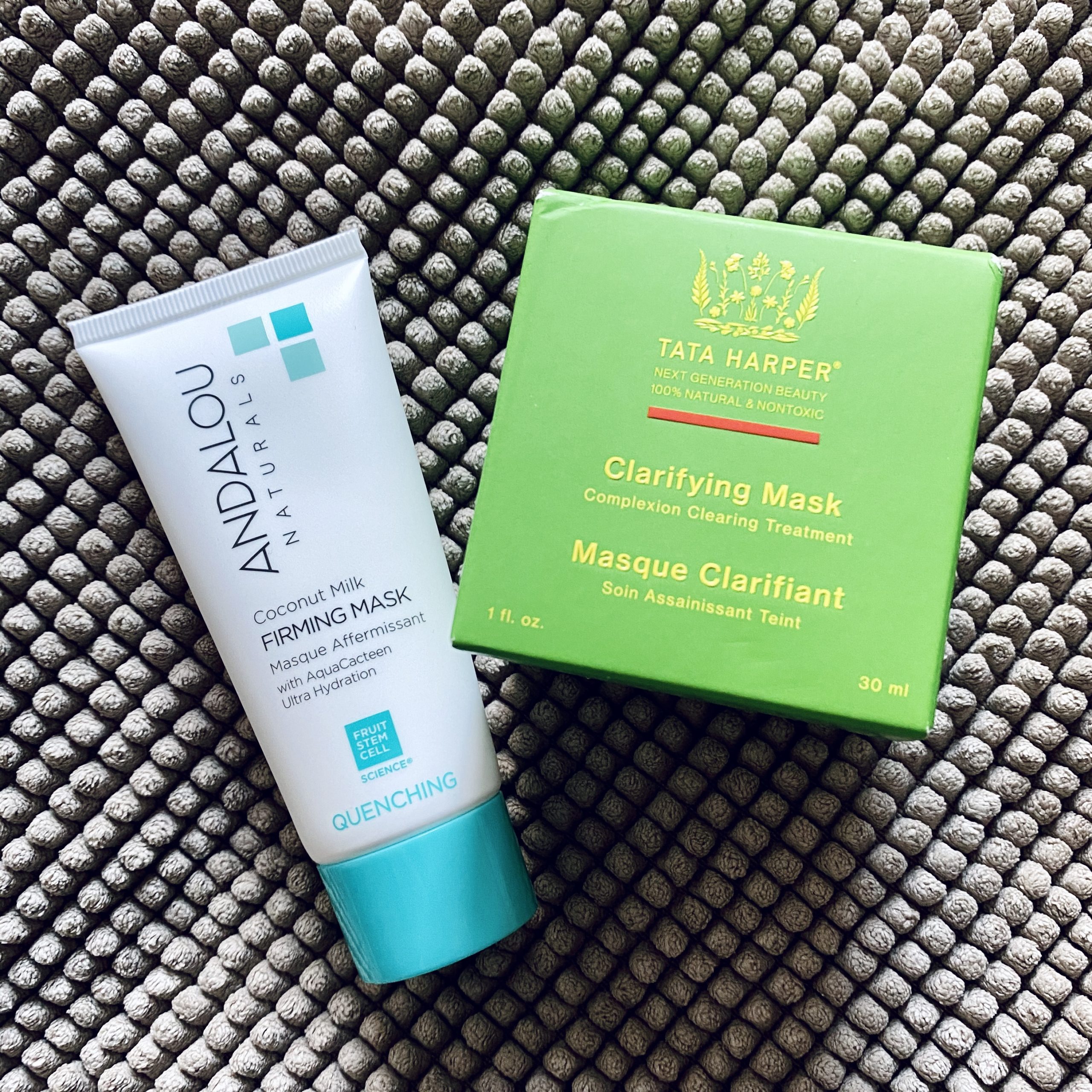 Beauty tools
There are two beauty tools that I love.
– I have a rose quartz heart from Kora Organics (a piece of quartz in the shape of a heart, ed), which I use to make yogi massages once my skincare ritual is done. Basically you go up the heart of quartz along the jaw, temples, neck, nape of the neck, it releases tensions, real happiness.
– My time-control from Talika for the eye area. It is a tool that vibrates (I see you coming, but it really is a tool for the eyes only, ed) and use photo modulation at the same time (red or green light). The program is quite fast, I use it 2 to 3 times a week. It reduces dark circles and puffiness. I noticed that my undereye area was less marked, less dark, and less hollow since I use this small technological tool. I started to see results after 15 days to 3 weeks.
And don't forget that there is never any shame in taking care of yourself, because "By always wanting to be loved by others, you lose the only essential: self-love." – Catherine Enjolet.
XO 🛁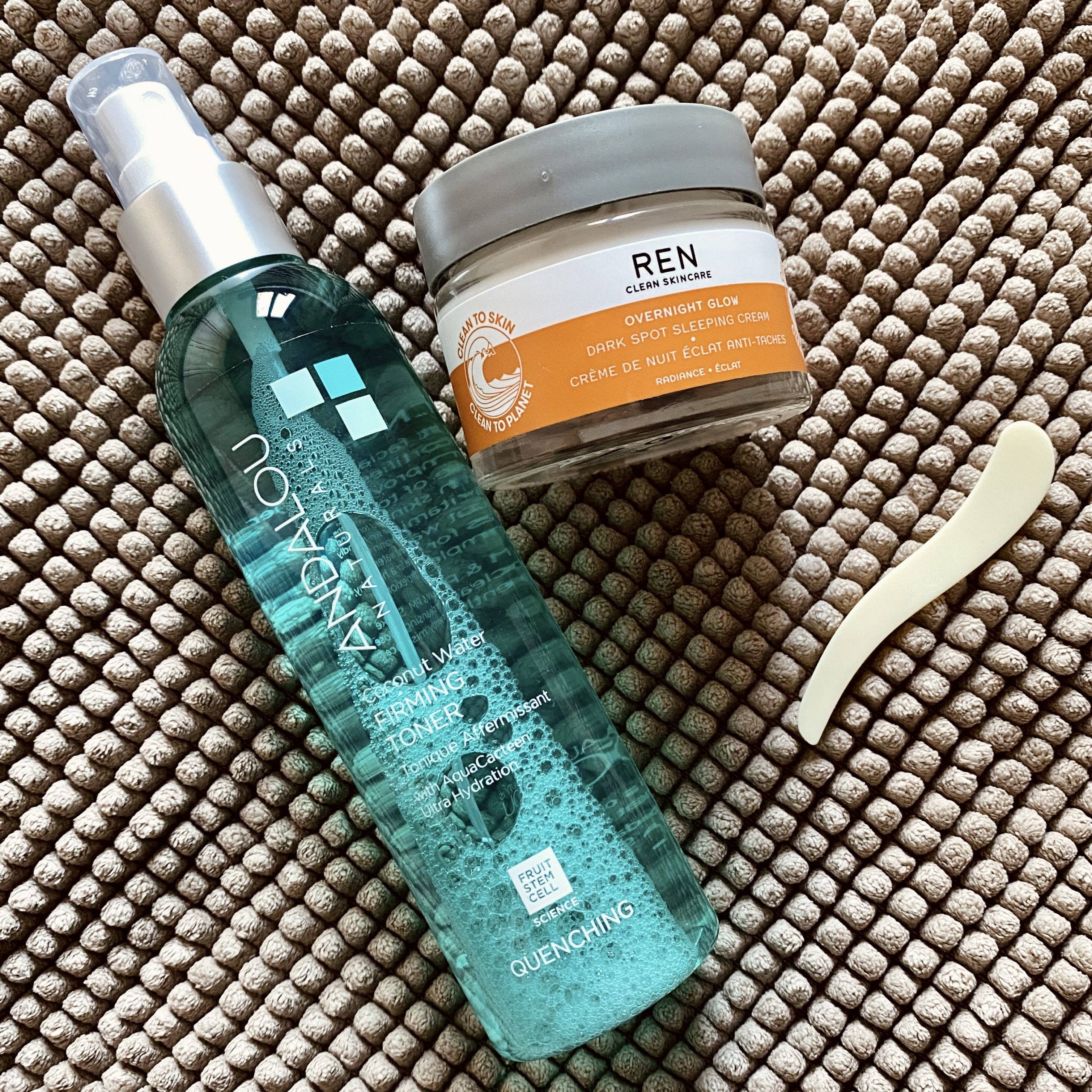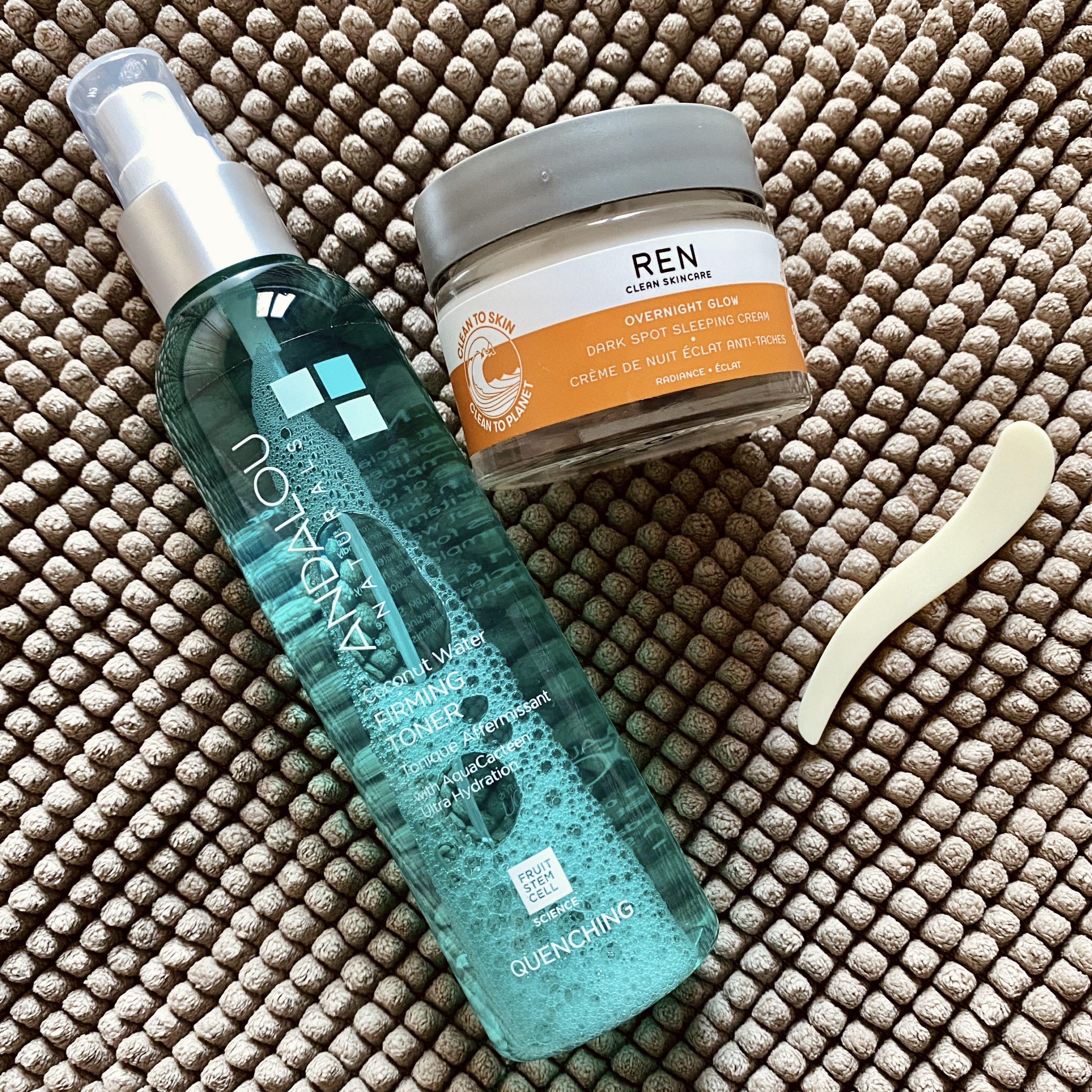 Sources: Information on tretinoin, Dr. Sam Bunting's YouTube channel, Hot and flashy's youtube channel, Skinchemy's Instagram (she's a cosmetologist).