Hello, young Padawan
Today, we will make an extra-simple little salad that is really good, subtle, and beautiful. Just that! Because it is now or never to eat our last tomatoes of the season, because pretty colors on the plate make us want them, and because a touch of fun is welcome, I thought this little recipe would please you.
Here we go for the last recipe with tomatoes of this year.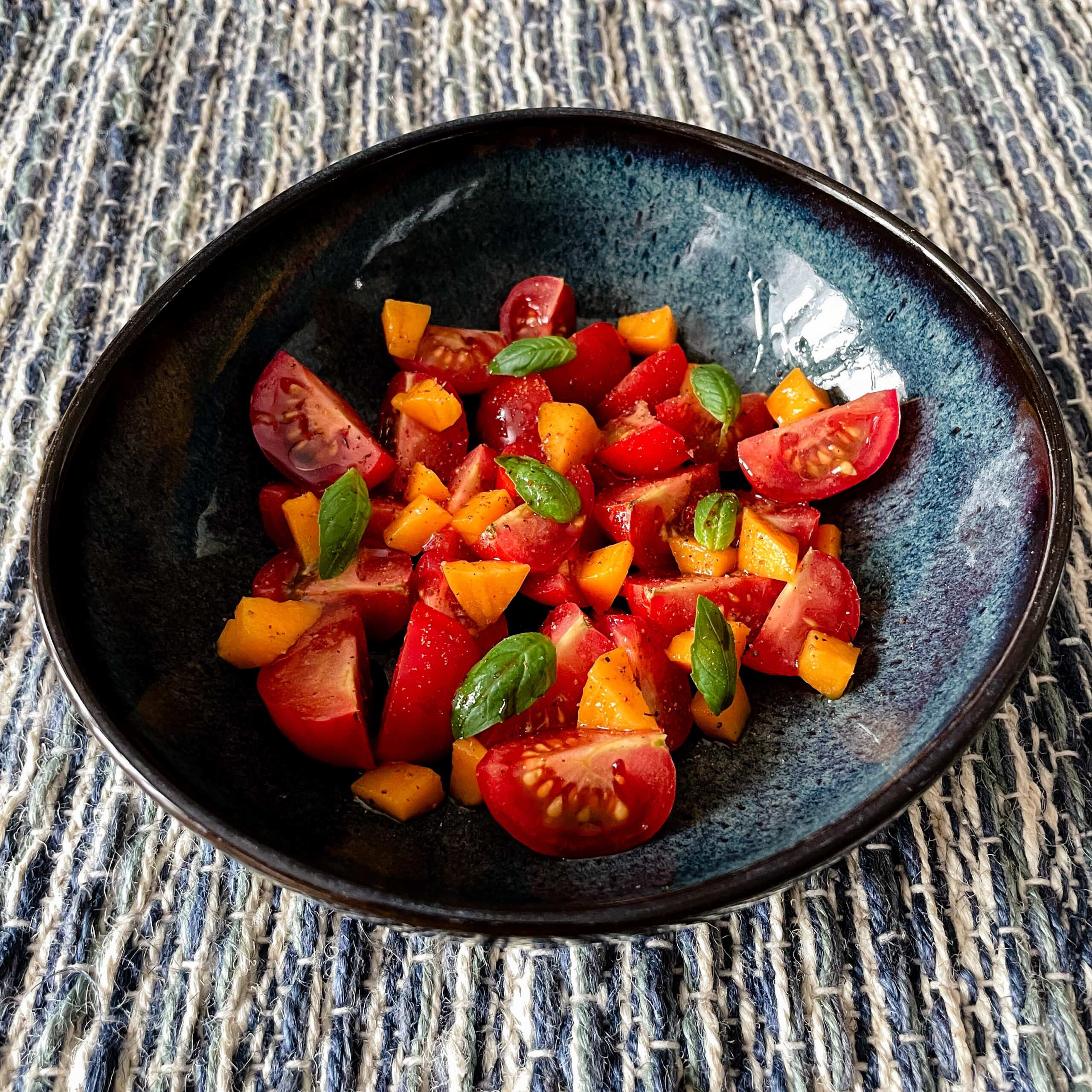 Tomato salad, Chill style.
For two servings.
One large antique variety of tomato or three large handfuls of ripe cherry tomatoes
1/2 ripe mango
A few basil leaves
Two drizzles of balsamic cream (thicker balsamic vinegar)
Two drizzles of your best olive oil. The best one for this recipe? Organic Kalamata olive oil from Crete, for sure.
Salt, Madagascar pepper.
Optional: A nice Mozzarela di Bufala Campana, my favorite, or a Burrata, creamier.
Recipe
Wash the tomato. Cut the tomatoes into the format of your choice: slices, quarters, or small cubes; you are the artist.
Remove the skin and cut the piece of mango in the format you want too, but making pieces at least twice as small as the tomatoes, for aesthetics, of course, but above all for tasting.
Divide the pieces of tomatoes and mango evenly between your two lovely plates — to remain at peace with your guest(s). Add pretty basil leaves everywhere. No need to cut them if they are small, but it is better to give them a little cut with scissors if they are larger than in the photo.
Set aside at room temperature if serving soon. If it takes more than two hours, set aside in the refrigerator, but remember to take the plates out at least 20 minutes before serving.
Presentation
Add a drizzle of olive oil and balsamic cream to each plate in a "Z" shape. Optional: Cut the Bufala, or creamy Burrata, and distribute the desired quantity in the center of each plate.
Season with salt and pepper and serve immediately.
And here is this little recipe which comes at just the right time given the temperatures that are coming. Quick to make and delicious to taste, you know what you have to do: some shopping to treat yourself, without forgetting the wine. An excellent fruity red, not too tannic, like a light French Burgundy, will accompany everything elegantly.
Have a nice weekend, and see you next Thursday!
XO 🍅