Hello, young Padawan
After a nice walk in a park, in the forest, or the mountains, there's nothing like enjoying a nice salad that fills your body. Since it's still the fashion for bowls, we're going to take inspiration from it and have a royal meal for a cowboy's appetite.
Would you like to? So let's go.
Coral lentils
More digestible than common lentils, red lentils are also a good source of vegetable protein, carbohydrates, fiber, minerals such as iron and magnesium, and vitamin B. For pregnant women or women wishing to conceive, red lentils contain folate, which is essential for a good pregnancy.
They participate in the life of our intestine, helping to regulate the intestinal microbiota and facilitating digestion in general. Excellent for heart health due to their polyphenols, lentils, in general, also have antioxidant effects through the procyanidin and flavonoids they contain*.
Finally, when sprouted, lentils, in general, are said to have an additional beneficial effect on blood sugar*. Well, you will have understood: Long live the lentils!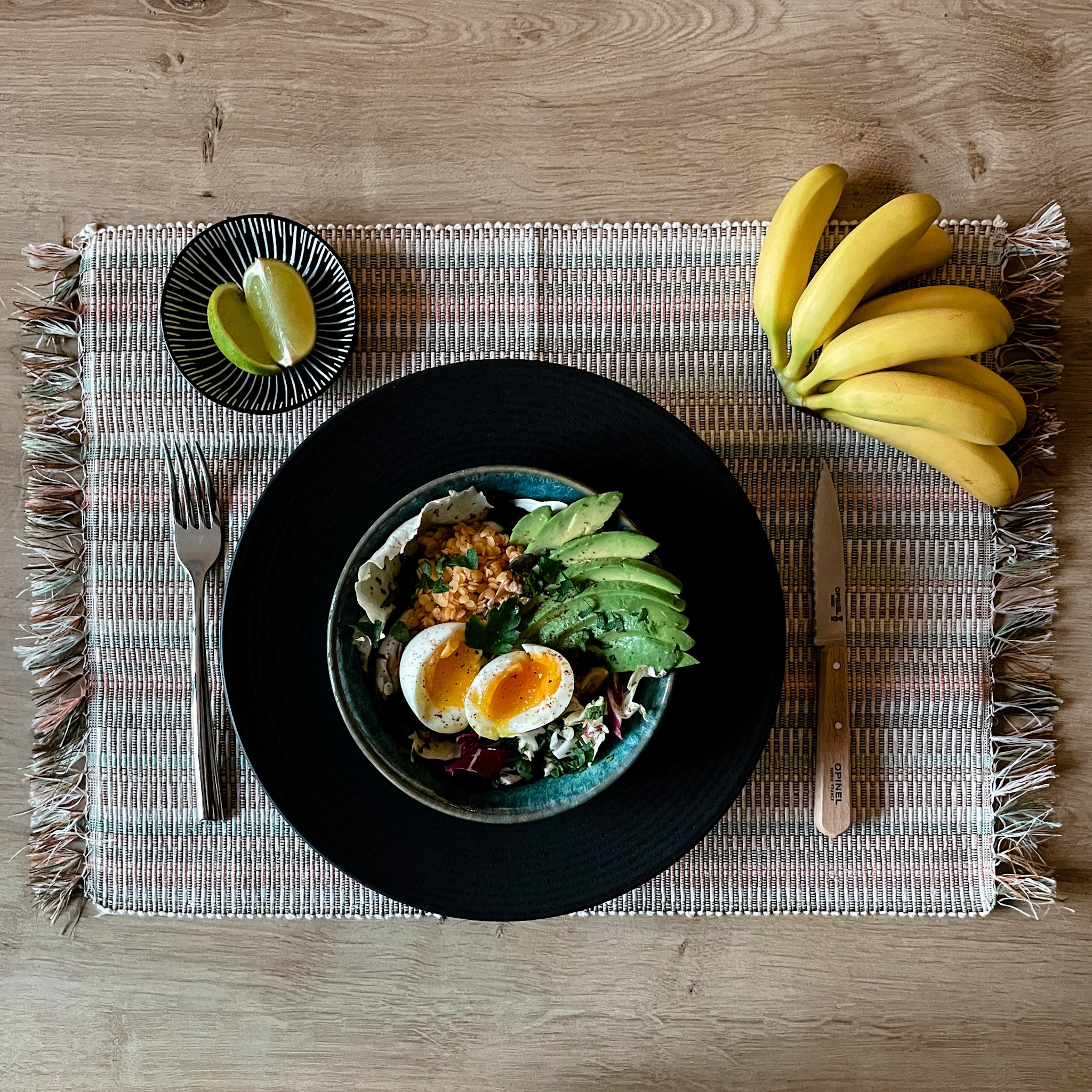 winter bowl
For one sevring
1 egg
1 handful of Treviso lettuce
1 handful of castelfranco lettuce (Italian chicory) or winter salad of your choice
1/4 cup coral lentils
1/2 avocado
3 sprigs of parsley or cilantro
1/2 lime
1 whole walnut (or two kernels)
1 tsp of the seeds mix of your choice (oats, nuts, pumpkin seeds, gogi berries…)
1 tbsp of walnut oil
1 tbsp of balsamic vinegar
Salt, Madagascar pepper
A nice slice of nut bread
Recipe
Rinse and soak the red lentils the day before in cold water.
Cook the egg in a pan of boiling water for 6 minutes over medium-high heat for a medium egg, or 7 minutes for a larger egg. Since red lentils only need 5 minutes to cook, add them to the water after one or two minutes of cooking, depending on the size of the egg. Drain and keep warm.
Using a cutting board, thinly slice the treviso leaves like red cabbage, making pretty salad strings. Coarsely chop the Italian chicory leaves to keep something to chew.
Finely chop the parsley or coriander, peel the avocado using a tablespoon, then cut it into thin slices.
Note: if you used a whole avocado for this recipe, do not hesitate to keep the part with the pit, which will age better, and pour a drop or two of your half lime on the part of the avocado that you are not going use, and distribute well with your finger before putting it in the fridge so that it does not brown.
Cut the lime in half lengthwise to obtain nice wedges for presentation. Crack the nut to release the kernels.
Presentation
In your prettiest bowl or soup plate, spread the salad leaves to get a nice bed for the rest of the ingredients.
Place the sliced avocado on the salad using a flat knife and lentils. Add the seeds mix of your choice, the walnut kernels coarsely crushed with your fingers, and the parsley.
Once the egg is cool enough not to burn yourself, remove the shell, rinse it, and place it in the center of the plate. Season with salt and pepper, and pour the walnut oil and balsamic vinegar around.
Arrange the lime wedges on the side of the plate and the nice slice of bread, and when everything is in place and ready for your meal, all you have to do is scalp your egg in half to reveal the pretty flowing from your soft-boiled egg — and bon appetite.
That's it for today, dear Padawan. If you want to drink something nice, I'll recommend a light Italian wine, like undolcetto d'alba, for example.
I wish you an excellent appetite, and see you next Fri-yay!
XO 🥑
*Sources: Bioaccessibility, in vitro antioxidant and anti-inflammatory activities of phenolics in cooked green lentils, on diabetes and sprouted seeds: Lentil Sprouts Effect On Serum Lipids of Overweight and Obese Patients with Type 2 Diabetes.