Hello, young Padawan
The period between late winter and early spring is always a little tricky for a healthy-looking complexion. Indeed, the skin and the body are a little tired of the cold season and not yet invigorated with the greater luminosity and the varied seasonal fruits and vegetables that mother nature offers in April-May.
Also, it's always nice to be able, if you wish, to cheat a little by bringing freshness to your complexion.
Let's go for the healthy complexion cheating!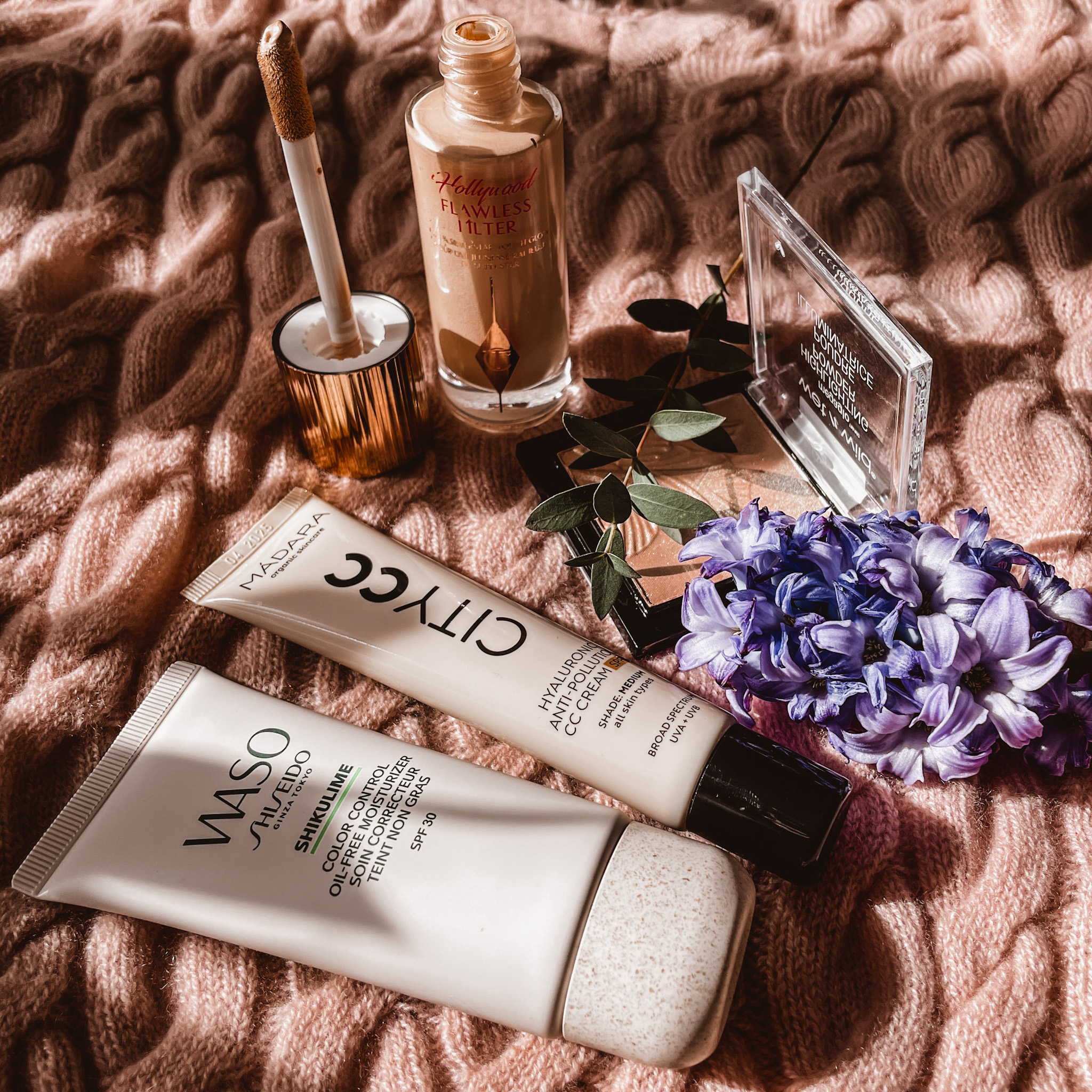 The two easy and effective solutions for a healthy complexion in less than two minutes flat.
If you remember my articles on the morning skincare ritual and the one on the evening, you know how much importance I give to sun protection since I use retinol in the evening on my skin. As a reminder, retinol, the best anti-wrinkle, strongly sensitizes the skin to the sun. To tan or wrinkle, you have to choose, and everyone has their own opinion.
However, as a good vampire, this choice does not arise since I have always had skin sensitive to the sun. Making an asset of this particularity, I spread retinol on my face in the evening, and therefore, sun protection in the morning (SPF). And speaking of sun protection, I like, in addition to the layer applied after my day cream, to use a lightly tinted good-looking cream containing a little sun protection as the icing on the cake. I have two favorites for this somewhat hybrid season.
– The City CC by Madara, which I use in a darker shade than my complexion, in a medium shade. With light coverage, when you apply very little like me, it leaves a very slightly corrected complexion and a nice good-looking effect on the skin thanks to this trick to take a darker color without an "orange" effect. It provides a light SPF 15, hyaluronic acid for plump skin, and offers a light vanilla scent. Applied in standard quantity, it camouflages redness and small skin blemishes by offering medium coverage, but in this case, it is necessary to take your shade, not a darker one.
– The Waso shiseido, is less coverage but is just as healthy-looking. It only exists in one shade, as far as I know. It can be used as a daily city sunscreen for people with a medium to tanned complexion, with light to medium coverage and an SPF 30. With my fair skin, I would be too "orange." On the other hand, in a small quantity, it gives me a very nice sun effect and a cute bare-skin mode. Finally, it smells of "sunscreen," I love this smell; it reminds me of vacation, lol.
Then, the second and last cheat trick to bring tired skin back to life is highlighter. It gives a hydrated effect to dry skin, plump to mature skin, and fresh to tired skin. In short, light is essential for a healthy glow.
– For those who will apply it after the concealer, or for the cheaters of the cheat who already look good because they have access to the sun more than the rest of us, lol, or for those still who are naturally tanned or have black skin, that of Charlotte Tilbury is just magical.
This little glass bottle with its 80s foam tip will work magic on your skin, as this product shines the perfect light on your skin. No glitter, no color when you don't put too much on, regardless of your skin tone or the number of hours you've slept, applied in small amounts to the cheekbones, the brow bone, the nose bridge, the top of the upper lip, it will do wonders. It can also be mixed with your day cream or the complexion product of your choice, whether it is a foundation or a tinted cream, and can finally wake up your eyes, by applying a tiny quantity around the eye area under your concealer, on days when your eyes are as tired as my friends listening to my fourth or fifth rotten joke of the evening, that is to say.
– And then, of course, there are plenty of highlighters in powder version. One of my favorites is the Wet n'Wild highlighter which, in addition to being super affordable, is beautiful and easy to build. A beautiful natural light, as if we woke up after 10 hours of restful sleep.
Here we are, ready to face this period of in-between seasons. See you next Thursday for new adventures, my little finger tells me about a nice recipe, but shh, I didn't tell you anything!
XO 🌸