Hello, young Padawan
For today, we have a nice recipe that I created by being inspired, for once, by the internet. Indeed, around Christmas, I saw a lot of squash recipes in hasselbackspotatis mode on Instagram, — you know, the Swedish potatoes. And because I love the squash-potato combination, I decided to start with that.
As usual, it took me a few tries to adjust the seasoning, and as I have been unable to achieve this quickly, here we are. Let's go for this recipe to enjoy squash more than ever, in all modesty, lol!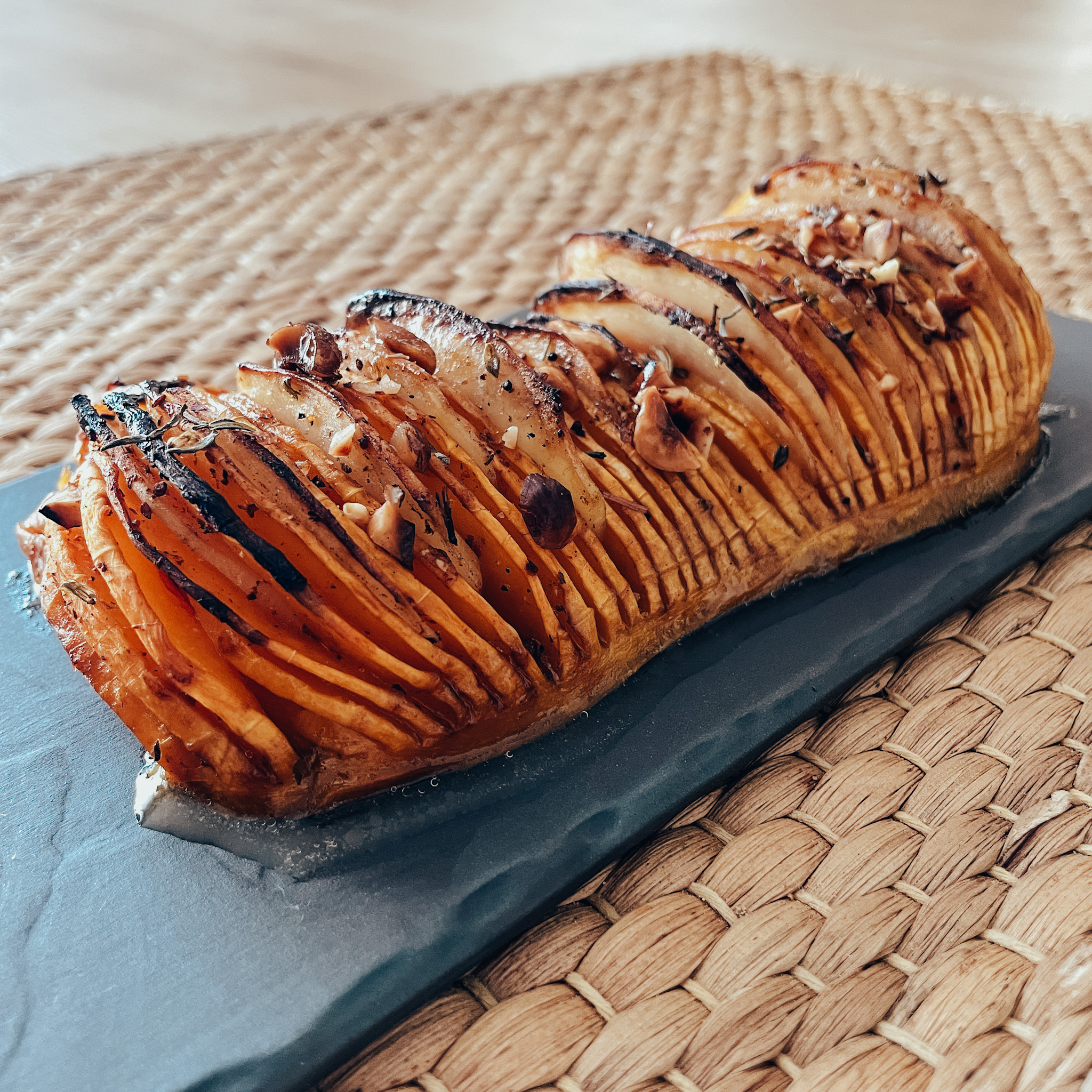 Hasselbackspotatis of butternut,Chill by Caro's version.
For two servings
1 butternut squash
1 large potato
2 tbsp oven-safe hazelnut oil
1 tbsp of honey
1 tbsp of Tamari
2 tbsp of water
1 tsp of madras curry from the Maldives (the one that smells of cinnamon. If you don't have some, you can use half curry-cinnamon)
1/2 tsp of Espelette pepper
1 tsp of thyme
1 handful of roasted and crushed hazelnuts
salt, Madagascar pepper
RECIPE
Preheat the oven to 375°F
Peel the butternut squash. Cut it in half lengthwise, and scoop out both sides.
Place the two pieces of squash, the inside facing the dish, in a baking dish, pour the hazelnut oil, salt, and pepper, and cook for 15 minutes.
Meanwhile, thinly slice the potato with a mandoline without cutting your fingers.
Prepare the marinade. In a ramekin, pour the honey (if it is not liquid, put the ramekin in the butternut oven for one or two minutes, then remove it, ed), the spoonful of tamari, the water, the madras curry, Espelette pepper, and thyme. Stir, set aside, and take out a brush ready to the next step.
Remove the dish from the oven, take out a first piece of squash without burning yourself, and place it on a cutting board. Slice the squash finely without ever going to the end so that the slices remain attached to each other (see photo). To avoid mistakes and obtain a harmonious result, simply place Chinese chopsticks or knife handles on each squash side to secure the cut. Repeat the same step with the other piece.
Carefully put the two butternut pieces back into the dish. Gently slide in a potato slice every two or three slices of butternut squash, brush with the marinade, and sprinkle with crushed hazelnuts.
If the bottom of the dish doesn't have some marinade after that, do not hesitate to add a little water, so the squash does not dry out or burn, and bake for 25 to 30 minutes.
Presentation
On your most beautiful plate, a long one if you have one, place a nice piece of squash and brush with the marinade that remains in the bottom of the oven dish (if this is not the case, add a little water to the dish, stir and …. magic, you have a bit of marinade left).
Accompanied by a protein* of your choice, a bowl of green salad, and its hazelnut oil vinaigrette, you will have an excellent and sexy meal.
*It is also possible to add some Paris mushrooms cut in four during the second baking of 25-30 minutes. Place them in the dish all around the squash pieces to add proteins and a great combination of flavors.
Enjoy without waiting.
That's it for today, dear Padawan. All you have to do is enjoy this version of Hasselback squash in good company. As for the wine pairing, it goes without saying that a sweet french white wine from Alsace will sublimate this recipe. For those who, like me, do not like sweet wines, a Riesling will be delighted to accompany this delicate plate.
XO 🥘