Hello, young Padawan
The weather has suddenly cooled; moreover, we are in autumn since last Friday. However, what better way to celebrate this start to the season than a ratatouille recipe with the last sunny vegetables of the year, which will warm you up from head to toe?
For five years, I've been promising you my "famous" ratatouille recipe, in all modesty, of course, lol. Well, here it is at last.
Get ready for the feast; let's go.
Eggplant
In addition to helping to lower cholesterol, this vegetable fruit will take care of your kidneys thanks to its natural diuretic power. Rich in fiber, your intestine will be delighted to welcome it, as will your gallbladder and liver, since it also helps in bile production.
Rich in iron, it also contains many antioxidants such as vitamins C and E, selenium, manganese, and anthocyanin, pigments at the origin of its purple color.
Finally, its richness in potassium will be a significant ally for your health, especially cardiovascular, in this world where we tend to overload salt.
Ratatouille "a la Chill" (by Caro).
For 4-6 servings
1 large eggplant (or 2 small)
2 large zucchini
3 medium bell peppers
6 medium tomatoes
4 medium garlic cloves
2 onions
1 bouquet garni (3 sprigs of thyme – 2 bay leaves)
Salt, Madagascar pepper
3 tbsp. dry white wine
4 tbsp. s of olive oil
Recipe
For this recipe, you will need a frying pan and a large wok (or sauté pan, or pot).
Wash the vegetables in clean water.
Cut the eggplant in half lengthwise after removing the stem, using a good sharp knife and a cutting board. Cut it again in half lengthwise on the two pieces to obtain four long slices. Then cut the slices into small cubes. Set aside separately.
Proceed with the same operation for the zucchini; try to cut them into small cubes of the same size. Set aside separately.
For the pepper, split it in half, remove the stem and the seeds, and cut it into small dice. Set aside separately.
Cut the tomatoes into four thick slices, then into small dice the same size as the other vegetables. Set aside separately.
Finely chop the onion previously peeled and set it aside.
Peel the garlic; cut the cloves in half, remove the germ, then set it aside for the garlic press. You'll need to mince them finely if you don't have a garlic press.
———
Over medium heat, pour two tablespoons of olive oil and the eggplants into a hot pan—brown them for five minutes.
Meanwhile, pour a tablespoon of olive oil and the onions into the wok and press the garlic on top with a garlic press. Brown everything over medium-high heat for five minutes as well. Add the diced zucchini and the bouquet garni and continue cooking over medium heat.
When the eggplants have absorbed the oil, do not hesitate to add one or two tablespoons of water regularly so they won't dry. Continue cooking for 10-15 minutes, the time it takes for them to be al dente (i.e., they are starting to be tender, but they remain a little firm inside). When they are, add the white wine, scrape up the juices with a wooden spoon while you mix everything, then pour them over the zucchini in the wok.
Pour a tablespoon of oil into the same hot pan, and add the diced peppers. Brown them for 5-10 minutes over medium heat.
Stir the vegetable wok regularly while the peppers are cooking. When these are al dente, add them to the other vegetables and the diced tomatoes, season well (salt and pepper), and mix gently. Continue cooking over low heat for 15-20 minutes. The vegetables should be tender and nicely colored. Turn off the heat and let everything cool in the wok.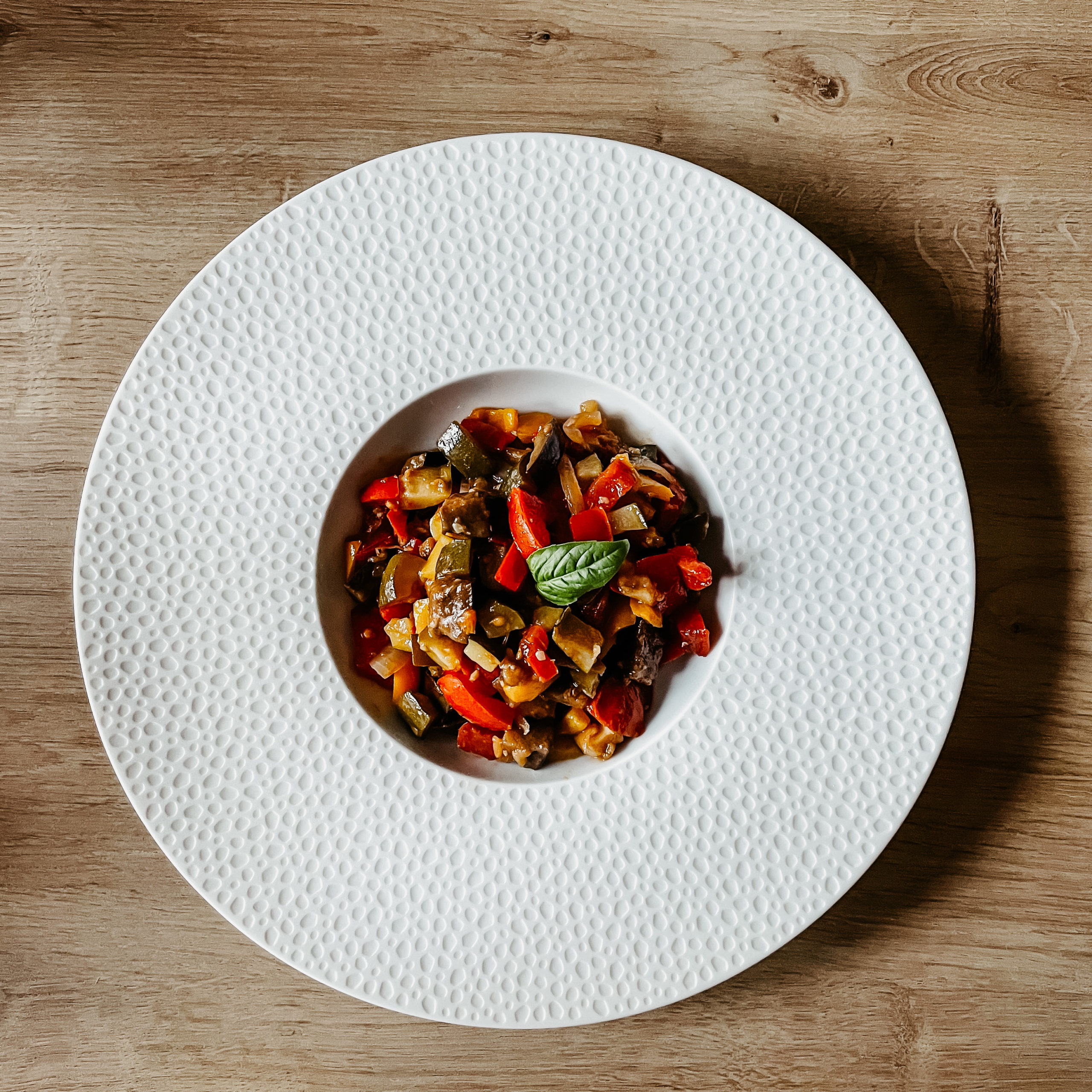 Presentation
15-20 minutes before sitting down to eat, put the wok back on medium heat. Let the vegetables return to temperature, stir gently from time to time, and turn off the heat when they come to a boil.
In your prettiest soup plate, serve a few spoonfuls of this beautiful ratatouille, with or without the dishes of your choice. It can perfectly accompany a grilled salmon steak, for example, be the star of a rice-red bean mixture, or sublimate some penne rigate with a drizzle of olive oil.
With this divine ratatouille, you have the ultimate trick to make young and old alike love vegetables, even the most recalcitrant. Regarding the food-wine pairing, a southern wine like a Côtes-du-Rhône will go well. A Crozes-Hermitage, for example, to sublimate it while bringing character and fruit.
If you go with fish, white meat, or grilled tofu to accompany this ratatouille, without hesitation, I recommend a Condrieu, a splendid white wine from the same region; you will enjoy it.
I wish you an excellent tasting, and see you on Friday!
XO 🫑