Hello, young Padawan
Summer is great, of course, but the skin of our body has suffered from the holidays. Anarchic food and sleep, sun, salt, and sand… it's time to take care of yourself a bit because when you're good with yourself, you also feel good in your head and your sneakers. Everything hangs together, lol.
Here are the little tips for having the soft skin of an angel. Or almost.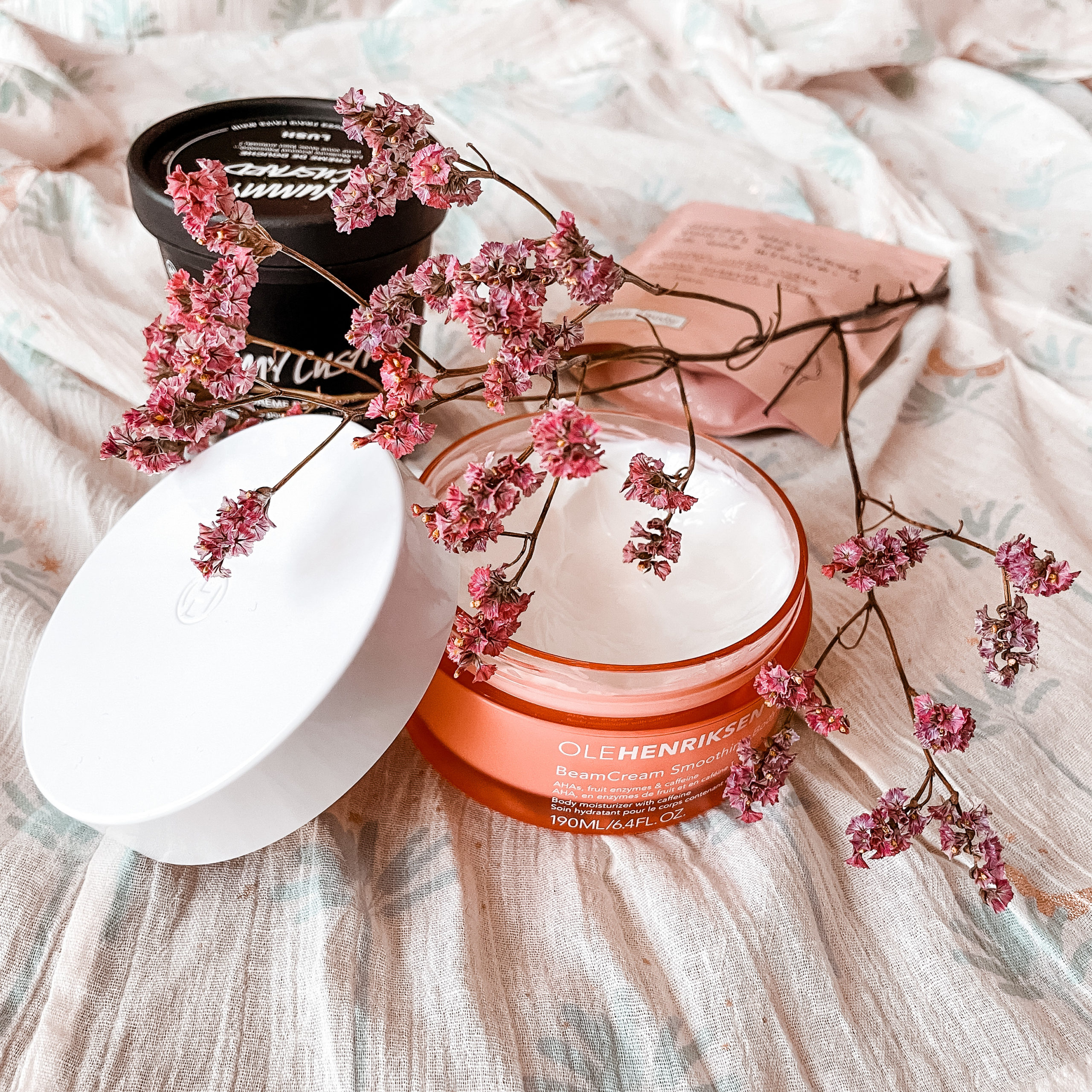 Effective cleansers and scrubs for soft skin
The most important thing for having soft skin is gentle cleaning. Thus, the most logical thing to do is to ban sulfates. ALL sulfates, especially if you have sensitive skin like me.
Well, you know me now after all these years of blogging, and I still love the Lush brand so much. And guess what, they've come up with little wonders like these shower gels in jars, which are sulfate-free! I had one that smelled of hot chocolate, the Posh Chocolate, and I started this one yesterday with a sweet scent of vanilla, the Yummy Custard, which I have only found in Switzerland for the moment. It seems to be out of stock in the USA. If you don't really like sugar smells, you can take a look at Ren, for example, they have a great orange blossom shower gel.
For a good scrub that leaves your skin as soft as a baby and also takes care of your shower pipes, yes, no messing around, lol; there's the coffee bean scrub. A homemade version, or for people like me who are more of a tea lover and who don't always have a stock of coffee grounds, there are, for example Franck Body scrubs. Joking aside from the care of the shower pipes, the coffee bean scrub is undoubtedly the most effective and the most natural. My sensitive skin has no problem with it as long as I scrub in small circles without ever pressing, which you shouldn't do: a simple circular caress is enough to remove all the dead cells cluttering the epidermis. A joy to use, and the smell of coffee is delightful.
For those using homemade coffee grounds: dry and/or sensitive skin will greatly appreciate a teaspoon of coconut oil mixed with the grounds or any other oil of your choice. Scrubs from the stores already contain some.
For a soft skin mode for the face, you can use a progressive exfoliant so as not to damage your skin which has already seen a lot of salt, sun, wind, or whatever too many drinks you enjoyed. There are AHA lotions, which are actually fruit acids, gentle on the skin. The one I linked to you is suitable for sensitive skin; then, for the lips, you can use a simple sugar one, like the ones at Lush, for example, and they last a long time.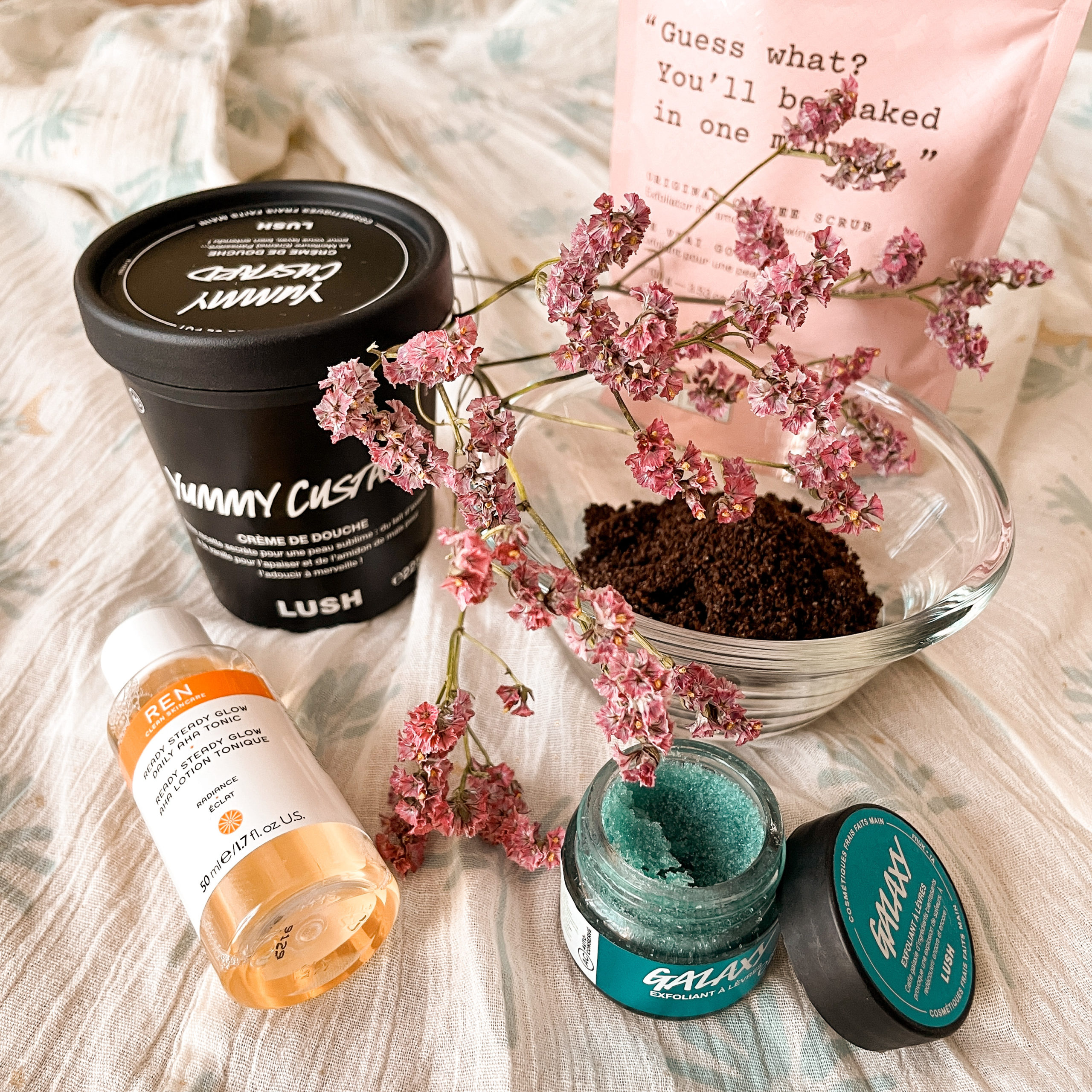 Moisturizers for the softest skin
For an even more ultimate moment of relaxation, you can apply a few drops of body oil after your shower scrub or pour a few drops into your bath water to nourish your skin well. As always, I love the Noni oil from Kora Organics, but any oil or oil synergy of your choice will do just fine.
The day after the scrub, it can be nice to maintain the soft skin effect with a cream that contains AHAs. I'm testing one from Ole Henriksen (the big pink pot) which is great; for soft and hydrated skin, suitable for sensitive skin, but which will only be enough for me at now. When I've finished it, it will be a little colder outside, and my skin will ask me for a richer cream. Perfect for the end of summer here, then.
Another option but low-cost, still at AHAs, which I just bought again because I loved it, is the one from Pierre Ricaud, you know, your grandma's cosmetics, lol, I wrote an article about this brand that you can find here (but it's in french, note). It smells divine of white flowers and hydrates super well, I've been using it all summer, and it will be my after shower training cream. There, you know everything!
A richer cream for dry skin to recommend? Of course, the Dream Cream from Lush . Disregard the photo, I dropped my jar on the floor on some tiled stairs, and it had split, so I put the cream I had left in an empty beauty sleep jar, a face mask from Lush, to save it. It is, therefore (and as always), the dream cream, the lavender and blue chamomile formula. Happiness.
If the body creams bother you because they are too oily for your convenience, you don't like to dress over them because "it sticks," lol, try to put them instead in the evening, just to bring still a little hydration to your skin…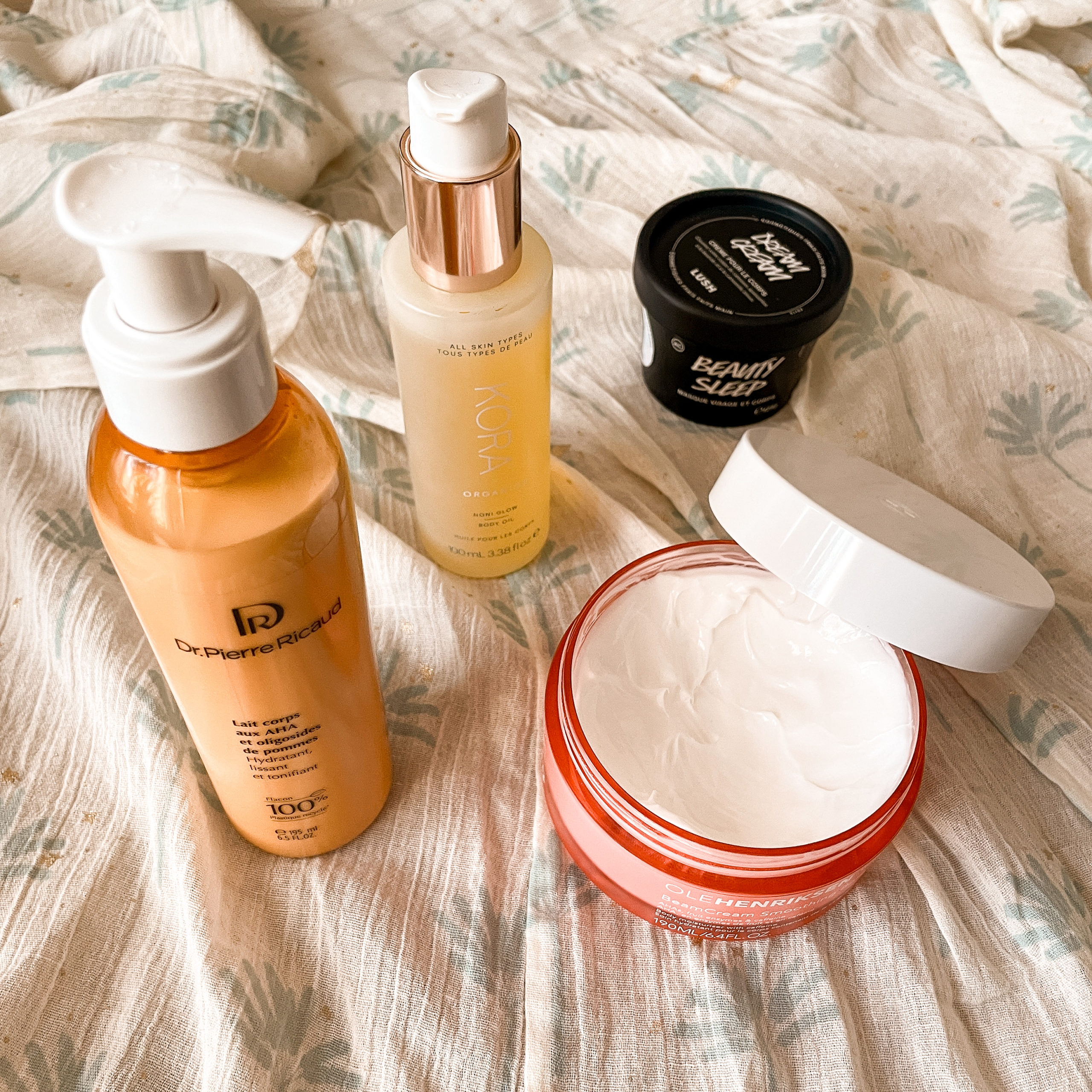 Here are my little skin tips to become – or stay – as soft as the softest cashmere sweater or a baby's bottom; you choose your level of softness, lol. You can also swing this article to whom it may concern to motivate him or her. It will stay between us, you know me, this blog is Vegas.
As usual, this article is just a pretext to remind you to take care of yourself, things a little forgotten in September, given our busy schedules. So, it's time for a little moment of relaxation to give you some pep, softness, zen, comfort, and even a smile as a bonus!
It only remains for me to wish you an excellent weekend and for my part, as usual, I see you on Friday.
XO 🧦