Hello, young Padawan
Beautiful days of dry cold here; that's what made me want to prepare a lovely recipe for you. In addition, I will try to make you discover something to eat that you may not know … suspense!
A simple and excellent recipe, but don't worry; if you don't have a tagine dish, you can easily use your favorite casserole dish, your wok, or any other thing of your choice, as long as it has a lid. Since I know that I will be asked: my tagine is an Emile Henry 26 cm in diameter, this "delight" model is compatible with induction hobs.
So here we go, we're going to have a blast with a recipe that's super easy to make.
Jackfruit
It is a huge green fruit and the largest in the vegetable kingdom since it can weigh up to 110 lbs (!!!). It grows in the tropical forests of India or Thailand, for example, and is eaten either very ripe for its sweet taste between banana and pineapple or green in cooked recipes as a substitute for meat, thanks to its neutral taste.
You can find it canned in organic stores, in Asian grocery stores, or on the internet, at Koro, for example.
This fruit contains magnesium, potassium, manganese, and iron and is also and above all, a panacea in terms of group B vitamins: B2, B3, B6, and B9, for the hair of your dreams, but not only.
This superfruit, which strengthens your immune defenses, is also an ally for your heart health and digestive system. Finally, the antioxidants of jackfruit are a real anti-aging asset to help our body and our skin fight against free radicals.
In short: long live the jackfruit!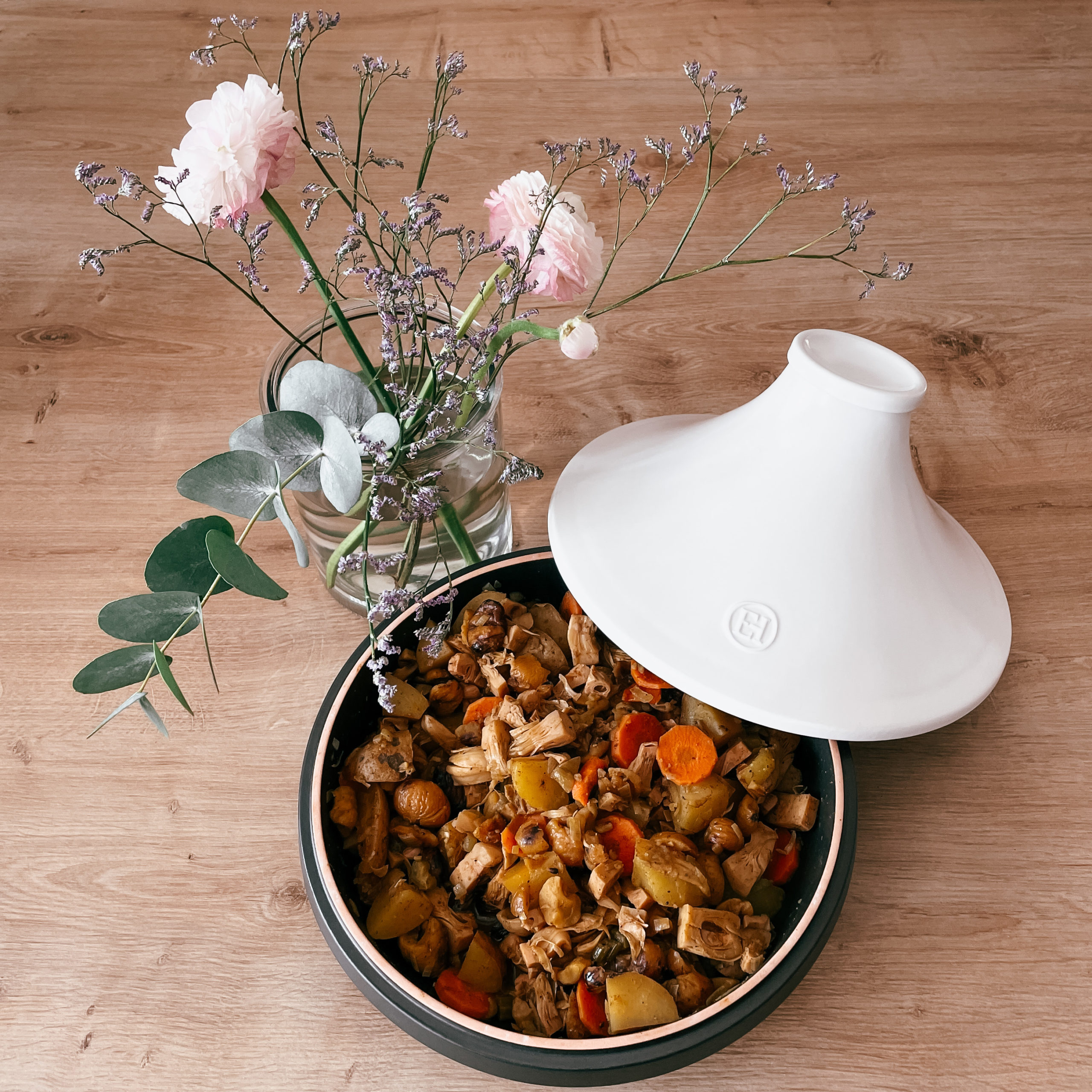 Jackfruit Tagine with Chestnuts
For three servings
1 onion
1 clove of garlic
5-6 small new potatoes
2 carrots
1 stalk of celery
1 small jar of organic chestnuts (about 9 oz)
10 oz canned jackfruit (or roasted vegan chicken pieces from the Vegan Daily brand, or 3 chicken thighs …)
2 tbsp olive oil
1/2 cup of white wine
Water
Spices :
4 branches of saffron
1/2 tsp ground cumin
1/2 tsp ginger powder
1 tsp cinnamon powder
1 tsp of raz el hanout
A pinch of ground nutmeg
Salt, Madagascar pepper
Recipe
Using a cutting board and a good knife, finely chop the onion after peeling it. Remove the skin from the garlic clove, remove the germ after cutting it in half and set it aside for the garlic press (or mince it very finely, if you don't have a garlic press).
After washing the carrots, the celery stalk, and the potatoes, cut the carrots into fairly thin slices, the potatoes into small quarters, and the celery into small pieces.
Rinse and drain the jackfruit.
In your hot tagine dish (or your wok, your casserole dish …), brown the onions and garlic with olive oil over medium heat for 2-3 min. Add the jackfruit (or the vegan chicken pieces or the chicken thighs) and brown them nicely on all sides. Deglaze with the white wine, remove the cooking juices using a wooden spoon, and add the carrots, potatoes, celery, and all the spices.
Pour in enough water to cover the vegetables halfway up, stir well so that the spices can diffuse, cover, and cook over low heat for 40 min.
Open the tagine, stir gently, add the chestnuts, possibly a little water if you find the juice too thick, and continue cooking until the carrots and potatoes (and chicken, in that case) are cooked. Usually, an additional 20 minutes are required.
I advise you to cook this dish in advance, let it cool, then reheat it half an hour before sitting down to eat, over low heat. Indeed, like all tajines, this dish is even better reheated.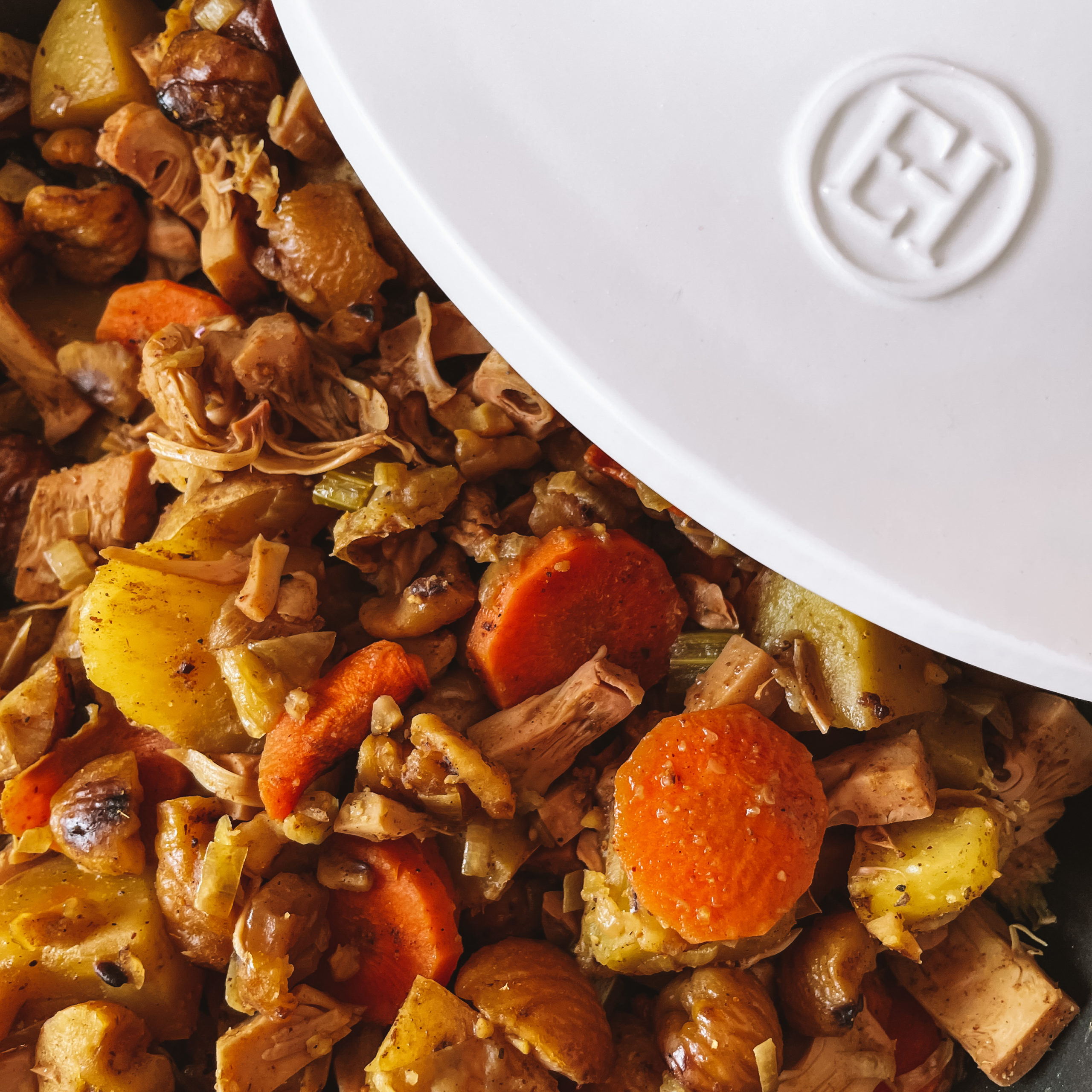 Presentation
There are two schools. Those who have a beautiful tagine that they are proud of can simply put it on the table and serve their guests one by one.
For the clumsy like me: In your prettiest soup plates, pour a few spoonfuls of this sumptuous tagine, with love, glory, and beauty. Serve immediately.
If you want to propose some bread with this dish, I strongly recommend Indian bread, the famous naan, perfectly accompanying your masterpiece.
About wine, a treasure from the Rhône of your choice, a Gigondas, for example, will be able to impose itself with finesse against the spice festival of the tagine. Decant 30 minutes before serving.
There you go; I hope I made you want to simmer an excellent little dish with spices that warm your heart, body, and soul. With that, I wish you a fantastic tasting in pleasant company, and see you on friday!
XO 🌶