"Swallow flying high; the weather will be alright, swallow flying low, soon the rain will flow."
Anonymous quote, no doubt making a philosophical parallel with Twitter, lol.
Hello, young Padawan
A cute visit to an eco-solidarity garden in Michigan, more precisely in the pretty city of Detroit, that's what I have in store for you today. Urban tourism, but green, in short. Come with me to discover one of the marvelous agrihood of Detroit; it will restore your mood in this world of darkness.
Welcome to the Chillbycaro flight to Detroit; the outside temperature is 36°F, the sky is overcast, but rest assured the pilot has very good eyesight. Fasten your seatbelt and make yourself comfortable; our landing is scheduled for the next paragraph.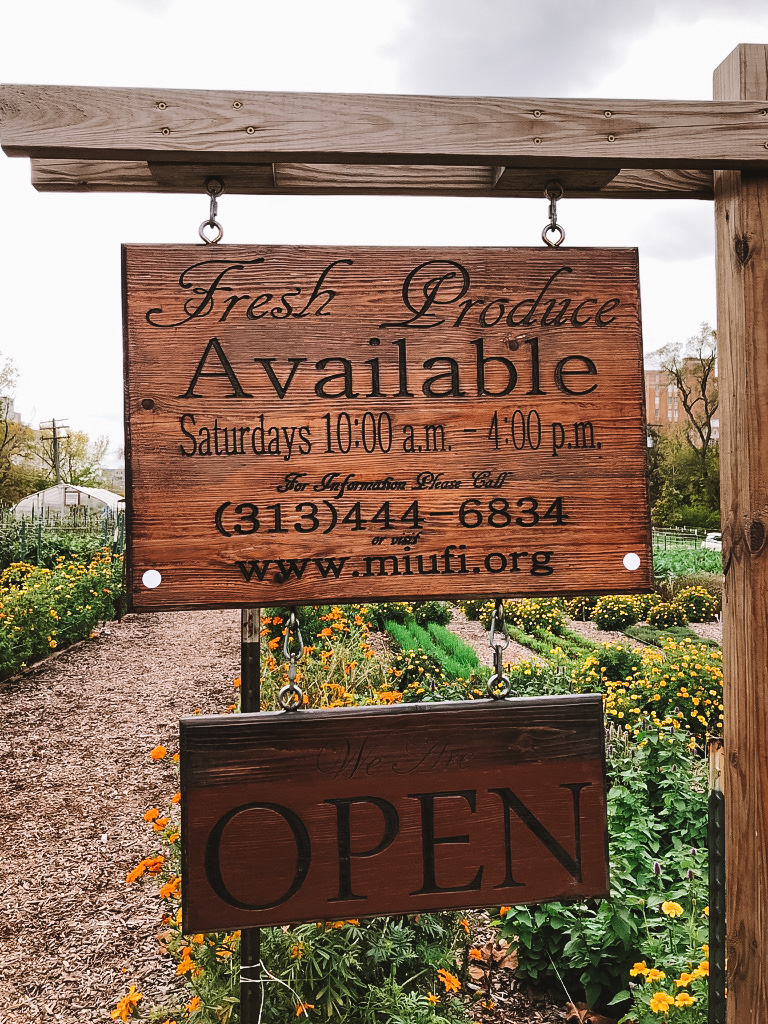 The phoenix rises from its ashes
As you probably know, the city of Detroit declared bankruptcy in 2013. That is to say that the city could no longer meet current expenses as it was in debt. Never mind, it is fortunately in these difficult times that our fellow human beings show solidarity, cohesion, mutual aid.
Thus, for a while, no more police, no more garbage collection, no more firefighters or ambulances in certain neighborhoods, welcome to the new world. Although many left the city during this difficult period, the greater number remained because they could not afford to abandon their house or sell it at a loss. Therefore, they had to find ways to survive and keep their neighborhood safe.
Some fathers organized armed patrols to dissuade thieves and drug dealers from ransacking their neighborhood, others working in medics areas left their number to a neighborhood referent if necessary, some neighbors who owned vans arranged their vehicles to transport citizens to the nearest functioning hospital, other owners of trucks or pickups took care of garbage collection, etc.
And then others, driven by the hope of finding a solution to the prevailing poverty, hunger, and that of a better world, had the idea of setting up "urban agrihoods"…
Welcome to one of Detroit's Urban Agrihoods
An urban agrihood is an urban vegetable garden installed in the center of a district, in permaculture or organic culture, organized by voluntary associations, and whose inhabitants of the neighborhood can come to garden and harvest freely and free of charge the fruits and vegetables they need.
What a very nice way to restore their dignity to these citizens, making them create a bond between them and allowing them to acquire some knowledge in sustainable gardening that respects the environment and their health.
Children come to play in these gardens of the new world and discover insects or how different plants grow; some neighbors put their hands in the ground, others bring seeds or mulch, retirees put their little chairs there and relax for a moment reading to the soft sound of the younger generations, while keeping an eye on the kids.
Let's go for a visit to The Michigan Urban Farming Initiative (MUFI) located on Bush Street (a few hundred meters from the Fisher Building, which you can visit here, ed). Note the pretty yellow flowers that bring sunshine to the winter sky and sleeping nature.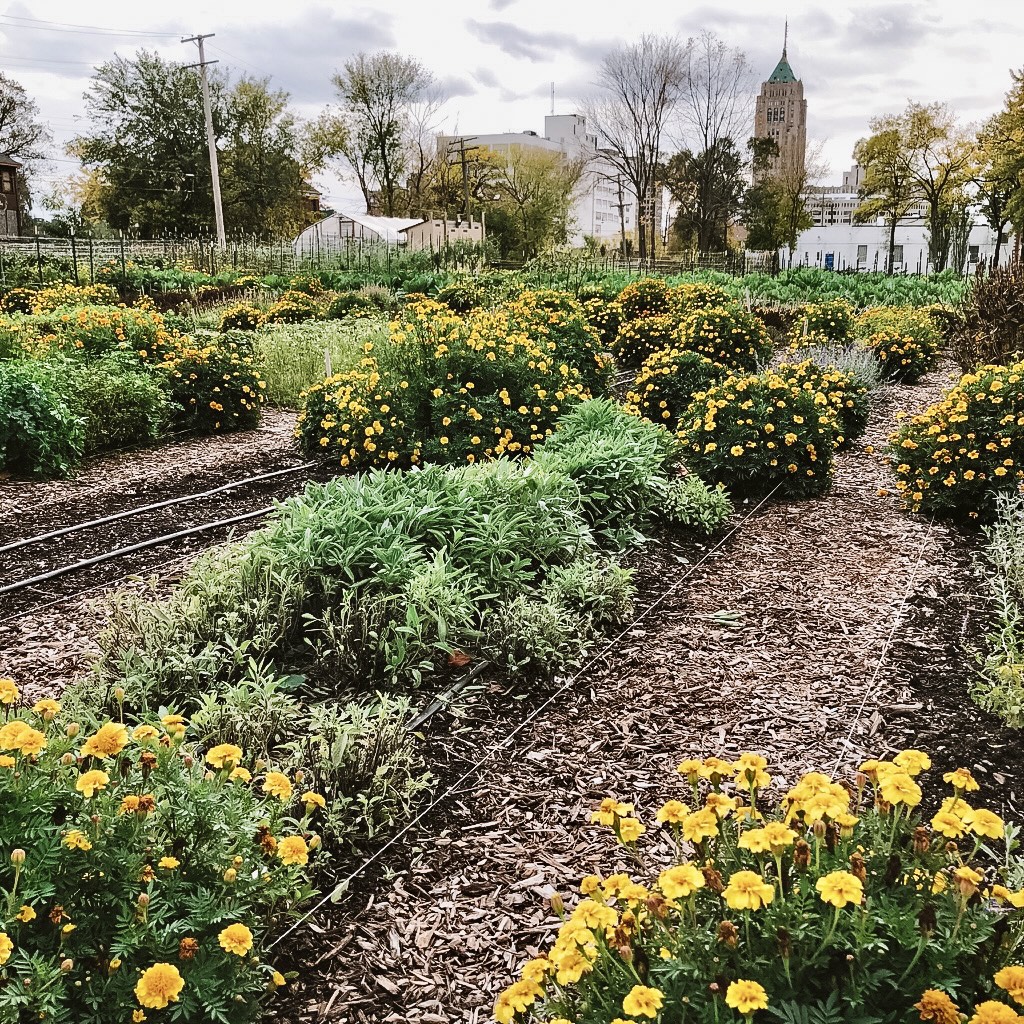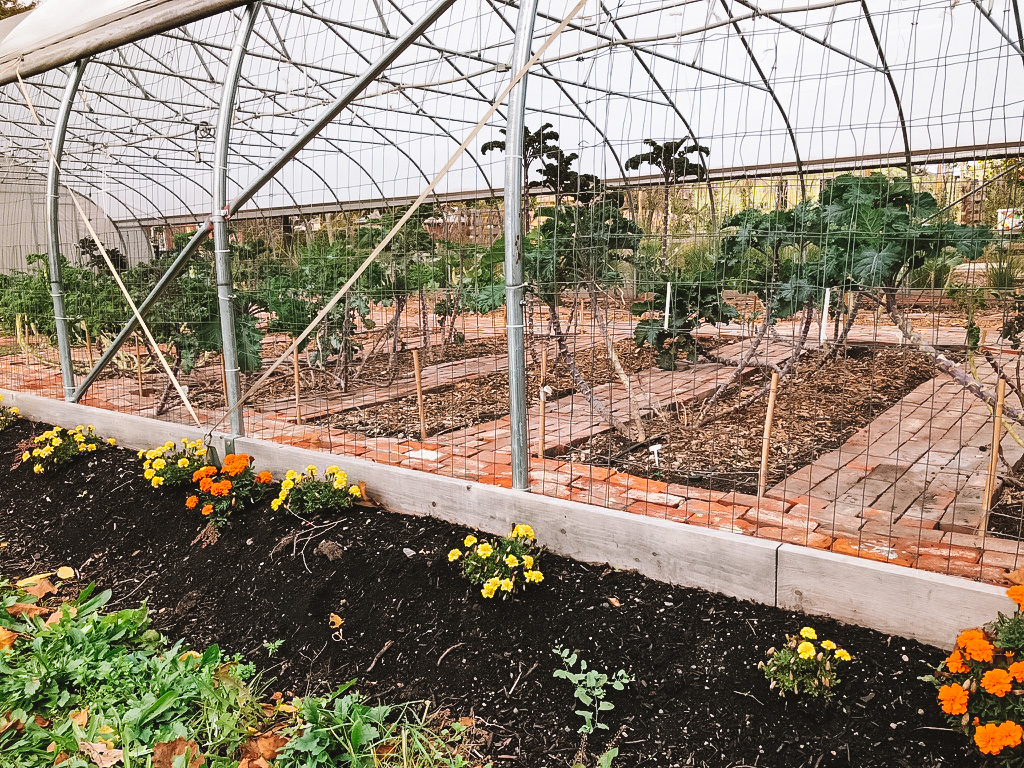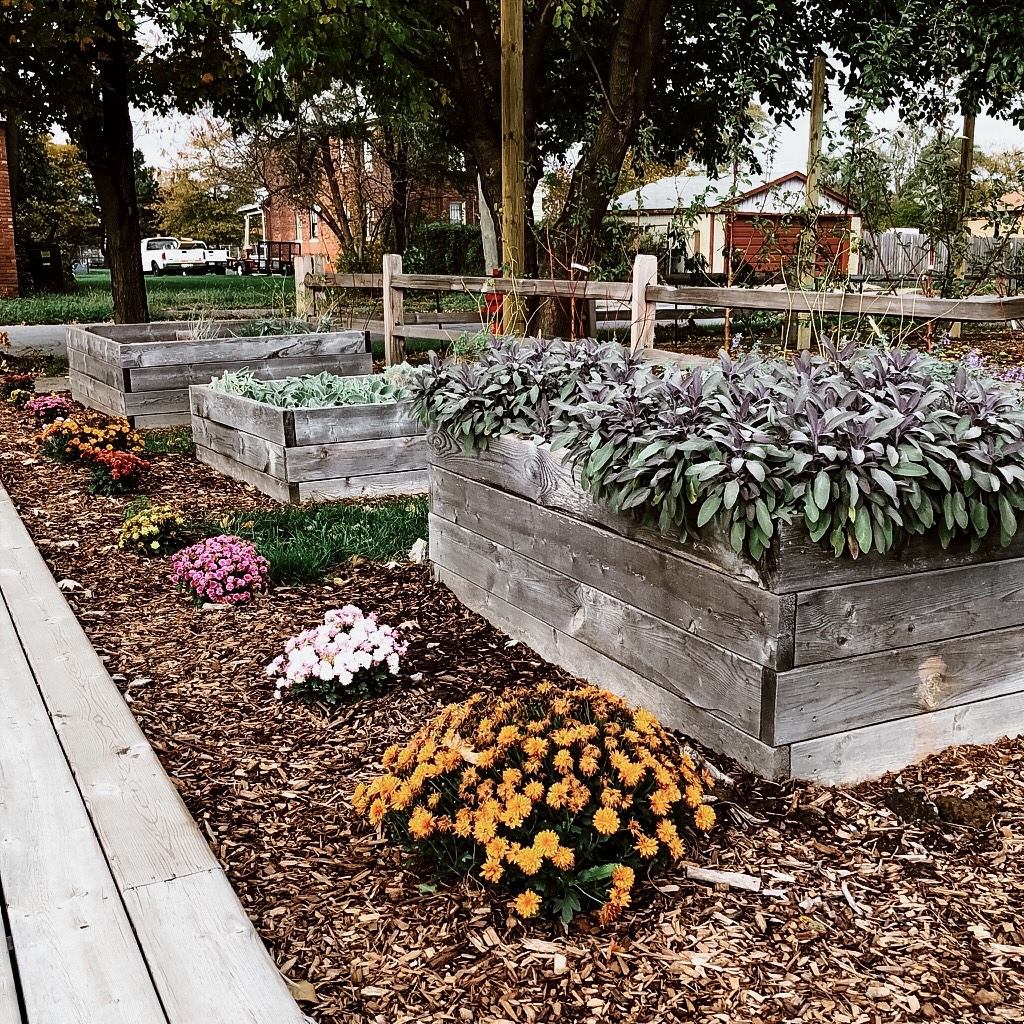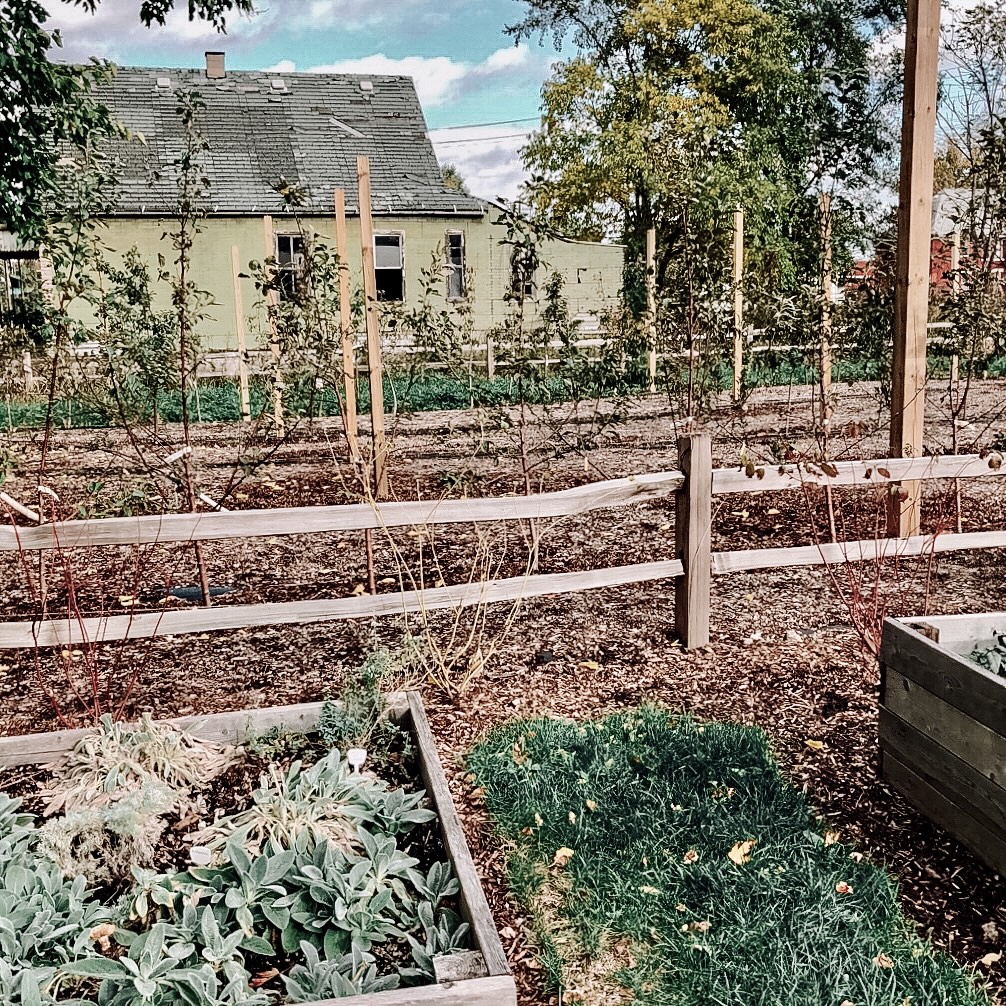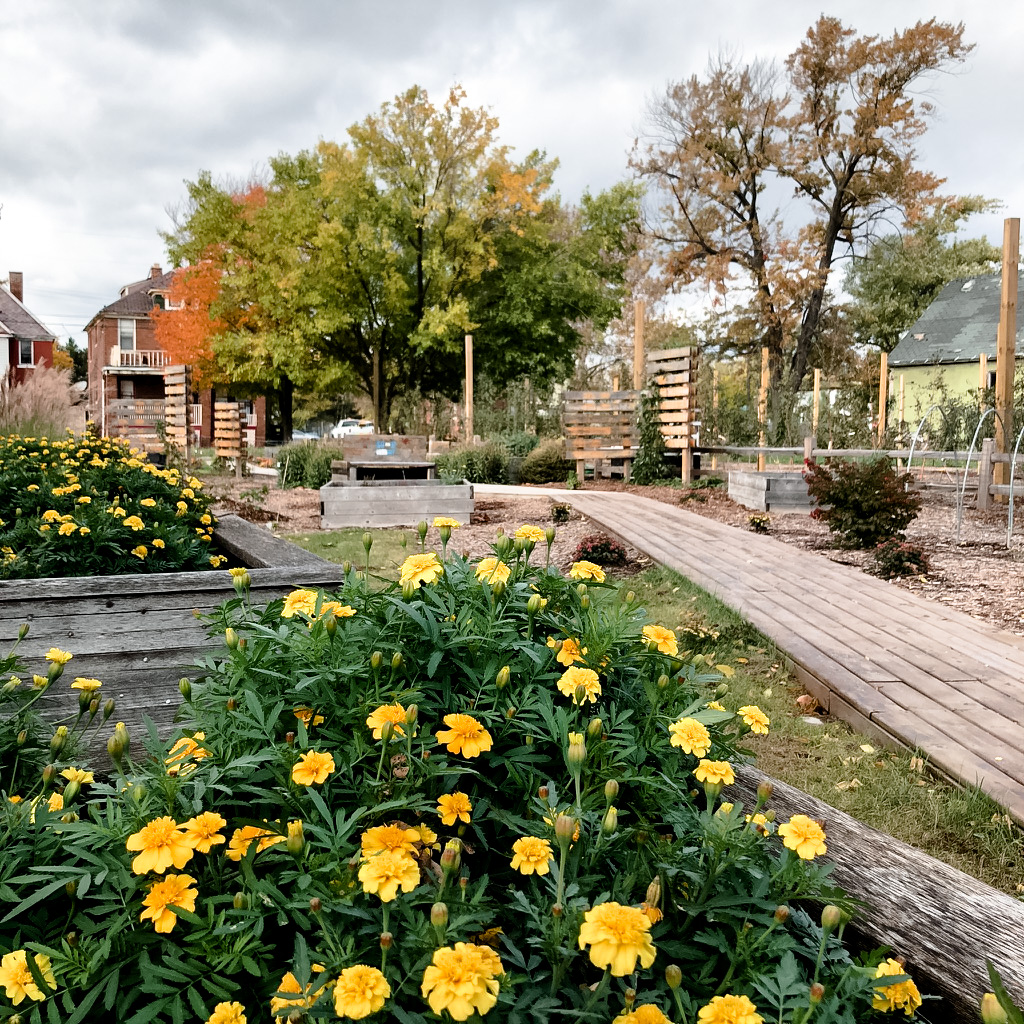 These good vegetables are on sale for tourists, and residents can harvest or help themselves to the baskets for free. On the menu this late October, were beets, flat cabbage, kale, spinach, potatoes, squash, and apples.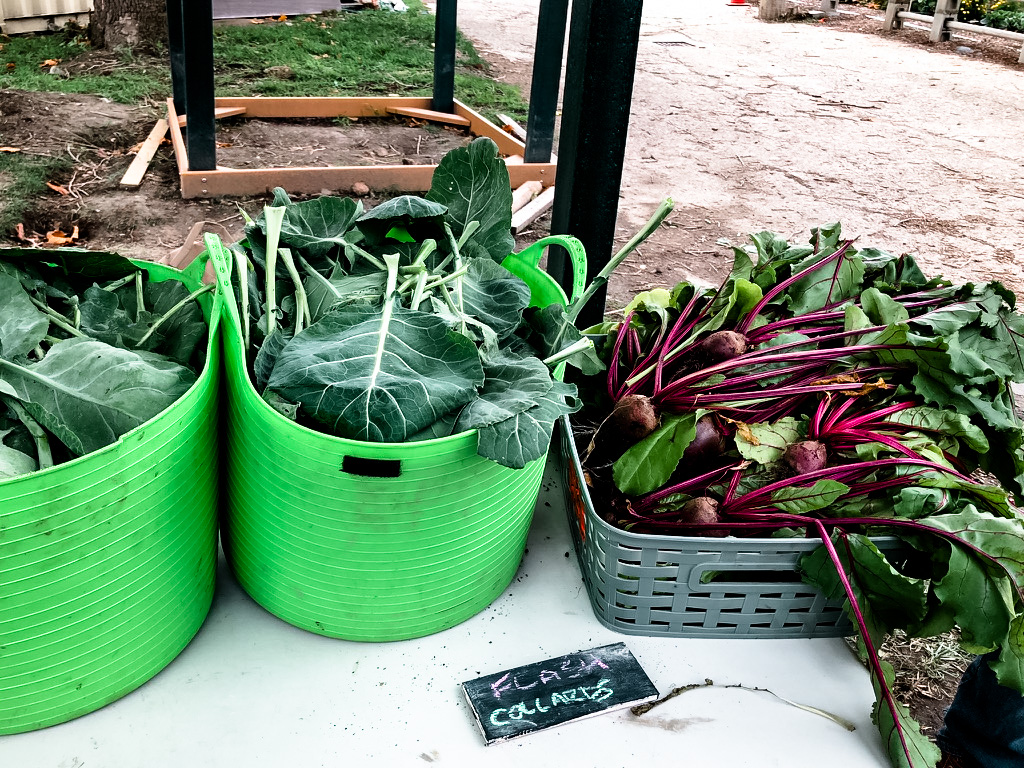 That's it for today. I hope this charming visit to an eco-solidarity garden in the lovely city of Detroit has given you hope about human nature and about the need to keep the link between us. You will find an excellent documentary here where we talk about the Agrihood of Detroit among other subjects, directed by Cyril Dion and Melanie Laurent, entitled "Demain"/"Tomorrow", as well as a short presentation video here of the agrihood that we discovered in this article if you want to know a little more.
Every time we individualized, controlled, divided, denounced in the past, we lost ourselves. Your fellow human beings are neither a threat nor a danger. Fraternity is not about doing violence to each other or taking any risk, even the lowest, for the comfort of the other or reassuring to them. It is about doing good for yourself and it will naturally benefit your neighbor. However, no fraternity, no solidarity if one of the two must do anything against his will or his integrity.
If one day you have doubts about the common sense of your actions or are lost on what is right or wrong: remember that humanity has always come out of the worst and managed to evolve thanks to mutual aid and courage, but never by resignation or stigmatization. There is no salvation in comfort, no wisdom in tranquillity, but nobility in courage and love in mutual aid.
Just as only by loving yourself will you love others well, just because it's legal doesn't make it moral, sometimes the only way to be a good citizen is to step aside, even to disobey the rules, as the inhabitants of Detroit did before us to save their neighborhoods.
So tonight, a sweet thought out into the universe for us to once again cultivate love, joy, hope, and renewal.
XO 🌻