Hello, young padawan
I often hear: "Caro, in winter, I never eat salad. It's too cold, it doesn't warm me up, I need hot food!" and other justifications. If you, too, are one of the salad-skeptics, salad-conspirators, or anti-winter-saladists, the worst kind, I assure you, it won't last.
Because today, we are doing a lovely winter salad recipe, hot and cold, and if you like it, we will do more recipes like this. So put on your beanie, scarf, and puffer jacket, and we're off to the kitchen.
In autumn-winter, we lack raw.
Indeed, the concern with eating only cooked food in the cold season is that you ingest fewer vitamins because of the cooking. So, it can be interesting to include raw food in the cold season, whether it's just as a starter if you're very chilly or as a main course for those who don't suffer from this temperature change.
Thus, your little Padawan body will be delighted to stock up on vitamins to face this winter with love, glory, beauty, and above all, in a good mood and without getting all the germs around.
Up to the recipe, let's go.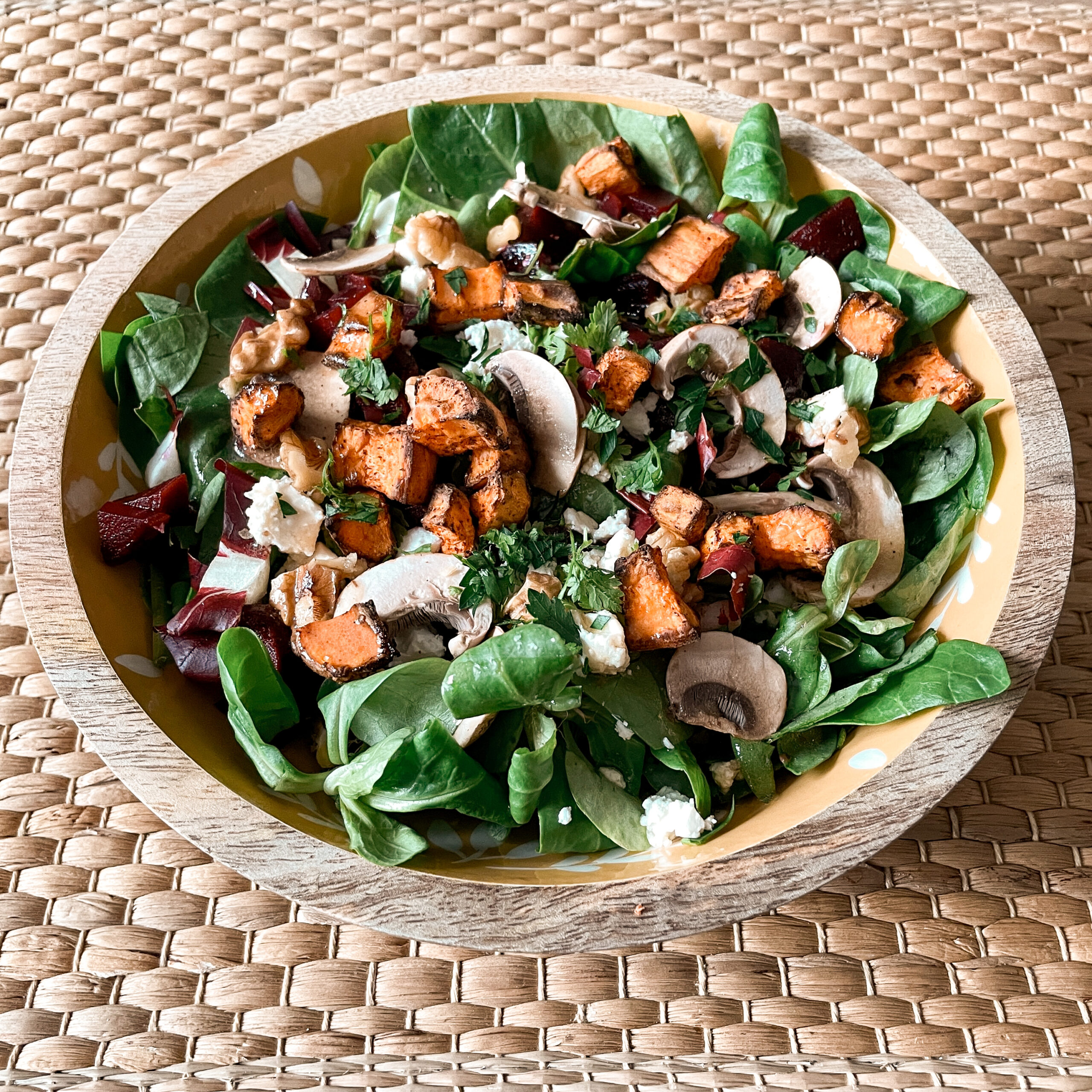 Winter salad, tofu, and sweet potato.
For two servings
1/2 block of smoked tofu with sesame almonds from the Taifun brand or any smoked tofu you fancy
1 small sweet potato
The seasonal salad(s) of your choice. Here: 1/3 red endive, 4 handfuls of lamb's lettuce, 2 handfuls of baby spinach
A medium-sized cooked beet
4 button mushrooms
1/4 block of feta
Aromatic herbs of your choice. Here: 4 large sprigs of parsley and 4 beautiful sprigs of chervil
4 shelled walnuts
2 tbsp of the "granosalad" salad seed mix from Biocoop bio market or the salad seed mix of your choice (pumpkin seeds, flax seeds, oats, raisins, …)
1 tsp paprika
1 tsp oil that can withstand baking, such as coconut oil
For the salad dressing:
A knife tip of mustard.
2 tbsp walnut oil
1 tbsp cider vinegar
1 tsp honey
Salt, Madagascar pepper
Recipe
Preheat the oven to 356°F
Peel the sweet potato and cut it into small cubes. Pour them into a bowl with the paprika and oil for cooking. Season with salt and pepper and stir everything well so that it is evenly distributed over the small pieces of sweet potato. Put them in a large baking dish without overlapping, and bake for 10 to 15 minutes.
Cut the tofu into cubes slightly larger than the sweet potato. Add them to the same dish when the sweet potatoes are halfway through cooking, avoiding the pieces touching each other. Check the cooking regularly, the tofu dice must be golden and the sweet potatoes sufficiently cooked.
While cooking, prepare two pretty and large plates. Place the salad leaves of your choice on it. Here I used a third of finely sliced red endive, some lamb's lettuce left intact, and spinach leaves cut in half because they were a bit large.
Finely chop the mushrooms and divide them between the two plates. Cut the beet into cubes the same size as the tofu, divide them evenly on the plates, then crumble the piece of feta on top of them. Set aside in the refrigerator.
Prepare the vinaigrette by mixing all the ingredients in a ramekin or mustard glass with a fork. Set aside.
Chop the parsley and chervil to your liking, and set aside for serving.
Presentation
Take out the nice salad plates when the tofu and sweet potato cubes are cooked and very hot but not boiling.
Add the walnut kernels, crumbling them coarsely by hand, the seed mixture, then add the diced sweet potato and tofu, the aromatic herbs, and the salad dressing last. Serve immediately.
With this recipe, sweet white wine lovers will be delighted to open a good bottle of their favorite beverage. As a sweet-white-wine-skeptic, I prefer a light white beer with a bit of roundness, like the Ninkasi, for example.
I'll let you enjoy and change your mind about winter salads, warming up cheerfully with this tasty meal. As for me, I'll see you next Friday, with joy and warmth!
XO 🌿