Hello, young Padawan
When the weather outside is very cold and puts you in the mood to watch the snow fall from your window, nothing is more pleasant than sitting down in the warmth of your living room, plaid, and cushions, with a good hot drink.
You asked me for it; I'm doing it. Here is my selection of favorite winter drinks, with a little bonus recipe.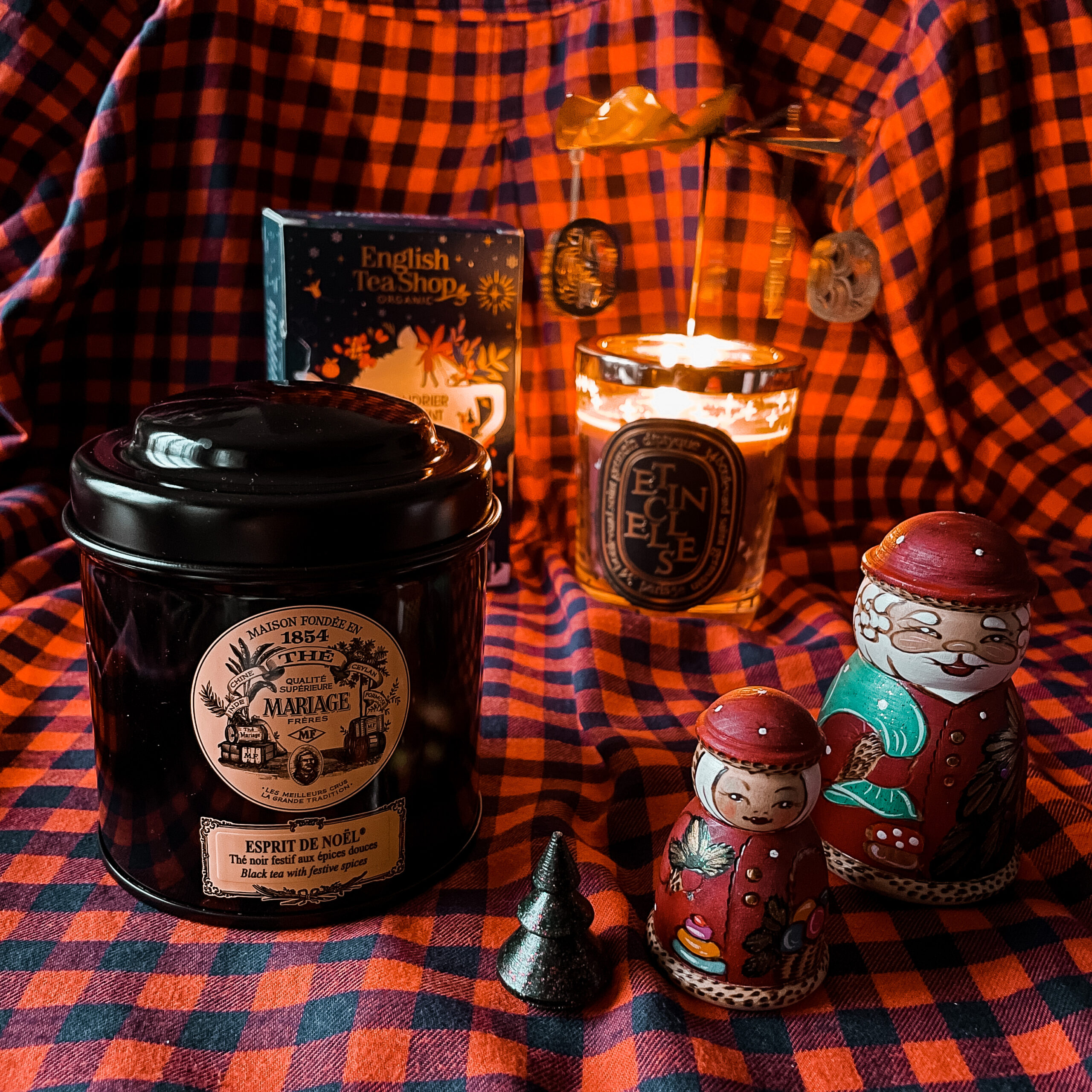 Tea
Dear Padawan, if you are a coffee lover, unfortunately, I will not be able to help you. I love the smell of coffee, but the taste… hum, not my thing. Tea, therefore.
In addition to the selection of limited edition Christmas teas from the house of Mariage Frères that I told you about here, especially great tea Bûche de Noël, there are some iconic Christmas teas, like Esprit de Noël, a fantastic black tea flavoured with tangerine, orange, vanilla, embellished with cinnamon pieces, almonds, and apple pieces.
Imagine that this year, I'm on not less than two advent tea calendars, lol. Indeed, in addition to this one, my all-time favourite, I got this one from English Tea Shop as a gift, and frankly, I wish I could tell you about it before December started, because it's a great one, especially for the morning tea. Twenty-five organic tea bags where we discover Ceylon, English breakfast, chai, and a few green teas; it is very pleasant. I couldn't find a link, but you can find it everywhere in supermarkets, organic or not.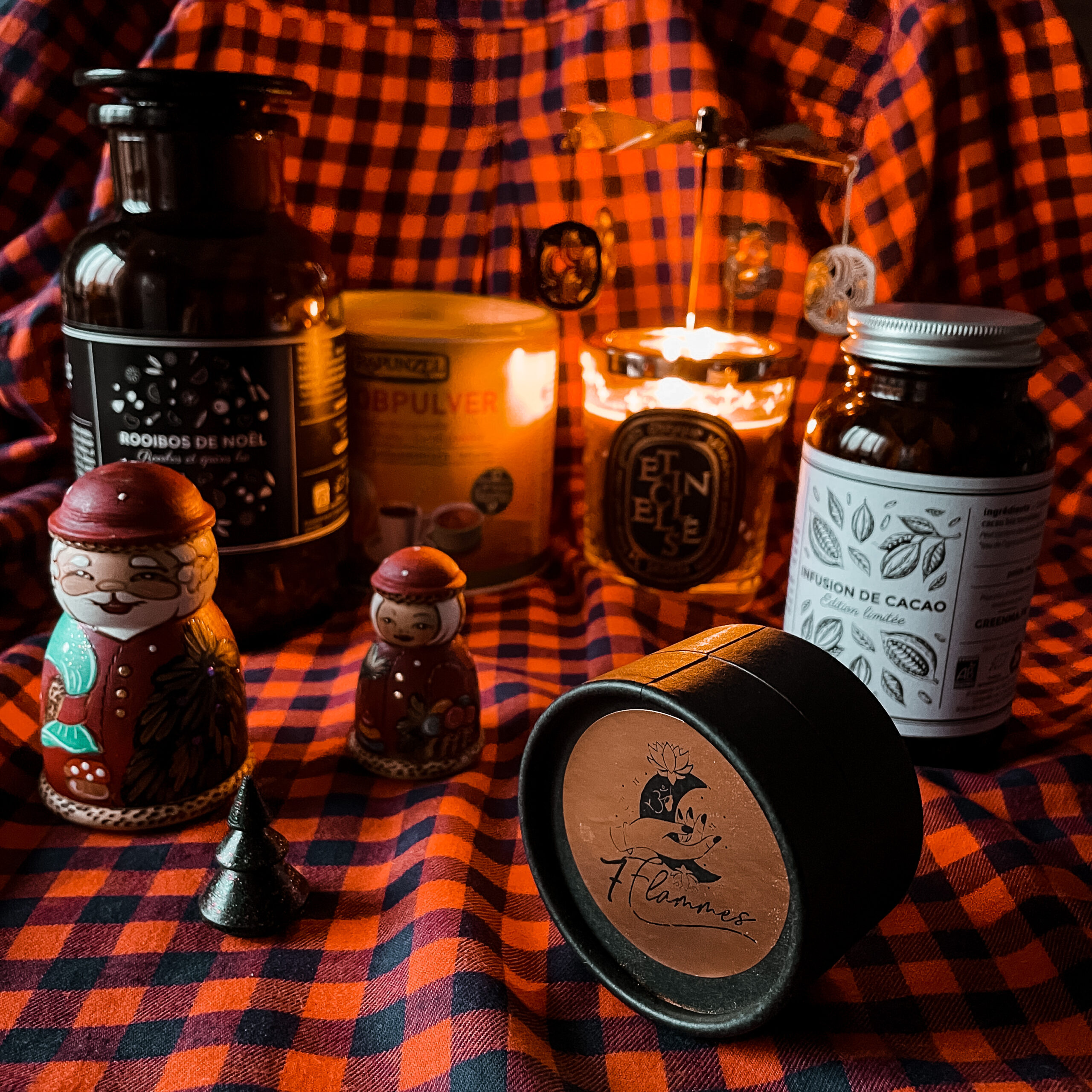 The comforting hot drinks of winter
Should I tell you again about the Infusion de Cacao and the great Rooibos de Noël by GreenMa? As its name suggests, the first is an infusion of roasted cocoa bean pods, a pure delight. The second is a rooibos Christmas infusion, sweet and comforting. For more info, I made an article here.
I'm almost ashamed to talk to you again about my carob infusion as I am rambling. A sublime and delicious alternative to cocoa, to be made with vegetable oat milk, for example. A really comforting moment. For more info, you can click here, I tell you everything about carob; you will even find an ultra-simple recipe.
The golden milk.
If you've never heard of it, it's a delicious Ayurvedic drink with lots of virtues: anti-inflammatory, antioxidant, analgesic, antiseptic, immune system stimulator, skin purifier, metabolism and liver regulator, and digestive. I regularly prepare this absolutely delicious and warming golden milk, especially after skiing or a nice walk in cold weather.
To prepare a cup of golden milk, nothing could be simpler. Just pour oat milk or other vegetable milk of your choice into a small saucepan, and add a spoonful of golden milk spices just like this one (the little black pot in the photo, which is now sold in white packaging, ed) that you can find it here.
Put the pan over medium heat, stir a little, and turn off the heat before boiling; let steep for two to three minutes, then strain. Drink slowly. It is possible to add a spoonful of honey and/or ghee (clarified butter).
But you can also make your own golden milk spice mix…
For a cup of golden milk
200 ml vegetable milk of your choice
spices:
1/2 teaspoon turmeric powder
1 pinch of cinnamon
1 cardamom
1 clove
1 pinch of vanilla powder
1 pinch of nutmeg
1 pinch of grated ginger
1 pinch of Madagascar black pepper
Note: You can prepare this spice mix in large quantities and keep it in a jar in a cool, dry place and away from light. A teaspoon of your mixture will be enough to make a cup of golden milk.
The little extra for the chilly or cold snaps.
The Brrr! honey and propolis grog from Ballot Flurin. This thing is a marvel to get you back on your feet in case of a starting cold, cold snap, chilly moment, severe fatigue, and else. A grog, before you sleep and when you wake up, it's a new you. I always have the Brrr! and the Dormiiir! (sleep!) at home. It says to put two teaspoons of this toddy in a mug of hot water, but I prefer to brew a cup of thyme tea that has cooled enough for it to be drunk and add my two spoonfuls of the grog mix. I drink slowly, then go to sleep. For the Dormiiir! grog, I proceed the same way, this time with chamomile herbal tea— great night of sleep guaranteed.
With all that, if you haven't managed to warm up, apart from an internship with a baker near the ovens, I don't have too many ideas left, lol.
Take good care of yourself, warm up well with these pretty winter drinks, but above all, have a wonderful Christmas Eve in the company of your loved ones, and as for me, I'll tell you next Friday!
XO ❄️