"Sometimes joy is the source of your smile, but sometimes your smile can become the source of your joy."
Thich Nhat Hanh.
Hello, young Padawan
There are countries, like the United States, for example, where as soon as their Halloween party is over, they go into Christmas mode. I don't know about you, but everyone around me seems to be in a hurry to celebrate Christmas this year in France. People are slowly starting to do their decorations and are already thinking about the Christmas tree… maybe it's a way of exorcising all the ambient sadness.
Putting a handkerchief on what worries you during a party, for example, can be beneficial and allow you to fill up with happiness, smiles, and good feelings before returning to reality. Let's just be careful not to go entirely out of reality at the risk that it will blow you up in the face like a bomb. Reality always comes back; better to accept it and to be aware of two things:
1/ Take a step back from events over which you have no power. Indeed, there is no point in worrying about things that do not directly concern you since, by definition, you cannot do anything about it.
2/ Learn to be happy, even when everything is going downhill. Yes, it's possible. Because there, again, it is a question to do part of it. You may be in financial trouble, but you are lucky to be healthy. Maybe you are going through a sad breakup or the loss of a loved one, but you have a roof over your head and friends' support in this ordeal. Maybe, finally, you lost your job, but you already have some leads, and then you have experience, so you know you can trust yourself. It is never the total sinking of the Titanic; there are always positive points in any dramatic situation; there are always solutions, provided you accept reality and take a step back from events.
Well, that'll be all for the philosophic-spanking moment; Let's get to the fun.
I am posting this at the beginning of November now, following the hearty shouting match from my readers I received two years ago, lol, where I outrageously dared to show an out-of-stock tea advent calendar – what an outrage, you will say! 😂
So, as tradition now demands, today's post is our little annual Christmas post, in which I give you some ideas to get you in the Christmas mood.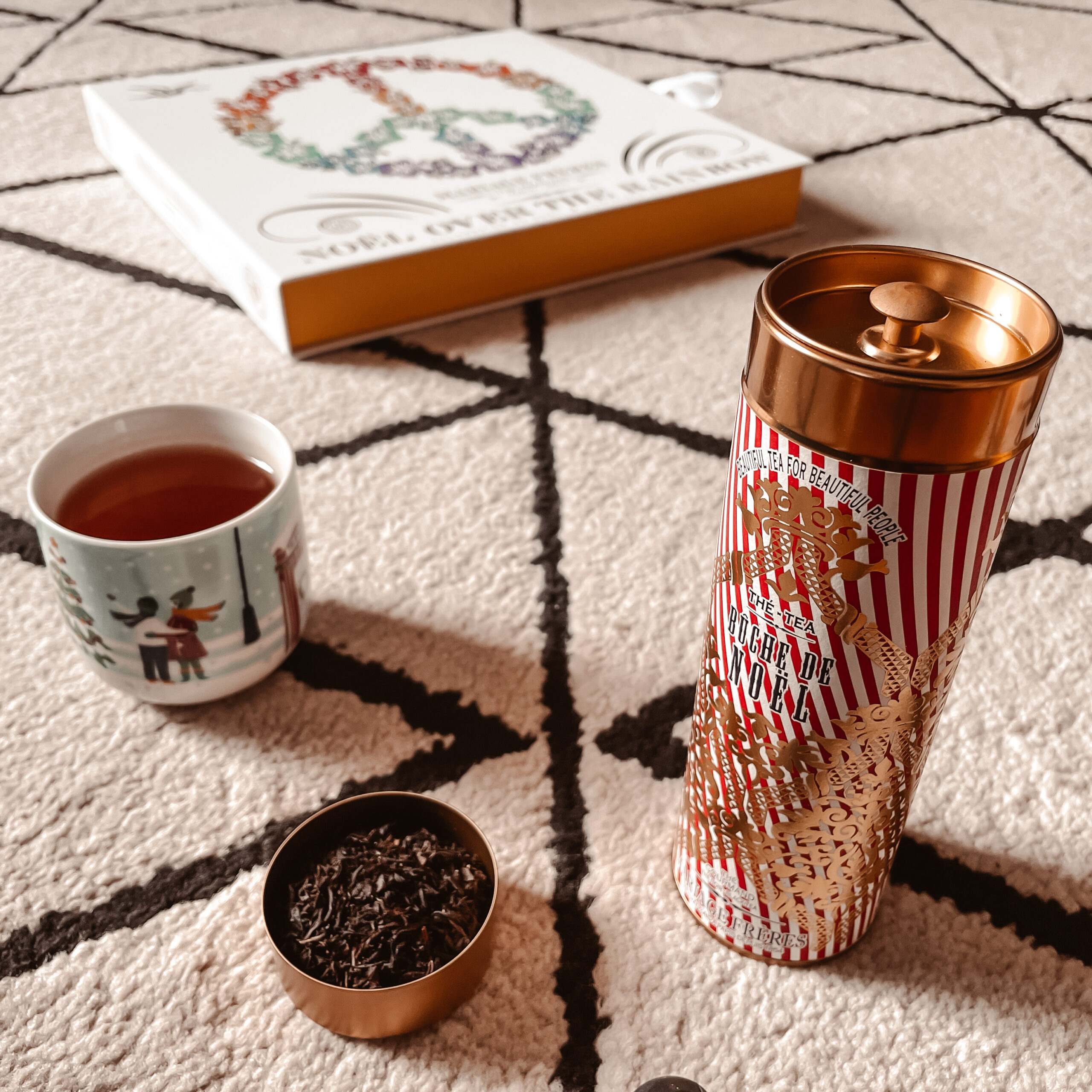 Waiting for Christmas.
_ And yes, the famous Mariage Frères advent tea calendar that I treat myself to each year. I know that a few of you are now also ordering it following the release of this article because what could be more fun in life? The principle, for those who do not know: One day, one box, one muslin: an excellent tea to discover. Happiness for tea lovers!
_ More tea, yes, lol. I could smell the Christmas edition of Mariage Frères too, which is called Bûche de Noël. The name is well found since it is a gourmet black tea with citrus fruits, chocolate, caramel, and red fruit notes—just that. An absolute pleasure without sugar or calories; I put that there for those who pay attention.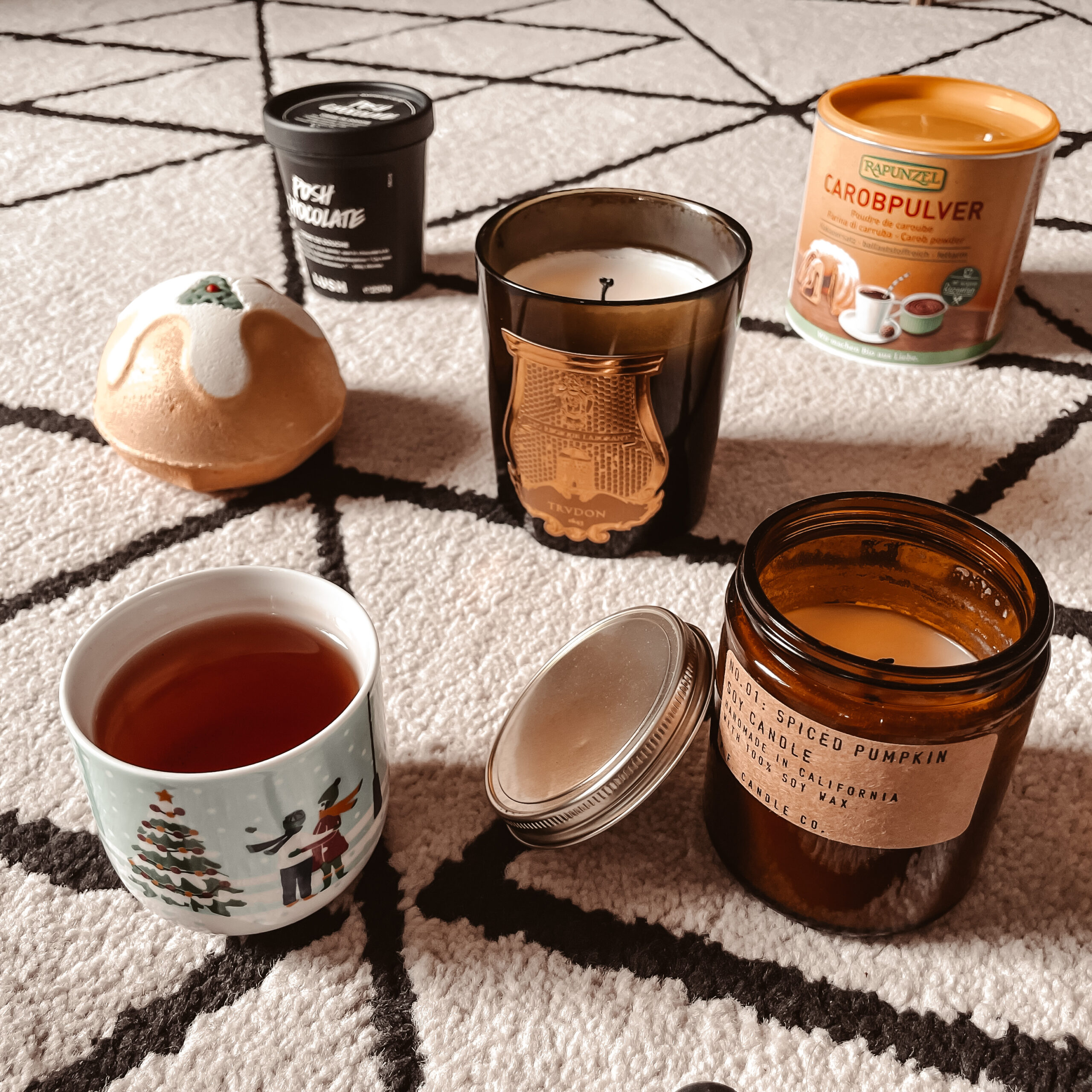 _ Little pleasures for the bathroom: The Golden Pudding bath bomb that comes out every year (last year it was called Golden Wonder, ed) contains essential oils of orange, lime, and salt baths that will release its minerals into the water. You can make two baths with it by cutting it in half with a knife, evenly distributing the sea salts in each half, and keeping your other half in a cloth away from humidity.
The Posh Chocolate shower cream, which I have already told you about many times, smells good of hot chocolate but, above all, is a panacea for sensitive and/or dry skin since it is very soft and nourishing for the skin. I use this cream with a flower sponge; believe me, a little goes a long way, and one jar lasts forever.
_ Should I talk about the carob powder, which I praised here? I think not. If you don't know, you just have to click, read, and you'll love it, that's for sure.
_ Candles, again, always, lol. If you're not sick of talking about candles yet, my favorite from P.F. Candle is the Spiced Pumpkin, a delicious smell of cinnamon cookies and wood fire, which you can find at Blossom website, a lovely boutique in Annecy, France.
Finally, a recent discovery, the Gabriel candle from the House of Trudon. A delicious autumnal smell of baking cake mixed with notes of woodfire. You will have understood we are in the same atmosphere as Spiced Pumpkin, minus the spices. Indeed, an outstanding achievement.
If, with that, you don't wait for Christmas in joy and good humor, I don't know what to do, lol.
Take good care of yourself, and see you next Friday!
XO 🕯