"Autumn, marvelous autumn, mingled its gold and purple with the last greenery that had remained alive as if drops of the molten sun had flowed from the sky into the thickness of the woods."
Guy de Maupassant.
Hello, young Padawan
Your tan is gone, you're as white as an ass, and you feel some lack of color and rosy cheeks; you're even starting to be jealous of your Sunday roast chicken which has a better tan. Your faithful servant knows the problem, you see, since I wear an eternal white-as-a-ghost complexion from spring to winter. Yeah, it's me, Casper, lol.
Never mind, I'm going to give you some tips for looking healthier, more colorful, and even sunnier. Besides, self-care helps to feel good and lifts spirits, so what are we looking for?
Because we can talk trivialities while being cultured, Maupassant in the quotation, and here we go, talking makeup!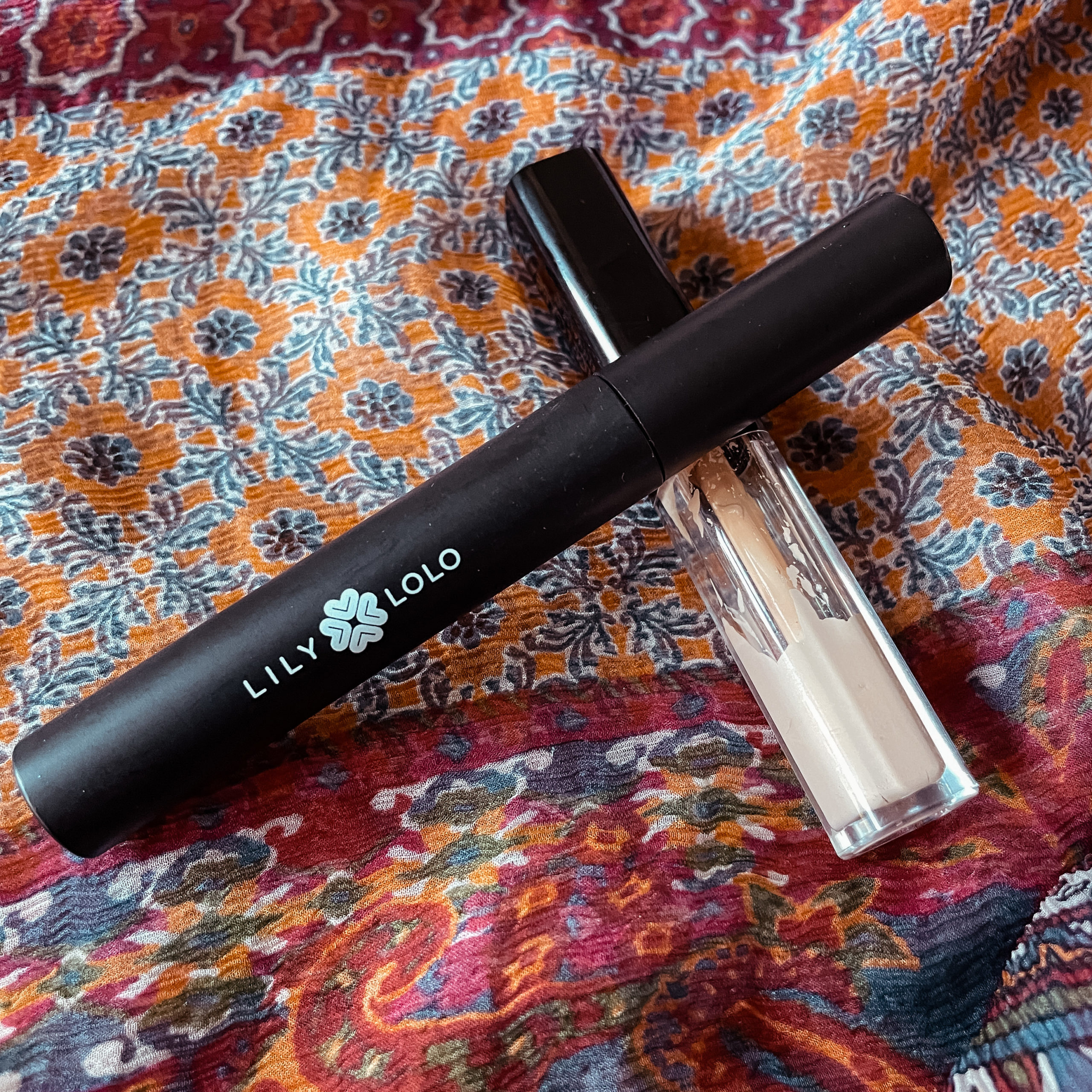 Fatigue, what fatigue?!
Back to school, work, children, troubles, fatigue… That's a lot to deal with, and that's why there are some tips to hide like magic our tired look, like a good vegetable juice for a vitamin shot, and a great concealer, then all is forgotten.
Yep, concealer, you know, that thing that makes everyone believe, even yourself, when you see your reflection in the mirror, that you've only had eight-hour nights for the past twenty years? The masterful trick to wake up the face in 2 minutes flat, men and women included.
But you have to find your formula because the thing tends to crease a bit after thirty. The right formula, I said, and a little trick, like putting a drop on the dark circle, leaving it on for thirty seconds, and then blending it out. Indeed, the exposure time allows the concealer to dry slightly, and once blended, it will hold a thousand times better. Try it and let me know; you don't even need to powder anymore. Magical!
My current favorite is Dolce et Gabbana's formula; yes, they do makeup. Covering without being cakey, easy to apply, and does not move, real happiness. A little goes a long way; it will last me a year and maybe a little more.
And then, when we talk about eye-opening, looking awake, nothing better than a good mascara for this job. This one, Lily Lolo's Big Lash, is undoubtedly the best mascara I've tried, and it's an organic, natural, and everything-green mascara, unbelievable!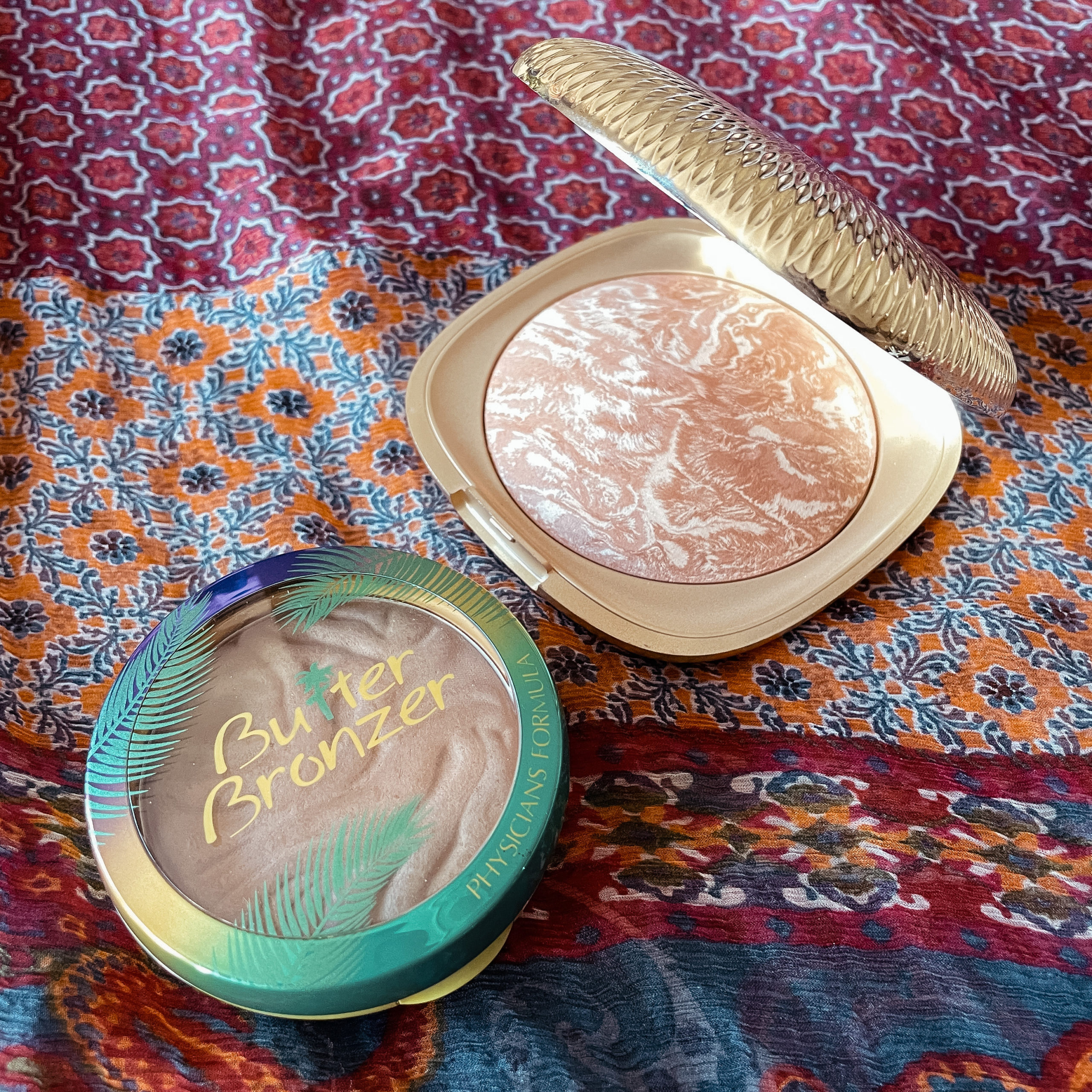 Holidays on your face
A nice bronzer on the cheeks, chin, forehead, and presto, we are returning from vacation without having left—nothing like it to bring pretty colors in just a minute of your precious time.
My two favorites, natural, quick, and easy to apply and blend products are some I've told you about a thousand times like here where you can see my swatches in natural light, this is the butter bronzer from physician formula and the baked bronzer from Kiko, a limited edition of which they are only changing the packaging, so don't worry I went to test this version in store and it is very similar to mine, such as the Hourglass' bronzers.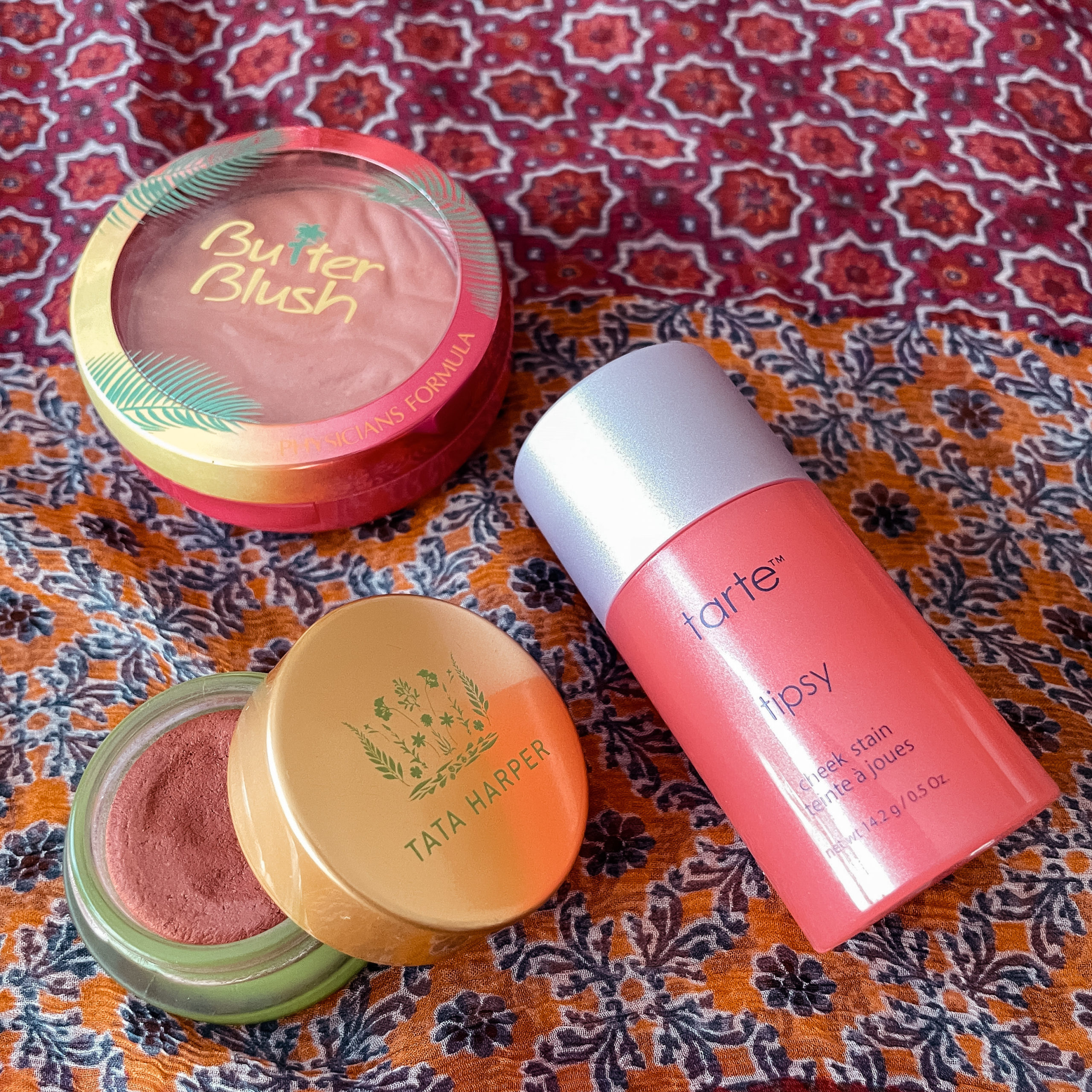 Pink on your cheeks
A touch of pink, we couldn't invent a better way to bring freshness to the face and awaken all skin tones, from ebony to white-as-a-ghost. My three favorites are, first, a blush of the shade vintage rouge, a powder product with a soft buttery formula, still at physician formula, and in the butter bronzer range. Easy to apply, the color is a marvel of naturalness; I talk about it on this article here.
Fall also means the comeback of cream blushes that brings hydration and plumpness to the skin. One of my favorites is Tata Harper's, of which I have the older version in "Very Popular" shade, which new name is "Lovely". It's a beautiful natural pink, impossible to miss, and that you can apply in twenty seconds. Infused with protective and hydrating botanicals, this blush works wonders on dry skin in all seasons and on sensitive skin in the winter.
And for a little more light, there's the cream-stick blush from Tarte in shade Tipsy, a great color. It's a beautiful pink with a hint of warm light, as luminous as you can wish. If you still have the Fenty beauty stick blush in Pink Lemonade, it's almost a dupe.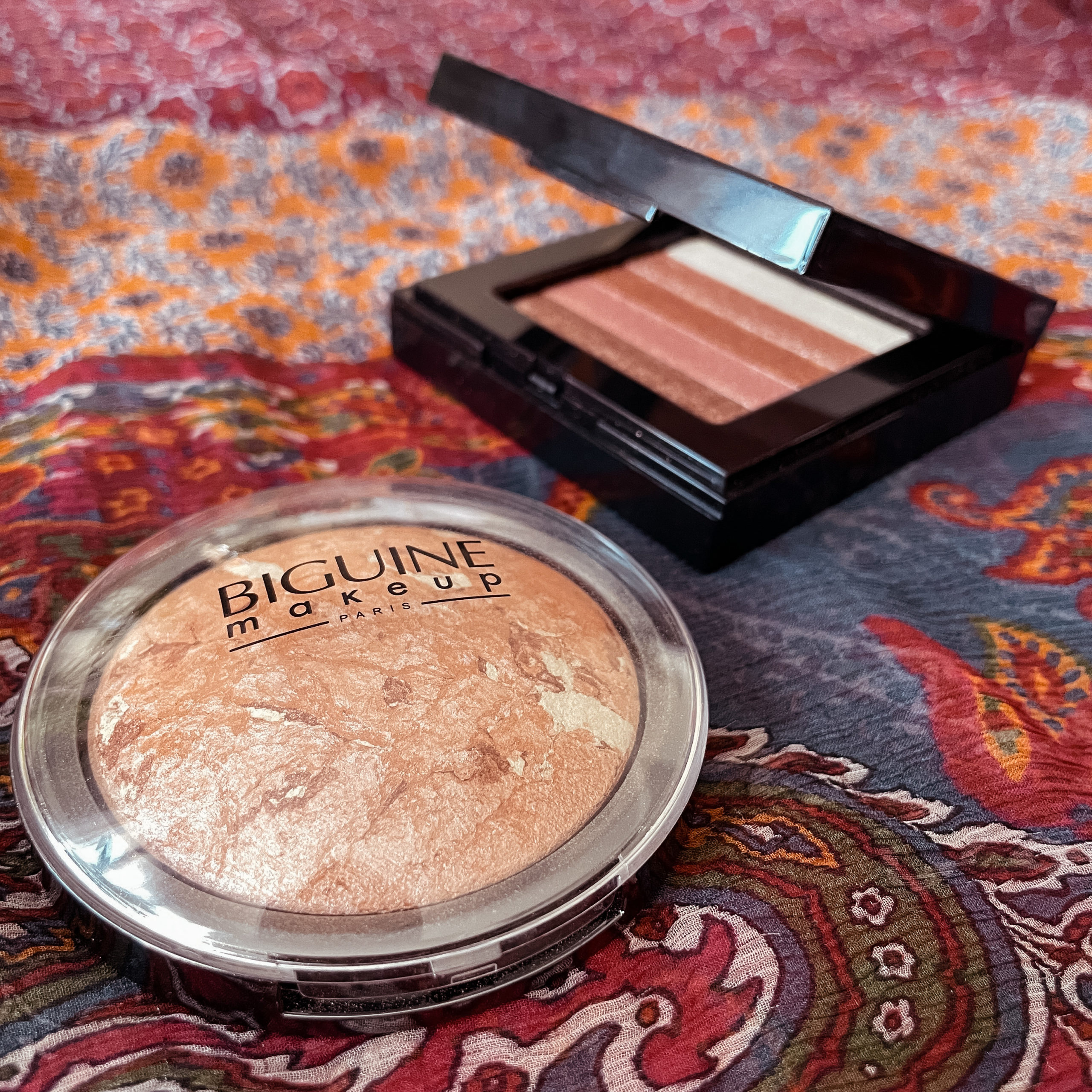 Gold on your cheekbones
A veil of light on the cheekbones, and your face is radiant, awake, even the day after a binge. For the fall, I'm going either for a light and natural champagne or a fresh rosé tone, like the last rays of the autumn sun.
For the light champagne version, there is the one from biguine makeup, discontinued but still available at some stores here and there, like Monoprix in Paris. Besides, you can find the same natural, elegant, and glitter-free light with Benefit's Cookie, or Soft & gentle from M.A.C, real dupes.
For the natural rosé version, Bobby Brown's shimmer brick in shade Bronze is really beautiful, impossible to miss.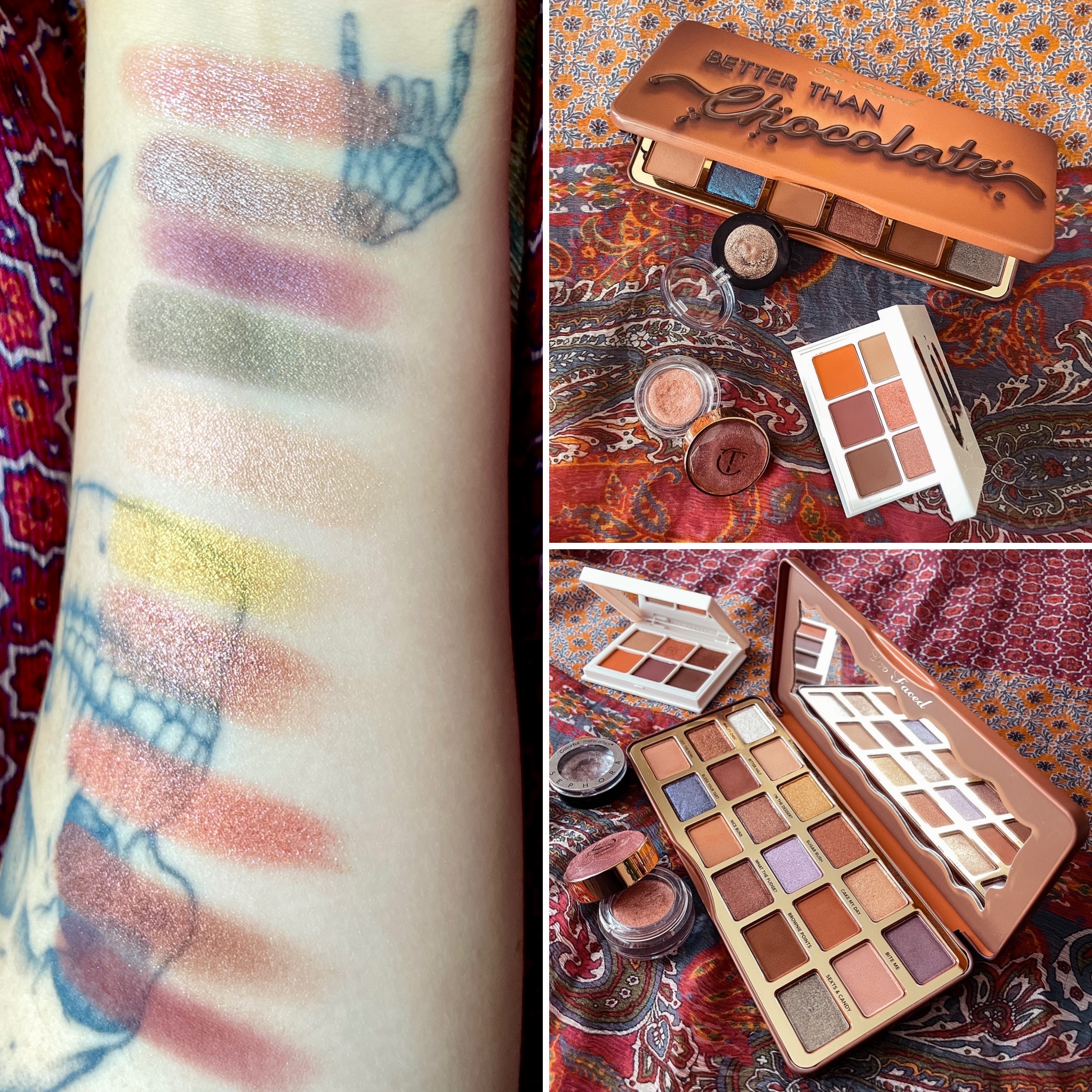 Fall on your eyes
If, like me, you love sporting the colors of fall on your eyelids because this season is simply the most pleasant for makeup, there are a lot of options. Also, I will offer you two individual marvels and two pretty palettes that are childishly simple to use.
In the first position on my arm, we have Pillow Talk. This shade of charlotte Tilbury in a pot and of the last Christmas limited edition is discontinued in this format but came out again as a quartet, which you can find here. A very pretty rose gold with multi-glitter, this thing is madly beautiful and impactful.
Second position on my arm, the tint Shock choc 08 by Sephora collection. A sublime glittery taupe-brown, but remaining elegant. This stuff is self-sufficient; you put it on your lid, blend it, and you're ready to go. The last and not least information, this wonder is at a low price.
Position three through seven is Too Faced's Better than chocolate palette. Childishly simple to apply, work on, and blend like a dream. It contains simple and all-purpose luminous eyeshadows but also some creamy, glowing, and glittery formulas with the most beautiful effect, such as the numbers six and seven on my arm, the beautiful gold, and the glittery brown pink. A great palette.
Finally, the last three positions are swatches of the Deep Neutrals Fenty Beauty palette, in the true colors of the maple forests of Canada. Easy to work with, shimmers are completely natural and wearable on any occasion for those who like to keep it understated and subtle but still have fun. Less impact, therefore, but just as beautiful.
I hope I have made you want to take care of yourself at this time of year, when the hours go by remarkably quickly, when free time is indeed short, but taking five to ten minutes for yourself is priceless in this one way or another.
All you have to do is go rummaging through your little treasure drawers to find and compose your autumn look; as for me, I'll see you next Friday.
XO 🍁