« Imperfection is beauty, madness is genius, and it is better to be absolutely ridiculous than absolutely boring. »
Marilyn Monroe.
Hello, young Padawan
Whether you are passionate about beauty products or not, there is often one essential in the bathroom: the blush. From the charming watermelon spicy cheeks that give you a healthy glow, to the glittering pink-orange that brings you the light of the holidays you haven't had, it's the cute touch that changes everything.
The blush is definitively my favorite because even on bare skin, a little hit on the cheeks, possibly on the eyelids and presto we have the fresh face of a 15-year-old teenager who went for a walk in the forest, or almost.
If you have lipstick, you have blush, which will be, top bonus, granted to your lipstick. But today, there is a lot of brands and items, so we will not stop this article at a MacGyver mode. Whether in terms of textures, finishes, or colors, each blush is unique, that's why we need them all! lol.
To help you understand them a bit more, to inspire you to put your brushes back into some of your forgotten treasures, or to give you ideas of colors or textures that you would not have dared to try, we are going to fly over a sample of my collection of "rose to the cheeks."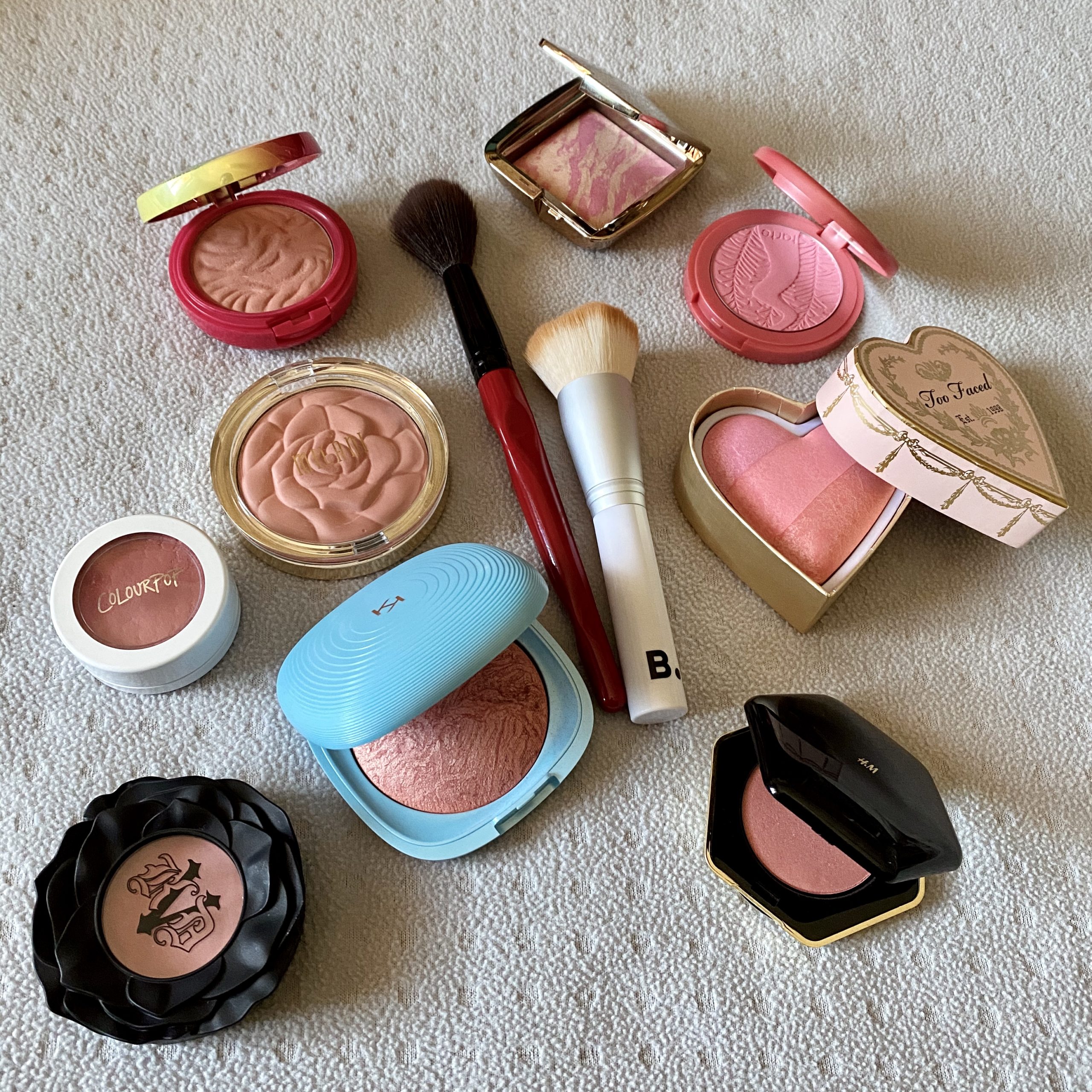 Powder blush
It is the most common, but not the easiest to create. Indeed, the purpose of a makeup product is that it is imperceptible on the skin. However, achieving a fine powder texture that will be undetectable but flattering to the complexion was not easy. A long time ago, it used to be seen clearly on the skin. Except for being a professional makeup artist, the lines and texture were evident on the face. Today, even if you are a novice, you can get away with it hands down, so much makeup products have evolved, for the better. More pleasure in the application, no risk of ending up with "a clown face", and so many choices of finishes, from the most natural to the craziest.
Here, you know me, we will stay natural, but we will still have fun with some cute finishes.
–Matte finishes :
Nothing more natural, more "no-makeup-makeup" than a matte blush.
Milani. The most discreet and yet magnificent matte powder blush in my possession is undoubtedly the powder blush from Milani. Their rose-shaped blushes are as beautiful to the look at as they are sublime on the face. A simple touch of these blushes on bare skin and boom, you look like you've slept ten hours! For fair skin like mine I recommend the shade 08 tea rose, it's a pale pink with a tiny hint of brown. Be careful, it will be invisible on medium to dark skin, but they have other colors, of course!
Tarte. Must-haves for blush. The shade "fearless" is the very one that gives you the pink touch of a walk in the forest, a beautiful flash pink. This pigment can be seen on fair to medium skin tones, but on black skin, I'm afraid it will be maybe a little gray, I recommend to try it on in-store.
Kat Von D's blushes, in the shape of a black flower, are absolutely awesome. Easy to apply, to blend, they hold all day (and have no sent, ed). My favorite, a soft pink, is called peony, like my favorite flower, but who cares, lol.
At Color Pop, count me in is the color of their "matte super shock cheek" that caught my attention. The creamy texture that turns into a powder is magical on the cheeks and lets the skin show through, leaving only a slightly orangey pink tint, a delight.
Physician Formula. If you like their butter bronzers, you'll like their blushes. Same smell, same texture, same quality. I have it in the shade vintage rouge, and it lives up to its name. A nice rosé with a hint of peach to go back to the 90s, plus technology, lol. A beautiful blush that gives a healthy glow and an almost innocent look. Almost.
–Luminous finishes :
H&M. No, I'm not talking about clothes, but about their line of makeup products available on the net. Not everything's great, but if there's one item you need to try out it's their blushes. Super quality, some colors are currently on sale at half price, in addition to being inexpensive, they are of high quality, and last all day. Small elegant black and gold case, hexagonal in shape, my favorite color is "golden peach". It is aptly named: it is a superb peach bringing a very slightly golden light, but not too much. Nothing to do with the famous Orgasm of Nars, which I cannot wear, under penalty of looking like a ghost on ecstasy.
Kiko. The "ocean feel" blush in shade 01 sun-kissed. This one is funnier if this is what you are looking for. It is an orange peach that brings a light champagne pink, cooler than the famous Orgasm of Nars. So it is a huge yes for fair skin, but also for darker skin tones who will be delighted to have something other than gold to highlight them.
Too faced, and its heart-shaped packaging. We are in the rococo world with Too Faced, but when it comes to formulation, they are great. The candy glow shade is a real flashy and angelic cold pink, bright but not too much, perfect for all cheeks wanting to give themselves a fresh complexion for snowy winters; when is skiing season, I can't wait anymore, lol. 🎿
Hourglass. As always on this blog, there is something for everyone. Hourglass are the pros for light management, so how can we not mention the pros when it comes to a blush article, may I ask ?! The luminous "flush shade," a pretty marbled pink and peach, brings the color and the perfect luminosity of the slightly shy person who would be watched out of the corner of the eye by Brad Pitt, smiling and unsettled by this ingenuous cheeky beauty. And voilà!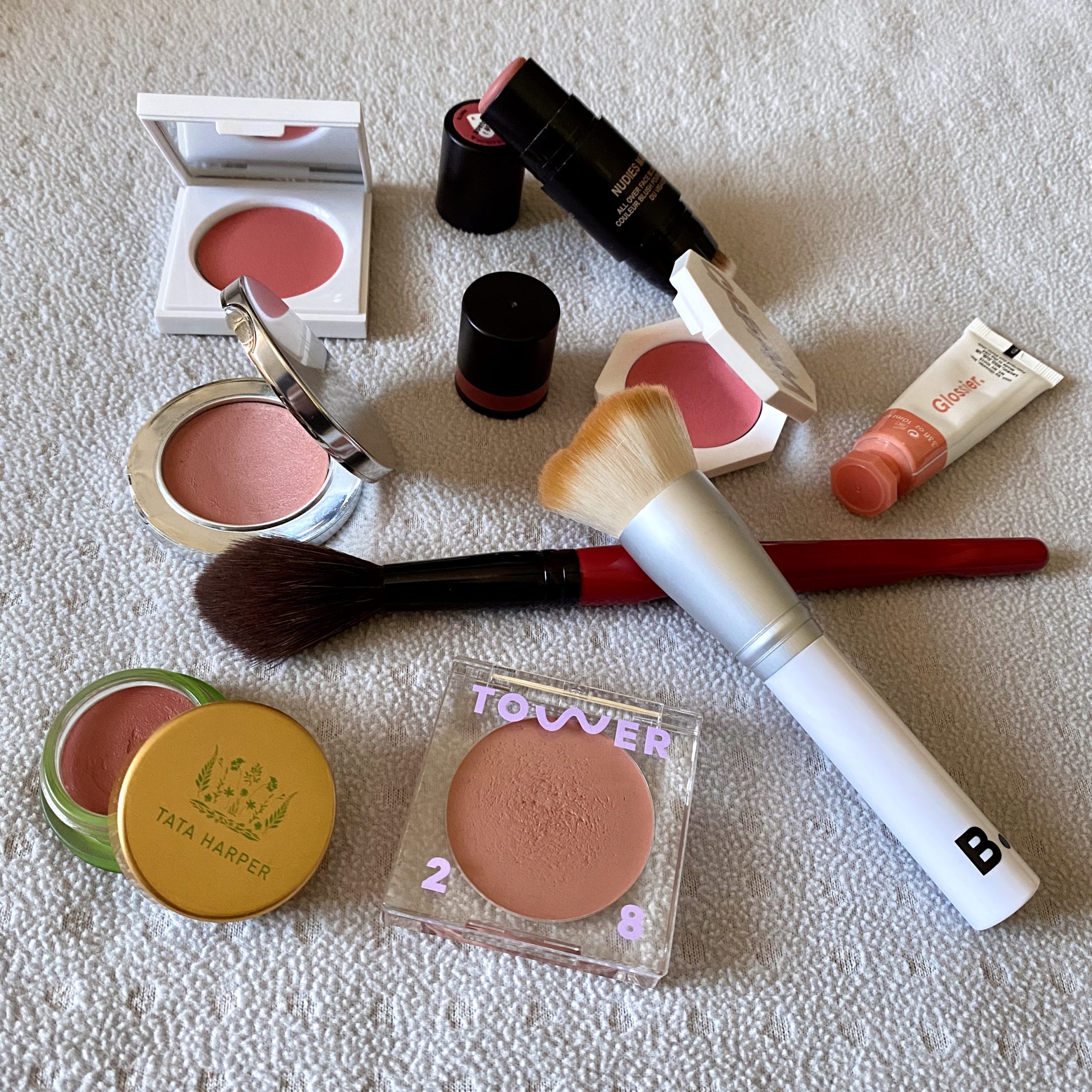 Cream blush
No, these are not crushed lipsticks in pans. Although many of them can also be used as lipstick. From the creamiest texture to the hybrid-cream finish that turns into a powder, this is where I think the strongest technology is.
Do not be afraid that oily or combination skin would not be compatible, because the excess sebum is not on the cheeks and the formulas are now long-lasting. So you can have fun with them. Do you like matte? They are now making cream blushes with a matte powdery finish. Nowadays, a cream blush lasts all day, does not cake, does not stick, melts into the skin, you just need your fingers or a duo-fiber brush to apply it, to be used before any powder product as for our friend the cream bronzer, see my article here.
–Matte finishes :
Yes, I told you, they are now making matte cream products!!
Nudestix. As the name suggests, it's a stick. They are practical because there is a stick on one side, and a brush on the other. Its slightly vinous pink hue brings cute complexion. It can be used on the cheeks, lips, and eyelids.
Glossier. Shaped like little tubes of paint like when we were little, the shade "beam" brings a beautiful, delicate peach shade to the cheeks. Nothing could be simpler: place a small drop on the back of the hand, tap with a duo-fiber brush (or your fingers), and apply it on the cheeks.
–Luminous finishes :
Here the light is due to the texture and not to the pigment. There are cream blushes with sparkle, of course, but I prefer the shine-moisturizing side to the shine-sparkle side for the luminous cream blush, if you know what I mean.
Honest. From a nice round steel case, they opted for a white plastic square. Fortunately, the quality of the blush is the same. The shade "truly exciting" (old steel packaging, ed) is a beautiful light brown with a touch of burgundy, which gives an absolutely sublime reddish-brown color. Peony pink, the new packaging at the top left, is a pink peach. And you can use them as a colorful lip balm.
Tower 28. New "in vogue" brand straight from L.A., this little blush in shade magic hour is perfect for a no-makeup-makeup. Be careful, for those who like very elaborate complexions, do not powder before this one, otherwise, I think it will move everything underneath. It is a "surfer's blush" vibe, to be used preferably on bare skin to provide just the right amount of color and "glow". It has a very slightly oily, smooth, but not sticky finish.
Fenty. Their cream blushes are awesome. They last all day, there are colors for everyone, from the lightest to the darkest skin tone, from the coolest to the warmest undertones, cute little white hexagonal packaging, they have it all. My favorite is Petal Poppin, a cute pink with a hint of peach.
Tata Harper. Care with beauty, that's how we could sum up these products. At Tata's, care is a priority. Eight sources of hydration, six vitamins and minerals, three anti-wrinkle ingredients, here is the formula of this little blush. It is a beautiful pink-watermelon, to bring a nice glow while hydrating the skin and helping it to fight against free radicals.
That's it for the tour of the favorites of my collection.
The cool thing about makeup is that you can have fun with colors, create, in the evening everything is gone, the next day you are on a blank page, nothing is engraved in the marble forever. Freedom and art supporting self-care.
If you were wondering how to cultivate self-esteem, makeup can be one of the many solutions to bring you a smile, a boost of confidence. Remember the common thread of this blog: Smiling at your oneself is to feed yourself with happiness, then to radiate it to others.
So, have fun with the pretty colors, it's without consequences.
XO 💋