"Being on vacation means having nothing to do, and having all day to do it".
Robert Orben.
Hello, young Padawan
I hope you are having a good summer and that you enjoy it well, hope you were able to take a few days of vacation, maybe you are somewhere on the beach, right now. Me, I cleaned my ski-boots and had my skis waxed, I took advantage of the summer sales to buy myself some new ski goggles, I had mine since 2006, they had done a good job and deserved their retirement. If you allow me to take a quote from Albert Camus, but in my "ski lover" style: "In the middle of summer, I discovered in myself an invincible winter".
What? Coconut, palm trees, beach, and bikinis?! I leave them to you. On the one hand, because I don't tan, I burn at the twelfth degree at the slightest ray, secondly because I don't like "doing nothing". Laying on a towel or a deckchair for hours is not my thing, and that's great because at least you can be sure that I won't steal your favorite spot on the beach. 🏖
But just because I am "as pale as a shitter", my favorite expression, doesn't mean I can't look good and have fun with a few tricks. Self-tanner? Possibly, but I have a lot of trouble with their smells and they are incompatible with the facials I use (see my articles here and there, ed), so on the body why not, but on the face, it's definitely without me.
So there is the makeup, and I say yes! We paint our face as we want, we have the right to make mistakes, or to put a little too much on for those who like it, in the evening it's gone, without any damage to the skin, the next day, we start again on a new blank page. We can play with the textures, the light that certain products bring, the colors, the look on the skin … Makeup is something that makes you want to go to work in the morning! (Sorry: Something that makes you want to have a little night out on the beach !! lol, ed).
You will have understood it, today we are going to talk about Bronzers. Those I love, to bring you some inspiration, a few tips, but also to make you want to play again with those you already have if like me, you like to "cheat" and bring yourself a "tan" look in summer, or in winter.
Applying a bronzer is very simple but I will remind you here, just in case: Just take it with a brush, a sponge or your fingers, depending on its texture and your preferences, tap it on the back of your hand to remove any excess product, and apply it where the sun usually goes: top of the forehead (without forgetting the hairline, ed), temples, top of the cheeks, jawbone and the bridge of the nose. You just have to make a "3" on each side of your face, a little on the bridge of the nose and you have a nude and cute tanned look.
cream or liquid bronzers
These are the most natural, imperceptible, and in my opinion, the easiest to use when you understand the technique. Indeed, when they are cleverly dosed, cream or liquid bronzers diffuses a beautiful natural glow. The color belongs to the face, impossible to detect any makeup.
A tip to never have to worry about the rest of your makeup moving with cream products: Never powder before. Whether you are on bare skin or have put on a BB cream, CC cream, or foundation before, apply your cream products first, and your powder after. You're welcome.
Tips: If you have a foundation that is too dark for your skin tone or a friend with a darker complexion who has one: This product can be used as a liquid bronzer. If it is a "pasty" foundation or a high coverage one, mix a drop of this product with a drop of hydrating serum on the back of the hand; if the finish of the too-dark foundation is light coverage, it can be used alone – with a microfiber foundation brush, a sponge or even your fingers, placing a little of product warmed up on the back of the hand beforehand.
If it's a powder foundation, see how to make a "Bronze Water" below.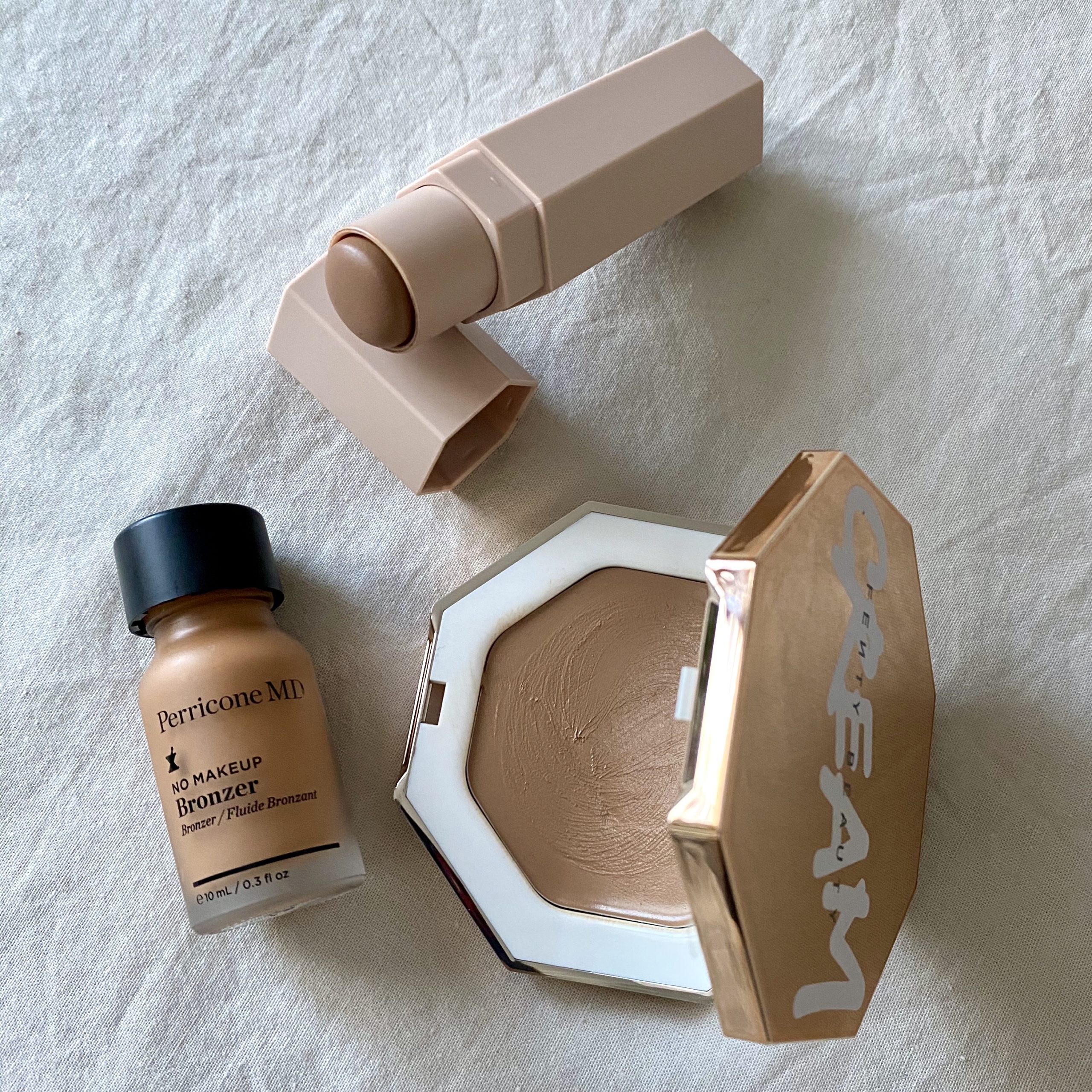 For a cream finish, I have the Fenty stick in mocha shade. The easiest way is to apply a little on the back of the hand, work it with a foundation brush, a sponge or your fingers to warm it up and apply it on the face.
The same process for the Fenty "Cheeks out" (bottom right of the photo, ed), I always recommend, whatever the product is, to work it on the back of the hand before applying it to the face, even the powders that we will see below, to avoid mistakes.
For the liquid bronzer, the "No makeup bronzer", it is a liquid bronzer infused with moisturizing and anti-aging care. It is used in the same way as a cream bronzer, by taking a little product on the back of the hand. The color may appear orange here but the result is very natural, even on fair skin. It is the one with the most imperceptible look.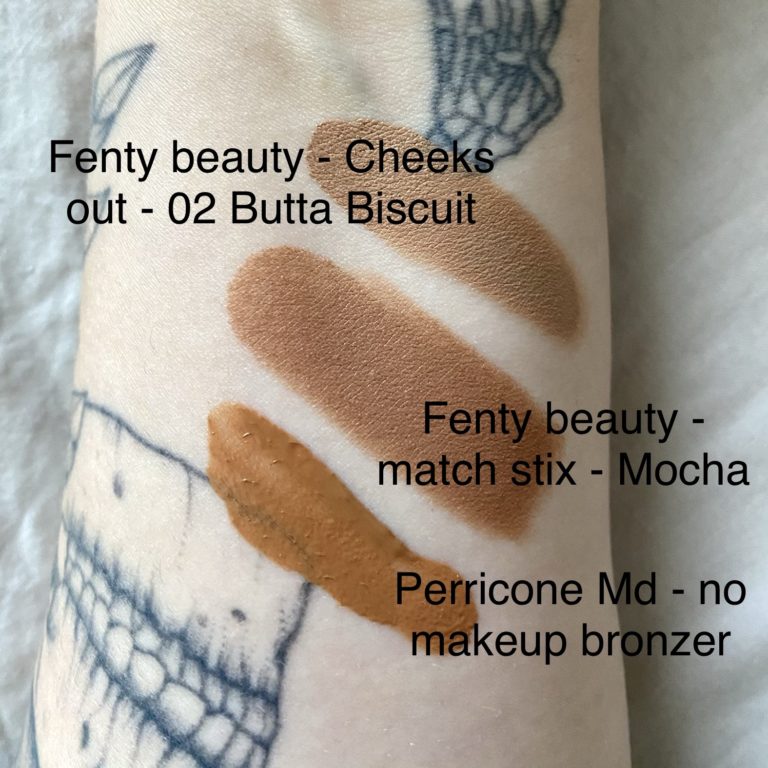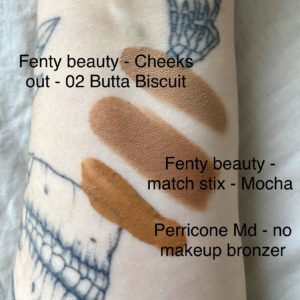 Powder bronzers with a natural finish
The essential, simple, basic.
Are you tired, or have a dull complexion? Or everything is fine, but you want a little extra? The powder bronzer is your friend. It is the fastest product to use, but not the easiest, because you have to master the blending. After two or three tries I reassure you, everything is fine, you understand how your product works and you manage to have no demarcation and a look of the most subtle and natural.
Powder bronzers come with different finishes, I'll show you some here with a matte or slightly satin finish, and some others with a lot more light below.
Tips: If you only have a powder bronzer but want to give it a cream or liquid effect: Saturate your brush with bronzing powder, roll the brush on the back of your hand to fill the brush with the product, then pour two drops of the hydrating serum of your choice (or at least: water) on the back of your hand, roll your brush again on your hand and you will see a creamy bronzer appear, more or less liquid depending on the texture and the amount of serum brought. You just have to gently move your brush on your face, and see a beautiful healthy glow effect appear subtly.
You can do the same with blushes. This tip brings a magnificent light to the skin while providing, in the case of the addition of a serum, a dose of hydration to the skin, with a plumping effect. To be favored in winter, or when the skin is dehydrated, or all year round for a luminous, healthy, and fresh complexion. The only golden rule: If you need to add more powder, you will need another brush, a dry one, so as not to glaze, meaning damage your powder product.
This is Patrick Lorentz's technique, professional makeup artist at Lauder company. He calls it "bronze water" or "blush water". You can find his Instagram here.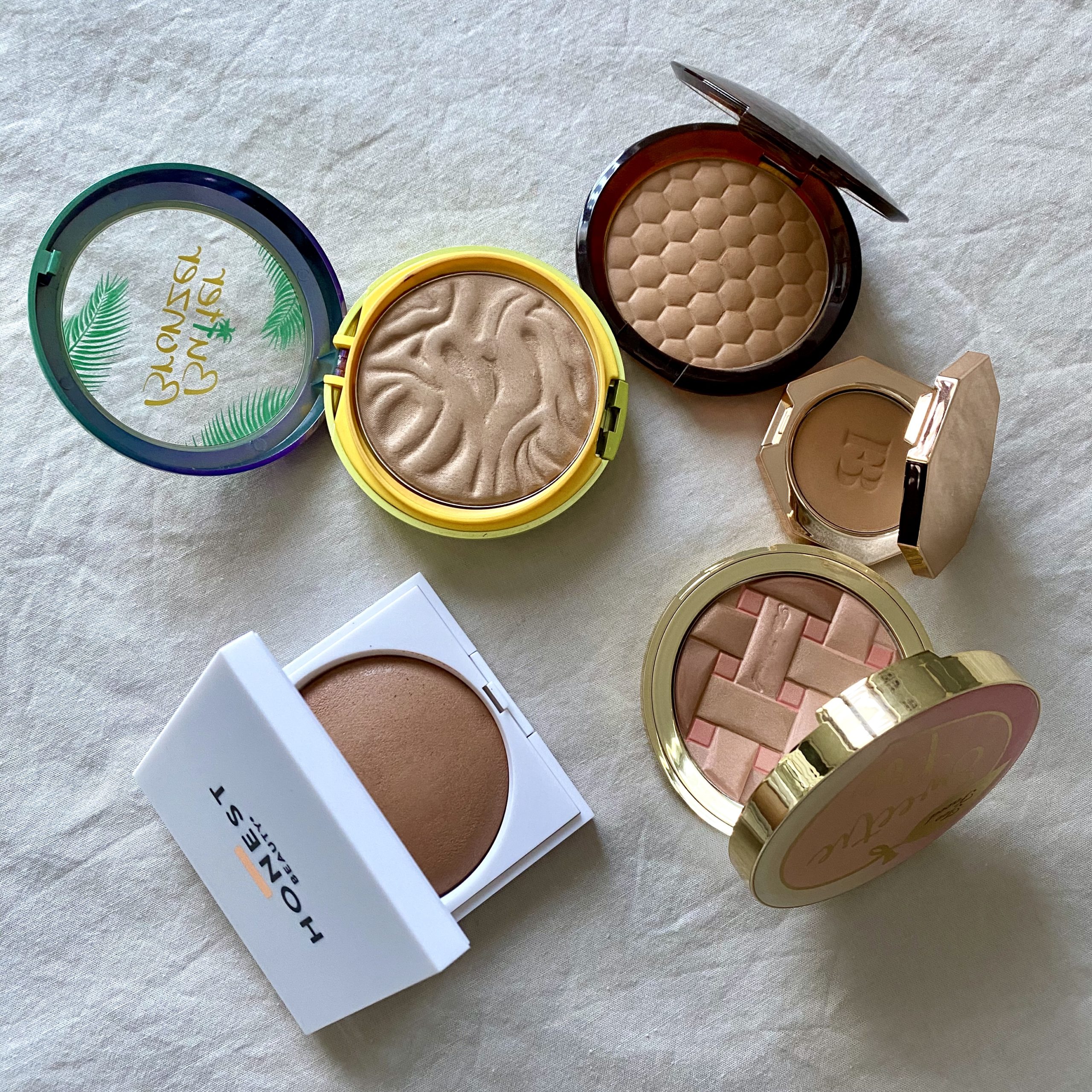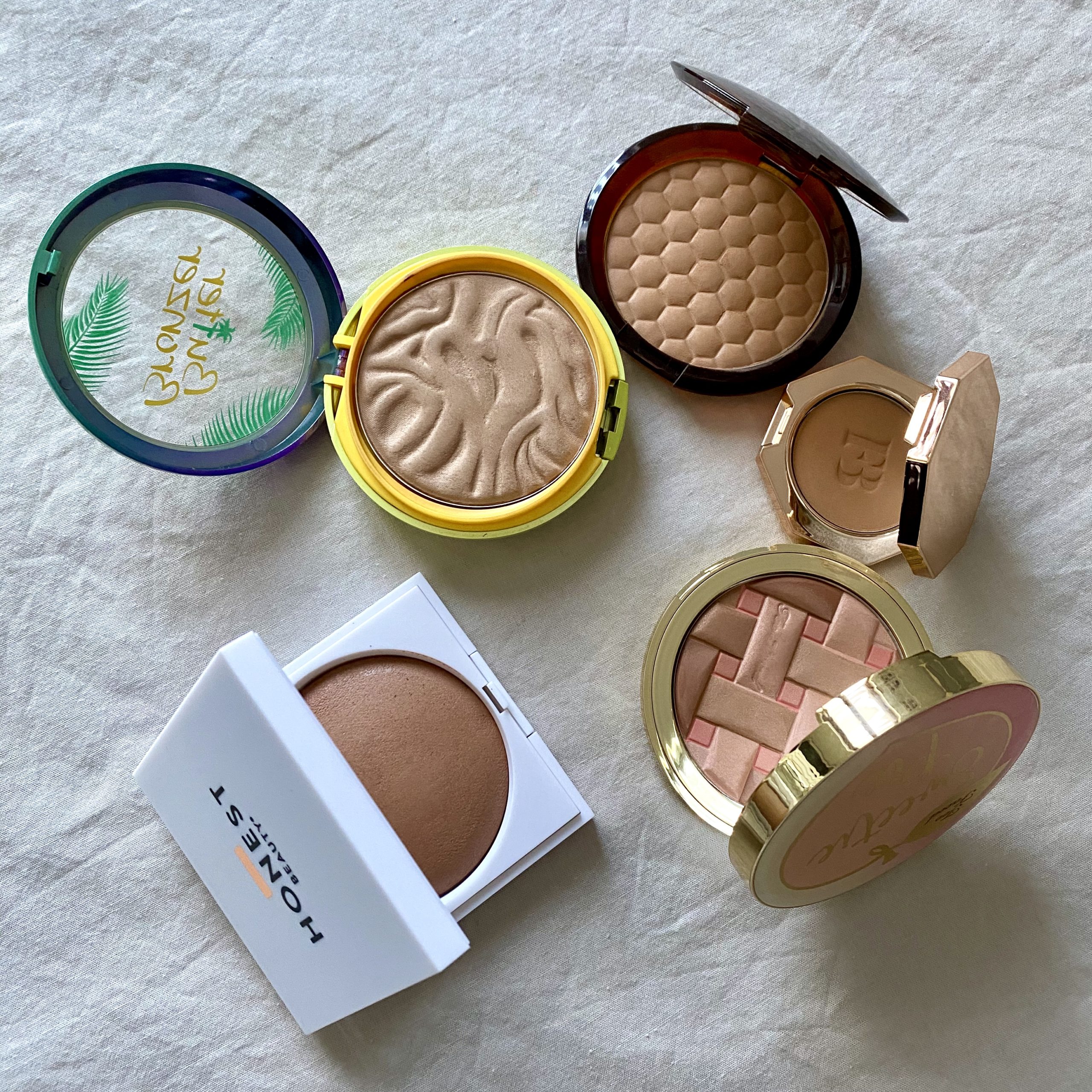 For a tan with a slightly satin finish, I have the butter bronzer, one of my favorites for the winter. It's infused with moisturizing and comforting murumuru butter for sensitive and dehydrated skin. Its finish is slightly luminous, while subtlety.
The mini Fenty and the one from The Body Shop (brown box, ed) are bronzing powders with a matte finish, which allows you to vary your looks, but also to sculpt your face, depending on if the color of the product allows it. For my part, I prefer cooler shades for that, but on darker skin than mine (which is not hard to get, ed), it's gorgeous. The matte bronzer also helps define the crease of the eyelid, for a quick make-up on weekdays, holidays, or weekends. Or for a "no-makeup makeup", that is to say, a light make-up of the eyelids and the complexion, totally imperceptible. Indeed, the more light there is, the more it is visible.
The one from Honest can be scary in this photo, with its dark brown color, but with a fluffy brush, it provides a light tan in perfect harmony with light to medium skin tones (you will just put a little more if you are not "as pale as a shitter", ed).
The one of Too Faced, the golden case with a grid in shades of brown, beige, and pink turns out to be an excellent "two in one" solution. Indeed, its very light pink tone and its luminosity, make it a perfect blush-bronzer, bringing both life and light to the face, an absolute wonder for weekends when you travel with a little carry-on suitcase for example, or on lazy days when you still want to sublimate your skin. And last but not least: it smells like peach.
Tips: If you have a classic bronzer, "matte powder" or "very slightly satin powder", and you want to bring a little more light to it: You can add a little highlighter powder with a soft brush to give the same effect as a bronzer with a luminous finish. Be careful, you need to have a really light hand, controlling the back of the hand, but it works great.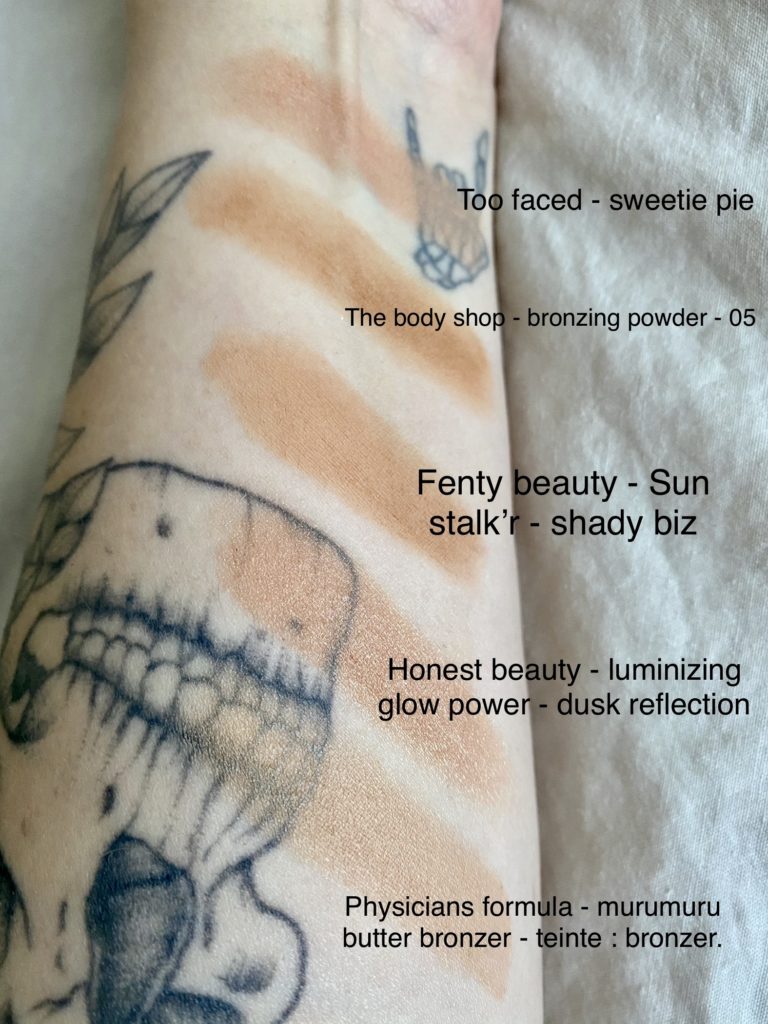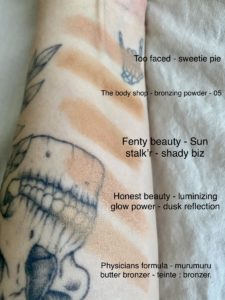 Powder bronzers with a luminous finish
Vamos a la playa; it's kind of the idea. For a perfect fake tan look, I present you the bronzers with a luminous finish. I love to wear them in the summer. In addition to a healthy glow effect, slightly tanned, they give a soft light, which can be downright to disco ball depending on the brands and finishes. These four bronzers in my possession remain natural. If I want glitter or bling, I prefer to add some with an highlighter, for example.
Tips : To bring less stuff on vacation: A luminous bronzer can also be used as eye shadow.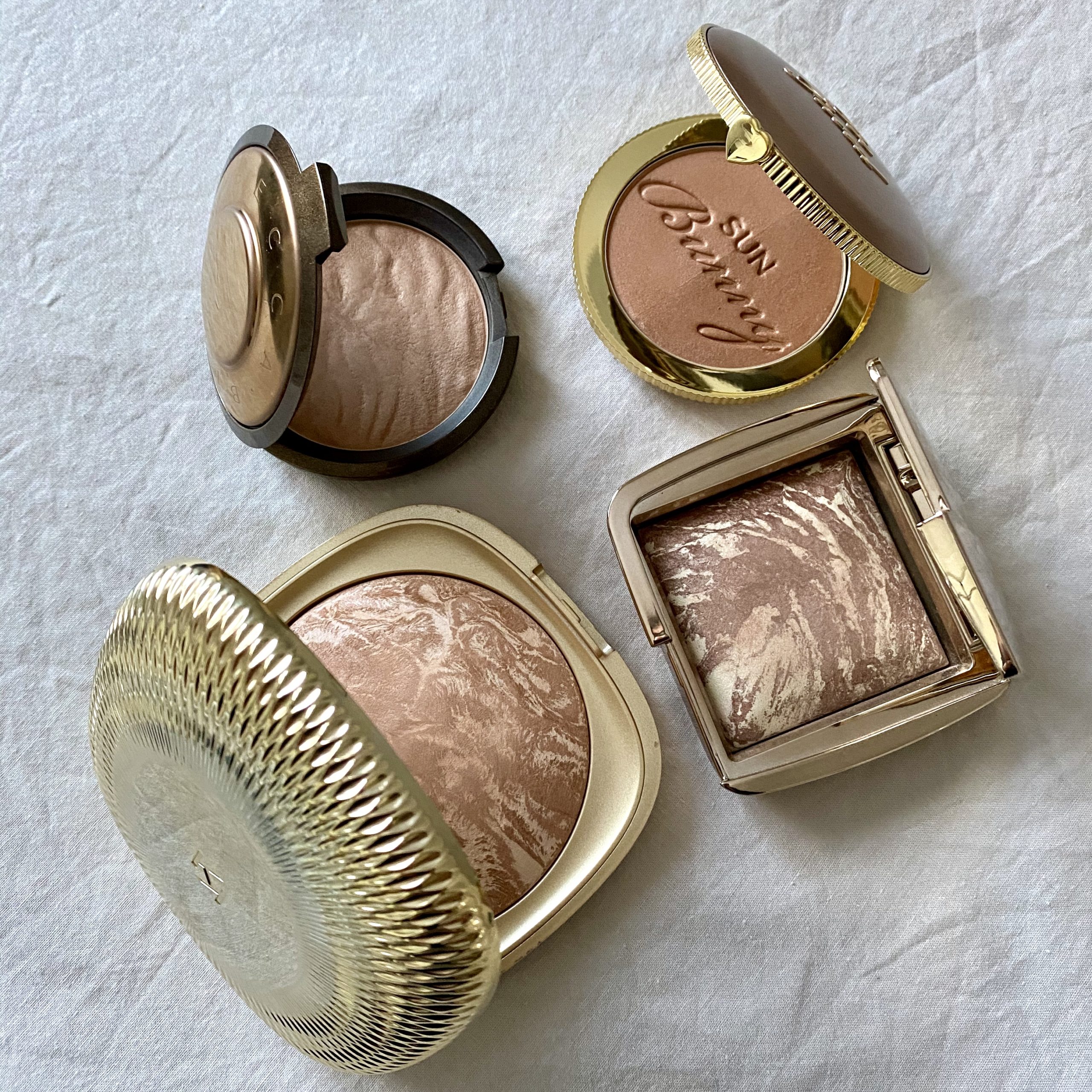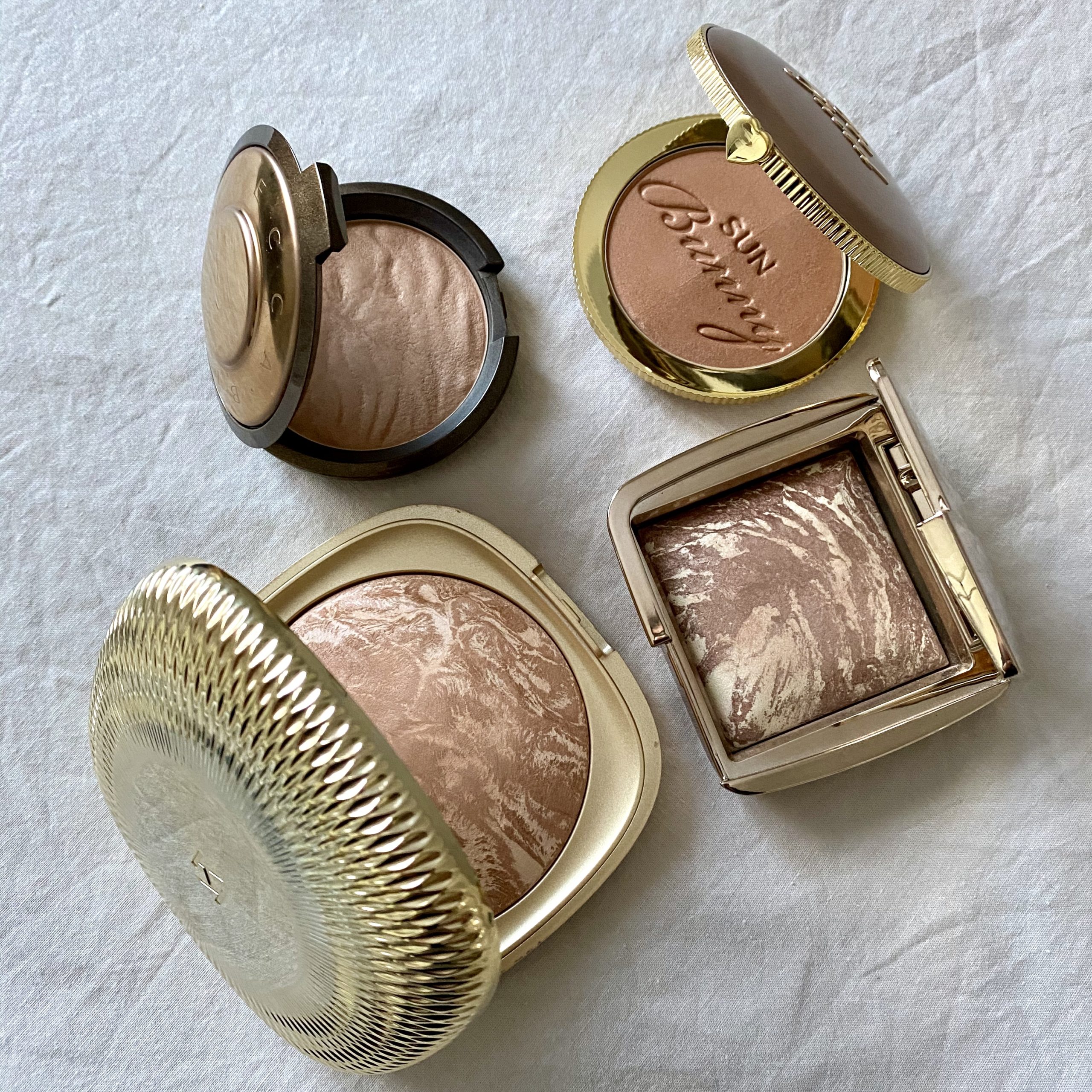 Let's start with my favorite: The Sun Bunny, by Too Faced. Unfortunately for me, it is very dark for my skin, so I only use it in the summer, and very sparingly. A tiny bit of product goes a long way, but if you have darker skin, it will be a sublime classic luminous bronzer for you. It brings a very beautiful light, its warm tones are never too much, it blends very naturally on the skin.
The big golden is the Kiko bronzer. A limited-edition from last season but they drop the same style every summer. It blends easily, brings a beautiful light, smells of chocolate (but this year's edition smells of coconut, FYI, ed). Finally, its capacity about twice a normal bronzer will last you a very long time.
Becca. Formerly the gods of the complexion, for the oldest among us, then they stopped it to be the kings of highlighter … Even if today many of us are a little lost with this beautiful brand, I think we haven't paid enough tribute to their sublime bronzers. We go to a higher level in the luminous style but still natural, airy, delicate, the effect of tanned and healthy skin. It blends in two seconds and its packaging is very sober, very pretty.
And finally, last but not least, Hourglass bronzer. As you may have noticed, I have presented a selection to suit all budgets. From a few bucks to … Hourglass. We pass a level for the price, of course, but also in terms of light. If you've slept only two hours, had the flu all weekend and you're back to work, two brushstrokes of this powder and your boss will think you've gone to Honolulu for the weekend. It's dead for your raise. Hourglass is the pro of the diffusion of light, in all subtlety. This marbled powder works miracles on all skin tones, from the dullest to the rosiest, they have dark shades suitable for everybody, all in delicacy, last all day long, and the product lasts a very long time.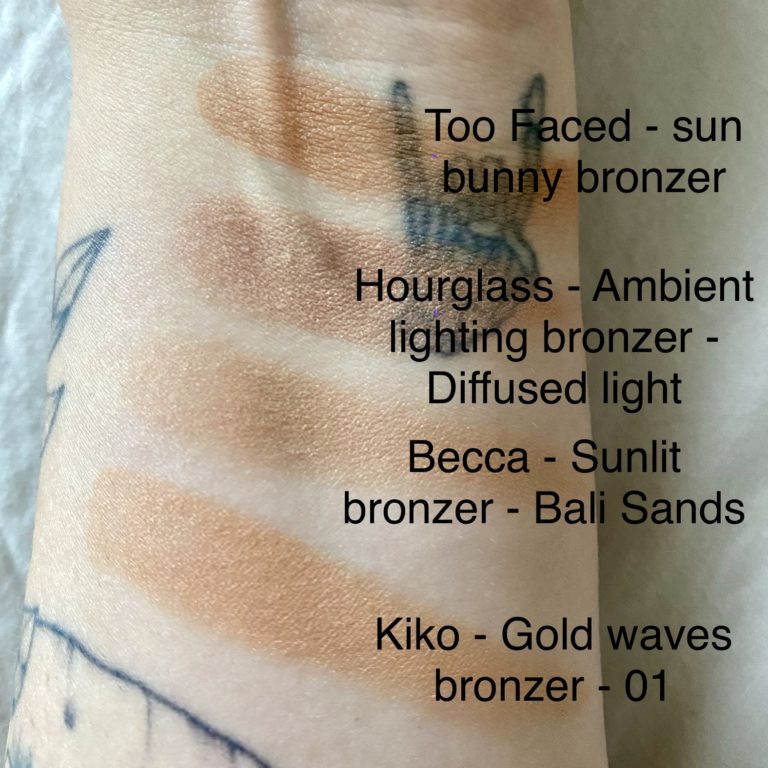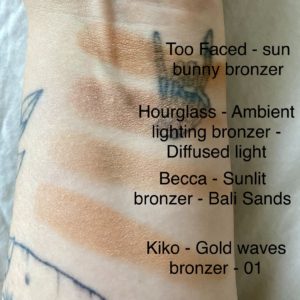 Well, I think that now you know everything about bronzer in French style. I hope I made you want to play with your own toys, and if you don't have any (or not enough! ed), here you have a selection that will allow you, according to your preferences and budget, to make the right choice. Do not forget that there can have many ways to use a makeup product, to leave you more choice, more opportunities, and above all, more creativity.
Make-up is futile, of course, but it allows you to take care of yourself. Some of us need it, and it can open a door. I have done make-up on people who had tears in their eyes when they saw their faces done, or a complex, a scar covered. Not because they weren't pretty before, we are all beautiful, but because they found themselves in a new light – the revelation of seeing yourself in the mirror, without judgment. And believe me, for some, that means a lot. Neutrality about oneself, finally being at peace, and even finding oneself beautiful!
Taking care of yourself is the best gift you can give to yourself, but also the greatest gift you can give to others because I remind it to you here: Only a person who loves oneself unconditionally can do good to others because it's the only way not to give one's own neuroses to others.
Whether it be through makeup, more veggies, creams and serums, sports, massages, music, reading: take care of yourself; you are the only person with whom you spend 100% of your life.
I wish you a good summer meditation and great self-love. XO. ☀️