"Beauty, to me, is about being comfortable in your own skin. That or a kick-ass red lipstick."
Gwyneth Paltrow. 💄
Hello, young Padawan
I can hear you shout from here: "Help Caro, I feel sticky !!" when you get out of your bathroom after putting your serums and creams on your face, in this hot weather. So you think that it would be better not to put anything on, since your skin perspires everything you put on it …
OMG! Absolutely not! Sweaty skin is losing hydration. Indeed, hot skin is lacking in water, even lacking in oil if you have dry skin. Going out with a bare face in hot weather is like depriving a cactus of its morning dew. How is he going to survive in his hot and sunny desert without it?
Moisture is as important in winter as it is in summer, but you have to adapt your daily ritual.
As a reminder, I have sensitive but normal skin, with a slight mixed tendency on the center of my face. I'll give you some keys to what I do when the temperatures are way too hot to butter your face all over – just to inspire your own ritual with what you have at home, and depending on your skin type and its needs.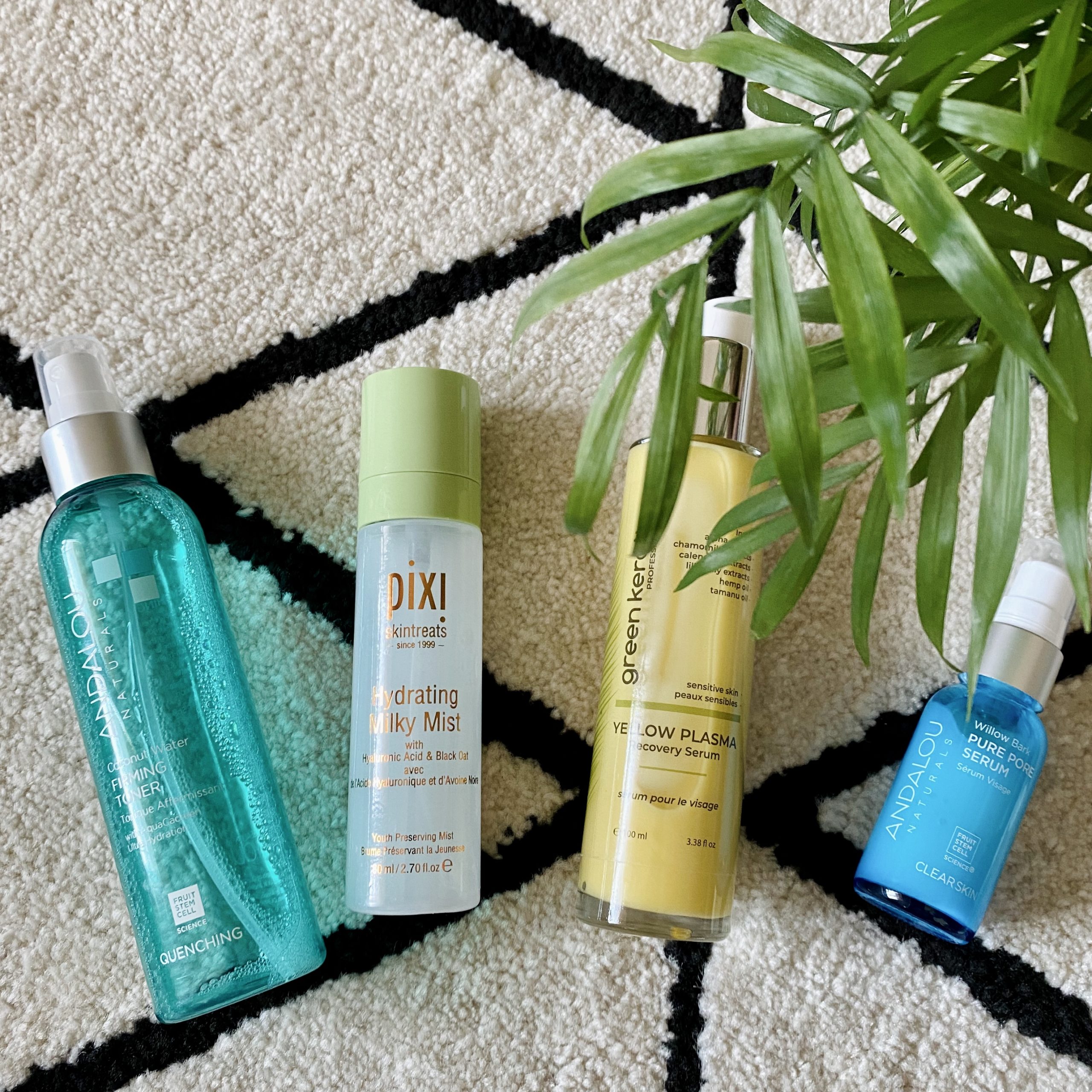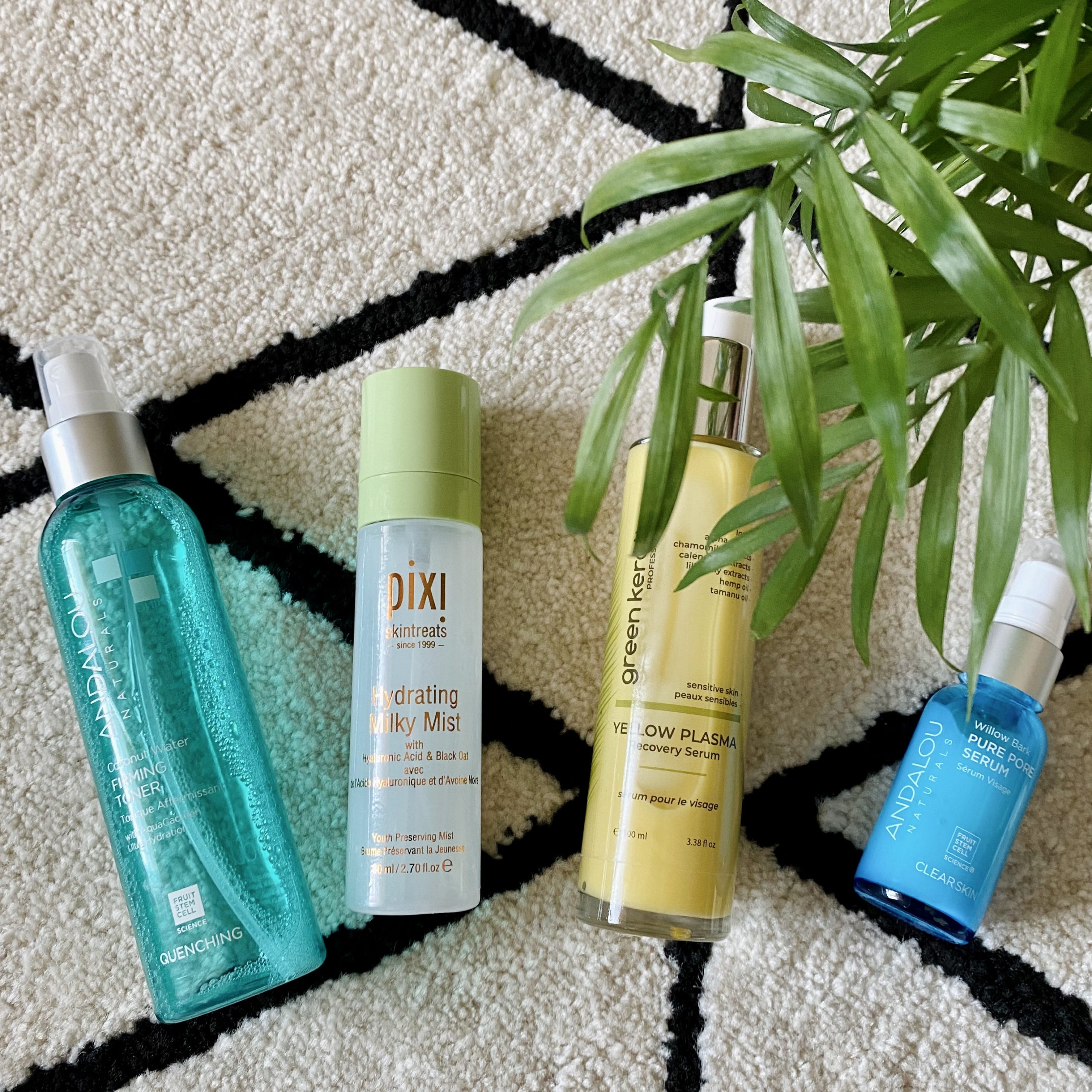 More than ever, moisten your face before your daily ritual
Because it's light, fresh, pleasant on the one hand, and on the other hand, it prepares your skin to receive the serums. You already know them, but I quickly represent those to you, just in case:
First, I moisten my skin with Andalou Naturals "Firming toner", then I opt for a few sprays of Pixi's "Hydrating Milky Mist", which contains hyaluronic acid for hydration (see my article here) and black oats to soothe the skin.
I apply a few pressures to the face to help the skin to absorb hyaluronic acid, then before it is dry, I finish by spraying some Andalou lotion again before going immediately to my serums, always on damp skin …
Soothing and hydrating serums, but not only …
I am currently using two serums.
The first one, "Yellow Pasma" from Green Keratin, is soothing and has anti-inflammatory properties (yes, sensitive skin suffers almost as much in summer as in winter, especially in a heatwave. SPFs, wind, sun, and perspiration, there are real reasons to be irritated, ed).
For the eye area, I'm still finishing my "Eye Love" from Oolution. It is light, fresh, perfect for the summer heat, but insufficient for the rest of the year for my skin, just so you know. Good timing, I almost have finished it.
Then I go with my second serum, which is my first tip. Be patient, there are two. Usually, for the pores, I use niacinamide serums, like the "Pore warrior" by Pacifica. But they just have one tiny problem: they're a little sticky. Nothing serious, it leaves a few seconds later, but the concern is that in summer, we want anything but something sticky. So I found this serum, which is even more efficient on my skin than my usual niacinamides. It contains salicylic acid and a complex of specific plants, perfect for those hot and humid summer weather, which makes the pores even more visible. This is the "Pure Pore Serum" from Andalou Naturals. Light texture, non-sticky and super-efficient. Great!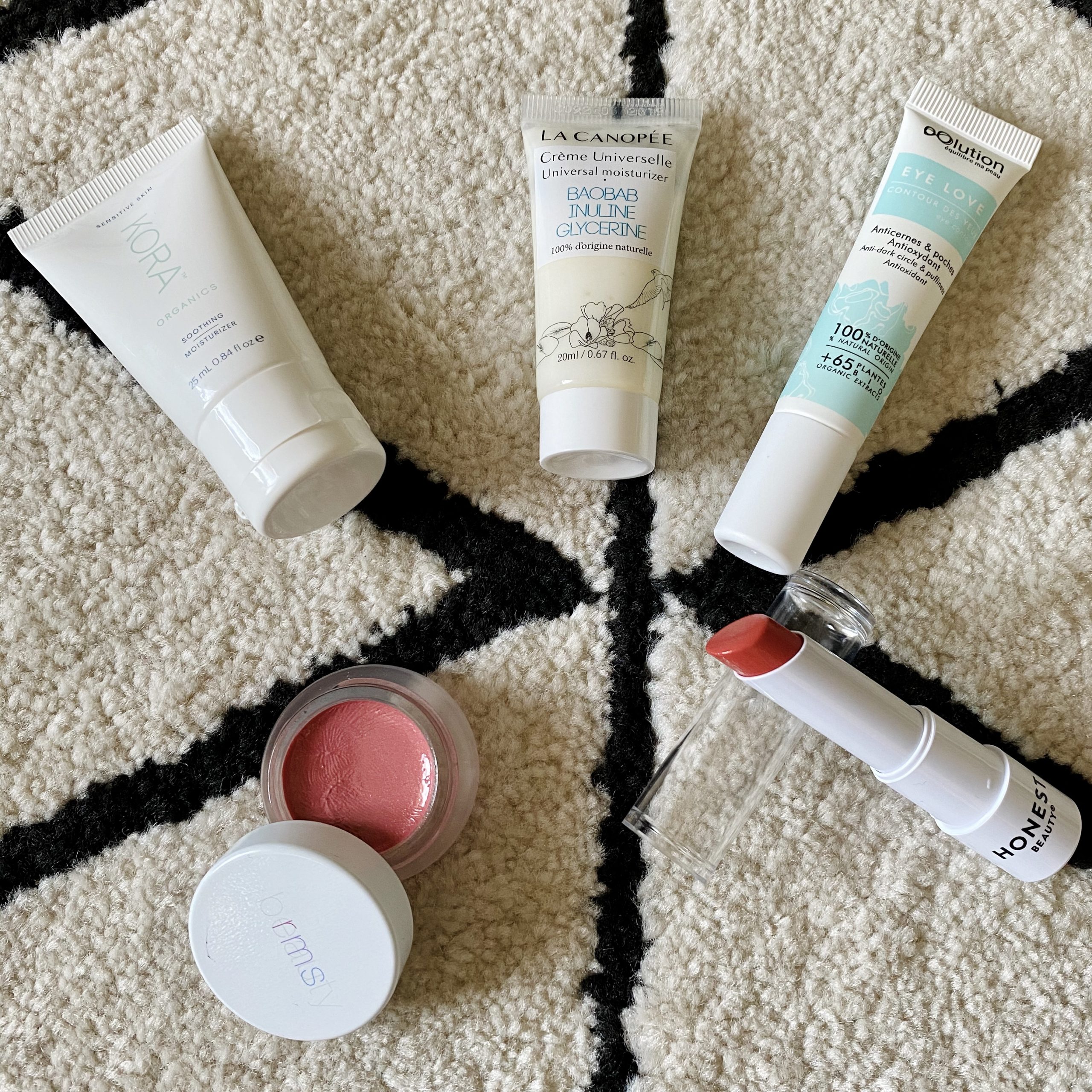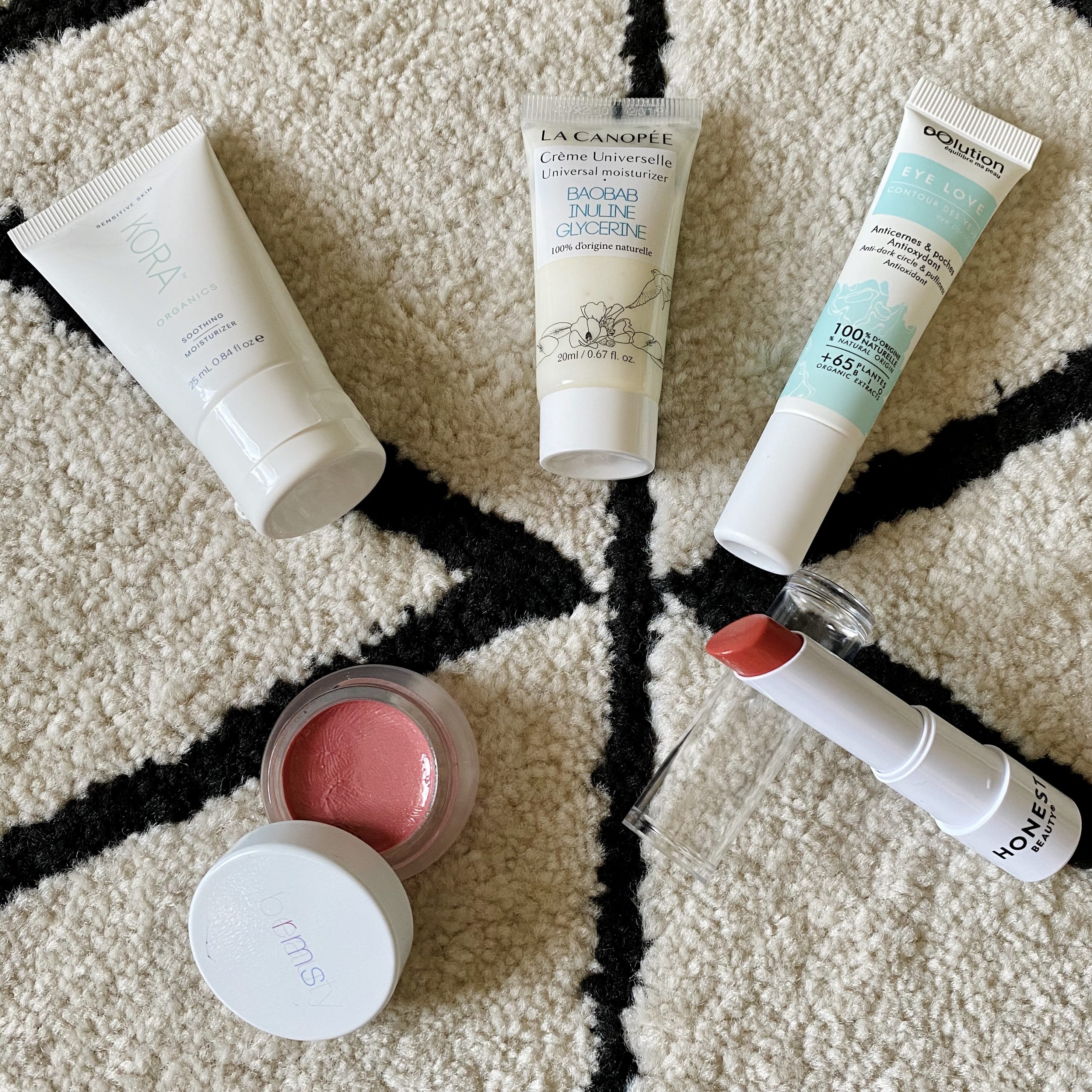 Moisture
Light ones, which do not make greasy skin, which penetrate easily and work all day.
For that, I use either the "Soothing Smoisturizer" from Kora Organics, which is light, delicate, not greasy but well hydrating, or the "Universal Cream" from La Canopée, which will be a tiny bit lighter.
For the lips, I choose a colored balm, like RMS Beauty's in "bloom" shade, a delicate pink, on the left, or Honest beauty's in "Fruit Punch" shade, a pretty orange, on the right, but you know I have others (see my article here).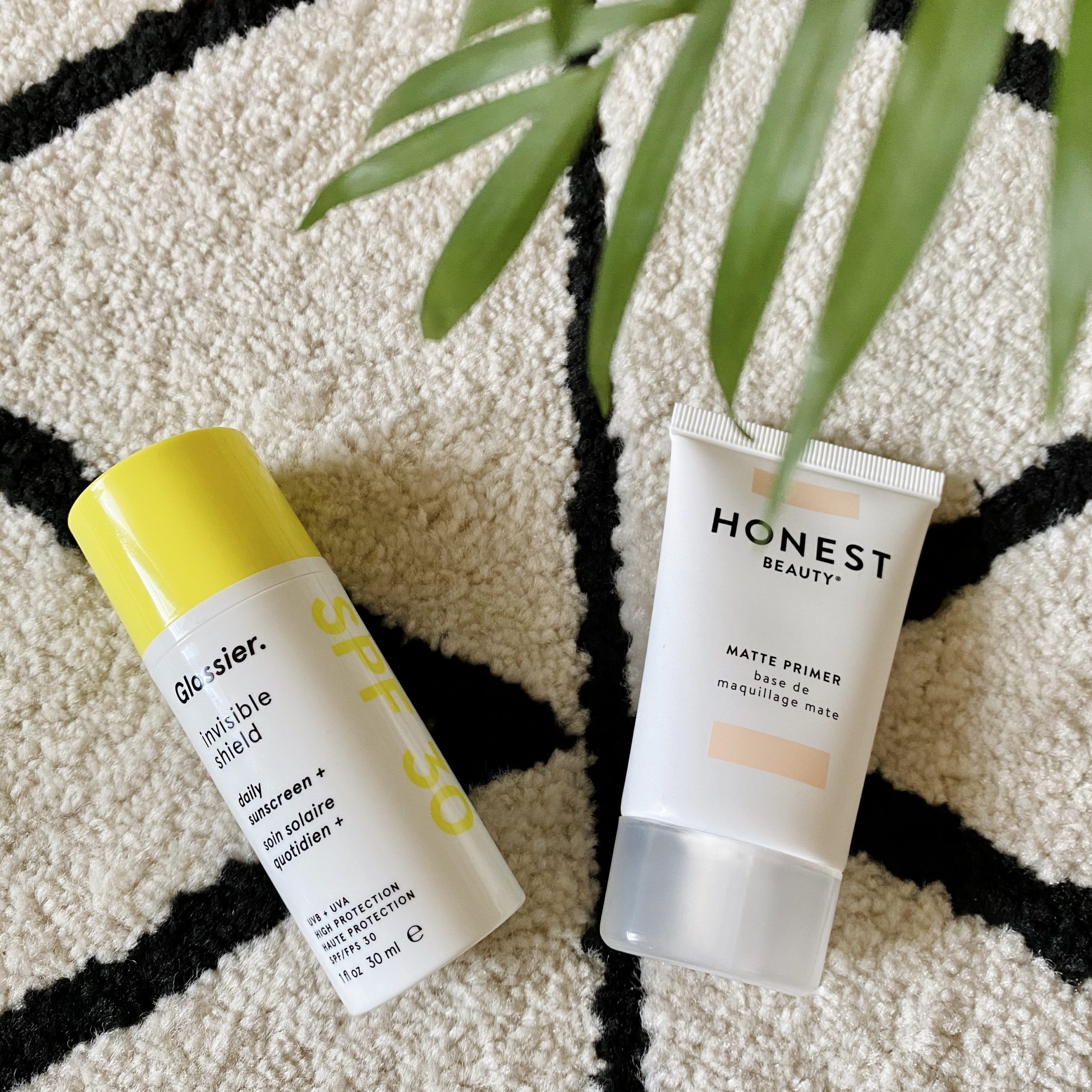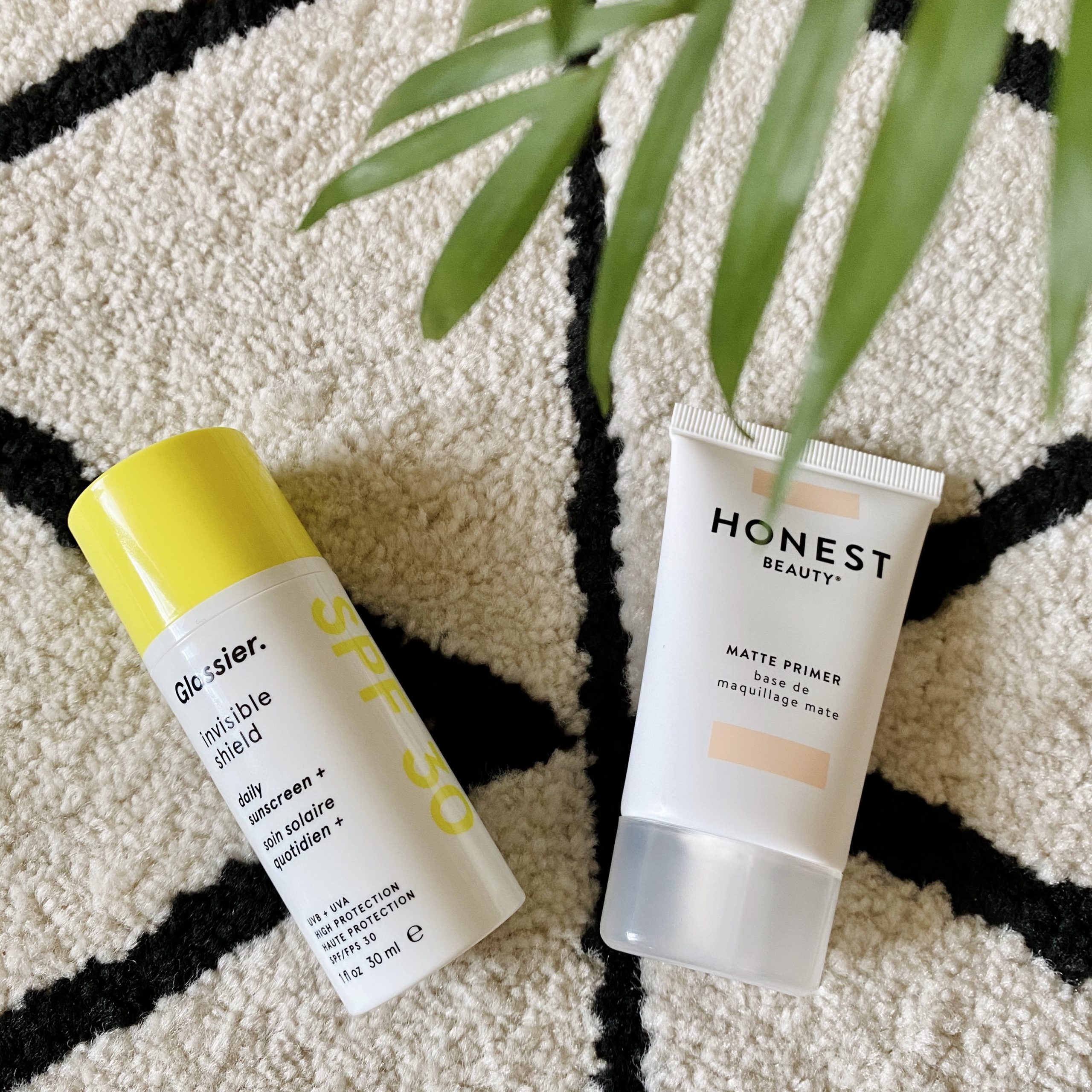 Protection / Primer
If I don't talk about UV protection, we're not on this blog.
In my opinion, the lightest and most pleasant texture for hot weather is gel. I really like the one from Glossier, SFP30. But when I need to go out a bit, even if I always have glasses and a hat, I prefer to trust Korean technology and my "Sunprise", in the Must Daily version from Etude House, or my "Aloe soothing sunscreen" from Cosrx, both SFP50 PA +++, (see my article here). These are ultra-light milk emulsions, which are forgotten after 5 minutes of application.
My second, last and not least tip is for "after all that". It is a make-up base, to be used even when you are not wearing makeup. On hot days, I always wear my Honest Beauty "Matte Primer", because it not only removes the shiny side of SPFs but also mattifies the skin over time. But really. I like it so much so that I always wear it on summer days, even when I don't wear makeup. It leaves the skin velvety, mattified, without drying out and without silicone. Just saying. Just beware of the aloe vera it contains, which some people cannot tolerate. Note: Always wait at least 5 minutes before applying anything over sun protection. You're welcome.
That's it for today, you are hydrated without sticking, all you have to do is enjoy the heat, or not, if like me you count the days that bring you closer to skiing.
Since summer is often conducive to meditation and philosophy, I will leave the last word of this article to a great lady, Gabrielle Chanel:
"Elegance is when the inside is as pretty as the outside."
Coco Chanel.
XO 👒