"I believe that all women are pretty without makeup – and can be pretty powerful with the right makeup."
Bobbi Brown.
Hello, young Padawan
Today, we are entering resistance. Let's free the sticks, in pink, red or brown, with a glitter finish, matte or gloss, let's display our beautiful colors with pride! This is what I will chant in the streets if I had been a forgotten lipstick at the bottom of a drawer for two months.
Here is a presentation of the brands and ranges that I have been able to test, about what I have, my tastes, etc. The color shades are quite personal insofar as some seem sublime on some and give a sick look to others. Just as the colors in pictures, depending on the lighting or treatment, are very subjective, in short, let's say that I really tell them as an indication. I rather suggest you focus on the discovery of cruelty-free brands that you may not know, on the different ranges, finishes, etc.
A little lightness in this very bizarre world seems to be a good idea, so let's do it.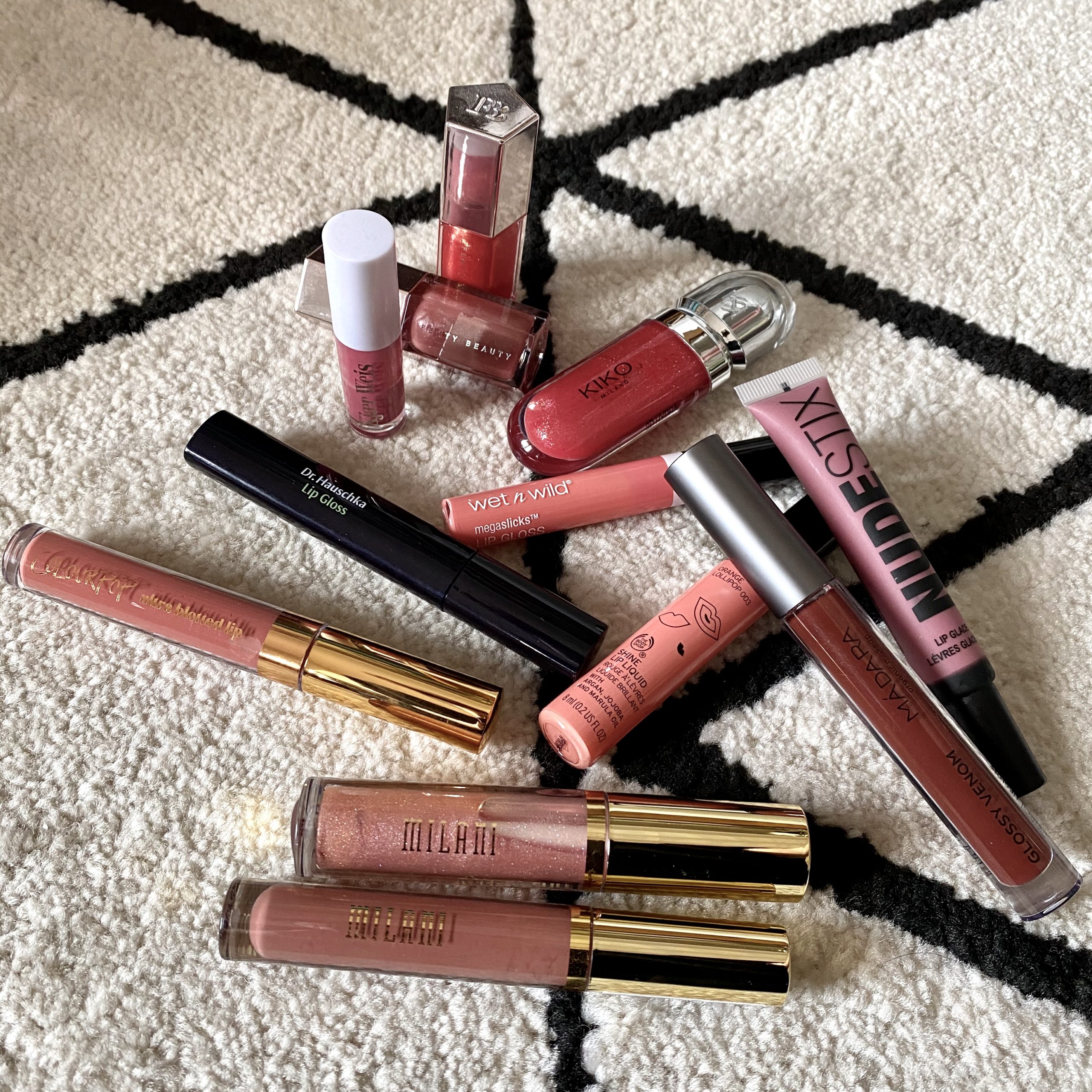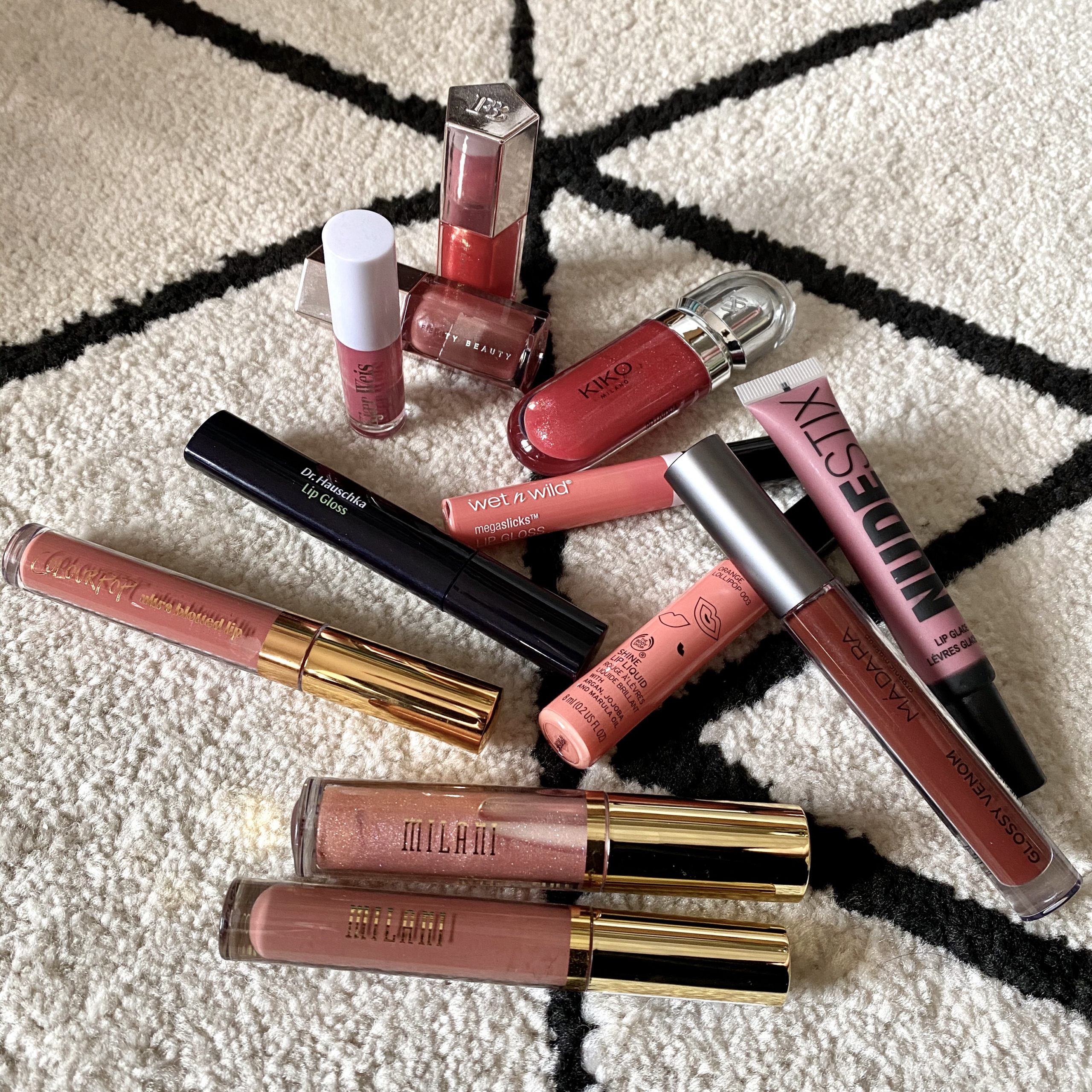 Lip glosses
I love glosses, but with tied hair, lol. The effect of a hair strand that sticks on the cheek and mouth may be funny once, but after ten times in three minutes, you just want to have Bruce Willis' hair length. There are some that are almost not sticky, but as the clue is always in the statement, the concept of "almost," in windy weather and with fine hair is revealing: your hair will stick to your gloss.
These are little gems that make your lips look fuller than they are, make you look good, and can for the transparent and/or golden-particle effect versions, be used as highlighters on the top of the cheekbones, for a light effect or a "wet look" if you put on a little more. I advise you nevertheless, if you decide to opt for this tip, to tie your hair if it is long because, depending on the product, it can stick a little. Remember the "almost" not sticky concept?
Some make-up artists on the catwalks also use them on the eyelids for an ultra-shiny effect. But this trick is only valid for photos or fashion shows because, after 2 or 3 hours, the product migrates in a not very graceful way. Be careful not to reproduce this at home with an inappropriate product, and especially not with a mint gloss under penalty of remembering it all your life #eyeburn.
Among the ethical gloss brands I have tested and liked:
-Dr. Hauschka. Their gloss smells of plants, absolutely not sticky, moisturizes as much as a lip balm, and if you like the "I've bitten in a strawberry" effect lol, I recommend shade "04", a marvel.
-Fenty Beauty. If there is a super brand that makes sublime, hydrating, and good quality glosses, it is them. I like their original shade, the "Fenty glow," but there is a lot of new shades since. Take a look at Christmas's season; there are often minis with limited edition shades like the mini orange on the photo, which is gorgeous. Their smell is vanilla.
-Milani. They are great, more or less pigmented, according to the ranges, you can either have the little shine that will highlight your lips or go for the full-color lip lacquer. The fragrances are slightly minty, the prices sweet, is it possible to do more?
-Wet n Wild. Mini price for great products. Light smell, like a vanilla "cupcake", multiple shades, their only defect is to have to put the wand back in the tube two or three times to cover your whole lips, the applicator delivers too little product, it's just that. Here, shade "559 – great coral-ation", a very light baby rose, subtle, not like my humor (nor theirs, lol).
-Màdara. If you like your lips in the most beautiful brown tone, I can only advise you their gloss "glossy venom" in the shade 75 "vegan red," it is more than beautiful, it is sublime. The smell is like a biscuit.
-The Body Shop. I have their gloss in the shade "orange lollipop 003", it smells of orange and is very nice, just be careful not to put too much so as not to have an unsightly demarcation with this one.
-Nudestix smells like "Vichy mint lozenges" (or toothpaste, if you don't know what Vichy mint is, ed). Beautiful on the lips, hydrates well, I like the "mirror lips" effect, and the little plumping effect, but it sticks. Not the lips to speak, but the hair, lol.
-Kiko. The Kiko glosses are great; I tested a pink shade that I finished, and this sublime orange color (oblong packaging) in the shade 12. The only downside: they smell a little chemical.
-Kjaer Weis. I love this mini gloss that I received as a sample following an order. It is the shade "Admired." No perfume to speak of. The spearhead of this brand: to sell refills compatible with each of their products.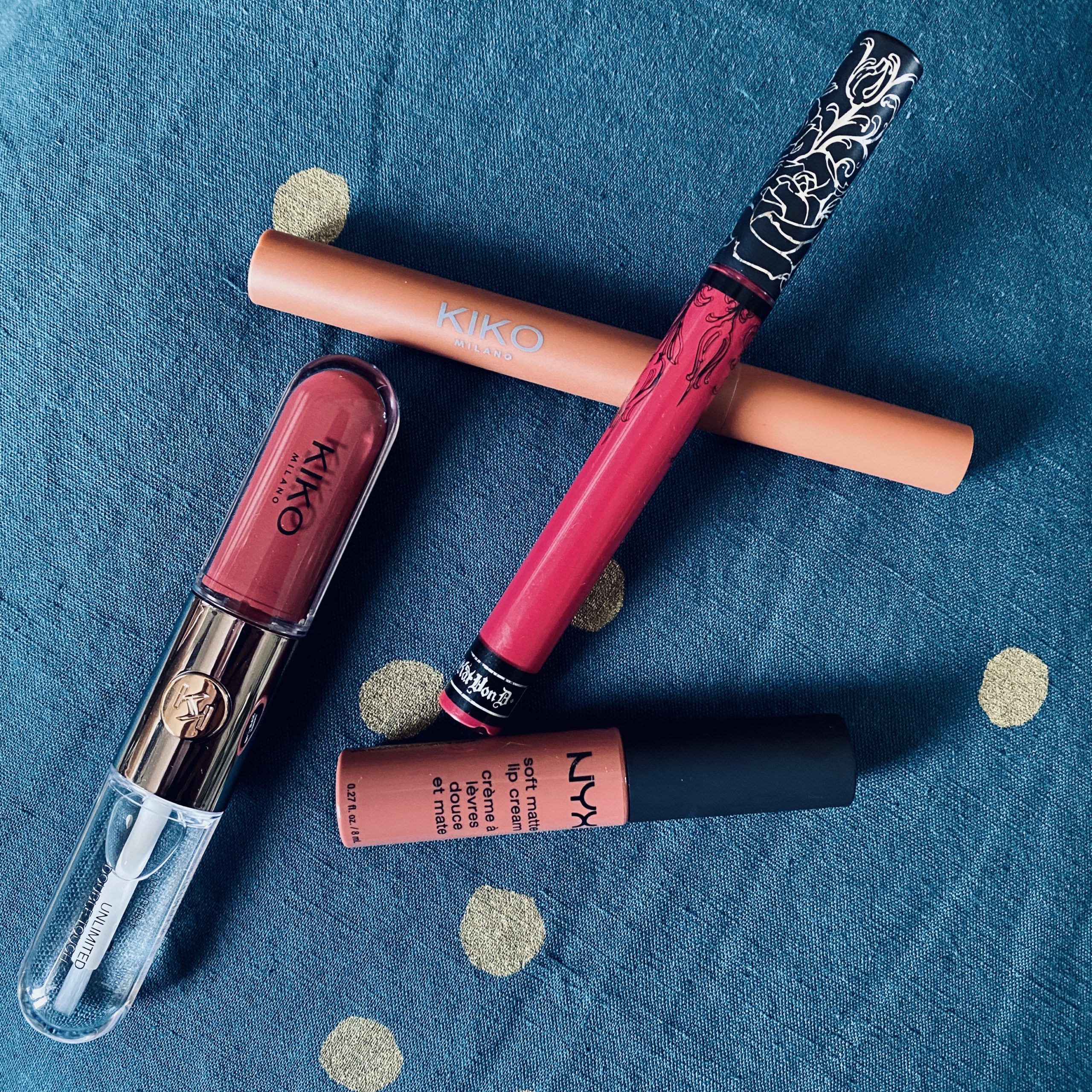 Liquid matte formula lipstick
The liquid matte lipstick is slightly losing trend, maybe due to the lack of comfort and the rather unsightly effect it can have after several hours for some of them, not mentioning the terrible drying effect. It is, however, nice to wear, but not every day at the risk of ending up with an anus instead of the mouth (I hope you did not swallow your coffee the wrong way with this one, ed). Some matte liquid lipsticks are ophthalmologically tested and can be used as an eyeliner, for example, like those of the Jeffree Star Cosmetics brand.
-Nyx. I like their "soft matte lip cream" formula. It's a matte liquid lipstick, but it is not transfer-proof, so it keeps a little creamy, and you don't end up with chapped lips after two uses. The drying effect is still there I find, then, for my part, to wear sparingly. The shade you see is "19 – Cannes". The vanilla-candy smell is poorly managed, but fortunately, it doesn't stay.
-Kiko. Again! This double-ended thing, I love it. It is a matte lipstick without transfer on one side, and a special gloss to apply when the first formula is dry, which does not migrate the color. In other words: you can wear a deep bold red shade with a white satin camisole if you, like me, are very awkward. It's great. Here is the shade "104".
They also have a sort of water lip tint, the "beyond limits lip tint," light, even imperceptible, but not high coverage; it is a lip tint with a matte finish, therefore a "color effect" or "bitten lips" on the lips, Korean style. Here is the shade "01".
-Kat Von D. How to speak of matte liquids without speaking of Kat von D? My favorite color is this great fuchsia pink, "Bachelorette" – because I like Bjork and fuchsia pink, lol. This is a liquid matte transfer-proof lipstick, do not wear it for two days at a risk … swallowing your coffee the wrong way #anus.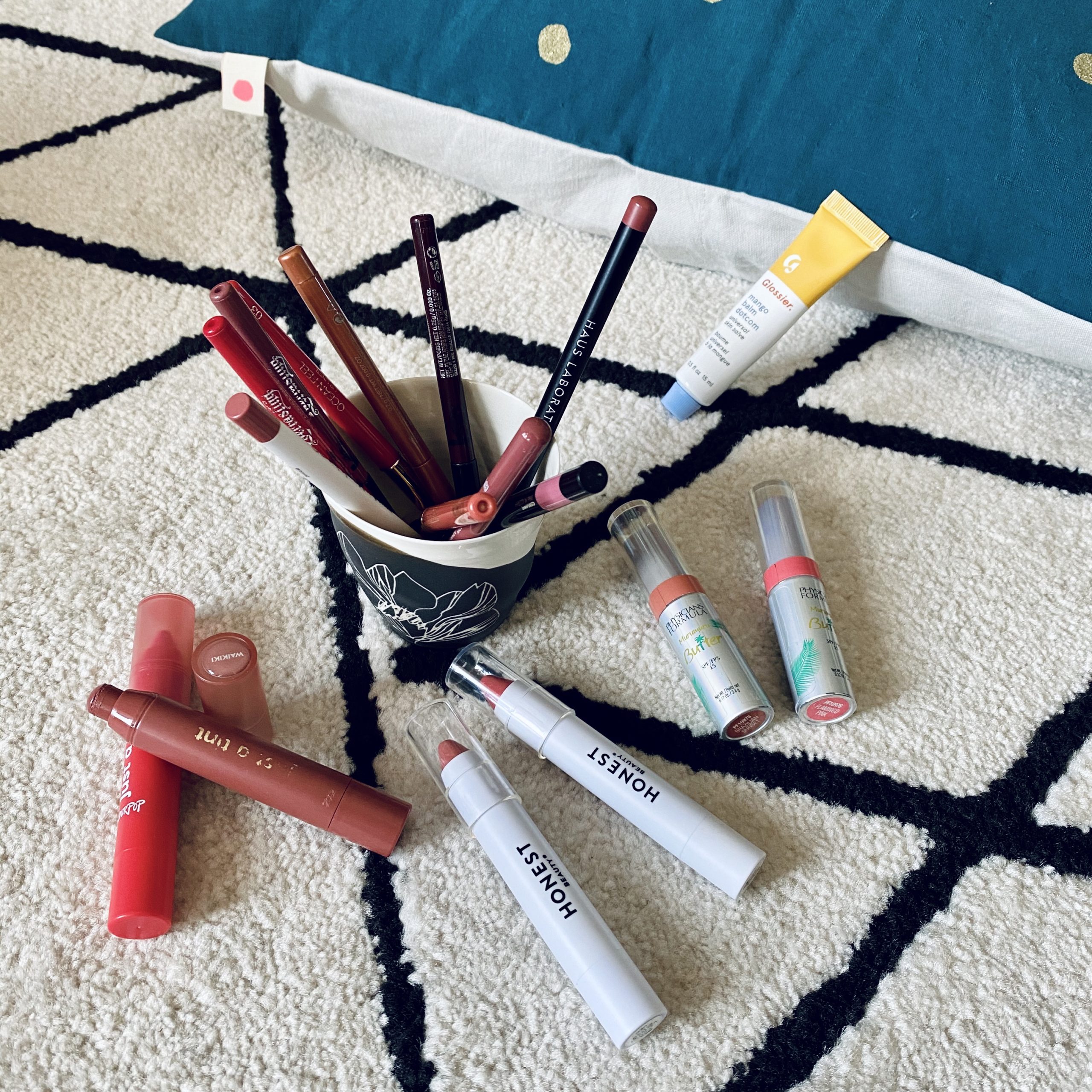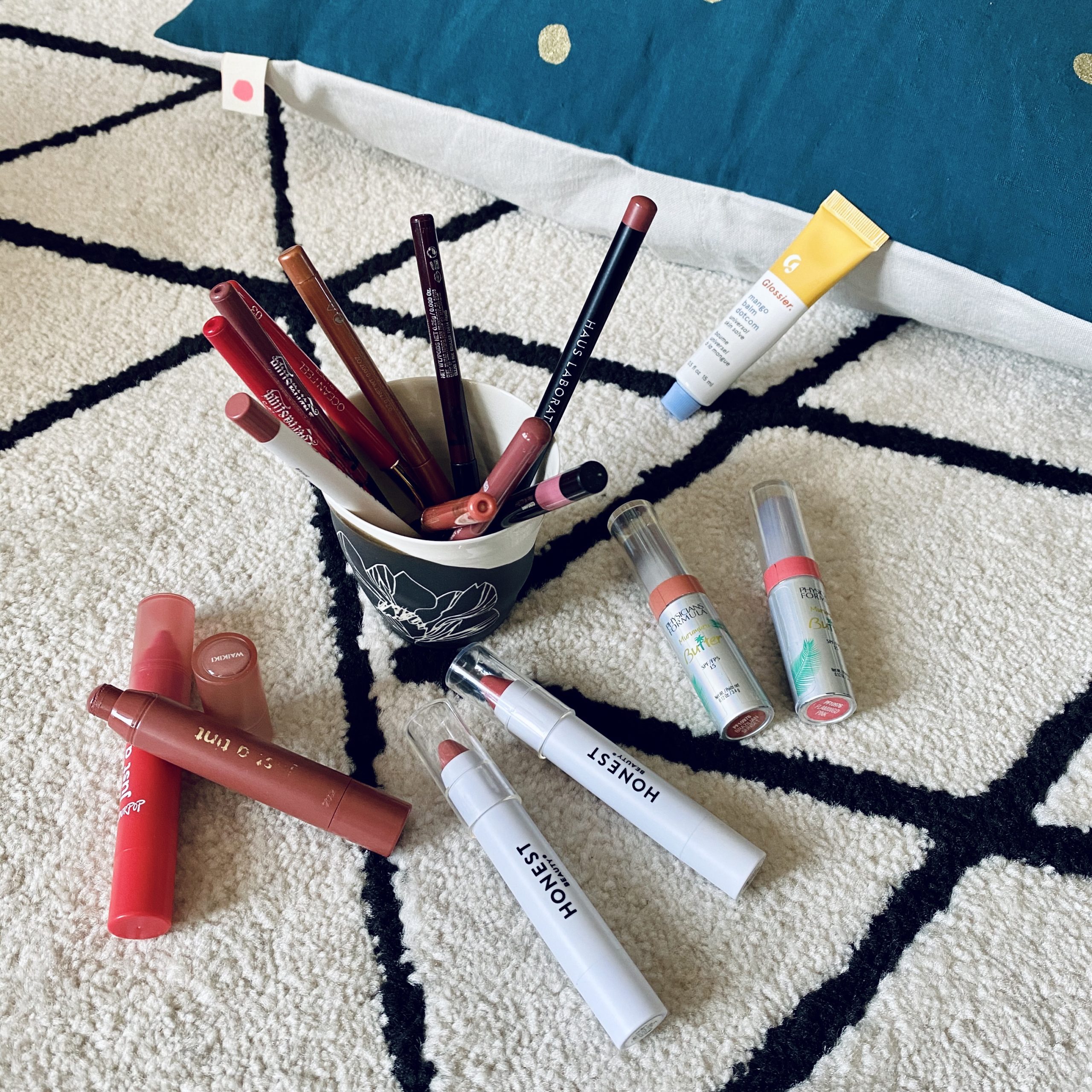 Lip pencils
Pencils … a good lip pencil should not be too greasy so as not to bleed into the fine lines of the lips, but not too dry so as not to tear your face down each time you put it on. It is a real challenge. Some ethical brands have won the challenge in my opinion, here is my small selection:
-Kat Von D. Again, lol. They make very good lip pencils, period. I particularly like the shade "Outlaw," which suits my liquid mattes "bachelorette" and my classic lipstick "underage-red" from the same brand. It matches colors like these (fuchsia-red or red-pink). They are retractable pencils, like your criterium when you were little, so no need to sharpen them.
-Kiko. Same old! Regarding the "ocean feel" range, the same principle as Kat von d, the same type of formula, neither too fatty nor too dry, retractable mine, nothing more to say, they are great.
-Wayne Goss. A British makeup artist who launched his cosmetic brand a few weeks ago. His pencils are great. They are real pencils, that is to say, they must be sharpened. The mine is slightly drier than the one of the previous brands, but therefore longer lasting.
-It Cosmetics. I really like this cute pink; this is the shade "pretty in pink." It has a pencil sharpener attached to the top of the pencil. Neither too dry nor too oily.
-Haus Laboratories. Lady Gaga's brand. These are very good lip pencils; I have the shade "Ride," which is a very nice pink-brown on a daily basis. To wear alone with a gloss or under a lipstick.
-Colour pop. I have the color Brink, which is a light brown. A little more greasy, but it remains good and does not bleed on my lips.
Tinted lip balms
These tinted balms that are nourishing like lip balms and bring a beautiful color …
-Small aside for a "classic non-colored lip balm": I wanted to talk about it here because it is great. It is the balm from Glossier. It smells of mango! Well, there are also other perfumes like "coconut" and "I do not remember what," and it hydrates very well. This is the "Balm dot com," the packaging is a tube; it does not have an applicator because it can also be used on dry areas of the skin.
-Physicians Formula. It is my favorite tinted balms. You can found them at wholefoods, Target, or Iherb.com for Europeans. Here the colors "Brazilian sunset" and "Flamingo Pink," and they smell like fruits.
-Colour Pop. I love their "just a tint" lip pencil. Especially the shade "Waikiki," which is a chestnut with a mini-hint of pink that gives me a "my lips but better" effect. I also have the shade "Maui wowie," which is a strawberry sorbet, halfway between pink and red, and they smell like a fruit cocktail.
-Honest Beauty. Jessica Alba's brand. I love this brand and their lip pencils too. I have the shades "Color Petal," which is an orange-pink (on the right), and "Blossom," which is a chestnut with a touch of honey (on the left).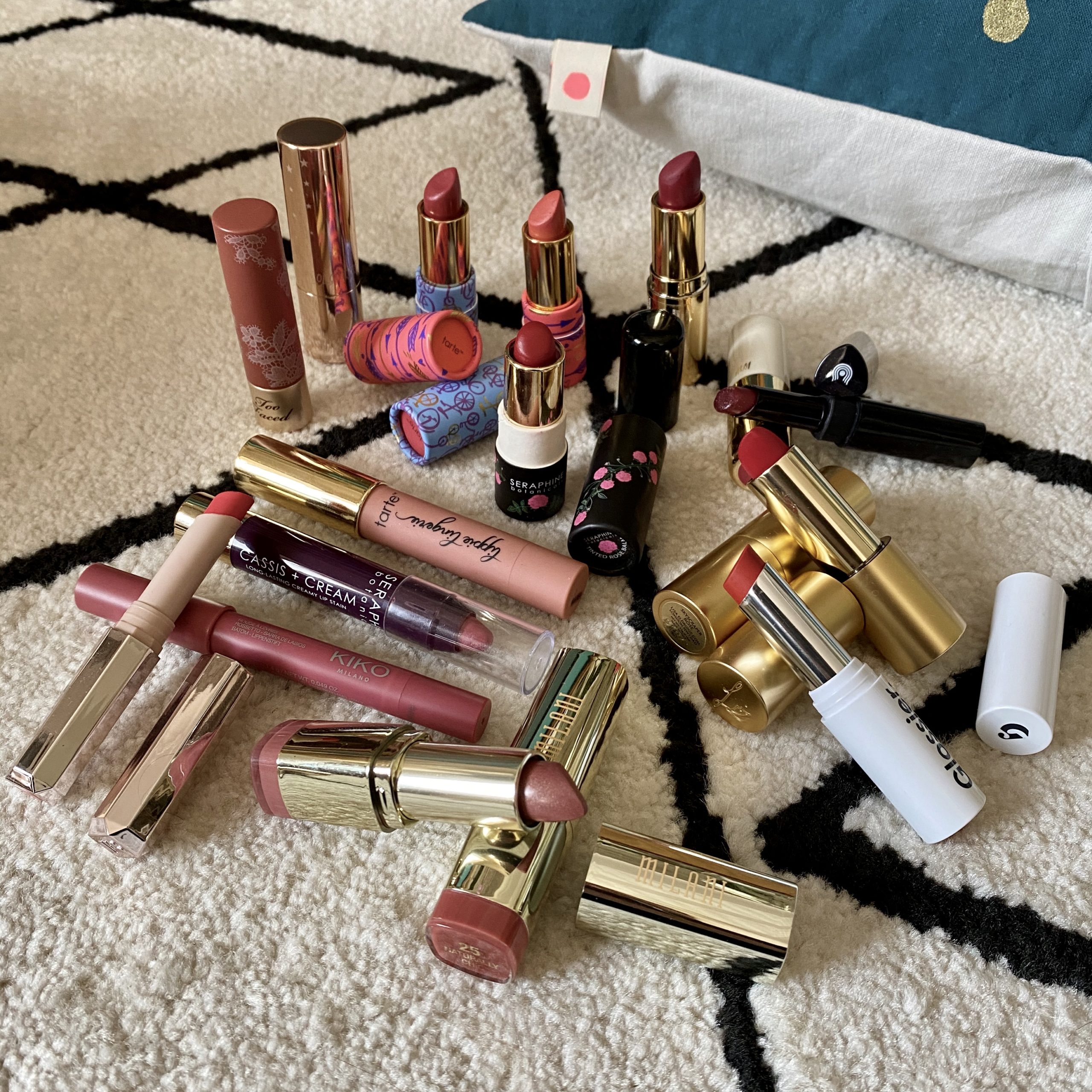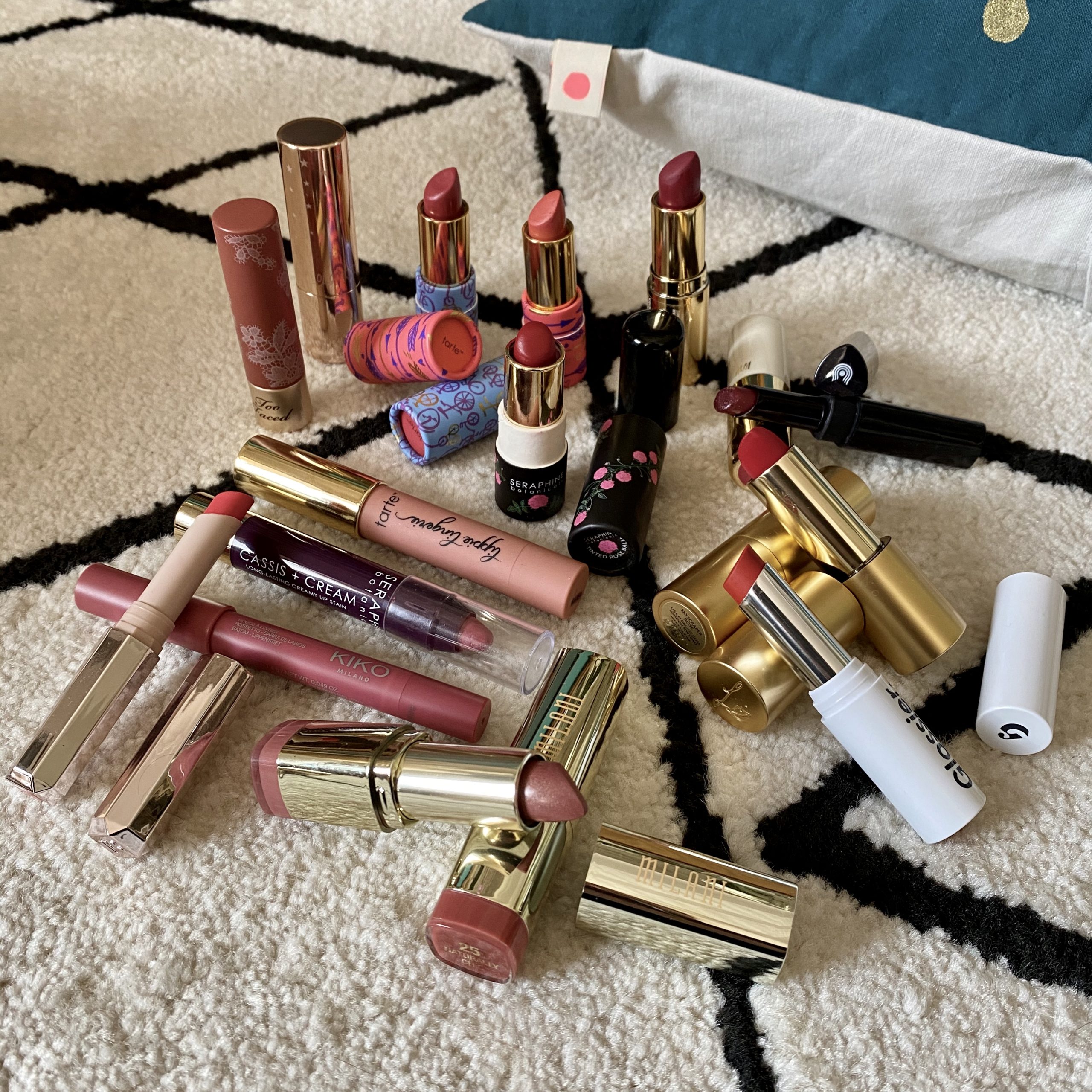 Classic lipsticks
It all depends on the lasting you want. The more hydrating it is, the less long-lasting it will be. It's mathematical. But what is undeniable: if you have a lipstick, you also have a blush …
-Tarte. "Glide and go" buttery lipstick. In the shades, "berry cruiser" (red fruit) and "tangerine target" (orange) tint. These are the ones with the funny packaging, in cardboard, blue and orange with small drawings. Does not dehydrate, a very nice smell of mint. I literally love them.
-Seraphine Cosmetics. A small indie brand. The black cardboard tube with small roses. They say it's a tinted balm, but it's a hyperpigmented, a real bold color, so for me, it's a lipstick. It is a very pretty cold red with a hint of blue. The perfect red for white teeth. It smells like your grandma's lipstick.
The lip pencil in the photo of the same brand, purple and golden, is a pretty "red fruit" with a hint of pink. It smells of red fruit.
-Milani. They have a large range of shades of lipsticks. The quality is here; I have the shade "27- Dulce Caramelo" which is a pink shade that turns blue, with small glitter, and the shade "25- Naturally chic" is an orange with a hint of brown. They have a fresh, flowery smell.
-H&M. And yes, H&M does cruelty-free makeup, incredible but true. Their lipsticks are very good, but I prefer satin finishes to matte finishes, that happens to be a bit dry. In mattes, I have the superb berry shade "the more the berrier" (at the bottom right, golden), and in satin, I have "rust me," which is a beautiful rosewood. Black cap for the mattes, white for satins.
-Lisa Eldridge. The queen of professional makeup, the one who paints Kate Winslet's, Keira Knightley's, and many other's faces. In addition to delighting us with her precious makeup tips on her youtube channel, she released her lipstick brand a few years ago. And how to tell you, it's happiness. These are golden tubes, with a matte finish, very rich in pigment but still comfortable. I could not wear them every day because of my sensitive lips that happen to be a bit dry with matte lipsticks, but I love them. Here is the color "velvet ribbon" (center right, the only red in the photo, ed), the perfect red from the 50s, the one of your granny, the real Parisian red par excellence, with a slight touch of blue for "the White teeth effect." I also have "pink skyscraper," which is a barbie pink, which I pat on the lips for a pink but long-lasting effect.
-Glossier. The "Generation G" matte reds are just great. They are modulable, according to the finish that you wish to have: one layer and you have a kind of matte tinted finish, two, and you have a transparent matte lipstick, four layers, and you have a rich color, always with a matte finish. Here the shade "Zip," a beautiful orange.
-Fenty. If you want an extremely rich pigmented matte lipstick, go to Fenty. They're crazy about the lipstick pigment, lol. Here is the shade "Dragon Miami," an orange shade with a hint of pink, almost fluorescent. To tap on the lips for a color effect or to wear in full color for a neon outfit, like neon sneakers, neon cap, neon lipstick, without ever risking being confused with a floor lamp, lol. Just kidding.
And lo and behold, this is my lipstick box. Do you feel the passion? There are very good products, which hold quality, and which have nothing to envy to other brands that are not cruelty-free. It is, in any case, the message that I tried to convey here.
Now it's time to enter resistance and to wear your pretty colors!
Among the brands mentioned, some are held by women, some are held by men, or by people who have different sexualities or genders, different ethnicities, different philosophies, but they all have the same passion: The art of makeup.
Among the colors, the finishes, we saw a whole range of beige, pink, brown, purple, and all these beautiful colors blend perfectly with each other. Everyone respects their space, the Gloss salutes the Lipstick once it is applied, and not vice versa, according to the rule of courtesy of makeup; Pencils of all shades look great together in the same jar. The young Gloss knows that he is not a Lipstick, he is nevertheless part of the large family of lip products, just as essential, beautiful, useful, and the classic Lipstick is very happy to team up with it.
Does it go well because these are objects, or because these are not constantly shown their differences? I leave you on this little allegory of lipstick – today, we are in a light subject, I said.
XO💄