Hello, young Padawan
In these heavy times, and I do not speak of my humor, it's time to take over from the "handwashing and hydro alcoholic gel" season. These poor hands that had to be washed 180 times a day if you did not want to catch the "you know what" are on the verge of agony, so it is time to repair the skins bruised by the too many detergents and aggressive agents.
Indeed, damaged or too dry hands are fragile hands. This type of skin no longer acts as a barrier to external aggression and can, therefore, be exposed to pathogens. It's still a shame to want to protect yourself from a virus and go back home with scabies. This is why it is essential to take care of this first shield that is the skin, it is our first protection.
The hydrolipidic film
No, it is not a vulgar layer of fat, but a mixture of cells, dead skin, sweat, water, keratin, and sebum. This thin protective film on the surface of the skin prevents it from being contaminated by external pathogens by acting as a barrier. The hydrolipidic film also hydrates the skin and keeps it supple. Finally, it helps maintain the microbial flora of the skin.
The small drawback when washing the skin is that you take off, in addition to the grime and depending on the product used, all or part of this natural protection that is the hydrolipidic film. So if you want to keep your skin healthy: If you wash it, you rehydrate after to help your skin, at least the time your hands are screaming for your help. As long as your skin is uncomfortable it should be your number one rule.
Rule number two: mild washing agents, without sulfates, based on sugar or coconut, or cold saponified soaps as much as possible, even if it's always a bit complicated since you don't have control of the product when you wash your hands often outside your home …
The insensible water loss
Definition of the "Hydration For Health" website: "Insensible water loss, so-called because they are generally not perceived by the subject, include water losses due to skin evaporation and respiration".
This is why it is important to drink regularly in order to maintain your level of hydration in your body because one of the first organs to suffer from dehydration is the skin.
Sometimes moisture is no longer enough
Indeed, very damaged skin may need a bit more, such as a healing cream like "Dermalibour" by A-Derma or "Cicalfate" by Avène for example, to repair cracks and other dryness patches. But these solutions do not moisturize. This is why very dry skin with flaking, cracks or bleeding (frostbite type) must combine both: healing cream on parts to be treated to help repair, and moisturizer on all hands to soften, hydrate and nourish.
The winning combo to have your baby hands back, you who is a nurse, a cook, who works outside in cold weather or who simply has very sensitive skin.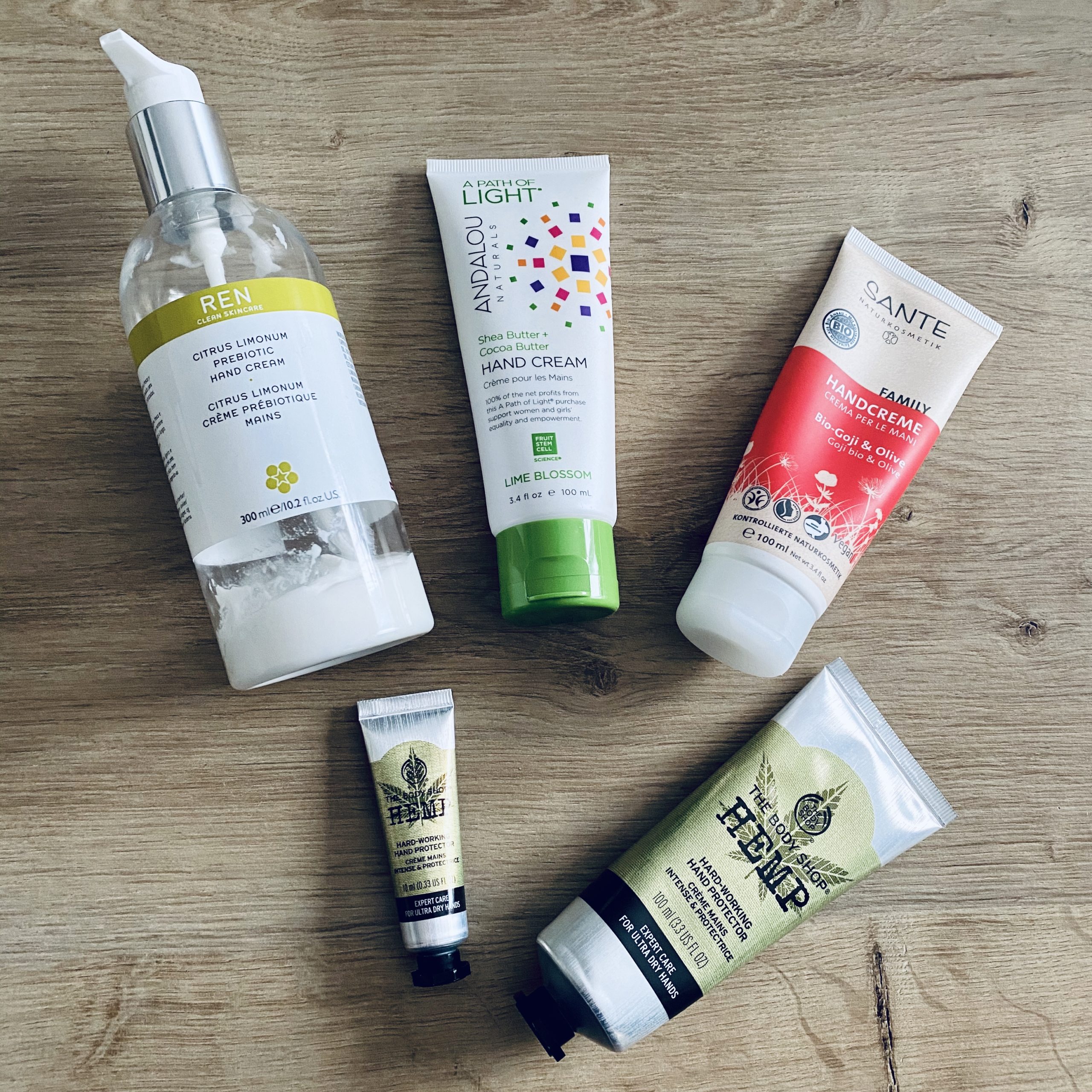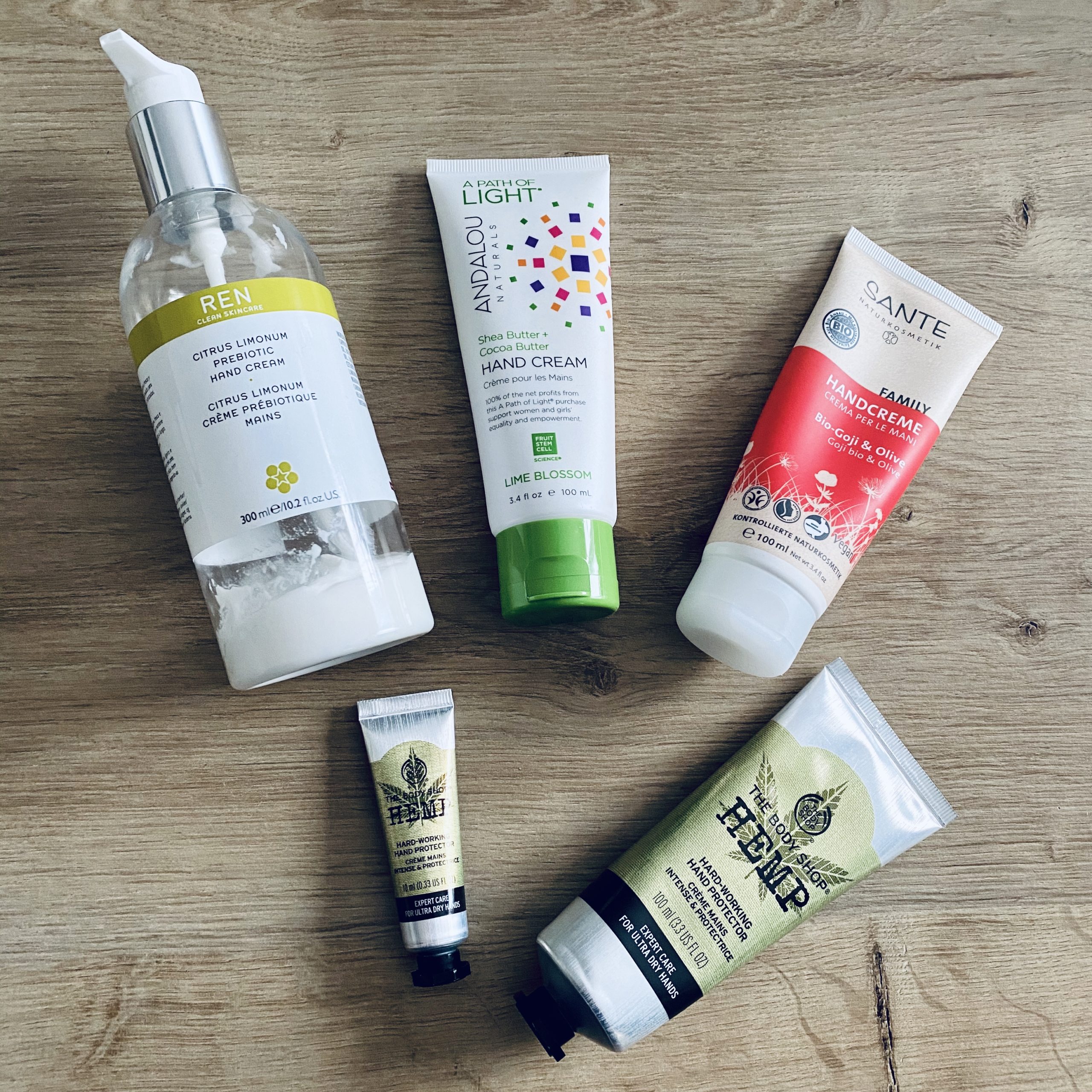 Good hand moisturizers
Here is my small selection of hand cream that can help you out if you are lost in this insane jungle of billions of tubes of cream on the endless shelves of your store … plus a few little tips that I leave you at the end:
– Citrus Limonum Prebiotic – Ren.
This cream, which you can find at Sephora or on the net, is the most expensive of my selection, but it has the advantage of containing prebiotics to help the skin flora to replenish itself. It is my "cooking" cream, for two reasons. Firstly, it has a divine lemon smell, which is not bad when you have cut garlic or onions, then cooking is for me the moment when I wash my hands the most, so they need special care after each culinary session.
– Bio-Goji & Olive cream – Sante.
It is simple, can be found everywhere in organic stores in France, Germany in DM, Switzerland, Belgium, Italy, and in the USA in some organic stores. Sante is a German brand, it is not very expensive, good quality, and organic. It is the cream for your handbag or for "home", which does not grease the hands too much when you use it, a slight fruity smell, but not sweet, you no longer feel it on your hands after a few seconds, but it is not the "background treatment" cream, it is maintenance.
– Lime Blossom Hand Cream – Andalou Naturals.
This cream is my favorite. It reminds me of my first time in the USA, you can find it at Whole Foods. If you are elsewhere you can find it on Amazon or the Iherb site, if you are in the United Kingdom, you find it at Whole Foods Market. This cream, in addition to smelling incredibly good, something like a fresh and botanical lemon scent, is never heady. It works really well to hydrate your skin while not leaving a greasy film that you can see on all the things that you touch after. I always have a reserve of this cream at home, always one in my bag, it's my favorite of all, with my "night" cream by The Body Shop.
– The hemp hand cream – The Body Shop.
This is MY "night" cream, which I discovered something like 6 or 7 years ago. It is very oily, that's why I only use it before sleeping, but it works really well to repair damaged hands. In a very cold climate, I also have it in my bag, in a mini-tube version, where I use it in small quantities, on the back of my hands only, for an anti-cracking attack phase. And it works great.
– Shea Absolute – Karethic.
What could be simpler than a good shea butter that does not smell bad to take care of your skin! Indeed, this shea butter smells good of Africa, the earth, nature, a sweet, reassuring smell, never heady… happiness. Shea butter is great to repair hands, elbows, feet, damaged knees, but it remains oily. So most of us will prefer to use it before going to bed, so as not to leave traces of fat everywhere.
– To wash your hands ethically, and without triclosan.
The Body Shop makes hydroalcoholic gels with funny scents, like strawberries, mangoes … and not tested on animals. The formats are perfect for putting them in a bag.
– For deep nourishment, the hand mask.
It exists in the form of gloves, impregnated with a moisturizing product, but I prefer by far Lush's hand masks in sticks. My favorite is the "Golden Handshake", containing argan and avocado oil. To do in the evening, put the stick in a bowl of very hot water, stir with the stick, leave for the time indicated, wipe and go straight to bed, so that the product acts all night.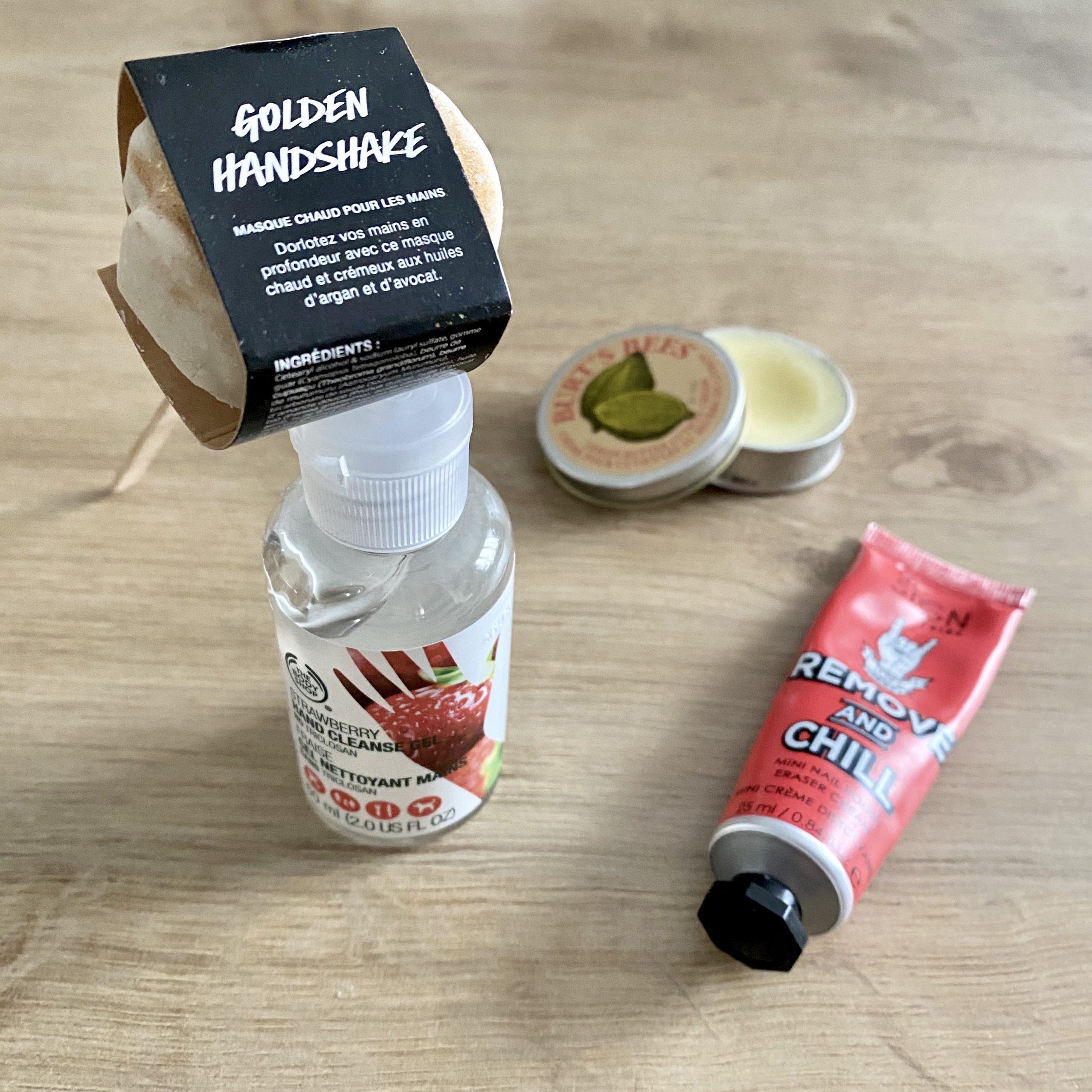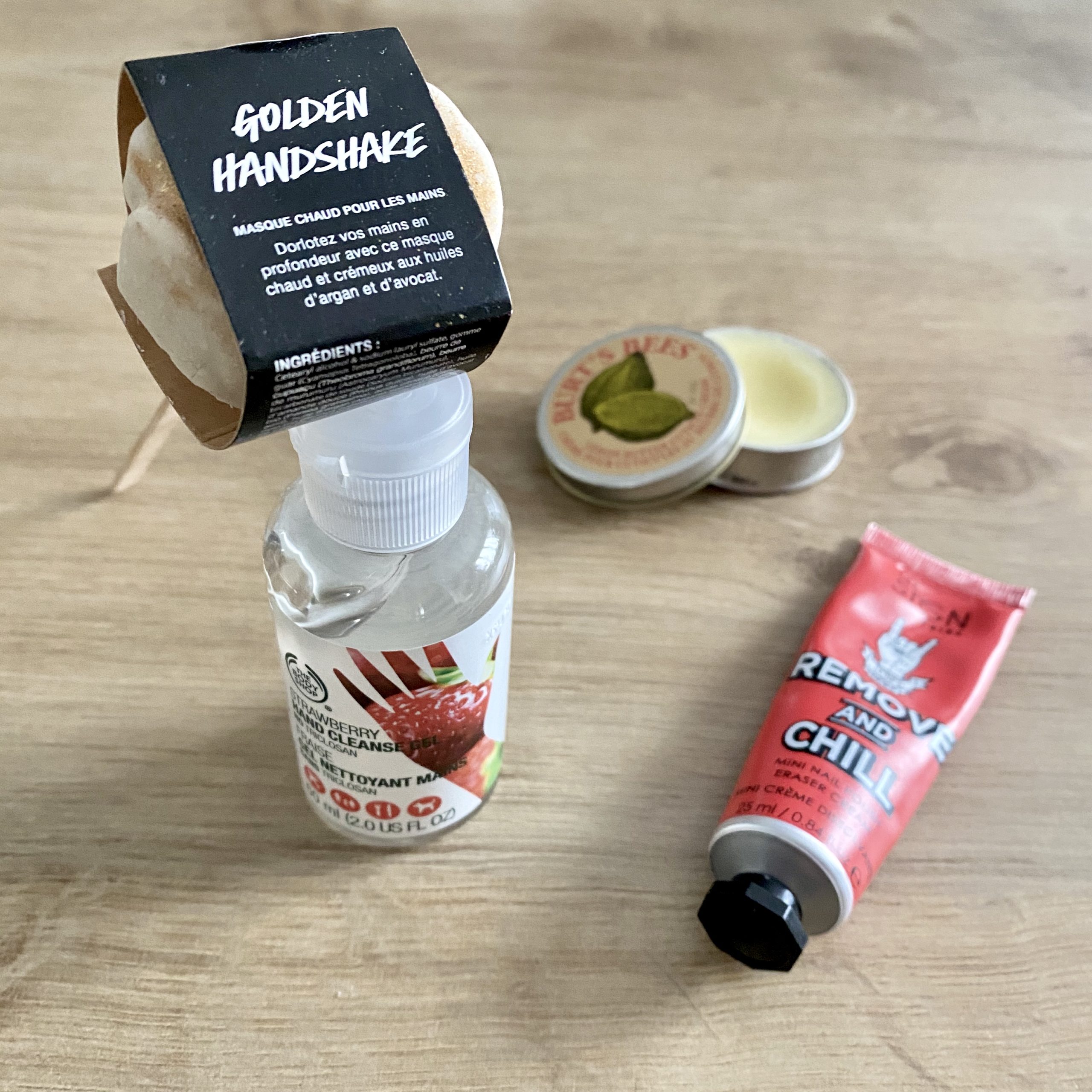 – For nails …
I have two tips for keeping nails healthy, an old one and one I discover a few months ago. The old one is to massage my nails with Burt's Bees lemon butter every night (or cuticles only when I have nail polish). It allows not to have dry cuticles and to keep strong and not splitting nails. It takes 20-30 seconds max.
The second is for the nail polish remover. I don't know about you, but every time I take off my nail polish I have splitting nails. However, I washed my hands and nails very quickly afterward, hydrated my nails well but always the same story, so I understood that my problem was the nail polish remover.
For the past few months that I have been using the "Remove and Chill" cream from The sign Tribe and since then, splitting nails: no more. It is a cream that you put in a thick layer on your nails, you leave for one minute per layer of nail polish, you massage with a cotton pad, you wash your hands and that's it. No smell of solvent, you get your nails as strong as before your nail polish.
I still massage my nails after each manicure with my Burt's Bees butter, I also always leave 2-3 days between each application of nail polish, but this little dissolving cream has changed everything for me. What a joy to recover normal nails, I love this little product! If you wonder, I found it at Sephora.
Here is my "special hands" manual, so that you recover soft and flexible hands like baby's ass. Now you just have to cream yourself with a bold and beautiful attitude.
Peace ✌🏻
Sources :