Hello, young Padawan
If you like to eat tasty fruits and vegetables, if you take great care of where you buy them, or how you harvest them if you grow them yourself, you have two solutions to keep your treasures.
The first solution is to put them in the refrigerator. Mistake.
Did you know that the veggies bin in your fridge is best suited for storing your beers? Indeed, your poor vegetables will lose all their charm and all flavor, affected by the Icelandic climate of your plastic compartment however supposedly intended for this purpose. Aren't you fed up with tasteless veggies? Aren't you disappointed to see your fruits and vegetables rot before they ripen?
Solution number two? The basket placed on the work plan, with, according to the technique of each, a cloth or a mosquito net to avoid midges and other bugs ready to spoil your meal. You have to think about covering everything well after each use and make sure that not a single small space is accessible so that your treasure is not discovered. The most athletic among us will chase the damn bugs with a kitchen towel throughout the house, jumping over the couch like Michael Jordan in the heyday of the Bulls.
Aren't you tired of playing Indiana Jones with your veggies?
In both cases, we are on what I call: a pain in the ass. Because if there is something that I don't like at all, it's wasting my time or my patience. I have found the solution to keep my fruits and vegetables in an optimal way, easy as pie, away from any unwanted intruder. I use it for a few months, and I'm really happy about it. But I warn you, absolutely nothing has been invented here, our grandpas and grandmas in the countryside all had one in their kitchen. Enough introduction, here is my new friend.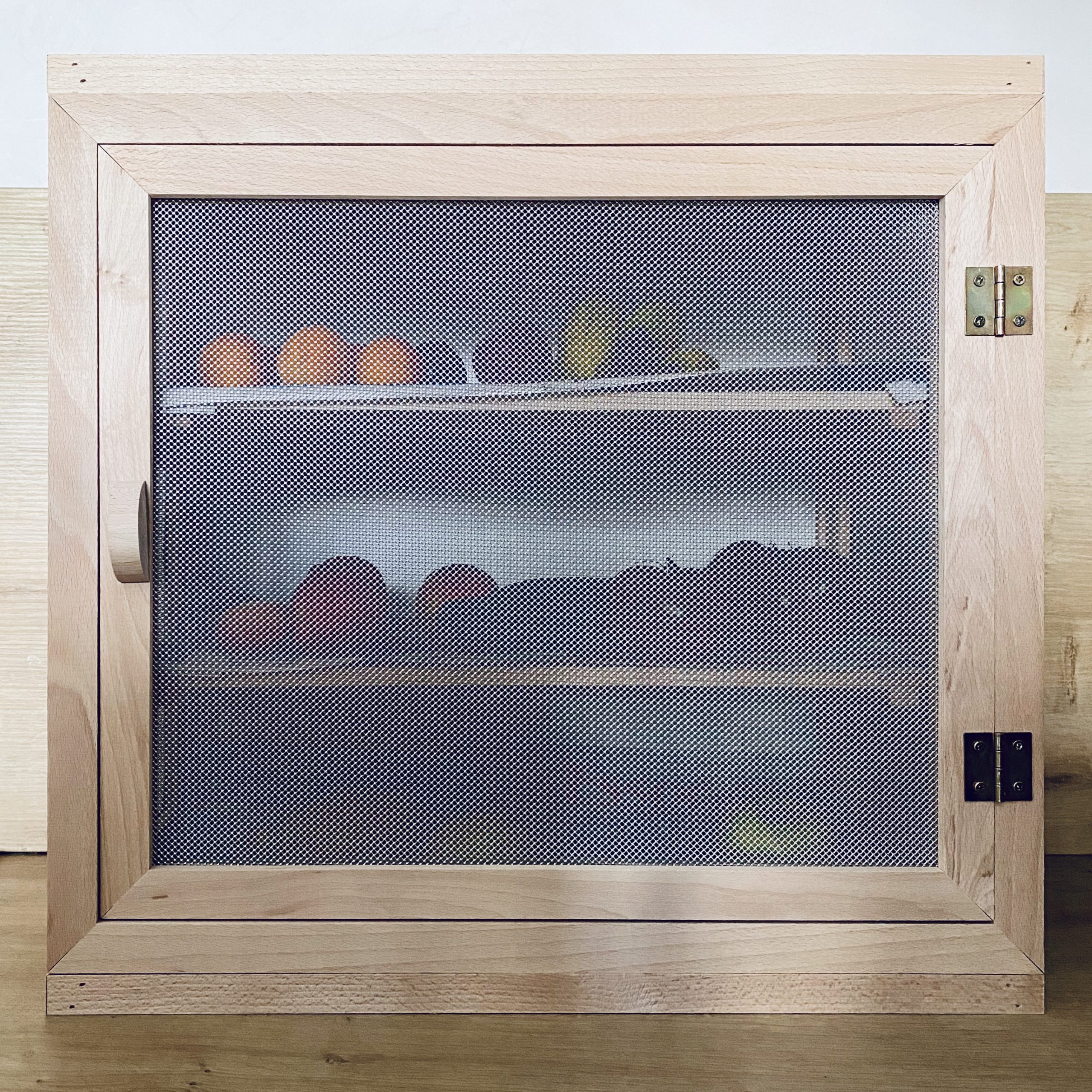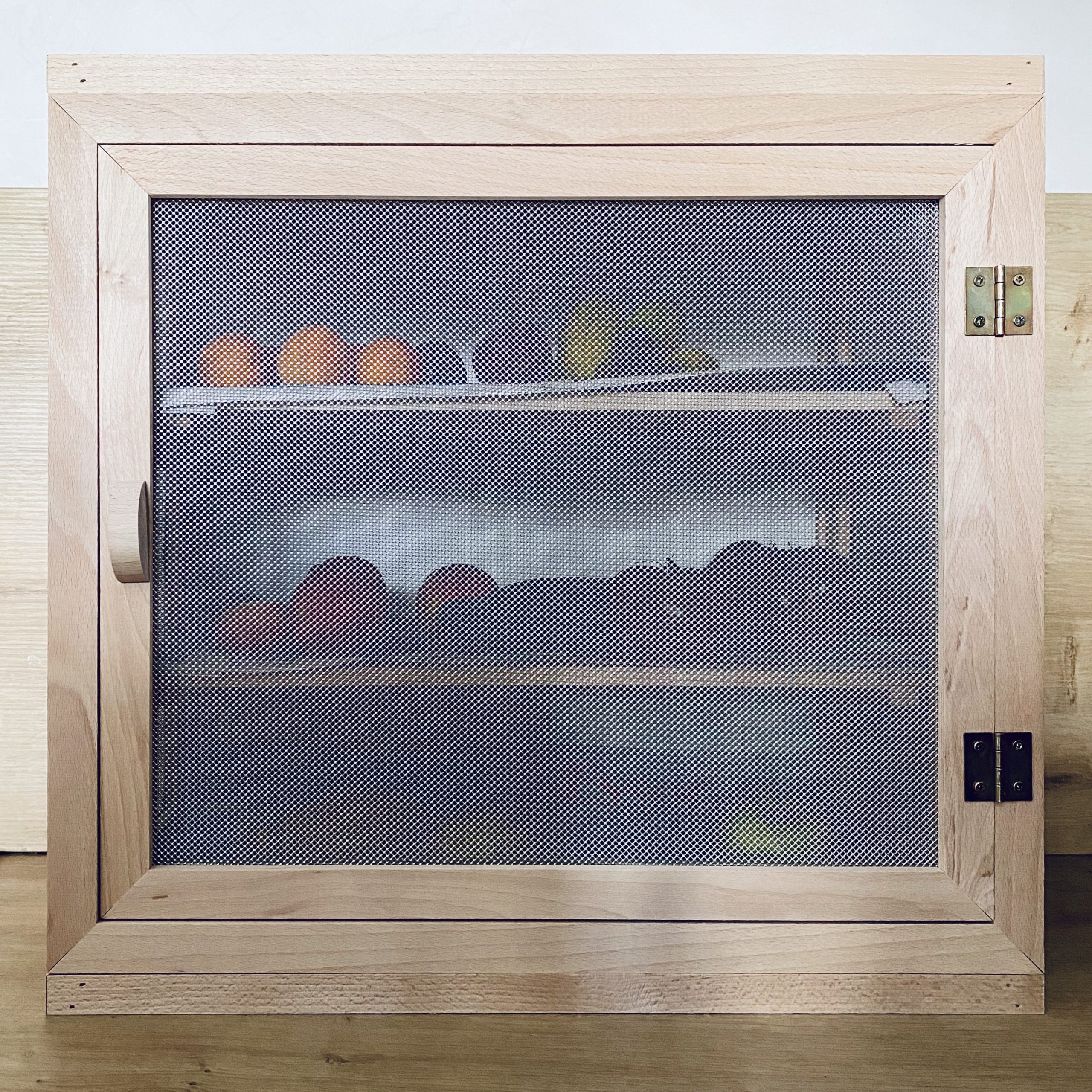 The veggie larder
Well, then if you were expecting a famous astronaut bringing us a super space tool, I understand that you are disappointed, but wait a bit because you really underestimate the intergalactic power of this small food closet. Yes, the vegetable larder is just like a cheese larder, 4 wooden boards, and a mosquito net, it is the paradise of your veggies and the hell of midges!

There are different sizes to fit everyone's needs, mine is 49x51x29 cm and is large enough for two adult vegans. It is made of beech with an aluminum mosquito net because the plastic mosquito net is more fragile for this use. I chose it with a magnetic closure for more convenience, and I covered my wooden shelves with some newspaper, to be able to protect them when I put potatoes or other earthy vegetables.
I bought mine on Amazon, at the "outils et nature" store; delivery in a flat pack like with our Swedish friends, easy to assemble.
For several months that I use it, I noticed better conservation of my fruits and vegetables which reach maturity without going through rotting. These develop real flavors, beautiful colors, the fruits are juicier, and it is a pleasure to open my little cupboard every day to prepare my meals.
Of course, people who also eat cheese or meat can put their ripened cheese and sausages there …
Here is a short article for today, which is nonetheless very useful in this season when peaches, cherries, apricots, and tomatoes are just waiting to develop their delicate flavors.
I wish you good fruit tasting, good tomato salads, and a good summer full of flavors!

XO 🍅 ☀️
Ps : The link of my veggie larder.