Hello, young padawan
Seeing this photo of my harvest from last week, you might have wondered, "What did she cook for her lunch with all this?"
So there you have it, it's very simple but really good. Let's go.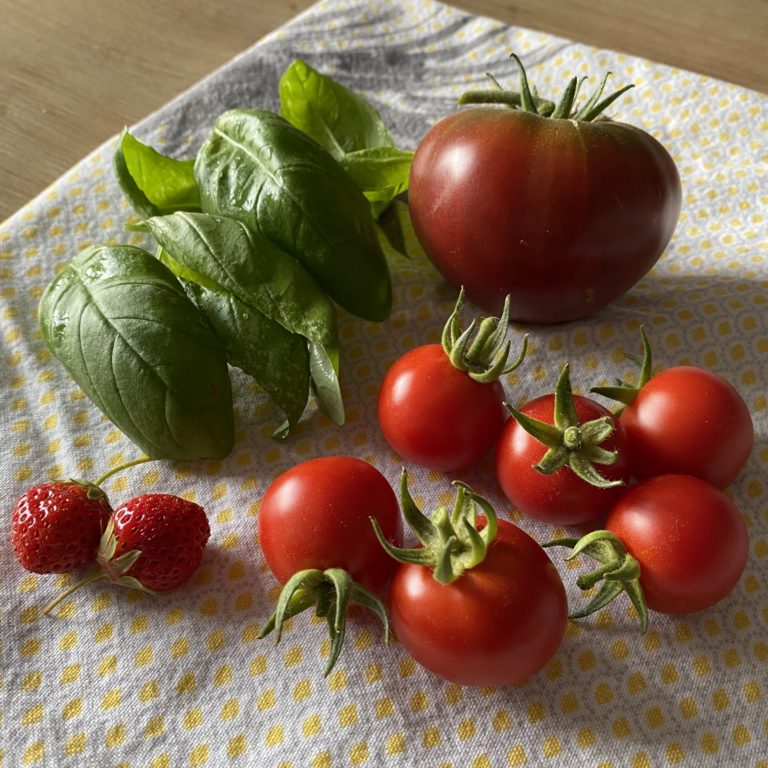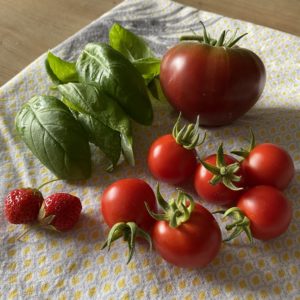 Tomato
Its richness in lycopene, which gives it its beautiful red color, makes the tomato an ally for the body in general and in the fight against cancer in particular thanks to its strong antioxidant power. When it is cooked, the lycopene it contains will be a great anti-acne ally. Notice to lovers of ketchup and other tomato sauces of all kinds, you will find more information in this "gazpachelon" recipe, or in this Mexican salad recipe where I explain a little more the relationship between skin health and lycopene, etc
Tomatoes are rich in vitamin E, vitamin C, beta-carotene (and still lycopene, try to follow), which have strong antioxidant power. It is, therefore a top fruit to fight against free radicals, responsible for the premature aging of our cells and also of the skin. The vitamin C it contains strengthens our immune defenses too, and the tomato is finally excellent for the health of our bones, teeth, and hair, our eyesight, as well as our heart health by its anti-cholesterol action, and is a great anti-diabetes.
In other words: let's eat fresh tomato during the summer seasons, in cans and jars in winter, and it will give us back a hundredfold. A tomato a day keeps the doctor away, lol.
Summer sautéed vegetables
For 2 servings
1 medium tomato and 6 cherry tomatoes (Campari), or 2 medium tomatoes
8 basil leaves
1/2 cup half brown basmati rice
1 block of "almond-sesame" smoked tofu, or any smoked tofu you like (half a pound)
1 teaspoon of olive oil
Thyme (fresh or dry, it's your recipe)
Salt
Madagascar pepper
RECIPE
Rinse the rice with plenty of water to clean it thoroughly before pouring it in boiling water for the time indicated for an "al dente" cooking. Usually, for this type of rice, I put it on medium heat for 7 minutes and it stays al dente. Once cooked, pass it through a colander, rinse it briefly with some cold water to stop the cooking, and keep it warm (the inside of an oven turned off will do).
While the rice is cooking, cut the block of tofu into cubes. In a hot, oiled wok, brown the tofu cubes with the thyme over medium heat for 5-7 min. Take the opportunity to cut the diced tomatoes, possibly the cherry tomatoes in 2, and to finely chop the basil, taking care to spare 2 beautiful leaves, for decoration.
When the tofu cubes are golden on all sides, season with salt and pepper, stir briefly and turn off the heat.
PRESENTATION
In your prettiest bowls or soup plates, place a few spoonfuls of rice, then add a portion of this sumptuous mixture of tofu and tomato, and finish with a handful of chopped basil. A nice basil leaf in the center for decoration, and here we are.
Enjoy your meal.
We eat first with our eyes. Thus, the pretty colors of this recipe will seduce the eye of the gourmet. This is the advantage of summer; we can make it super simple, the choice of colors is so diverse, that two or three products and the business is done, it's beautiful, and it makes you hungry. I hope you will enjoy yourself anyway, with my little revisited tomato-rice recipe.
XO 🌿