Hello, young Padawan
The days are getting shorter, and you'd like to pamper yourself while staying healthy and bringing good energy to your little warrior body, bravely fighting every day's bullshit and slicing through your long to-do lists with lightsaber blows, or almost.
Because the everyday hero needs a champion dessert in the fall so as not to end up vanquished, taking refuge in your bed, under the duvet – although, if in good company, … – well, let's go to the kitchen to make a simple recipe, in five minutes.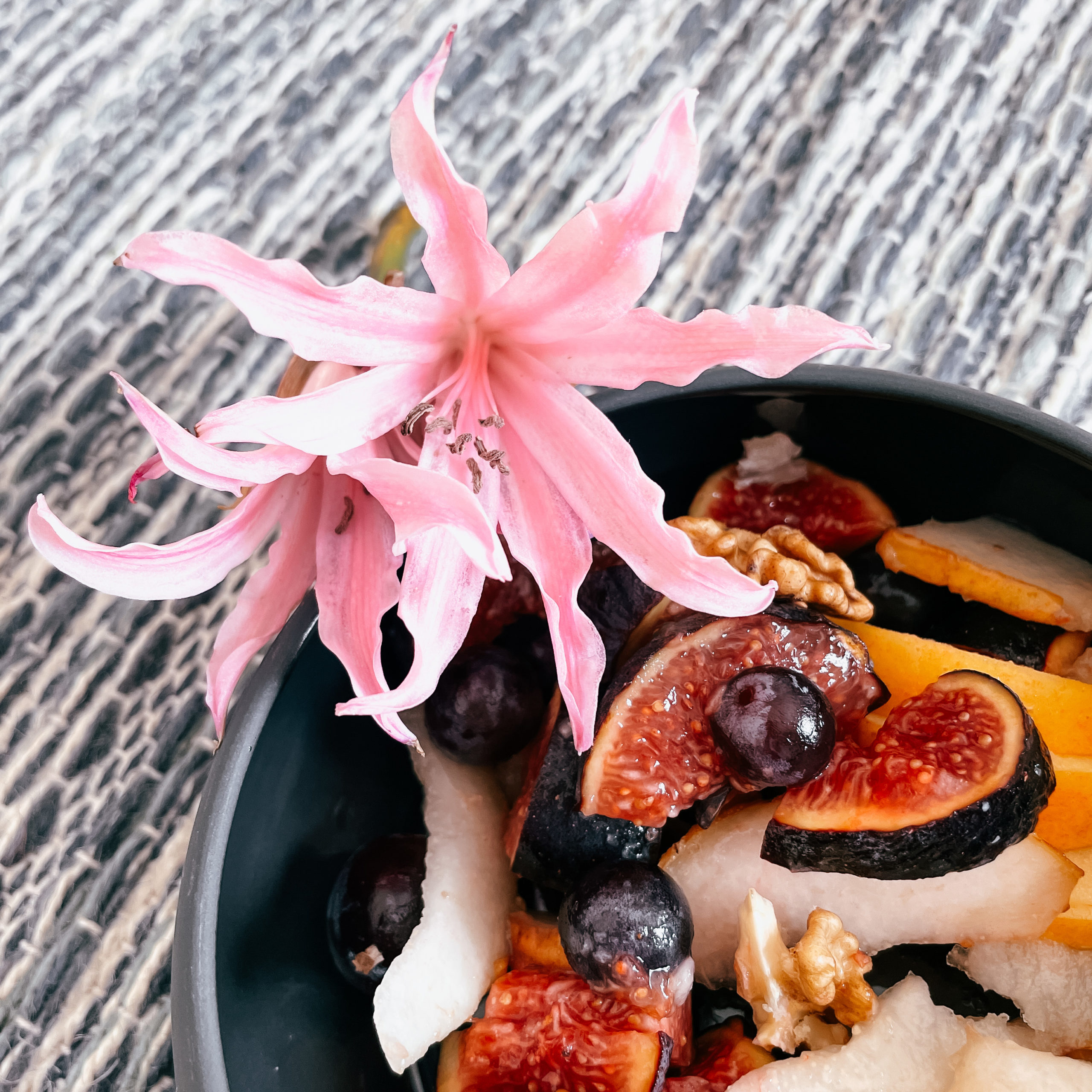 The little autumn fruit salad.
For 4-5 servings
2 divinely ripe pears of your choice, preferably organic, so you can keep the skin on.
1 apple of the variety of your choice, preferably organic, to keep the skin on, again.
5 figs, or 3 clementines, if you can't find any in your area
10 walnuts (or 20 walnut kernels)
2 pinches of powder vanilla
1 tsp cinnamon
2 star anise
2 tsp acacia honey
Recipe
Prepare at least 2 hours before serving to let the spices infuse…
Wash the apple, pears, and figs.
Using a cutting board and a good knife, cut the pears and the apple in half to remove their seeds, stems, etc.
Then slice them into strips of the thickness of your choice. Cut the figs into four and pour all the fruit into a salad bowl.
Remove the shells from the walnuts using a nutcracker, keep a few whole kernels and break the others in half. Put them in the salad bowl and add the spices: vanilla, cinnamon, and star anise.
Stir gently so as not to break the fruit. Set aside for at least two hours in the refrigerator…
Presentation
Remove the fruit salad from the refrigerator at least fifteen minutes before serving.
When serving, remove the star anise and stir gently.
In your prettiest ramekins, bowls, fondue pots, or like here, mini casseroles, add a few spoonfuls of this sumptuous fruit salad. Above each fruit salad, pour a fine and delicate drizzle of honey with love, beauty, and without getting it everywhere! Good luck.
Note: Just before serving, you can heat the fruit salad in a pan over low heat for 3-4 minutes to serve it a little warm, and then add your drizzle of honey. A great option to warm hearts and bodies after a nice walk in nature!
Here's something to treat you to and fill up on sweet, nourishing flavors for body and soul.
To accompany this sweetness, you can offer a Christmas tea or herbal tea, an artisanal apple juice or a sweet white wine from Alsace, such as a Riesling, or for the sweet tooth, which I am not, a late harvest Gewurztraminer, which is an Alsace French wine two. Fans will be delighted, lol.
As for me, I will meet you with pleasure next Friday, for new adventures!

XO 🍐