"Kindness is like snow; it beautifies everything it covers."
Kahlil Gibran.
Hello, young Padawan
The cold weather is here. Hats, scarves, and a chimney fire; it's beginning to look a lot like winter.
It is not unusual to have dry, itchy hands or even some frostbite in this late autumn- early winter season. Not uncommon, of course, but not normal either. This is a sign that your hands need care and a minimum of attention.
Here are some simple and easy tips. Let's go.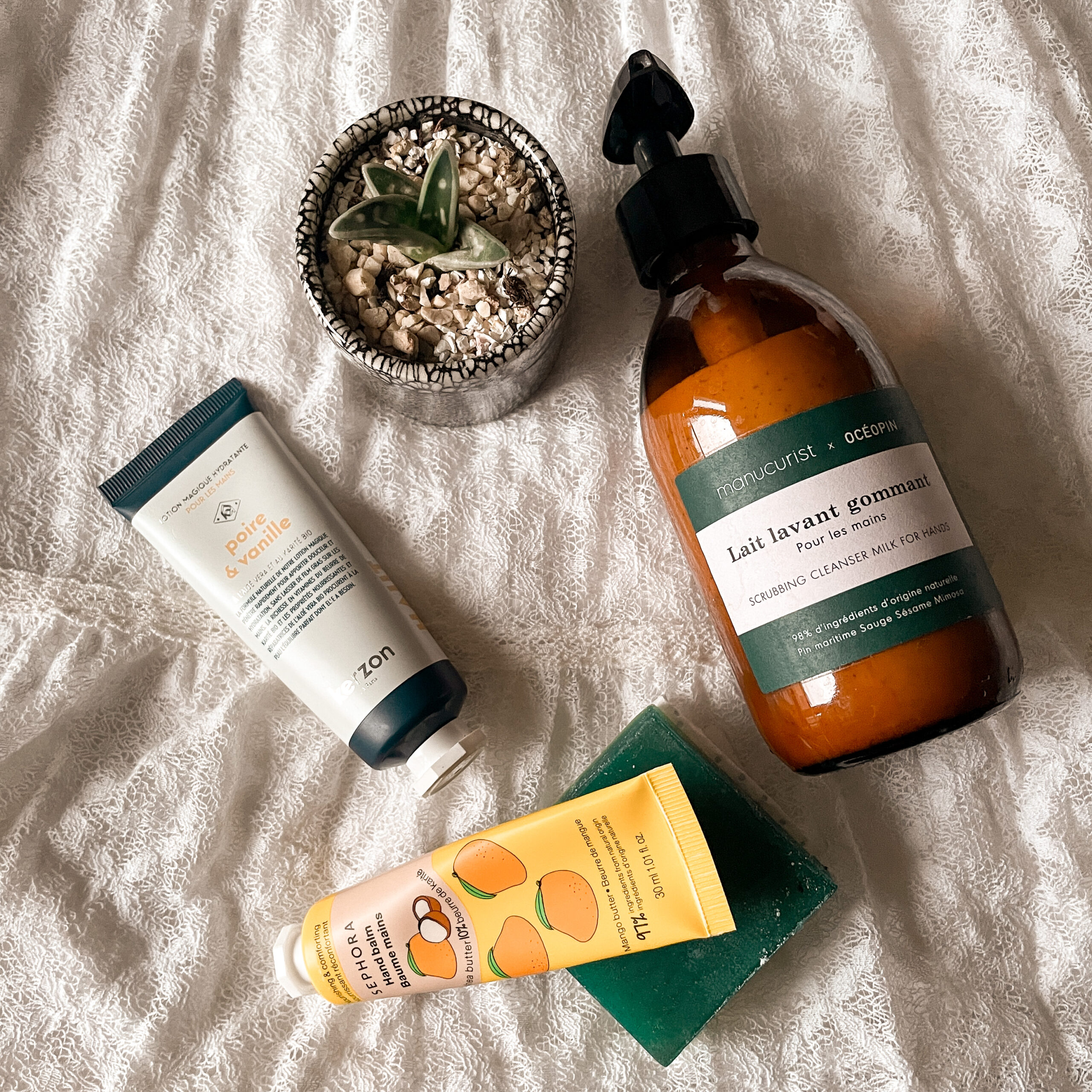 Hands in winter.
– 1st tip for taking care of your hands: use a gentle cleanser. I understand the people who have bought, especially since 2020, heavy sanitising products to have very clean hands, but unless you are a surgeon or a nurse; sincerely, it is better to wash your hands often with a gentle product than only three times a day with a disinfectant soap that kills your hands. Because if you break down your hydro-lipidic barrier a thousand times a day, we're not going to make it.
Therefore, a gentle cleanser that is respectful of your skin does not destroy the natural protection of your hands to maintain healthy skin. For my part, I join the useful to the nice. In fact, near my washbasin and my sink, I have cute soaps from Lush which are soft and respectful for the skin, smell good, and make the hands clean and soft. You can find good soaps everywhere, like great natural soaps in the small shops in your area, no need to necessarily go to Lush. Just be careful that they are for sensitive skin, that is to say, not hands killers.
– Several times during the day, or each time you wash your hands if you have frostbite, and especially in the evening before sleeping: put on some cream!
For the winter, do not hesitate to go for richer creams, but I understand that the "greasy effect" can bother some people. For those resistant to "oil that sticks to your hands," two options:
1/ A lighter cream during the day to maintain moisture, and an ultra-rich one at night to repair.
2/ Use a rich cream even during the day, but in this case, by spreading the cream against the back of the hands and fingers. like this, no more worrying about sticky palms.
As for creams, here are four that I tested and loved :
The lightest of the four, the small tube of mango balm from Sephora. Small, cheap, and not greasy at all once dry, this cream contains 10% shea butter. It leaves the hands soft and not at all sticky. FYI, it's a divine mango scent, almost botanical, not a "candy" or chemical scent.
A bit more nourishing, but still acceptable for people who don't like greasy palms effects, there is the banana cream from Kadalys. A small tube again, practical to put in a purse, but which lasts a long time. We are on a slightly sweeter banana flavor (than the mango flavor of the previous cream, ed), but still in the sweetness and finesse.
For people who like to moisture effectively, and therefore support a slight oily effect for a few minutes, I thoroughly recommend the pear and vanilla cream by Kerzon. Super moisturizing and enveloping, it creates a real protective film, leaving your skin soft and plump while repairing cracks. It's a vanilla pear scent, not sugary at all, very pleasant and comforting.
The last one is the cream to put on your bedside table, which will give you baby hands when you wake up – if you haven't forgotten to put it on before sleeping, lol. This cream repairs all the most damaged hands I have around me, particularly nurses' friend hands, puffed up by the hydroalcoholic gel, or of a boxer who tinkers with his motorbike. It's also the one that makes my hands not look their age and which made my hands so much less sensitive than a few years ago. I stop the suspense; it's the Hemp Body Shop hand cream. In the attack phase, if you have chilblains or cracks: put it on after each hand wash. Then, you can space out slowly when your hands are back to normal. Its only downside is that it's a little greasy. So put a little less during the day, and spread it generously at night. In the attack phase, you can put on cotton gloves after application before sleeping; you will be surprised at the result when you wake up.
– The little pleasure that will give a real boost for soft hands, free of small dead skin: an ultra-soft scrub, super-friendly for the skin. The best I have tried is that of the collaboration between the Oceopin brand and the Manucurist nail polish brand. This exfoliating washing milk does not foam and leaves the hands well moisturised, and of an incomparable softness.
– Finally, if you go for a hike or a walk in the city center to stroll through a Christmas market, for example: put on thick gloves. I know it sounds stupid, but you can't imagine the damage that the cold can have on your skin, particularly on an as stressed area as your hands.
And if you have to do an activity like cleaning, gardening or washing up: a good pair of rubber gloves. Simple, basic.
There you go my dear Padawan, I hope these simple little tips will help your paws to be on top and above all: comfortable. Because it is above all a question of being well in one's body, and of maintaining or restoring healthy skin, with its defenses against external aggressions.
See you next Friday for new adventures!
XO🧴