"The flowers of spring are the dreams of winter told, in the morning, at the table of the angels.".
Khalil Gibran.
Hello, young Padawan
When the sleeping vegetation turns green, when the days get longer, and the sun invites itself to the party, there is no doubt that it is the beginning of spring. To celebrate this new cycle, some go on a fast, others set aside a weekend to clean up their house, and some, like your faithful servant, light candles with spring scents, a starting point for relaxation, escape, and renewal.
To each season its candle, to each state of mind its fragrance. I thought it was time to give you some ideas if it's an essential part of your interior like me. There will be something for all budgets and styles; let's go for a tour of my favorite spring candles.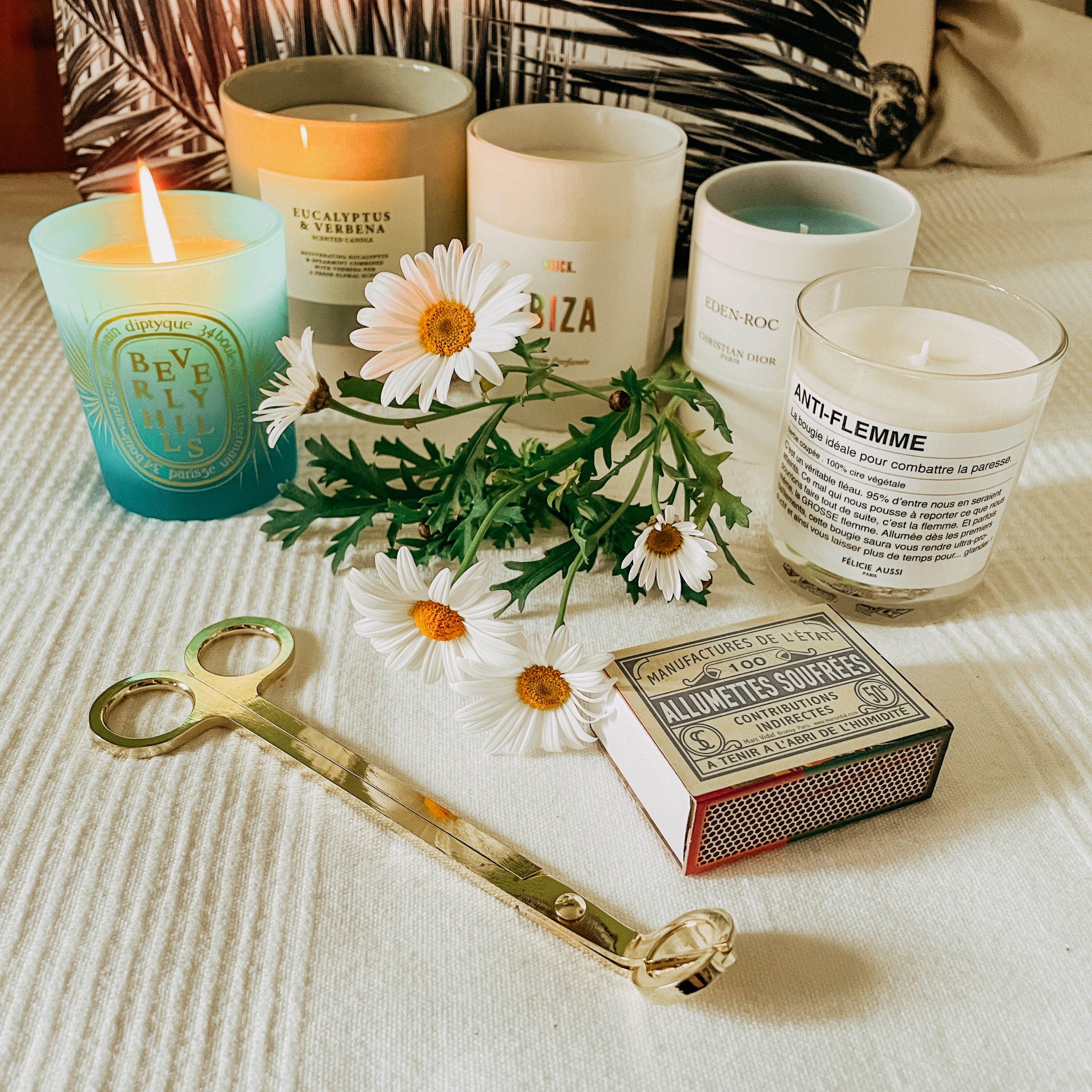 Fresh scents of clean laundry
That's it. You've done your spring cleaning; your house is polished from floor to ceiling; all you have to do is find the scent that will bring the final touch to this new beginning. Don't move; I have what you need: Clean Cotton from H&M Home. This pretty candle smells of clean linen, Lenor softener, or baby's ass; it's up to you to choose your reference. An absolute pleasure to light.
What's fresher than eucalyptus? Eucalyptus Verveine by H&M Home is a success. The scent is well balanced, and its container will make a very pretty cactus pot. I also love the Candle Golden Coast by PF. Candle, also with top notes of eucalyptus, then salt air, lime, and a middle scent of white lavender to give body to the diffusion. A fresh, citrusy, spring-like perfection.
Scents of sunny spring
The blue candle from Diptyque, Beverly Hills, is a limited edition, with notes of freesia (white flower), mint, and lemon. Unfortunately, as it was a limited edition, you won't find it anymore but I found a dupe: Ibiza by Wijck, pure happiness, an invitation to travel.
If you want to stay on the Diptyque brand, you can refer to this one with choisya (the botanical name of Mexican orange blossom) or the one with Jasmine for the white flower side, and you won't be disappointed. You'll have a nice sunny spring in your living room. You're welcome.
A great gift idea for yourself or your loved ones: candles from luxury brands. Like Eden Roc from the house of Dior. It is a great scent for the end of spring, a real call to summer. This is a citrus scent with a beautiful white flower on the top, then saline, marine, aquatic notes for the middle, and a lovely coconut base, round but not too sweet. I received the perfume and the candle as a gift last year after falling in love with the perfume sample, and I confess that I have not yet dared to burn this beautiful candle. I promise, in the following beautiful days, I'm lighting it. Especially since I have a pretty cactus that deserves to be repotted in this sublime container!
What could be better than a watermelon-scented candle for the end of spring? If you love the freshness and sweetness of watermelon, this candle will conquer your heart. A dominant watermelon top scent with a hint of lemon to bring character, then a nice herbaceous background, this scent is very accomplished, as much as my fall favorite. Currently out of stock at Blossom, you can find it here.
Comfort for a rainy spring Sunday
The "Anti-laziness" candle from Félicie Aussi is made in Grasse, France. A cut grass scent reminds you that after the rain it's time to … mow the lawn. Yes, your faithful servant still has his mythical sense of humor, you'll have to get used to it for a while, lol!
It's rainy outside, and you don't have a fireplace to bring a cute cozy atmosphere? Never mind, here comes the candle Bûche by the brand Hutte (under the glass, ed), which will embalm your interior with sweet scents of wood, leather and burnt wood, and even cheer you up. For purists, of course, the candle Feu de Bois (wood fire) by Diptyque will also be perfect. Mountain chalet atmosphere, marmots, and snowy Easter holidays are guaranteed!
x
I hope I have given you some ideas to bring pretty scents into your living room. What's excellent about perfumes is that you can completely change the atmosphere of your home without redoing your decoration. A simple candle is enough to bring a different style or create an atmosphere.
The perfume is magical, it is an open door to the imagination, to escape, to magic.
XO 🍋