Hello, young Padawan
Today, we are talking about the pretty colors of spring, but this time, on the eyes. It will change us a little.
Yes, I am one of those people who like to bring out their palettes year after year. The advantage of powder makeup is that it keeps for a very long time. Indeed, even if the empire of consumption would like us to change them regularly, the truth is that if we respect basic hygiene rules, like washing hands and using clean brushes, there is no problem keeping them for a long time.
So let's take the opportunity to treat ourselves with pretty colors or give ourselves the idea of bringing out old treasures. In discreet or daring mode, whether you are more monochrome or mosaic, a beautiful parrot from the pacific islands or Gabon, even if the more colorful of the two is not necessarily the one you think, lol.
Let's go for the discovery (or rediscovery) of three more or less contemporary eyeshadow palettes.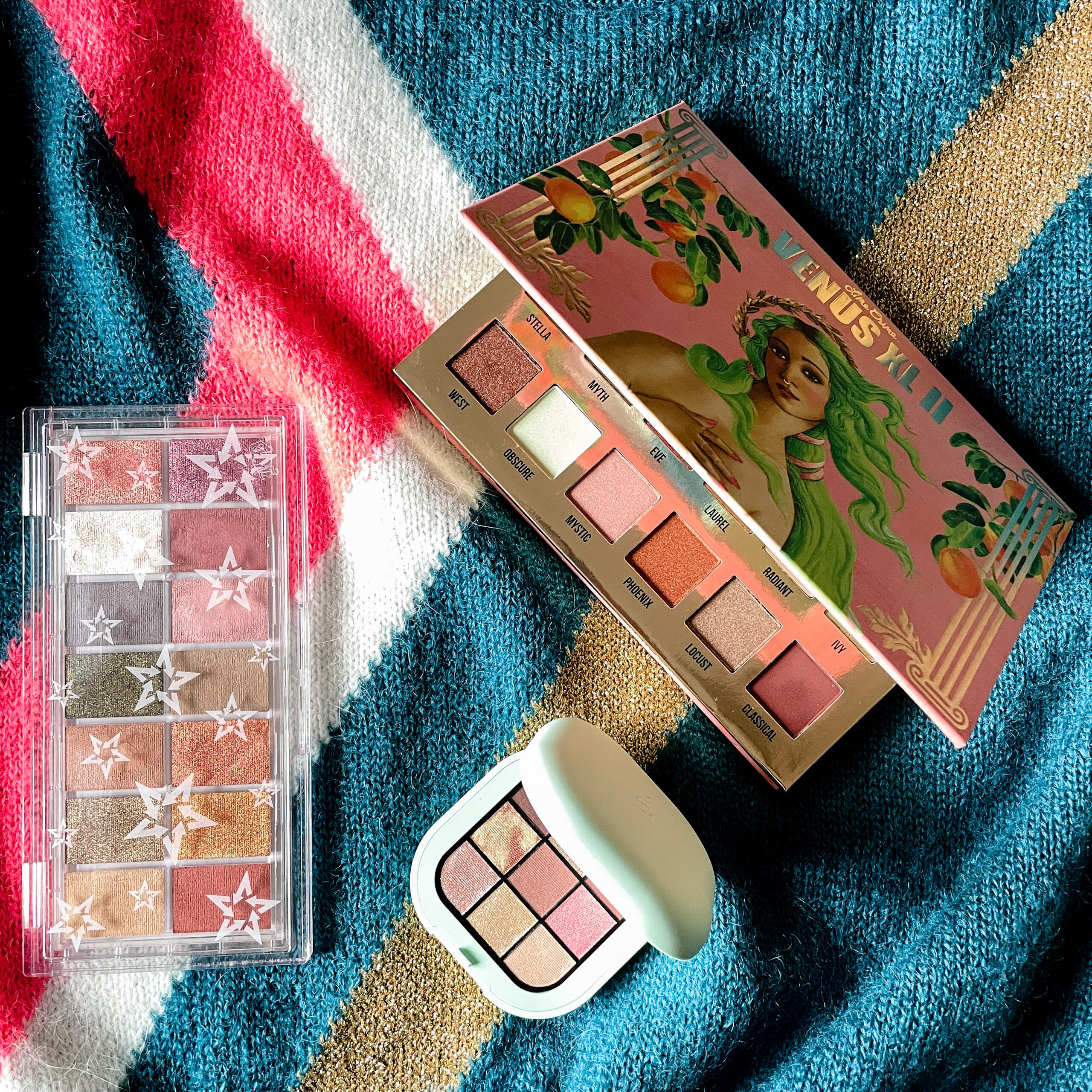 Three eyeshadow palettes for spring.
The first one I want to tell you about is the oldest of the three. It came out about four years ago, if my memory serves me right, claiming an earth-grunge vibe, and I pretty much agree.
This palette is a beautiful balance containing glitter, iridescence, and, of course, matte. Regarding the colors, we have the choice between two more or less iridescent champagne colors, beautiful brown colors, including a brown with pink micro-glitter, some matte, iridescent and glittery orange-pink, two iridescent gold-brown, two khakis (matte and shimmer), some beautifully formulated matte, glitter and shimmer greens that blend easily. In addition, it is made of thick cardboard, which is my favorite format for eyeshadow palettes, because it is the one that ages best and is the easiest to transport. I put it back in its box when I go away for the weekend, to protect it, and a little more, it also has a large mirror.
It did not move either in quality for the work of the make-up on the skin, nor in the held. If there's one palette I absolutely recommend for spring, it's this one! And if I talk to you about it with so much passion, it's because it's still available here.
The second palette was released in 2021, but it too is still available, including here. Beautiful soft colors that are easy to marry, iridescent, and glitter can either be worked with a brush for a very natural finish, with your finger for more intensity, or moistened to make, for example, a line of glitter liner. There's enough in here to have lots of fun, plus the palette is entirely recyclable.
The biophilia shade, a sublime khaki with golden glitter, is a magnificent color for evening makeup, for example, while with the solar wind shade, an orange-brown, or organism, an orange-pink, applied flat on the eyelid, you can do daytime makeup in just two minutes because these pretty colors are self-sufficient.
This palette even has an extremely rare color: a slightly bluish-cool gray. In short, this palette is a delight.
Last but not least, this is a palette from this year's spring collection at Kiko Cosmetics. This brand, at very reasonable prices, offers some new products each season. By chance, I went to see what they were offering this year, and this little six colors palette caught my eye.
In addition to two beautiful pink shimmers and four matte eyeshadows (three browns, one beige), it presents three sublime glittery eyeshadows with an almost creamy texture of crazy intensity. These are gold, champagne, and champagne-rosé. These eyeshadows are exceptional, especially for the price.
Indeed, textures that are so elaborate require unique know-how in the laboratory and accomplished research, not to mention the cost of the raw materials to develop them because these are textures that cost much more to manufacture than standard eyeshadows. Congratulations to Kiko for his excellent lesson on what is a good value for money. I've had it for three days, and I've already done my makeup three times with it; I feel it will be amortized, lol!
Need I specify that none of these three brands test on animals? Of course not. Quality over time is really a good test because it's true that, saddly, you can't see it on all products, whatever they are.
However, in my humble sense, the key to ecology resides above all in duration. Since any article, whatever it is, generates pollution, we might as well prefer durable products, which will not deteriorate over time, and will continue, year after year, to fulfill the mission for which they were chosen. I have already finished several make-up palettes, and what a pleasure to see that I was not mistaken in the choice when the quality is there, from the first to the last use.
I wish you a beautiful weekend, a good weekend full of love, and see you Thursday.
XO 🎨