Hello, young Padawan
You asked me for more recipes; I think you've seen it for a few months: your faithful servant is trying to offer you a little more, and the pleasure is mine!
Sometimes, there are certain recipes that we hesitate to make at home for fear of not having the expected result. The scrambled egg is one of them. Whether in our kitchen or an à la carte brunch brasserie, this wonderful dish often turns into a nightmare: a kind of overcooked omelet or worse, half omelet, half sock juice. The drama!
Today, we are therefore going to make wonderful scrambled eggs, unmissable, and with wild garlic, since I had a request to make another recipe with this herb as magical by its delicate taste as by its virtues — to learn more about the virtues of wild garlic, and grab a great risotto recipe, it's here.
Let's go for scrambled eggs beyond reality, as if you had a great chef at home, tantric scrambled eggs, in a two-star Michelin mode.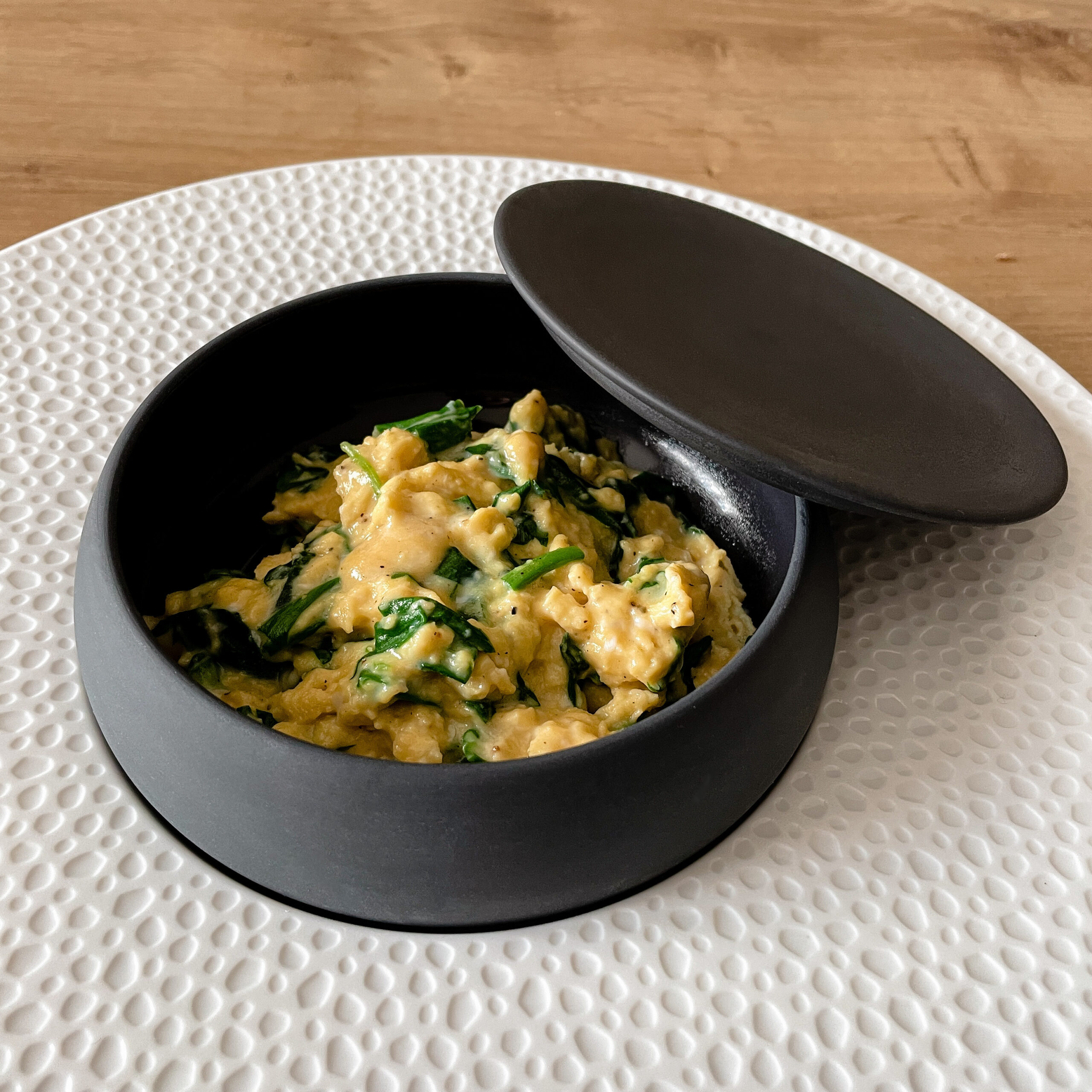 The unmissable scrambled eggs of my friend Titi, remastered in spring mode.
For one serving
3 fresh organic eggs
2 tbsp liquid soy cream, or whatever liquid cream you like
1 tsp butter
A handful of wild garlic + a small leaf for garnish
Salt, Madagascar pepper
To accompany this dish:
A nice slice of sourdough bread
A bowl of seasoned salad, with a little chopped wild garlic.
Note: For a starter, per person, put an egg, 1 tsp of cream, 1/2 tsp of butter, and 3 branches of wild garlic.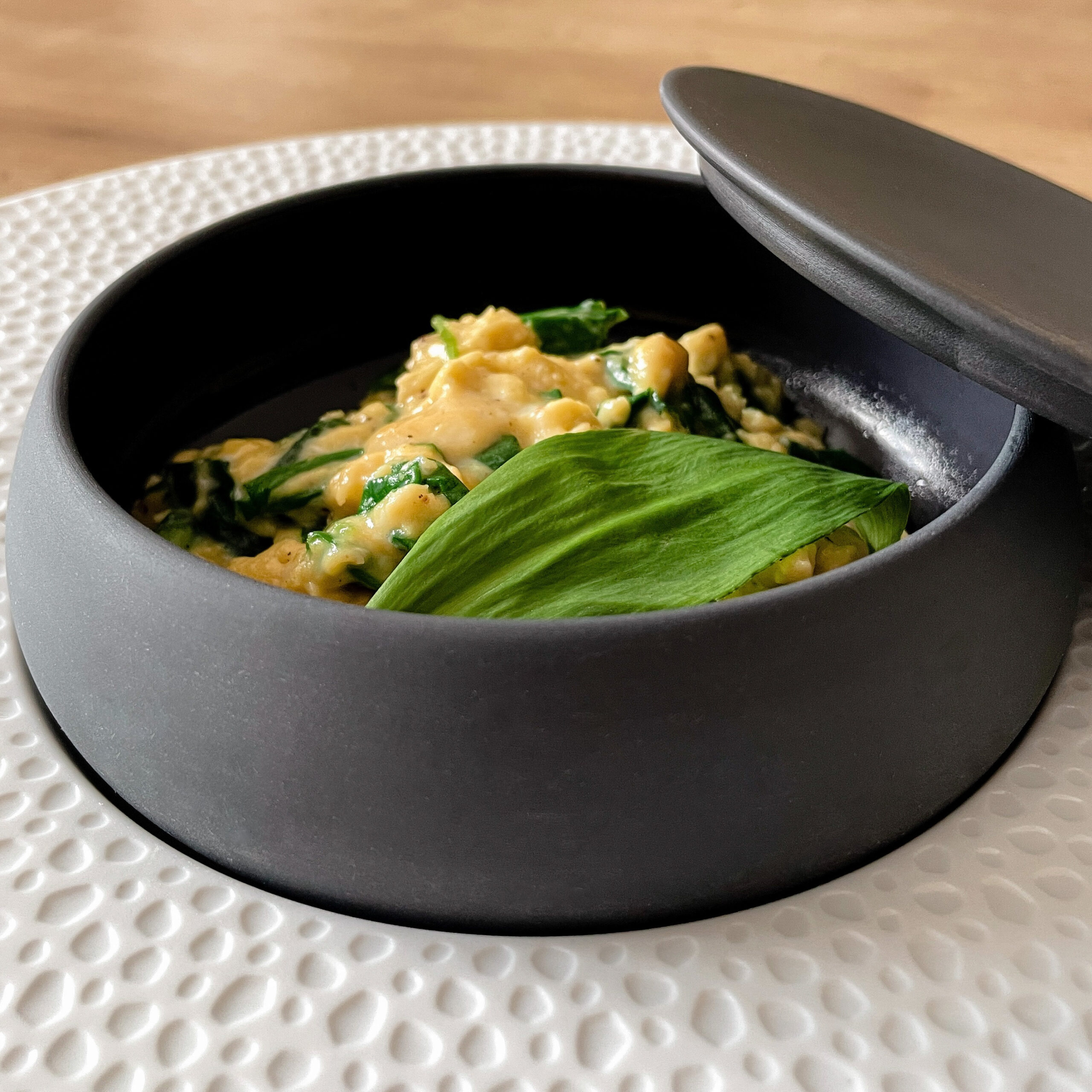 Recipe
Lightly butter a bain-marie (or a stainless steel mixing bowl), and put a little water in a saucepan that can fit it.
Gather the wild garlic into a small bunch, and roughly chop the stems into three or four pieces.
Break the three eggs in the bain-marie (or stainless steel bowl), and pour the cream, salt, and pepper. Stir gently, just to "break the yolks," then add the piece of butter and wild garlic.
Bring the water in the saucepan to a simmer. Prepare the table for the service, the bread, and the seasoned salad. Gather the guests if necessary, and choose the container(s) in which you wish to serve your scrambled eggs. Cassolettes, small Chinese bowls, or ramekins will do just fine.
When the water is simmering, lower the heat to a low position and place the bain-marie (or the bowl) in the saucepan.
Note: If you place a stainless steel bowl on your saucepan, don't forget to put a fork or a wooden Chinese chopstick between the two because the metal expands, and your bowl may get stuck in your saucepan. You're welcome.
From this moment, it takes about five minutes, and you must stay in front of your bain-marie. While cooking, stir delicately with a wooden spatula, preferably flat, by making "eights."
When the eggs start to coagulate, turn off the heat and continue to stir gently and non-stop with love, glory, and beauty.
When your eggs start to thicken, but are not yet cooked enough, remove the bain-marie from the saucepan (or the bowl, with a kitchen towel, so as not to burn yourself, ed), and place it on a cloth folded in four. Indeed, the heat from the container will continue to diffuse (don't hesitate, knowing that you can put them back on the hot water if you took them out too soon).
Continue to stir gently, and serve as soon as the consistency suits you, even half a second before, because the heat of the scrambled eggs will continue to coagulate everything. They must be al-dente, lol, that is to say, very creamy, very unctuous.
Enjoy, without delay, with a nice red wine from French Savoie or a good Côtes-du-Rhône with some character.
Bon appetit, and see you on Friday for new adventures!
XO 🍷
PS: A big thank you to the chef "Titi," two stars of his state, for teaching me the science of infallible scrambled eggs at my cooking school a few years ago. You taught me scrambled eggs, I taught you a few puns, the magic of the evolution of humanity, in short, or almost. I didn't tell them to stir with chopsticks, as they would miss their recipe, but I will offer them a new opus, this time very oriental. Kisses, and see you soon. ✌️