Hello, young Padawan
Soon Easter is finally a good reason to eat chocolate. Say no more; I have the recipe you need. Fresh, good, beautiful, and healthy, what more could you ask for on the eve of this Easter weekend?
Let's start this recipe, which will be a real treat with a good green tea — or a good coffee; why not. A kind of revisited bounty, but much better.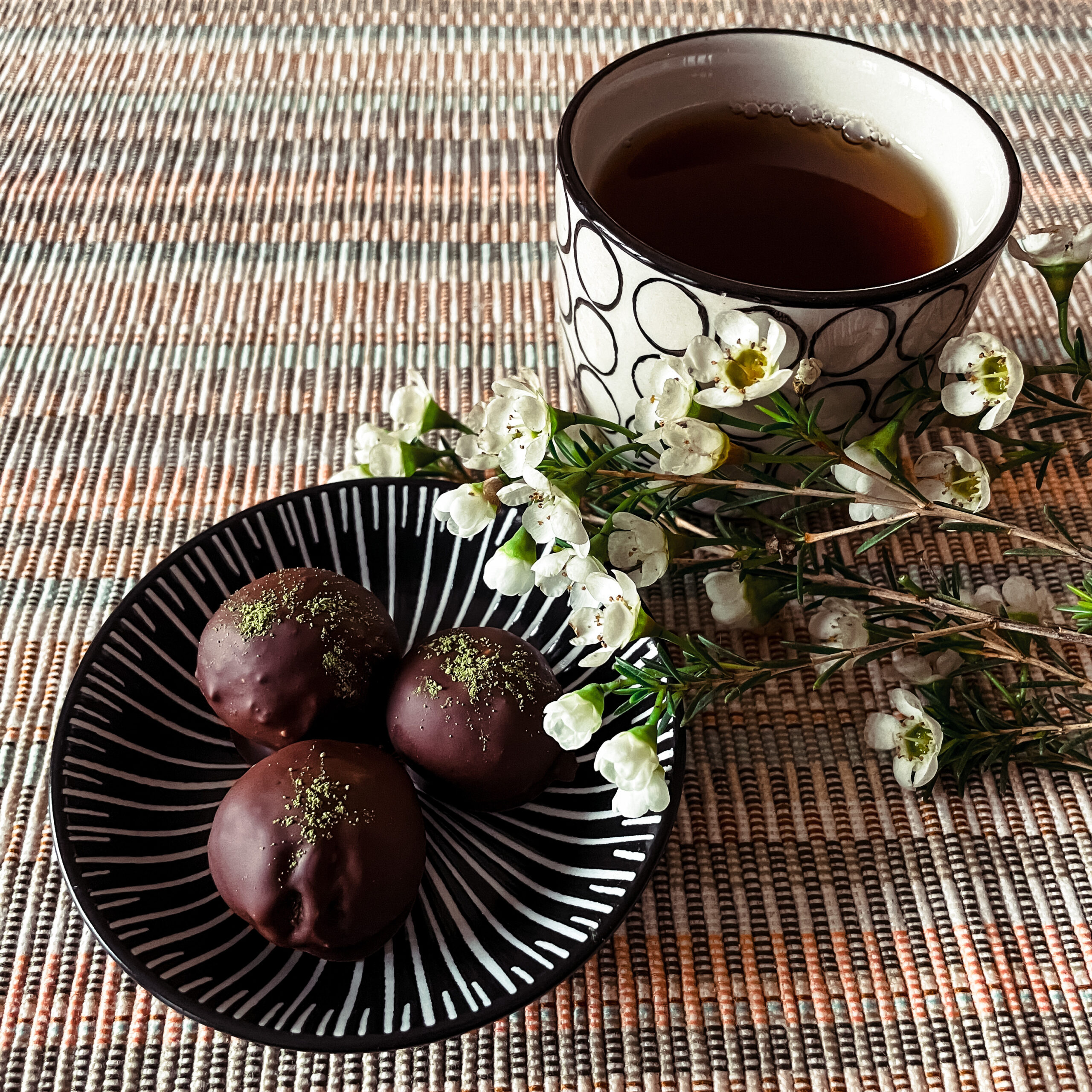 Avocado
Rich in good unsaturated fats for heart health, this fruit from Mexico also can flourish in the Mediterranean, such as in Spain or the south of France.
The vitamins C, E, and K it contains positively impact blood sugar and make it a good source of antioxidants to protect cells from the damage of free radicals, responsible for premature aging, but also certain cancers and heart disease.
In addition, avocado is an ally in eye health thanks to the lutein and zeaxanthin it contains. Finally, it is a source of potassium and magnesium, which are excellent for mental and physical health.
Matcha-avocado energy balls, coated with dark chocolate.
For 25-30 energy balls
1 medium very ripe avocado
1 tsp of matcha
1 cup of grated coconut
2.5 tbsp maple syrup
1/2 tsp vanilla powder
1/2 cup of 85% dark chocolate drops
1 pinch of salt
Recipe
Cut the avocado in half, remove its core, place it in a bowl, and mash it with a fork and a little elbow grease. There should be no lumps left. For my part, I finish the job by flattening the mixture with a silicone spatula.
Add the rest of the ingredients, namely the matcha, grated coconut, maple syrup, vanilla powder, and a pinch of salt. Stir well at each new ingredient addition so that the mixture is homogeneous.
Using a Parisian apple spoon or a teaspoon, make balls of this mixture, and place them on a tray covered with a sheet of parchment paper. Roll each ball well between the palms of the hand so that they hold together well. Set aside.
Place the chocolate chips in a hot water bath (or microwave), and melt it without overheating it. It should be warm, but never hot. I melt it for my part in a beer glass or any other narrow container so that the soaking of the balls is easier afterward.
Dip each ball in this sexy chocolate with a fork, tap the excess well by tapping the fork against the container of melted chocolate, then place the ball on the parchment paper. Once all the balls are coated with chocolate, put them in the refrigerator for at least an hour, the ideal being 2-3 hours.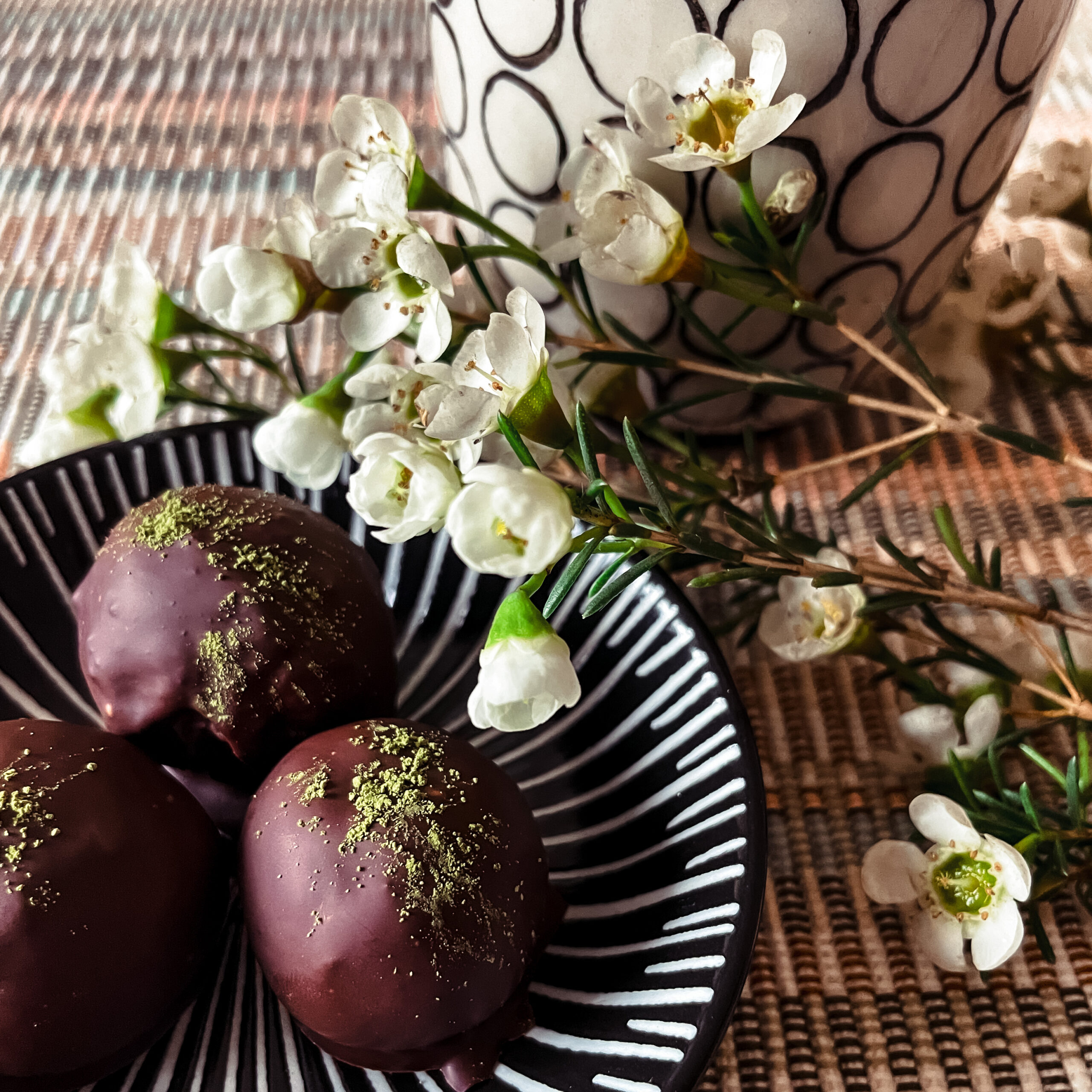 Presentation
Sprinkle evenly on each avocado-coconut ball a little matcha using a small tea strainer to create a pretty decoration. If you don't have a tea strainer, a fork lightly dipped in your matcha pot, tapped over your avocado-coconut balls will do. Reserve in the refrigerator until service.
Serve them fresh from the fridge with a few strawberries or the red fruits of your choice.
Here it is, dear Padawan. I hope you enjoy this sumptuous snack or table out, both fresh and sexy. I obviously suggest that you accompany it with a good matcha tea to reveal its delicate flavors.
As for me, I'll see you on Friday, for new adventures!
XO 🐣