Hello, young Padawan
In front of your screen, I see you fan on your feet, trying to survive this last wave of summer heat from space – or hell. Don't worry; it's Friday, and in two minutes, you'll feel the freshness of this new infused water recipe down your throat. The magic of the internet. Or almost, lol.
Yes, the infused water marathon continues, at least as long as I double-check that I haven't opened the oven door when I open the window. Besides, I wonder if in Italy they cook the pizzas directly on the tables in full sun at the moment, I'd have to find out, lol.
In the meantime, let's go for today's sweet and refreshing recipe.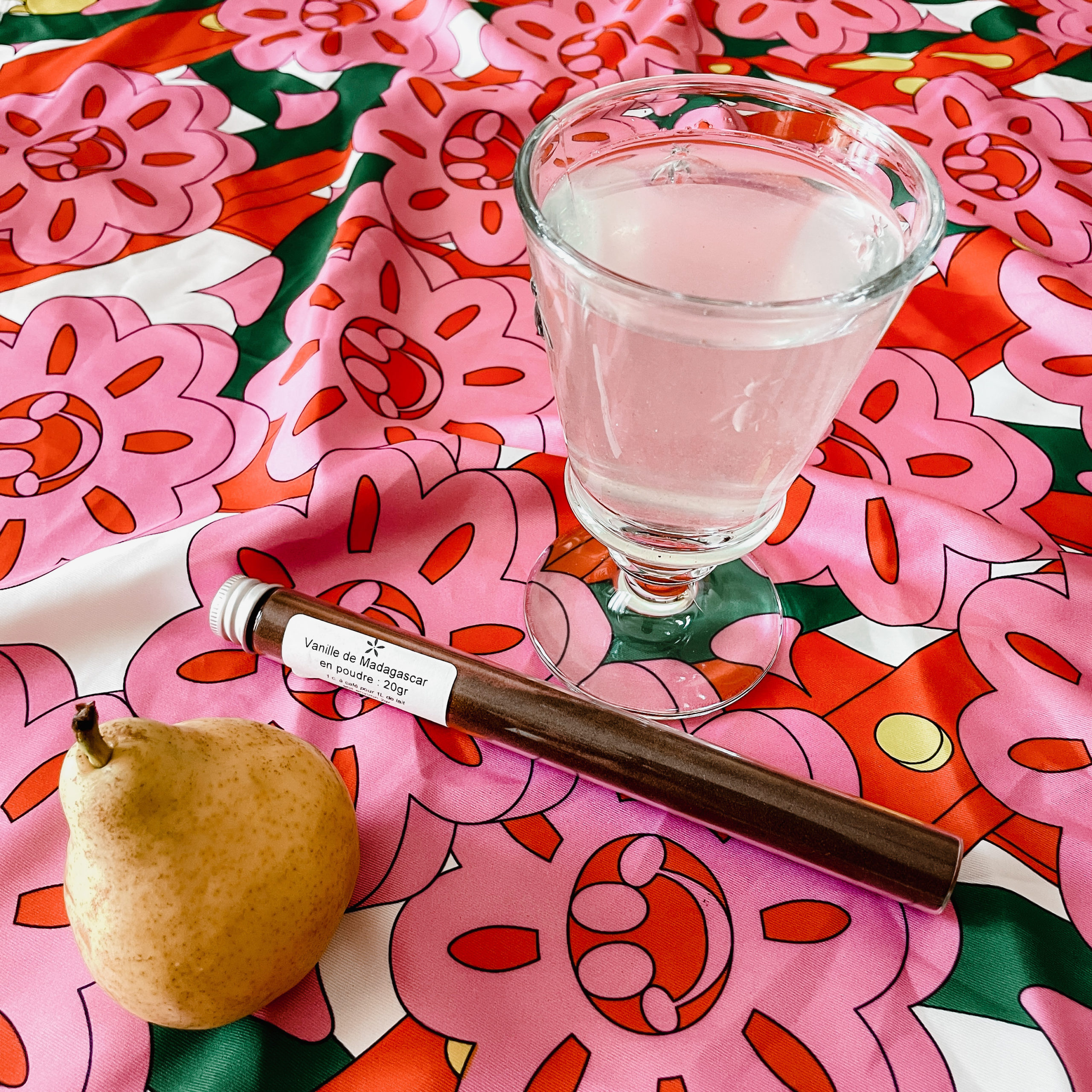 Pear-mint INFUSED WATER
1 very ripe, seasonal organic pear
2 sprigs of organic or garden mint (about 10 cm each)
2 pinches of vanilla powder from Madagascar
2 liters (about 68 fl oz) of filtered water
Optionnal : a few ice cubes.
Recipe
Wash the pear and mint, cut the pear in half, then in very thin slices. Take the mint leaves and chop them finely.
Pour the filtered water into a large carafe, and add the thin slices of pear, the mint, and the vanilla powder. Stir and leave to infuse in the fridge overnight – minimum of six hours.
Presentation
Using a fine tea strainer or a coffee filter, pour your infused water into your prettiest glasses or your water bottle for the office. Add a few ice cubes for an "aperitif" effect.
Here, I took a slightly retro wine glass because, once again, you don't need to drink alcohol to have the right to pretty glasses!
Can be stored refrigerated for 24 hours.
The freshness of mint, combined with the sweetness of pear and vanilla, will leave you speechless, and those who have trouble thinking about staying hydrated will refill without even realizing it!
Have a good swim if you're on vacation, and if you're working, here's a little tip: regularly wet your forearms in cold water, up to the crook of your elbows, to cool off. Invigorating "air conditioning" effect guaranteed.
Have a lovely weekend, and see you on Friday!
XO.🍐