"Fear is where there is no love. Love is where there is no fear".
Axl Rose.
Hello, young Padawan
Today, we will talk about a rare vinyl record, a nice find at a vintage fair near my house. This is the first print of an EP* from one of my favorite bands, the Guns N'Peonies. Sorry, Roses, the Guns N' Roses. Yes, I didn't have roses at home that day, but a gorgeous peony with a mad desire to be immortalized next to this opus for two reasons. Firstly, the peonies are as beautiful as the roses, if not more, and secondly, this edition is absolutely legendary insofar as all the other prints have been modified.
Indeed, the release of this EP caused a huge buzz, unfortunately not for their music at that time, but for the EP cover, which was a parody of tabloid headlines. Let's say that the feminists of that time did not appreciate the second degree at all, the jokes and the dark humor on "domestic violence." Neither do the naked girls on the inner sleeve. It was for fun, but they still had to change two sentences of the original cover and the inner sleeve. Thus, from an original print batch from 1988, this vinyl is more than a collector's item; it's a Holy Grail for any fan of the Guns and dark humor, lol. And I found it, by chance, while strolling at a vintage fair one weekend. Unbelievable.
Let's go for the genesis of this EP.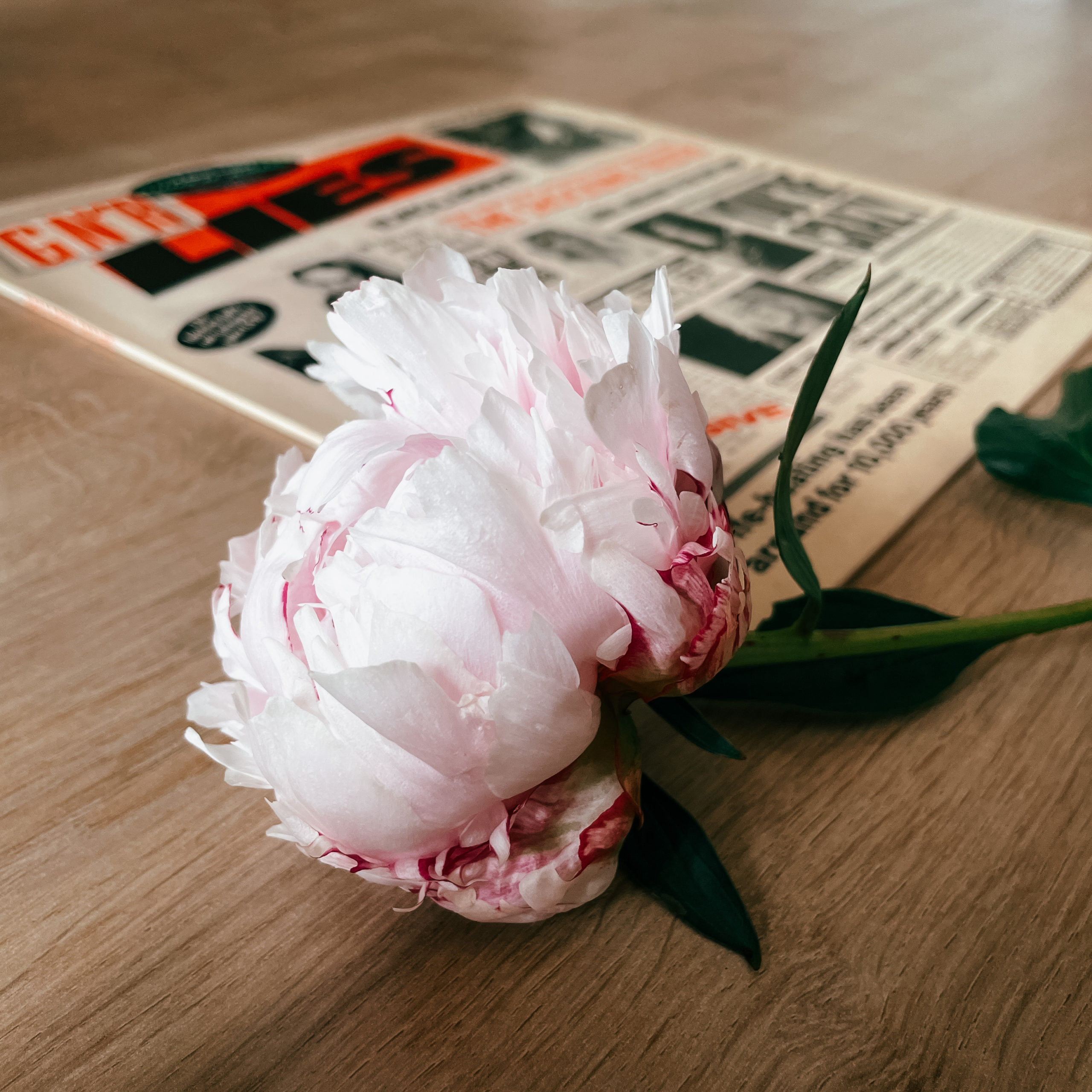 GN'R Lies
If you want to discover the history of the Guns and their genesis, soak up the era, especially the atmosphere of the city of Los Angeles in the 80s, I advise you to take a look at this article here where we talk about a great book that I devoured in just a few hours as it is so well written and exciting and whose author is none other than the band's bass player, Duff McKagan. Honestly, if there is a book that I 100% recommend on the Guns, it is this book. Gorgeous.
GN'R Lies (1988), the band's second musical work, is the least known of the Guns N'Roses and the least sold. Indeed, it is an EP that they released to make fans wait following the release of their first album, Appetite for Destruction (1987), which sold nearly 30 million copies worldwide, making it one of the best-selling albums in music history and holds the sales record for a debut album.
But for the fans, of which I humbly am, this opus means a lot because it brings together both four new titles and the very first four songs of the Guns from their first EP, recorded a little wildly and which was untraceable at the time (and even more today: $1000 a piece on eBay, lol, ed).
Indeed, this very first EP named "Live?!*@ Like a Suicide" was, in fact, a false live (because it was too expensive to make a live recording for the small band that they were at the time, ed). They did the recording at Pasha Studio in Hollywood, and the crowd noise comes from a 1970s rock festival called the Texas Jam. Duff, the Guns bass player, confides in his first book**: "We thought it would be fun to put a massive crowd in a stadium in the background at a time when we had the chance to play in front of a few hundred.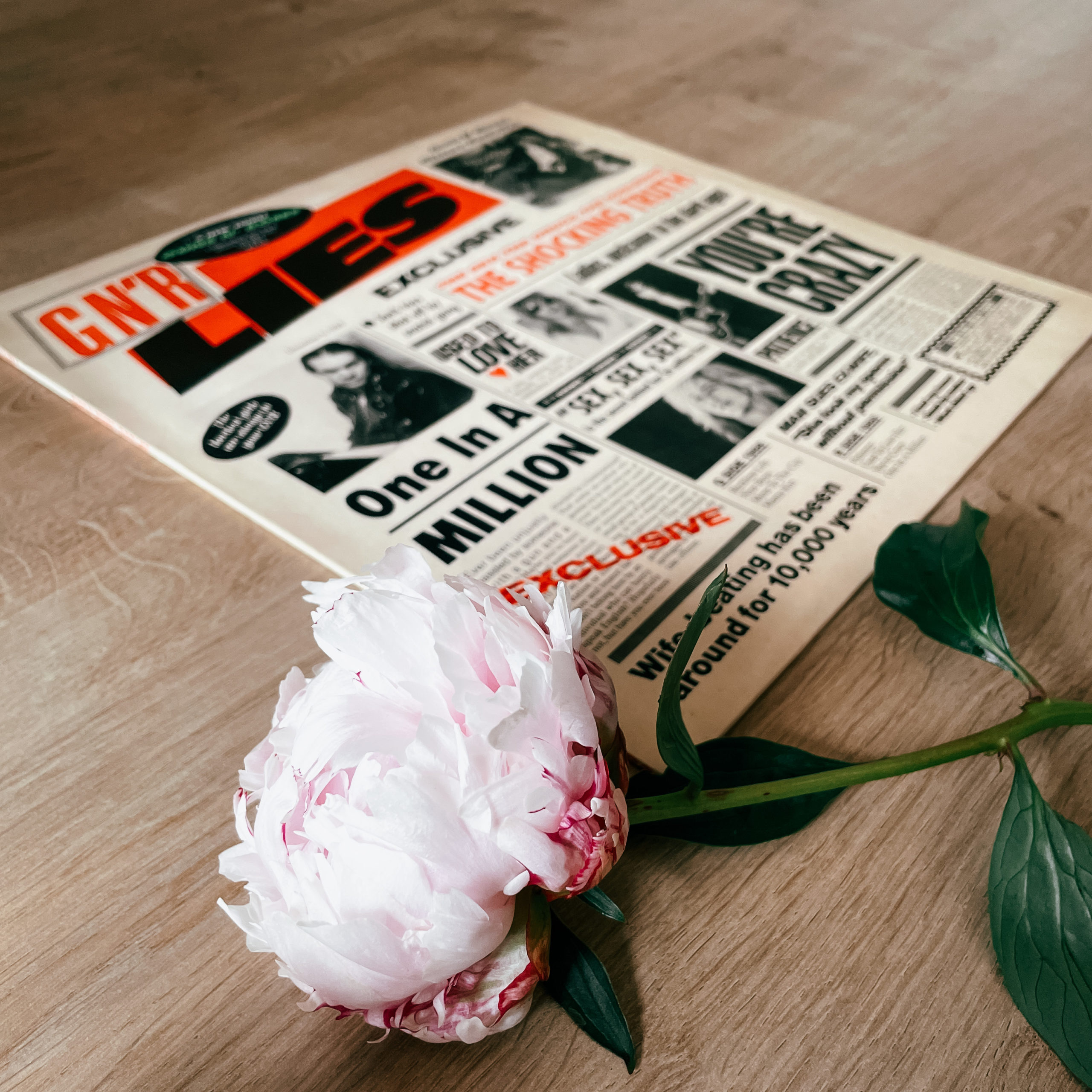 The songs
The EP opens with the band's first four tracks, from "Live?!*@ Like a Suicide", featuring Reckless Life which is a cover of the very first precursor band of Guns N'Roses, namely Hollywood Rose, started with Axl Rose (vocals), Izzy Stradlin (rhythm guitar), and Chris Weber.
Slash will replace Chris on lead guitar and join childhood friend Steven Adler on drums. The band started looking for a bass player, Duff McKagan will respond to the classified ad – and the new formation will changed to the name "Guns N'Roses."
Among these four songs is also their Mama Kin cover which I like a lot and reminds the fans that the Guns started their stage career by opening for Aerosmith concerts. Oh yeah!!
Then come to the four new songs, including the sumptuous Patience, which gives shivers down even to the most Guns' refractory. Don't lie; I saw the goosebumps on your forearms, lol.
Used to love her was one of their first TV appearances. The song is a joke; it's for laughs; it's funny. Although not everyone found it amusing to talk about a guy who kills and buries his girlfriend because she complains too much, and once cold and six feet under, he still hears her complain. Come on, it's funny; what would life be without a little fun, dark humor, and sarcasm!
This musical work really deserves to be listened to in its entirety (full EP link here), whether it be to get back into the vibrations of the time, to understand what was a band that made the headlines, that shocked, and to realize that yesterday's debates are still the same as today, especially about the song "One in a million».
Rock n' roll has had this sociological ability to make generations think. Extreme practices such as the astronomical consumption of drugs taken by almost all the rock stars of that time, many of whom died from it, had a preventive effect on future generations. Just as the rock star who messed around was able to educate himself, apologize, and move on.
In our era of cancel culture and woke, Axl Rose probably should have stopped his career after releasing this EP, for a simple mistake of youth, when all of us, during our twenties, had outrageous or awkward remarks on such or such subject in the past. Something to think about, because as the old saying goes, he who has never made the slightest mistake casts the first stone – or something like that.
We can therefore conclude, thanks to Guns N'Roses, that it is not the people who must be prevented from speaking or thinking because it has been forty years that we have noticed that it does not work; but perhaps try to be a little less of a victim, by acquiring strength and vocabulary and by learning to winnow in turn the people who have offended us, with liveliness and repartee. Success, too, it makes people jealous, and closes mouths; to give it a try.
I wish you good listening, and see you next Friday!
XO 🎸
*EP: An "EP" (extended play) is between the album and the single, in terms of duration. Here is what Wikipedia tells us: "An extended play, abbreviated as EP, is a musical format with more tracks than the single and fewer tracks than the album, which appeared in the 1950s. In general, an album contains at least eight audio tracks and lasts from 30 to 60 minutes while a single contains two tracks, for a total duration of less than ten minutes." (Source: Wikipedia).
Sources: **It's So Easy (And other lies), Duff McKagan. Wikipedia, Wikipedia, Rolling Stone magazine.