"To know joy, you have to share. Happiness is born a twin.."
Lord Byron.
Hello, young Padawan
At this time of year, it is not uncommon to have a slightly tired complexion (and if there was only the complexion…). Indeed, the last holidays were three centuries ago on the scale of too short nights and too long working days, and the next ones are still a little far away (far too much!).
A little boost is hardly needed, a bit of magic and futility to restore a healthy glowy complexion look in this article. Let's go for a fifteen-minute ritual, for fresh and luminous skin!
The essential, before the futility
Yes, I'm obviously going to talk to you about food, especially anti-inflammatory food, my article here, beautiful skin smoothie, my article here; and then rest, less screens, more books, music, love and discussions, less bright lights at night and more fairy lights and candles, to prepare your body for a night of better sleep.
Our digital lives don't just break the social bond; they harm our health, sleep, in short, the natural life to which human beings have been programmed for thousands of years. Indeed, there have been more changes in our way of life and diet in 70 years than since we came to earth, which is two hundred thousand years ago to be exact; it is imperative to keep it in mind, at the risk of asking too much of your body, this precious vehicle which is not made for all these perpetual stimuli.
Well, I've finished my old lady spiel, now let's have some fun.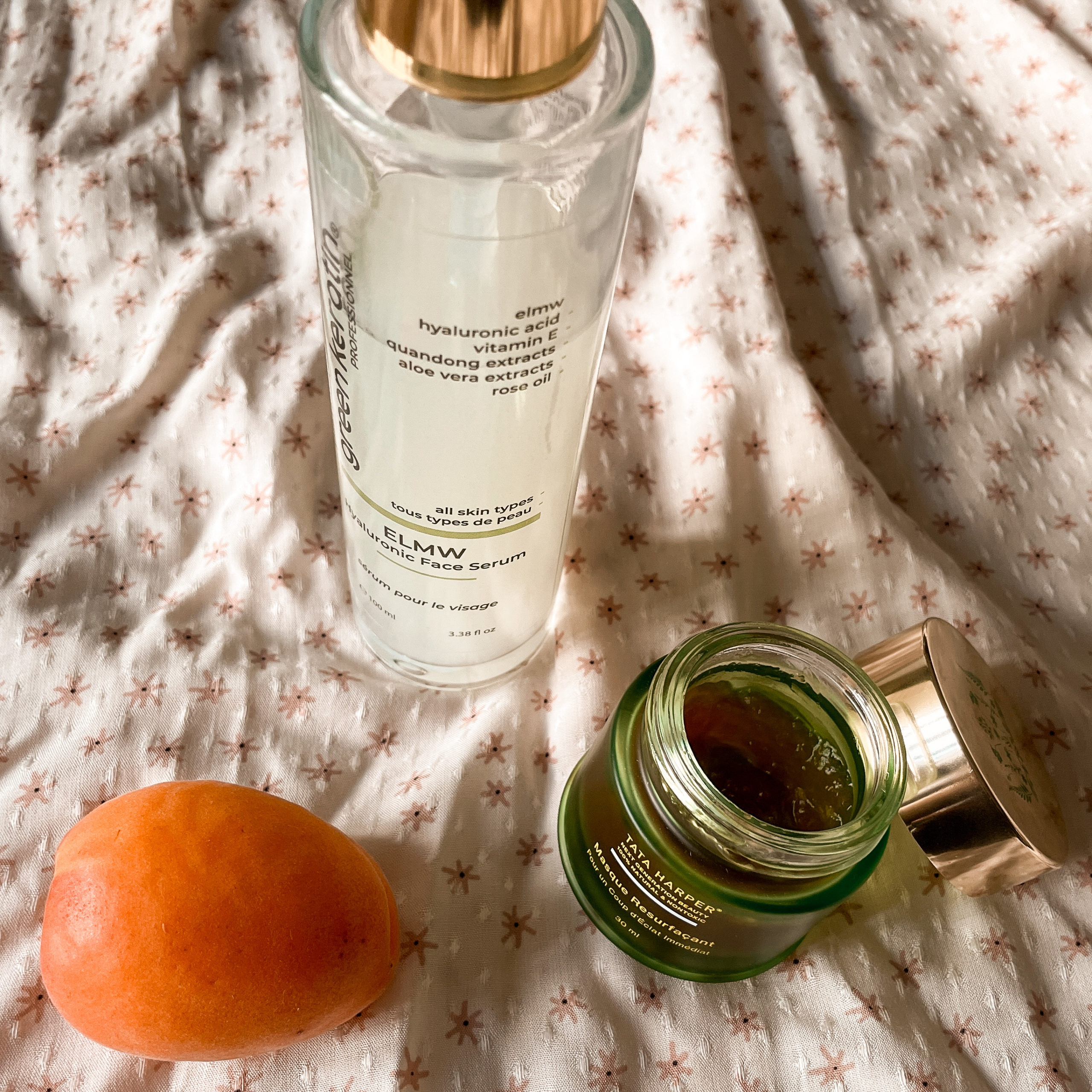 Prepare the skin for a luminous complexion
Between once and twice a week, a small resurfacing mask like that of Tata Harper will remove dead skin and brighten your complexion. There are, of course, many brands, such as Ole Henriksen, or On the Wild Side, for example.
Then, the best is to saturate the skin with hyaluronic acid to provide it with maximum hydration, reduce the appearance of pores and give maximum plumpness. The best value for money that I could find is the serum of Green Keratin. The packaging is no longer the same, but I currently buy the refills, so I keep this one as long as the pump works. I use it on my eye contour without any problem, even if it's not intended for it, and it works wonders.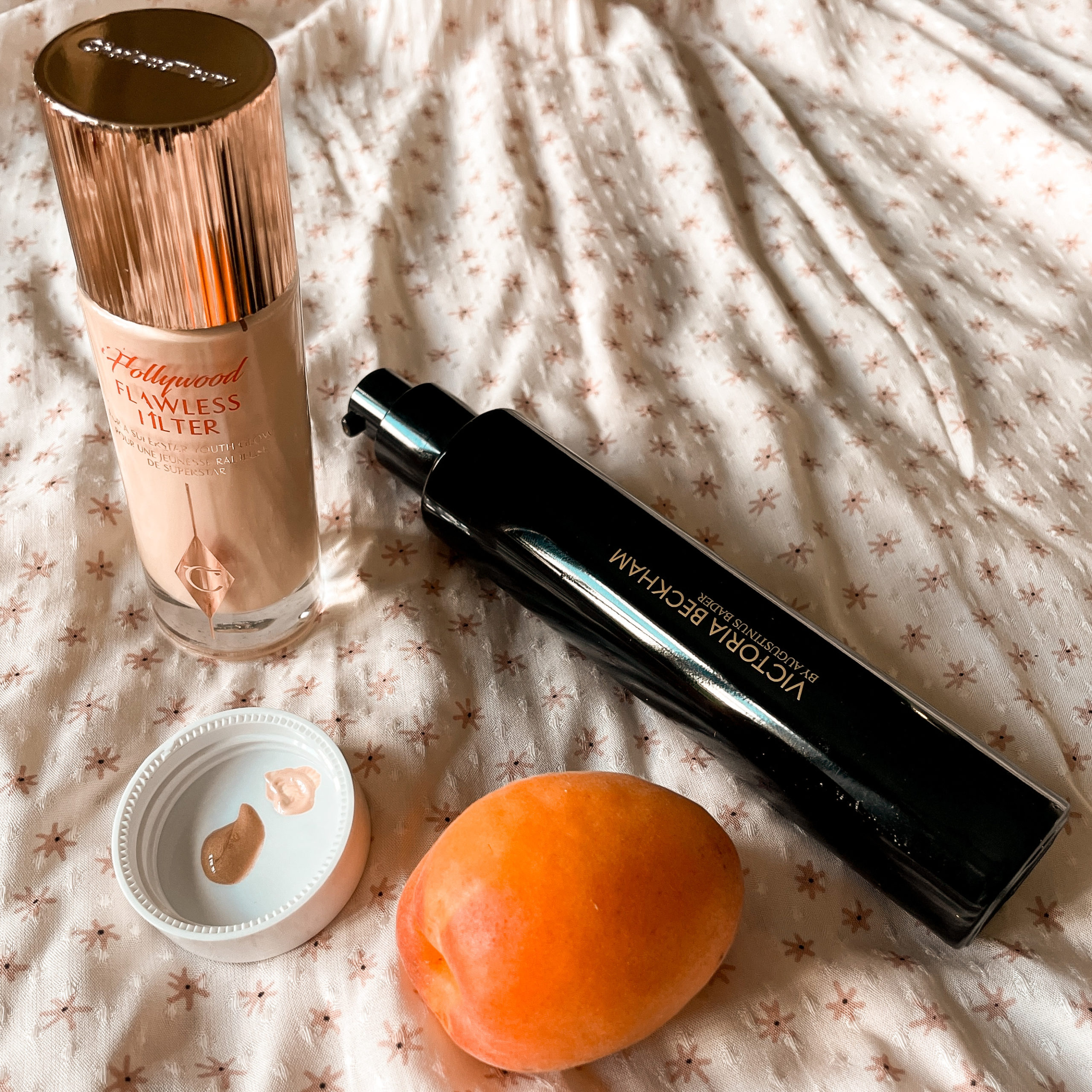 Lock in hydration and prep it for makeup
To lock in hydration after a nice mask and serum, just apply your usual moisturizer. Then, to bring a little more light, know that there are super cool products like the Flawless filter of Charlotte Tilbury, it is the lightest sample in the photo above. This type of product simply brings the pretty glow of plump skin for a fresh and luminous complexion. It's subtle, but it makes all the difference, especially if you're tired.
But ingenuity obliges; I also had to tell you about a fantastic two-in-one discovered this winter and that I've been testing for four months: the moisturizing cream AND primer of Victoria Beckham. Yes, she doesn't just make clothes; she also excels in cosmetics. This thing makes you lose ten years, lol, while adding a delicate and elegant light for a rested skin effect as if it was the weekend every day (the darkest swatch in the photo above, ed). A little tip, if you are tempted to buy it, given the price of the product, never buy it full price: there are regular promotions.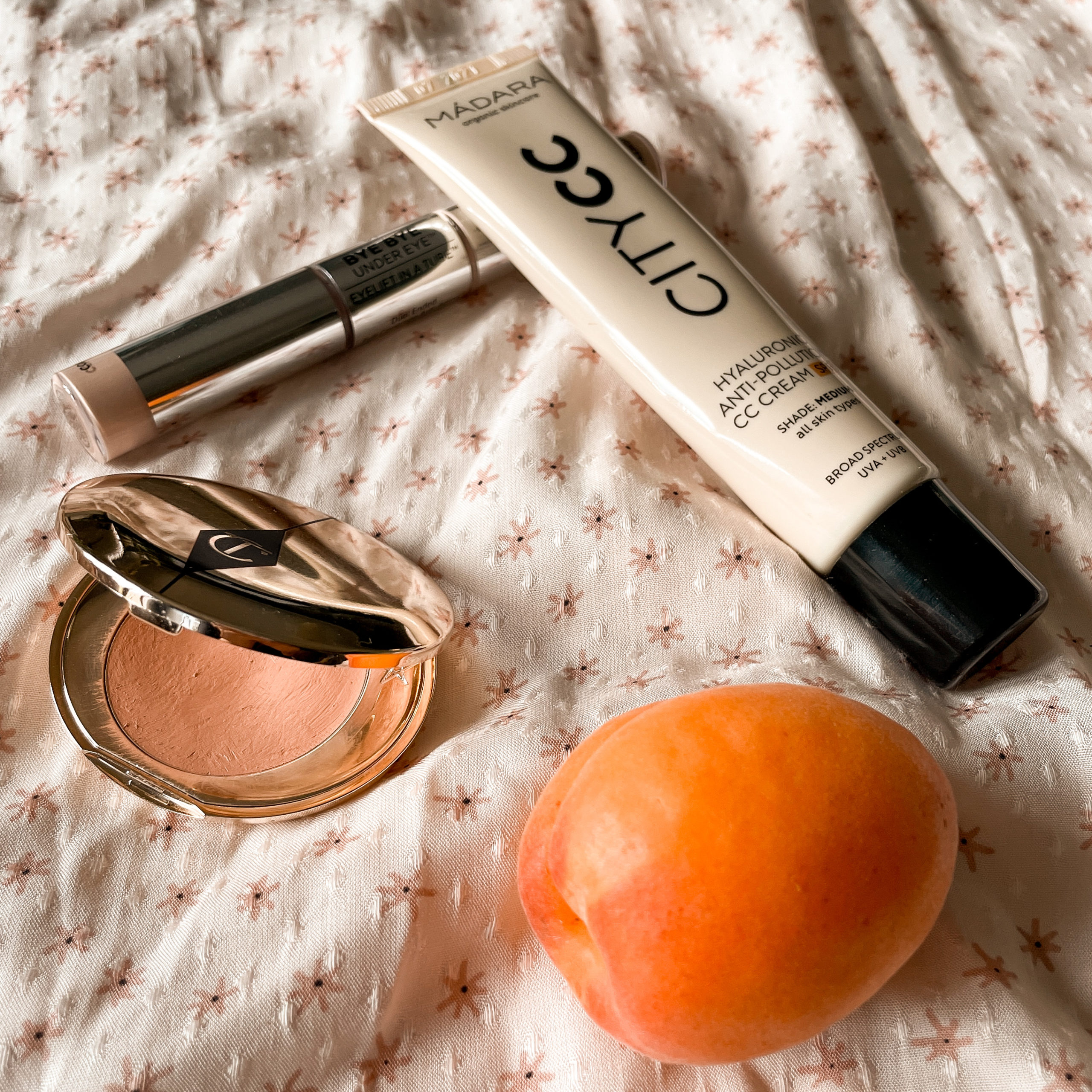 The correction, all in subtlety
Now that your skin has gained hydration and you look glowy, the goal is not to weigh everything down with heavy makeup.
For dark circles, you have to be subtle but effective on the correction, and the best combo I could find is to apply a tiny bit of apricot corrector followed by a micro drop of concealer. Invisible effect guaranteed. Those of your choice will do, but since I know you're going to ask me, I've put the links for you (as a reminder: any highlighted text on this blog is a link to click, my dear Padawan, ed).
When I want a baby skin look and a healthy glow effect, I apply the equivalent of a pea of Madara's CC City in medium tint, and that, even if I'm as pale as a washbain. I mainly concentrate it on the center of my face, then I stretch the material with a brush. Indeed, applied in mini-quantity, I am not orange, just a better complexion. "No makeup-makeup" effect, once again, guaranteed.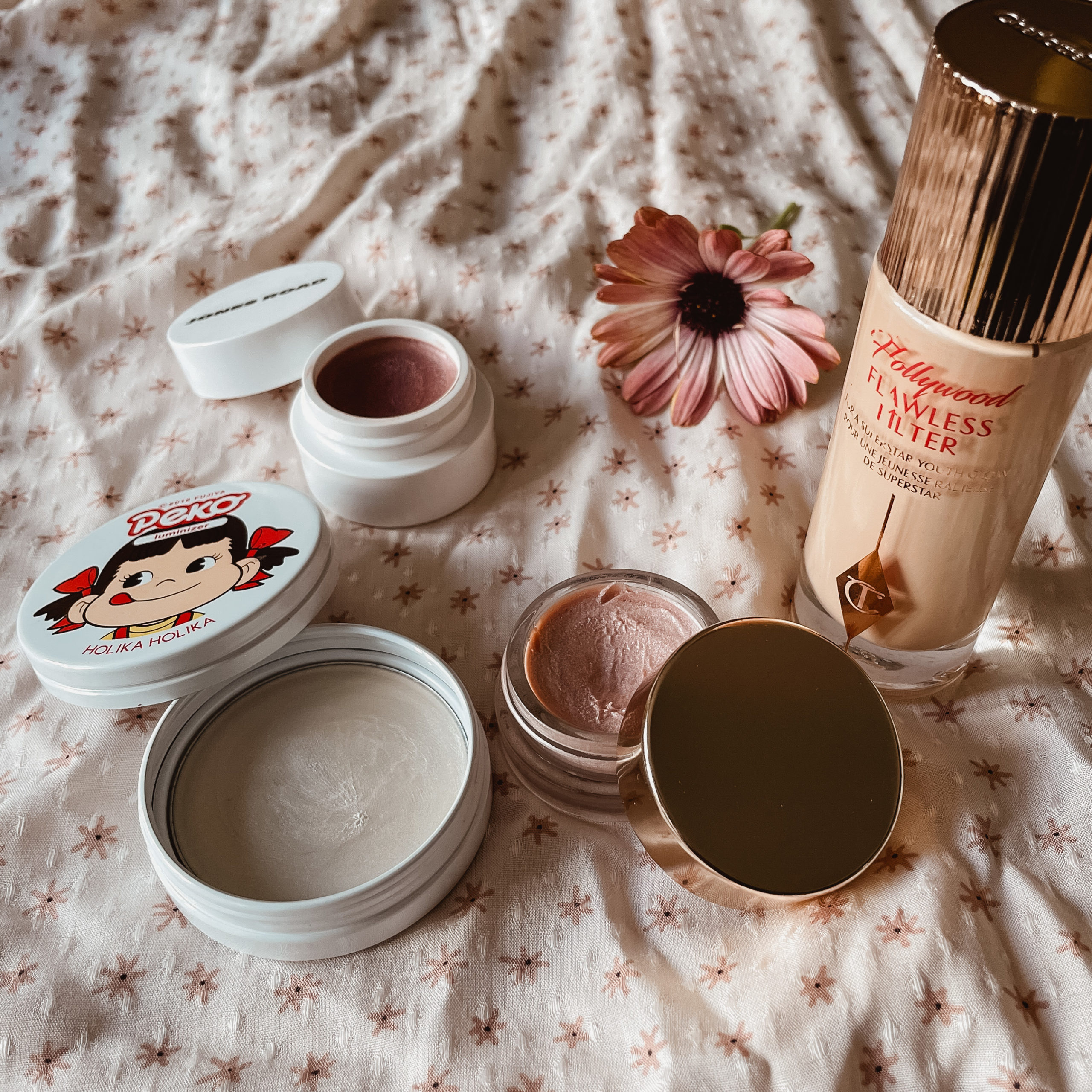 Illuminate again!
For a radiant complexion, the illuminator will be your new best friend. The ones I have selected for you here are almost invisible on the skin, they simply bring light. Apply sparingly to high points of the face. If you already have the Flawless Filter as a primer, you can also use it to highlight the top of your cheekbones, your brow bone, the bridge of the nose, the cupid's bow, and if you wear a low neckline, it will wonders on the collarbones and/or the birth of the breasts – wow effect for sure.
I also love using the highlighter from Jones Road in "dusty rose" color, and that of Holika Holika which was in limited edition, if you already have it, I remind you, if not, this one is an equivalent, with a very beautiful natural finish, without glitter. The little pot of pink cream is the superb illuminator of Kora Organics. It is absolutely fabulous: its rendering is sublime while remaining natural, in pink tones, perfect for very fair complexions.
You guessed it, for a radiant complexion, the ideal is to use a maximum of cream products because they blend best and give the best natural look. And yes, they hold just as well as powders when properly applied and when we take the time to blend them into the skin. At the end of your natural makeup, you can lightly powder your T-zone if you are afraid of shining during the day, without removing the pretty light brought to the rest of your face.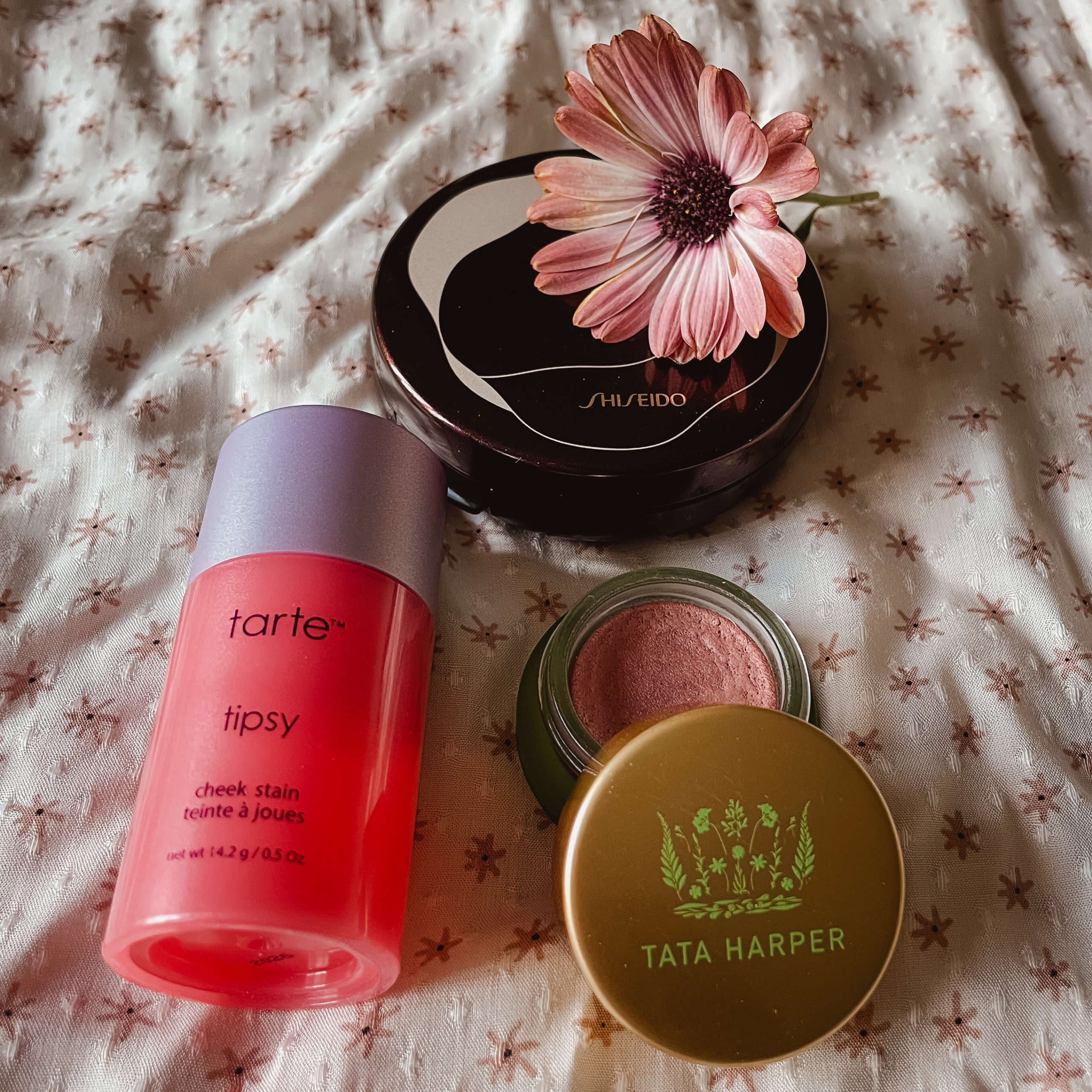 A little color on the complexion
Still in the spirit of cream products for maximum natural effect, Shiseido's bronzer is actually a cushion, i.e. a liquid product on a sponge protected by a cap; you use a supplied puff to apply it. The rendering is so natural, but there are plenty of brands, even a cushion foundation with little coverage and darker than your skin tone will do just fine!
For the cheeks, my favorite product for this type of fresh and almost invisible makeup is without hesitation the cute Tata Harper's blushes. My favorite is the "Peachy" shade for this makeup. A beautiful light, a moisturizing treatment inside to avoid areas of dryness on the cheeks, an easy color to work with, it literally melts into the skin, a delight.
Otherwise, any cream blush will do just fine, like the one from Tarte, for example, is packaged in a very practical stick to go on weekends.
You don't have any cream blush? Take a blush brush, and saturate it with your favorite powder blush. Put a drop of your favorite moisturizing serum in the palm of your hand, then dip your brush into your drop of serum, and stir well so that the powder in your brush turns into a cream. If needed, pre-test on the back of your hand to check that there is not too much color on the brush, then apply it to your cheeks. Here you have a cream blush.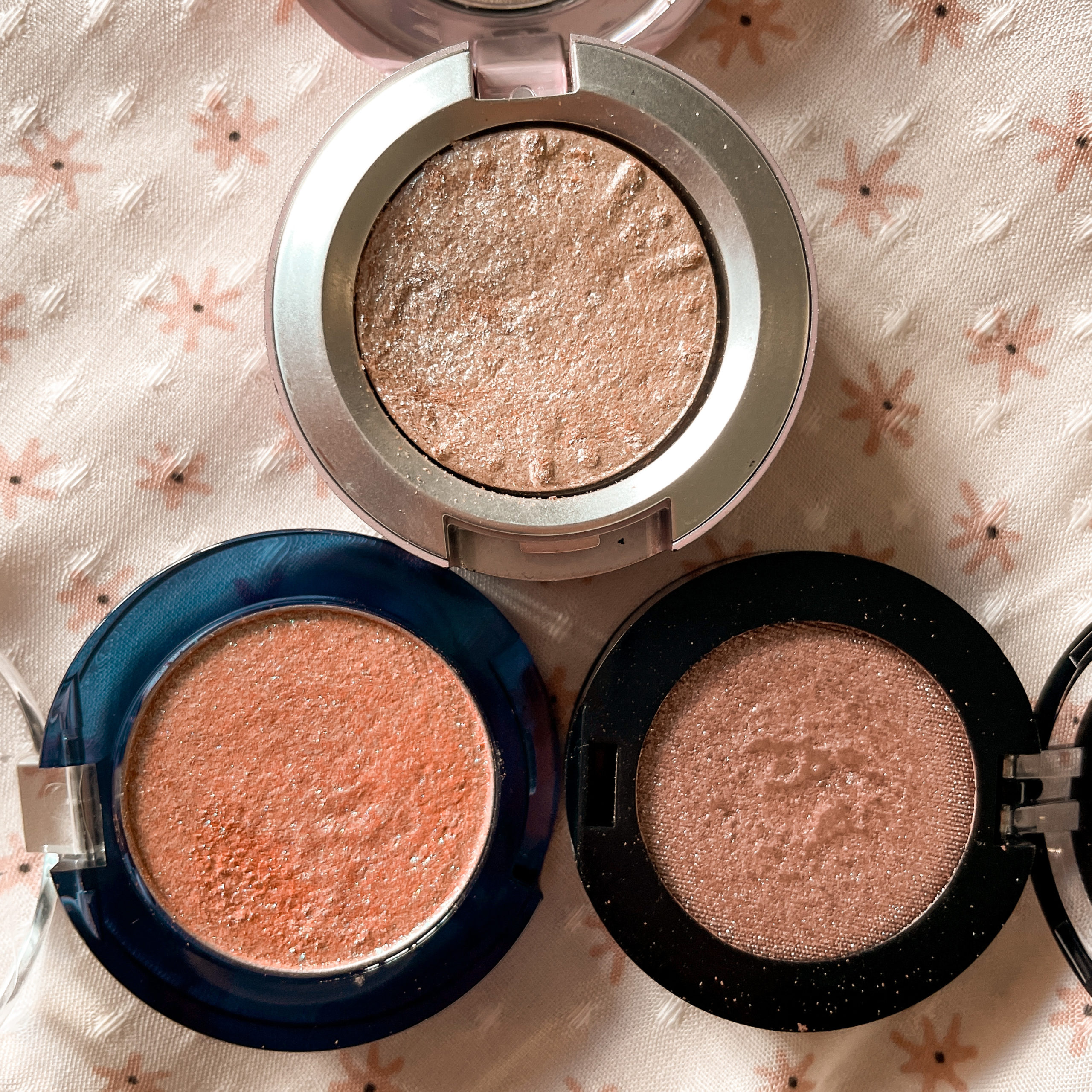 A little color on the eyes
Optional step, but so nice to bring a little light to the look…
My three favorite eye shadows for a luminous, but natural effect: Sephora N°326 Let's Party, M.A.C Sparktacular which was in limited edition (but which you can love again if you have it too, ed), and Romand universe glitter shadow which was also a limited edition at yesstyle, but I found those: shade number 12 is an equivalent of this eyeshadow, and number 2 is an equivalent of the one from M.A.C…
A coat of mascara as natural as possible, and voila!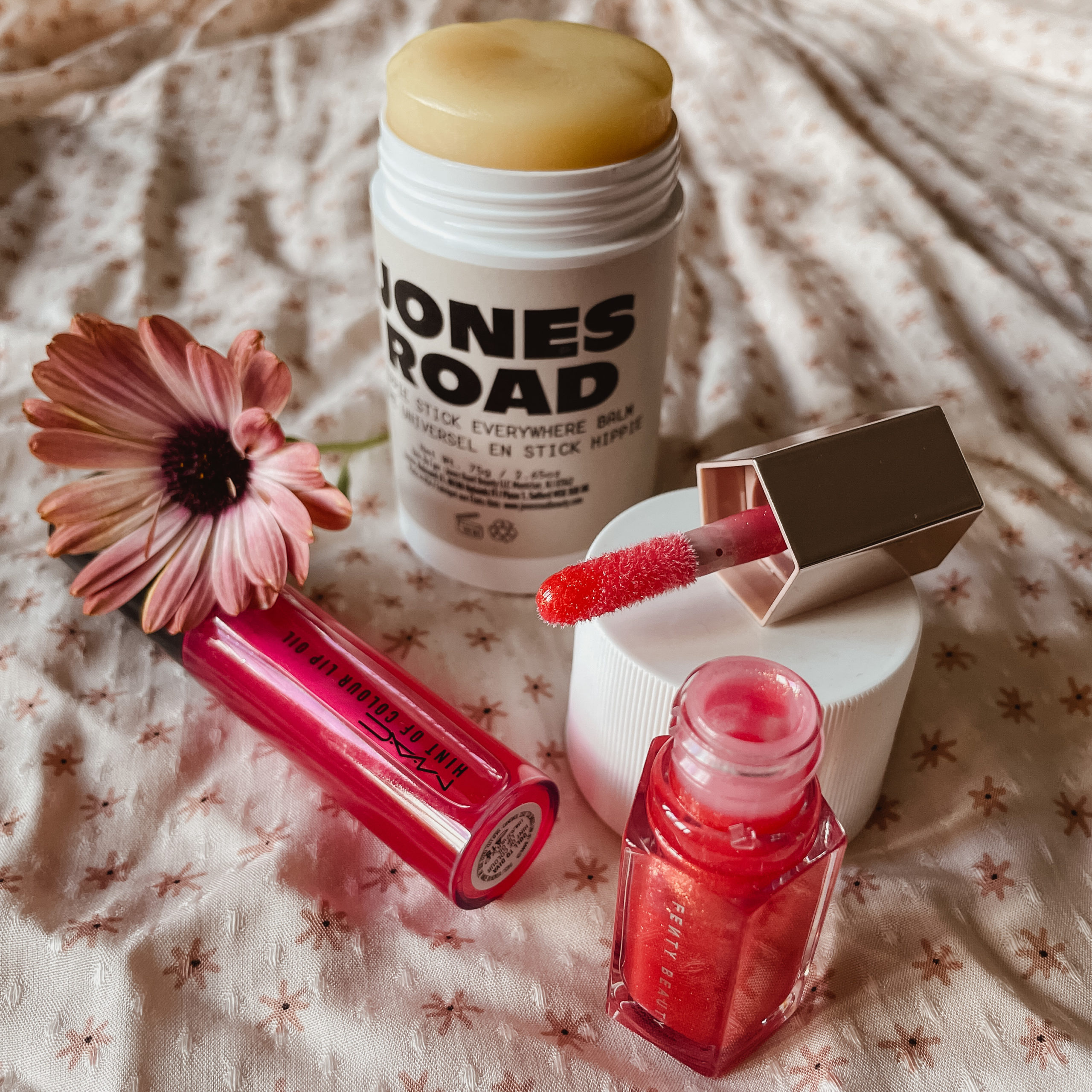 The final touch
A pretty lip oil or a gloss will be fabulous for the final touch of this cute natural glowy look. As you know, if you follow the articles on this blog, this lip oil from M.A.C was in a limited edition, but there are equivalents really everywhere, like this one. The Fenty gloss can be found in an equivalent here. Mine was a mini Christmas edition in Cheeky shade; the only difference is that it has gold micro-glitter. Otherwise, it's the same shade.
For dry skin, or those who prefer natural from natural, the Jones Road balm, with its pleasant hippie-botanical scent will be your best ally. Applied like a balm, it is a completely invisible moisturizer-nourishing for all body areas. Applied in a more sustained layer, it will be a natural illuminator with the most beautiful effect, on the top of the cheekbones and the eyebrow arch, for example, while avoiding the makeup.
So much for this complexion radiance ritual, for natural skin with the most beautiful effect. All you have to do now is take care of yourself. A juice, a reading, a face mask, or a moment to dress yourself up or practice your favorite activity, giving yourself a little time each day allows you to be the best for others, so it's essential for our human balance. A word to the wise.

XO 💄