« Take care of your body, it's the only place where you have to live.»
Jim Rohn
Hello, young Padawan
Since according to my stats, there is a significant percentage of men on this blog, and perhaps also of ladies who are not interested in these topics, so I try not to talk too often about my passion for cosmetics. You see, I don't want to make you scream in terror, at least for the majority of you … but maybe you would, I'm kidding.
Today, my dear Padawan, we are going to talk about a cute English brand that I discovered back in the 2000s and that many know since: Lush cosmetics.
Founded in 1995, this brand is for everyone, for all genders, and from all kinds. There are a few shops here and there, but you can also order online. Lush is cruelty-free and many of their products are vegan. Since they claim to use natural ingredients, fresh fruits and vegetables (especially in their fresh face masks), they have been vigorously pointed out for their use of parabens and SLS (don't worry, I'll explain below, ed). It's a shame because this brand has a lot of great products, really well thought out, and very clean, which use neither, by the way. Yes, so they put SLS and parabens in some products, like liquid shower gel, solid and liquid shampoo, and/or jar creams.
– SLS (sodium lauryl or Laureth sulfate) are surfactants (or foaming agents, if you prefer, ed) which can be irritating for sensitive skin like mine. I spent the first 20 years of my life peeling in my jeans and scratching my head before understanding that I had to choose my shower gels and shampoos carefully. If you too have flaking skin, irritations or itchings, choose cleaners with milder surfactants. If you want us to discuss it on another post to find out "how do we choose them", let me know.
– Parahydroxybenzoates (called "parabens") are preservatives. Be careful, I am putting my foot in my mouth, and I leave you then to your research to make yourself your own opinion, as the internet is full of scientific studies on this subject: I (which thus engages only me, ed) prefer parabens which are much less problematic than phenoxyethanols. I am not saying that they are good, I say that they are less worse, because it is in the manufacturing process that they are problematic (meaning for people who work in cosmetic factories and not for the consumer). And if after research it turns out that you are also in my opinion, do not start to launch a controversy on these because they will do as with parabens, and we'll have worse replacements than phenoxy. If you don't want it, don't buy it, no controversy.
Their range of products is quite wide, so I made you a little best-of of my favorite/new ones.
Fresh masks are gorgeous
I had to tell you about it. Do you feel the excitement of the enthusiast ?! lol.
If you have the opportunity to go to a shop or order on the net: it is absolutely necessary to get a pot of fresh mask for the face. You have to, you must. These are small black pots (recyclable in shops) to keep in the refrigerator and to use quickly because they are fresh products and devoid of preservatives. The formulas are absolutely crazy clean, only good products with a great over the top effect on the face.
After one of their masks, your skin will be as soft and beautiful as a baby's ass (without the diaper, ed). The formulas are made according to different skin problems, my two favorite fresh masks for sensitive skin are "Oatifix" with bananas, almonds, kaolin, oats, it leaves a fresh, nourished complexion and an incredibly soft skin; and "Rosy Cheeks" with also Kaolin, calamine, and rose oil, for a skin free of impurities and toned.
They have lots of zero waste or recyclable solutions.
Indeed, they have many so-called "solid products" such as soaps, moisturizing bars, massage bars, solid shampoos … You can bring your own containers or they'll wrap them in some paper for you. They also have metal boxes for your massage bars or solid shampoos.
And as for the black recycled plastic pots, in some countries such as France, the United Kingdom, and the USA, they offer you a fresh mask if you bring them back 5 empty pots. In other countries such as Switzerland they have a loyalty card system where you collect points with each purchase to offer you discounts, but still, collect the black pots for recycling.
In zero waste products, I really recommend everything that is:
– Massage bar (the thing in the metal box on the photo, "each peach", which smells like lemon),
– Moisturizing bar ("snowflake naked", the pot-shaped one on the left, cocoa butter, almond, and rose),
– The "elbow grease" which is a moisturizing balm for tattoos, or bare skin. It smells gorgeous orange blossom.
– Exfoliating bars (here "rough with the smooth", the pink square thing on the bottom right, but my favorite is "Buffy" because it is very nourishing).
These are super clean and natural composition products, truly hydrating and nourishing for the body, with an aromatic or gourmet sent depending on the product, but never heady (it is their shower gels and colored bath bombs that have this reputation, ed). The black jar is "lemon flutter", for cuticles, pure happiness.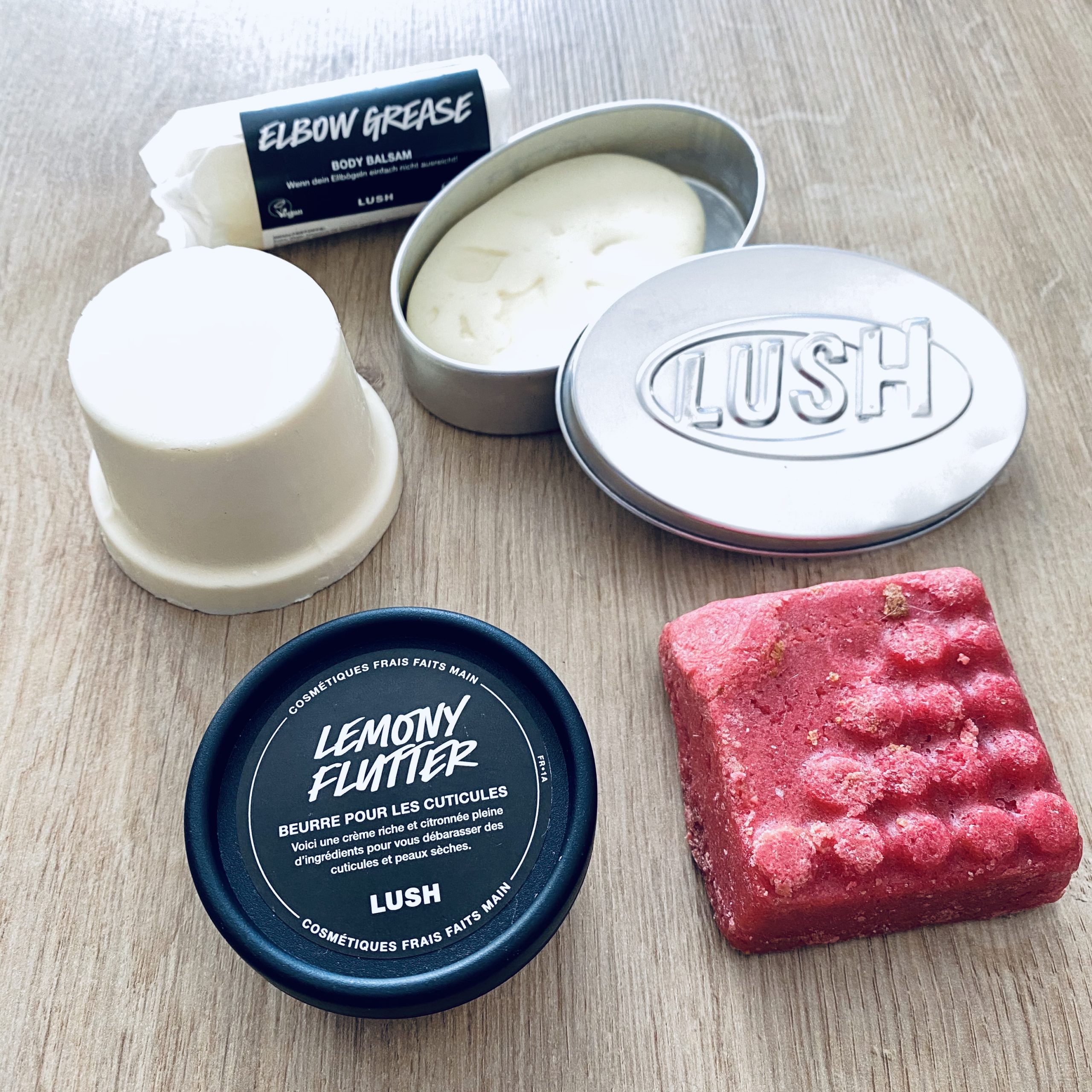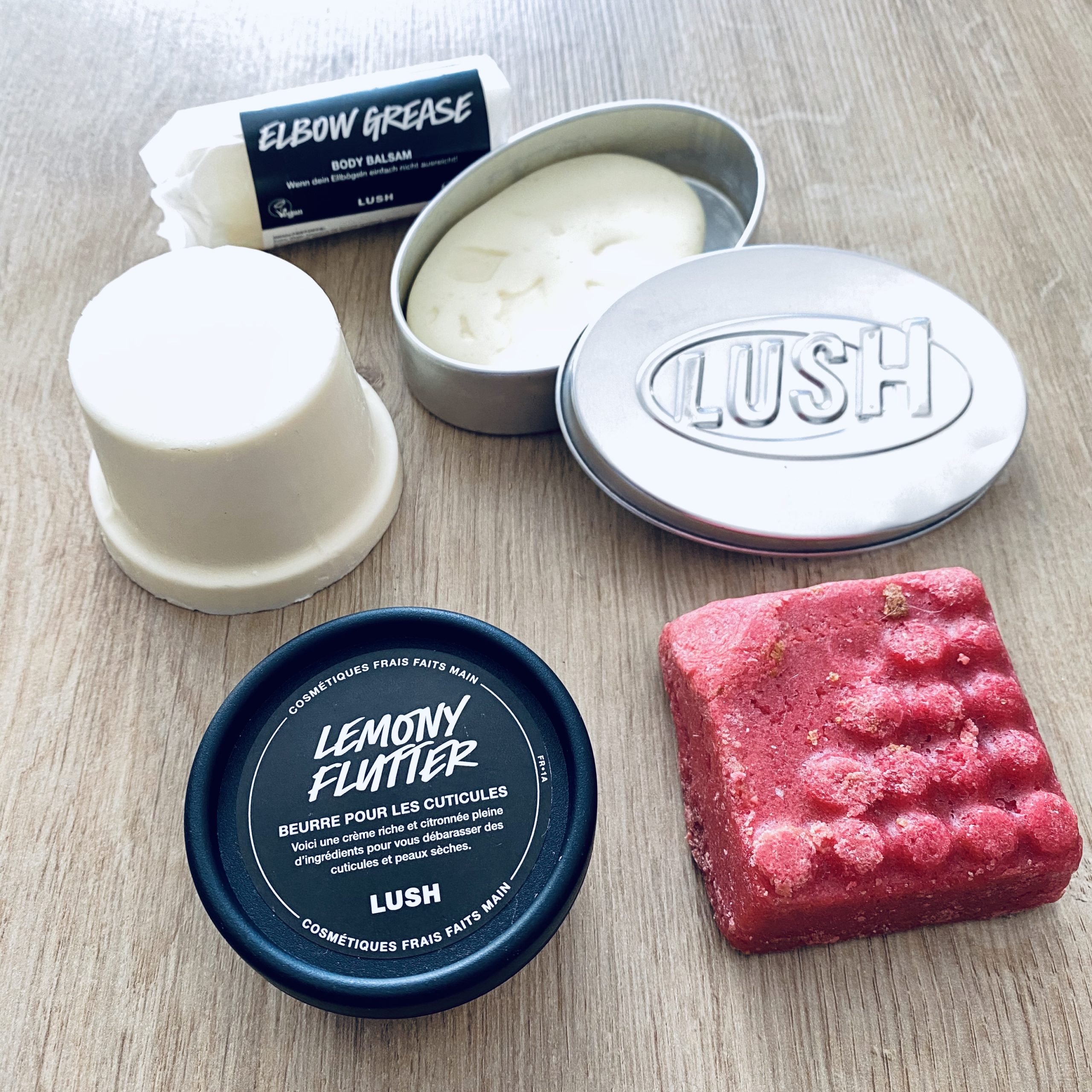 Lush is well known for its soaps and bath bombs. Many of their bath bombs are not hydrating enough for me, except the one called "butterball", which contains cocoa butter. There must be others not I have not tested yet, because I prefer their bath oils like "floating island" or "Ceridwen's cauldron" which is absolutely divine and which lasts several uses.
Here to give you an idea a photo of some funny soaps: the little ghost was a limited edition for Halloween, it is a phosphorescent soap that smells of lemon (I save it, lol), the orange and yellow is "good day sunshine "it smells of citrus, and the last, the big block, is" Bohemian "and it smells of … lemon. I promise I'll go to the shrink (did I already tell you that my favorite perfume also smells of lemon? ed).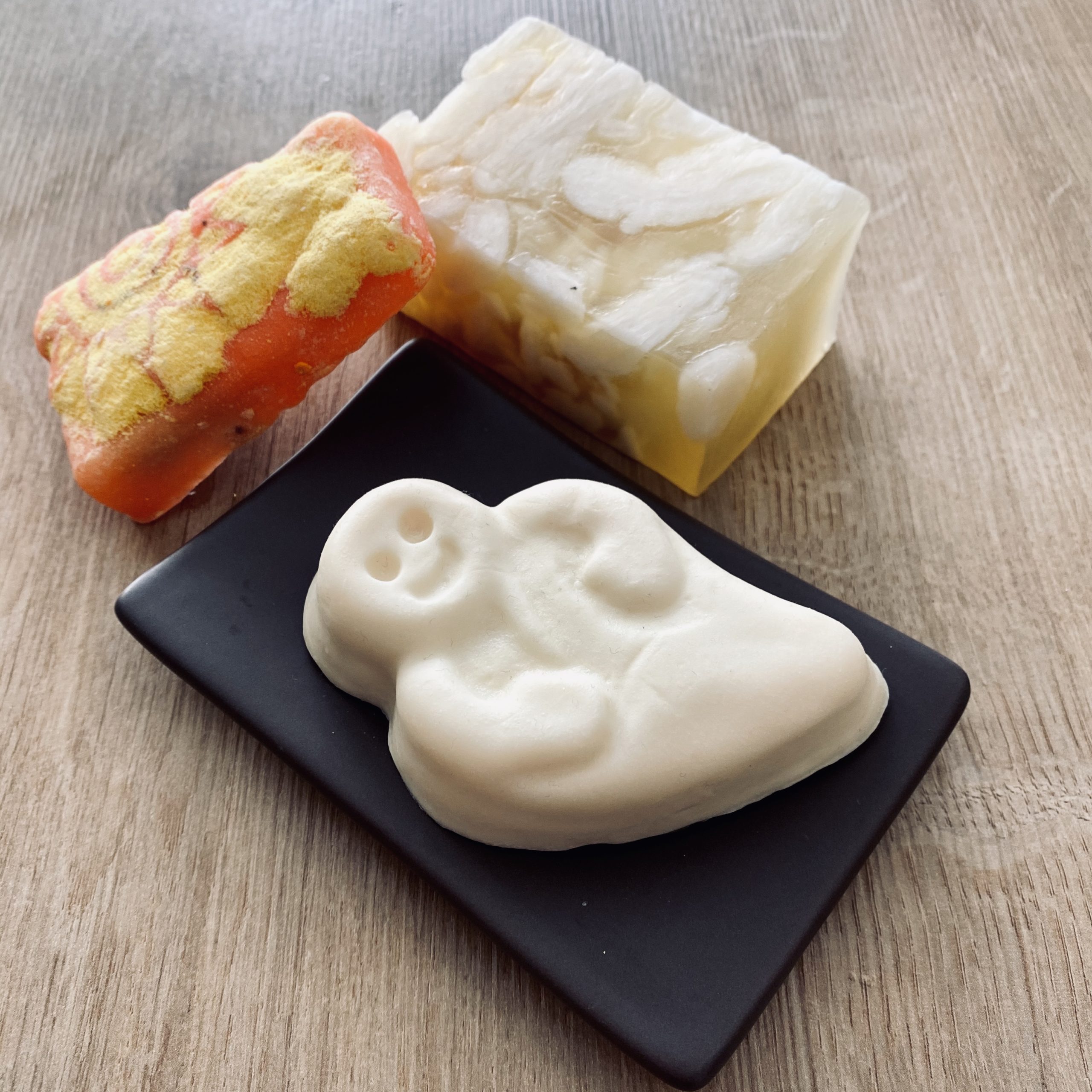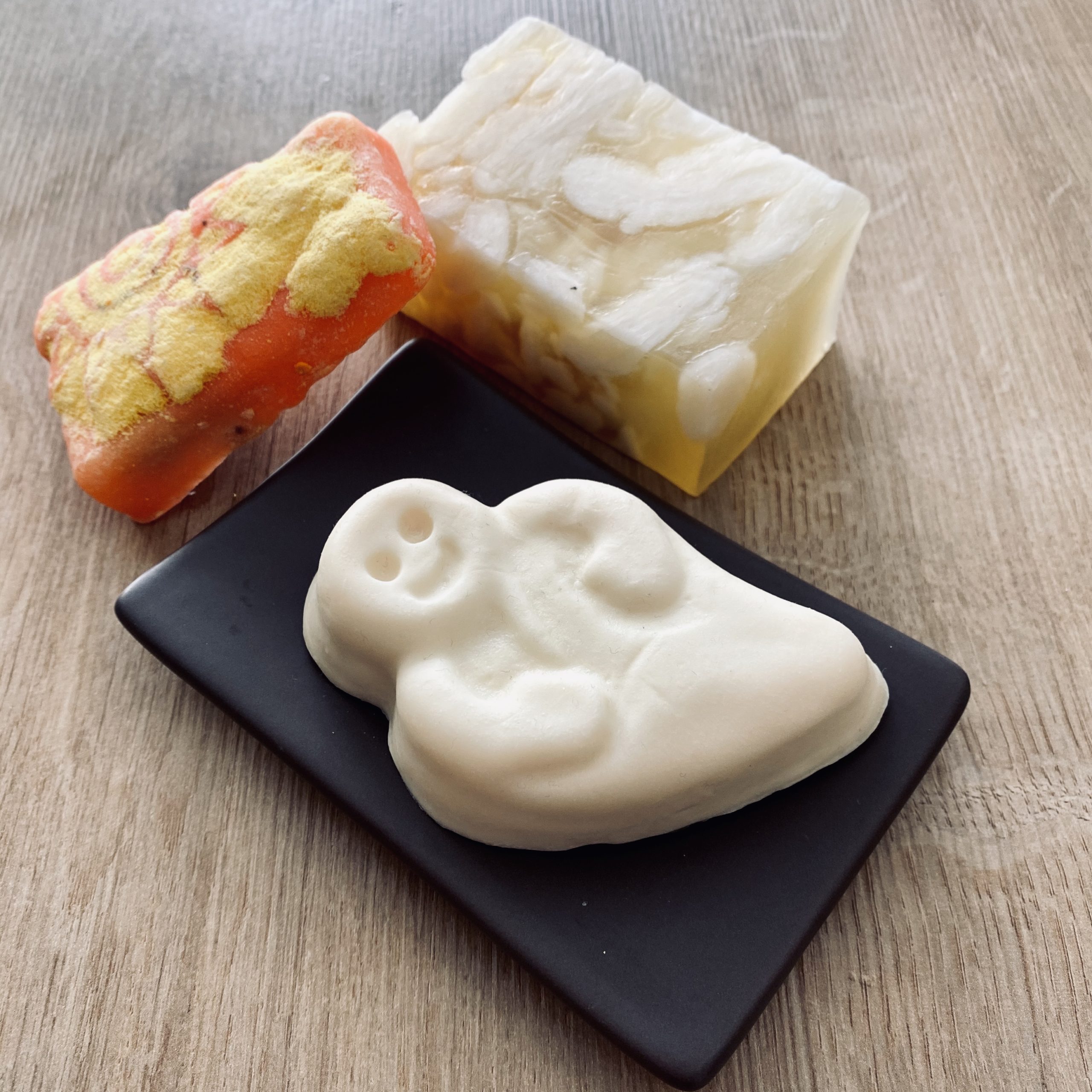 Original products, but not only
Lush is also known for their solid shampoos. Fortunately, today they have some without SLS. When I have to wash my hair after sports or if I go on vacation, I use the solid shampoo "Flyway Hair", no SLS. This, in addition to being zero waste, is terribly practical because it prevents the leak of shampoo in your bag.
Also in shampoos, the "Curly wurly" is super cool if your hair is curly, or if like mine it has a "movement". It contains a slightly less aggressive foaming agent than SLS, but still a sulfate. This one, I only use it twice a month, no more. In the pic, it is the solid shampoo "Soak and float", which is for someone who supports SLS, and loves it, I mean the shampoo, lol.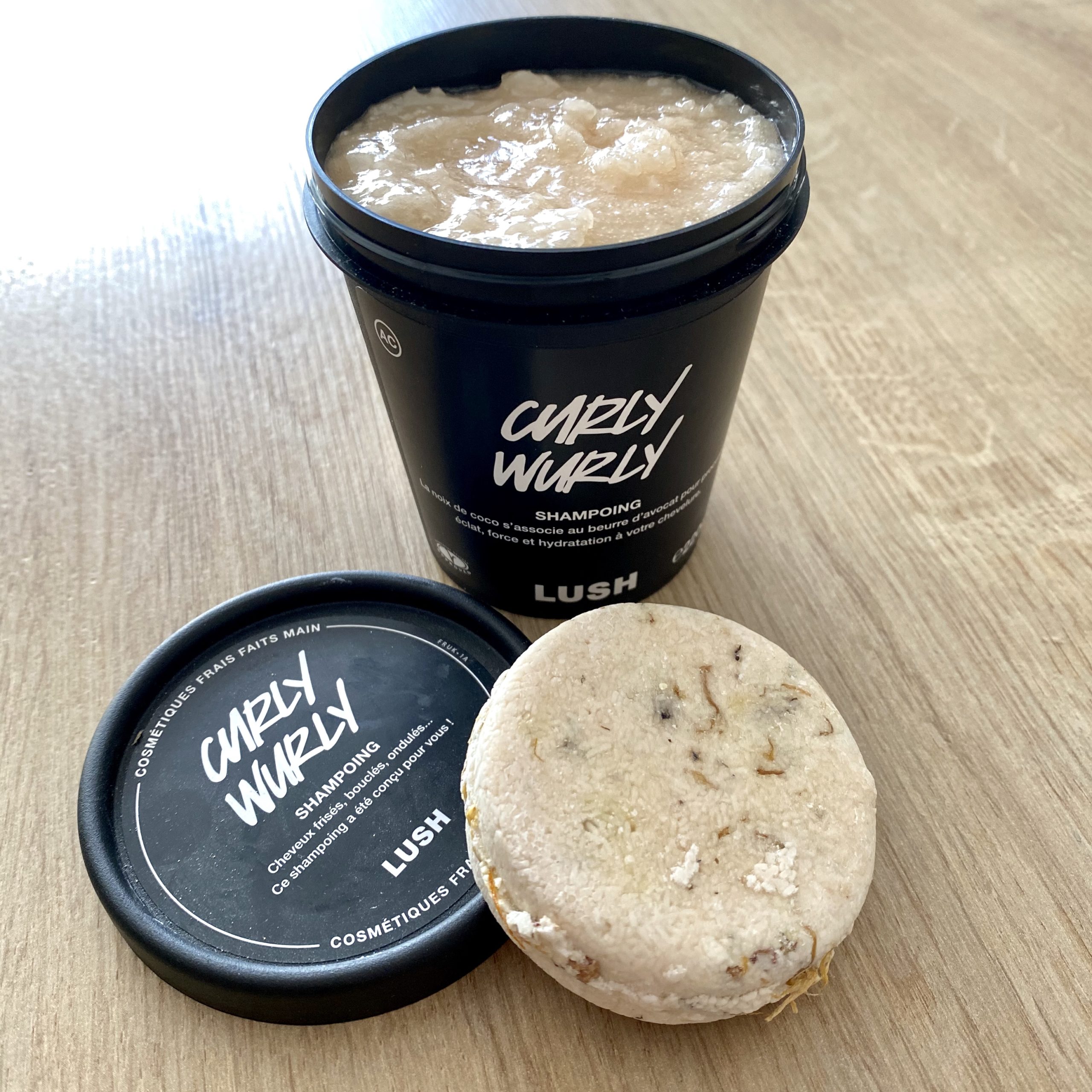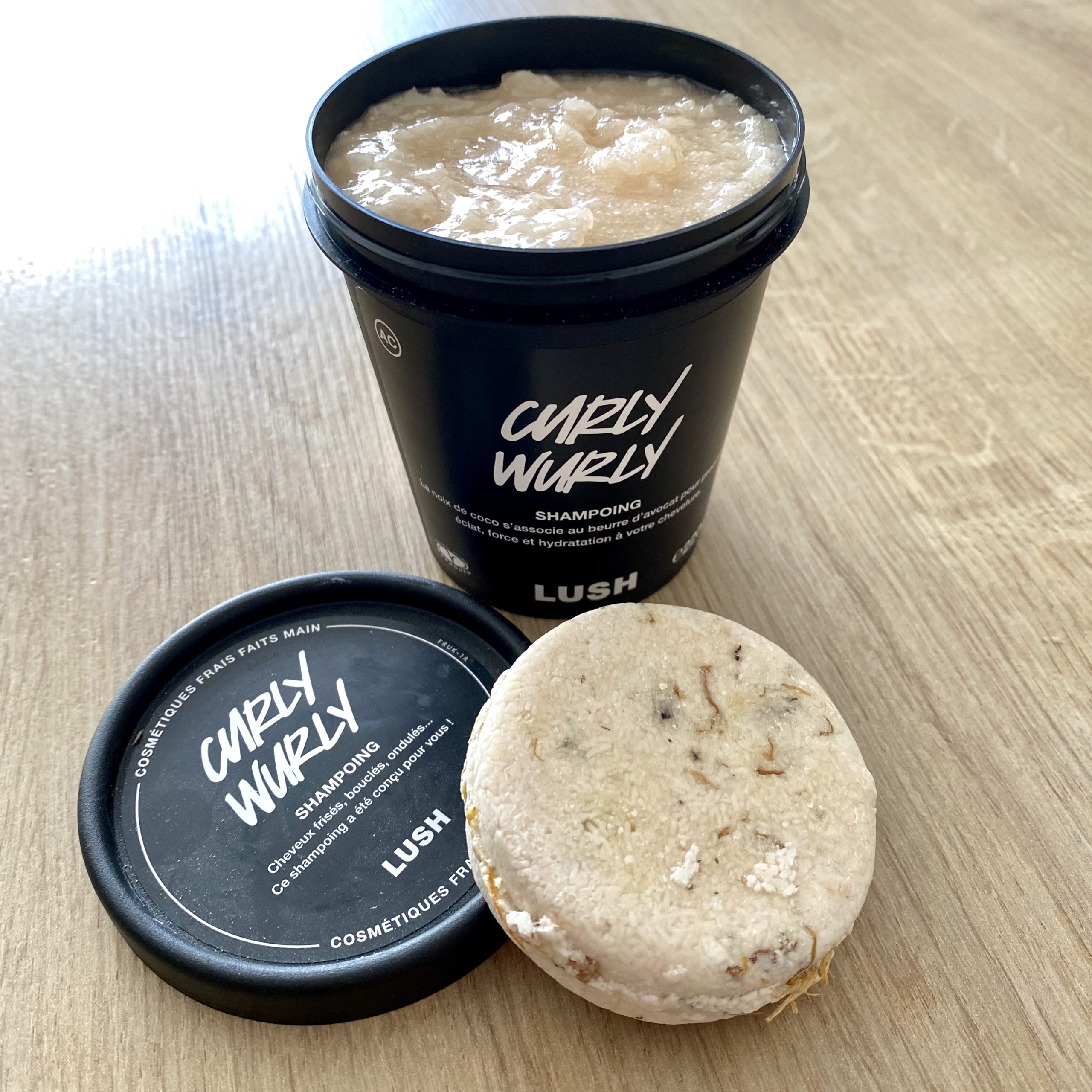 Hair masks in sticks, love them. If you have never tried it, I can only recommend them to you. Each one deals with a hair issue, they are to be melted in a mug of hot water, to be applied to all of the hair from roots to ends, leave for 20′ or more and are really effective. In addition, their composition is great. From left to right: Marilyn (to give a golden effect, and shine), yuge (for volume), and new (to help healthy growth by boosting circulation).
In the same kind of stick mask, there are those for the hands, like the "Golden handshake". It is divine and brings a lot of hydration. To do before going to bed, do not wash your hands afterward to let the benefits work overnight!
There is also scrub in a pot, a special one for sensitive skin, which I love. I have never had such soft skin since I use it. And funny because it has pieces of popcorn inside. It smells like caramel, but not too strong, I promise because I don't usually like too much of a smell. It can also be used on the face, I do it from time to time without never having had rednesses, but like any exfoliation, it is necessary to be soft: When you roll your fingers on your face, just touch it softly without rubbing it. You're welcome.
The "Galaxy" lip scrub is very nice, it smells like tangy candy with red fruits. The composition is great, too. The solid perfume "Sikkim Girls" was offered to me by Lush, a rather sensual smell, not unpleasant but a friend will make better use of it than me ( I like lemon, ed).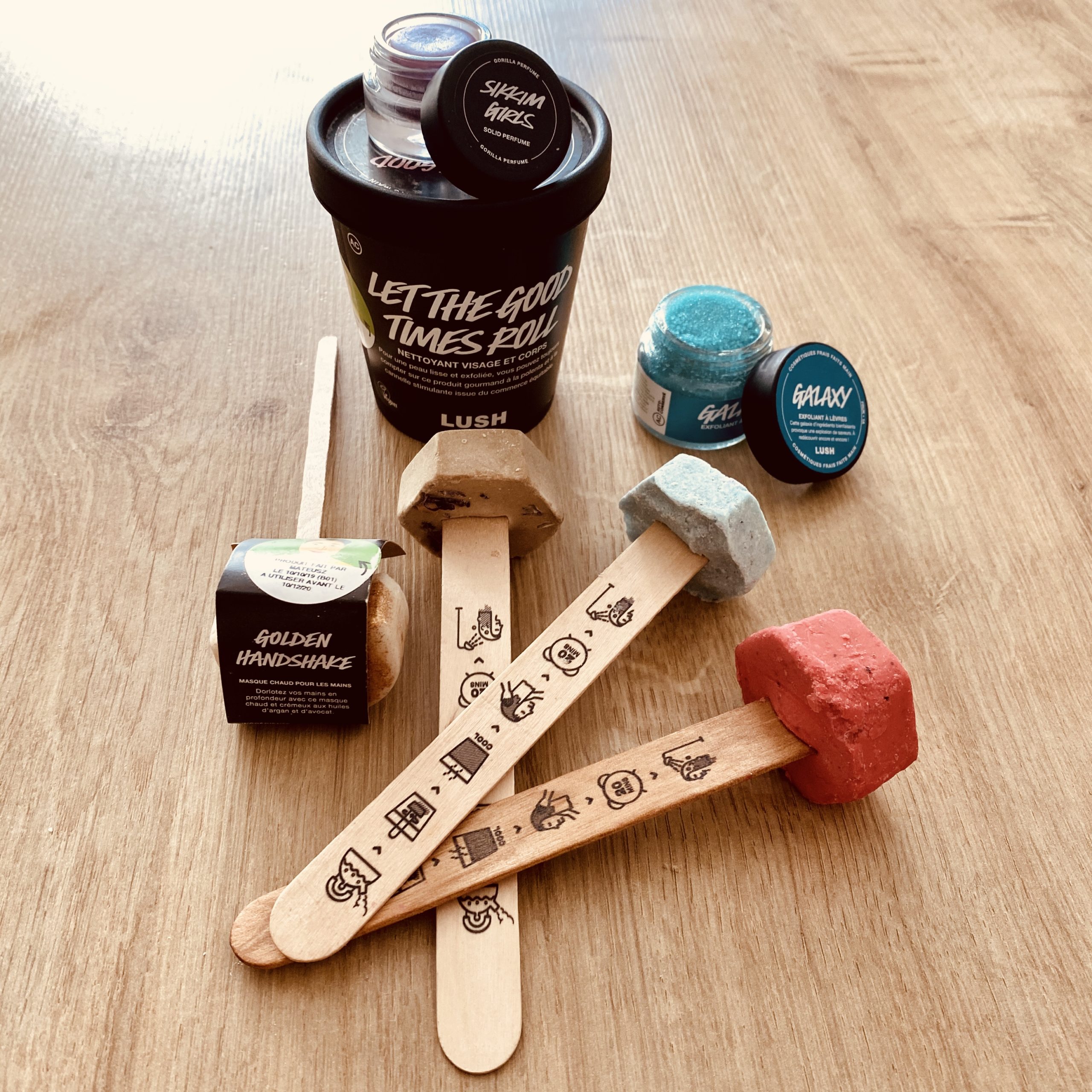 Face care
There are two things I love about Lush: their "Cosmetic lad" face cream and their tonic waters.
"Cosmetic lad" is a special face cream for sensitive skin. It contains antiseptic aloe vera, soothing honey and lavender water, a mucilage of antioxidant wheat herbs, and essential oils of tangerine and sandalwood. This cream contains a methyl and a propylparaben for the conservation of the product, FYI.
My skin has no more redness since I used this cream. It is hydrating and nourishing without overdoing it, the smell is not too strong.
«Did you know»: When you apply a treatment with hyaluronic acid on your skin, it must be used on wet skin otherwise it doesn't work properly.
And for that, a spray of floral water or tonic water just before the acid hyaluronic serum brings benefits and sensoriality. You see my dear Padawan, it is sometimes useful to chat beauty with me. And so I particularly like this "Eau Roma", which is rose and lavender water, but I must tell you that it is preserved with methylparaben.
Second tip: I also advise you to wet your skin after hyaluronic acid, before moving on to the rest of your routine. I recap: You wet the skin before, you apply hyaluronic acid on wet skin, and then wet the skin afterward, to continue your routine. And you don't forget to seal it off with a good moisturizer. You're welcome.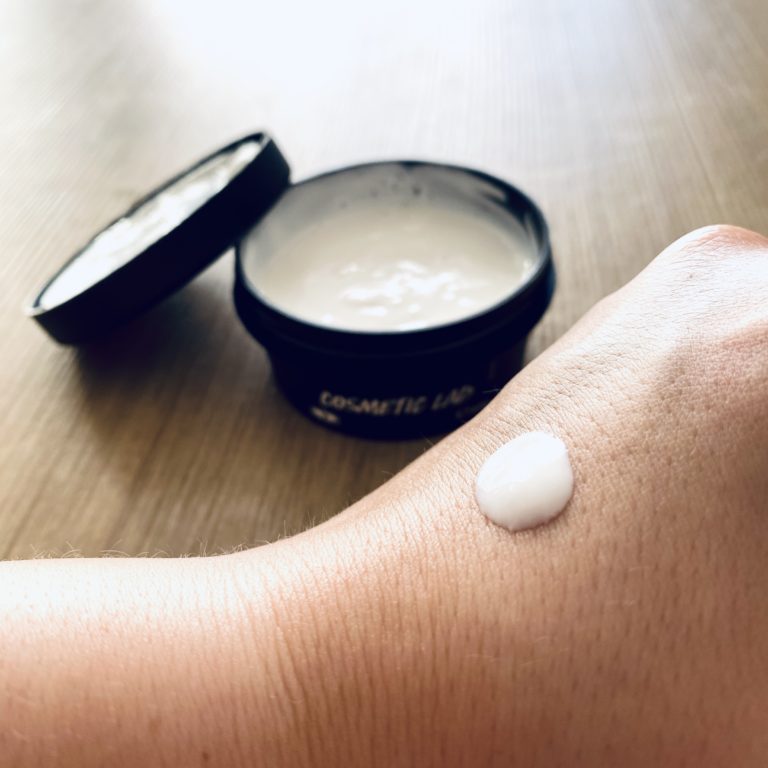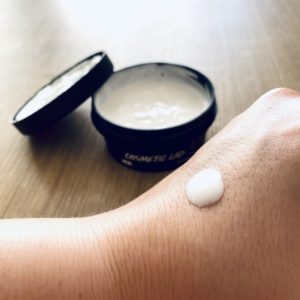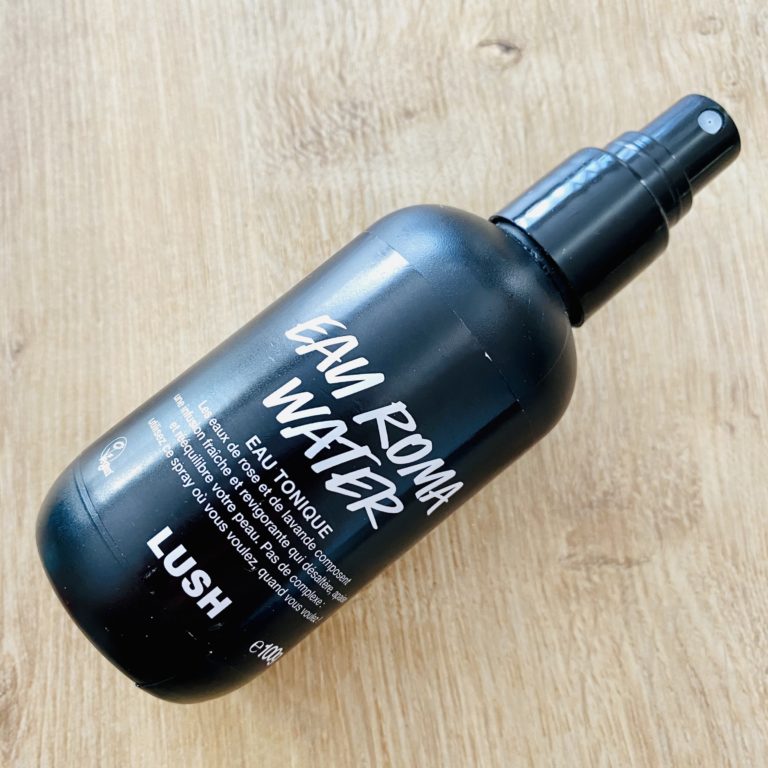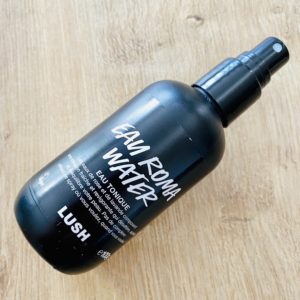 This is it for the Lush products tour, I did not mention all the ranges because everything does not suit me (now there are liquid shower gels without SLS, I may try …). I hope you have learned one or two little tips for having a glowy skin in this first winter of the decade.
Lemony greetings (the random-joke) 🍋