"The best way to take care of the future is to take care of the present moment."
Thich Nhat Hanh.
Hello, young Padawan
At a time when some people seek to standardize us through transhumanist delusions – which incidentally need a shrink more than they need to govern humanity – it suffices to note that from applying even a simple oil on the face, we can go from drama to sublime or the opposite. Indeed, the reactions can be radically opposed from one person to another. Obviously, these people have a little bit to review their copy with their normalized vision, their robotized theories, their virtualization of reality, and so on. This happens when we surround ourselves with people who think rigorously and only like us: we flatten our IQ, and the worst part is that you don't even feel it; you just wake up a morning and "poof!" you have become an idiot. Poor little ones.
One man's paradise may be another man's hell, but let's get back to the oils, even though we never really left the subject, lol. Because there is no universal ritual, no single treatment that can suit all skin types, oils, for example, can be either a panacea or a disaster for the skin. Another proof that the only way to have perfect skin is to get to know it, but first, the basics.
Face oils
A real panacea for the suppleness, plumpness, radiance, and firmness of the skin, oils, used since antiquity, is a well-known ritual by our ancestors. Integrating oils into your anti-aging routine brings real added value; as for dry skin, it's hard to imagine how spending the winter with dignity without them. But oils are not suitable for all skin types or even for all times of the year. For example, I only use oils on my face in the cold season for my part. It's up to you to find what suits you personally or not. Here are two or three pieces of information to help you see if your skin tolerates them, knowing that the colder the season, the more oil the skin needs, so in summer, only dry skin will appreciate them.
The skin of the face will better welcome the synergy of skincare by applying oil last to seal the hydration ritual. Face oil is supposed to be used in very small quantities. Take between two and four drops of oil, warm them between the palms of the hands, breathe deeply and apply, the palms of the hands rolling slowly over the face, starting with the cheeks (the driest area of the face ), then the forehead, chin and neck. We do not spread all over the eye contour either, but we go there with parsimony, again small quantity, at the risk of having milium grains or puffiness in the morning.
The oil can clog the pores and cause blackheads, acne, etc. The body can also be affected, not only on the face. Therefore, it is relevant to erase the areas where the oils are applied at least twice a week so as not to find yourself in the kingdom of comedones. Oil is a nourishing agent, it provides suppleness, firmness, radiance… but does not hydrate, so don't forget the moisturizer under the oil.
How do you know if your skin tolerates oils? If you use it for your eye contour in very small quantities and despite this, you still start to have milium grains or puffiness when you wake up: forget it. If your face, despite regular exfoliation, gives you a few unusual blackheads or other blackheads, cysts, acne, or whatever: forget it. If you have the same thing on your body: also forget it. Please pay attention to seasonality as well, as said above: for my part, no oils on the face from May to September, but each skin is different, dear Padawan, and you will have to get to know yours.
I use two types of oils on my face, watermelon seed oil from Green Keratin, I use it for its non-greasy and very quickly penetrating side (and its anti-aging properties, ed), and the synergy of oils of On The Wilde Side more nutritious and smells divine.
For my eye contour, this is the third time that I have bought this little roll-on from Kora organics, which is my anti-wrinkle weapon for eye contour. Its pink quartz ball allows a fresh, targeted application and, in very small quantities, as always.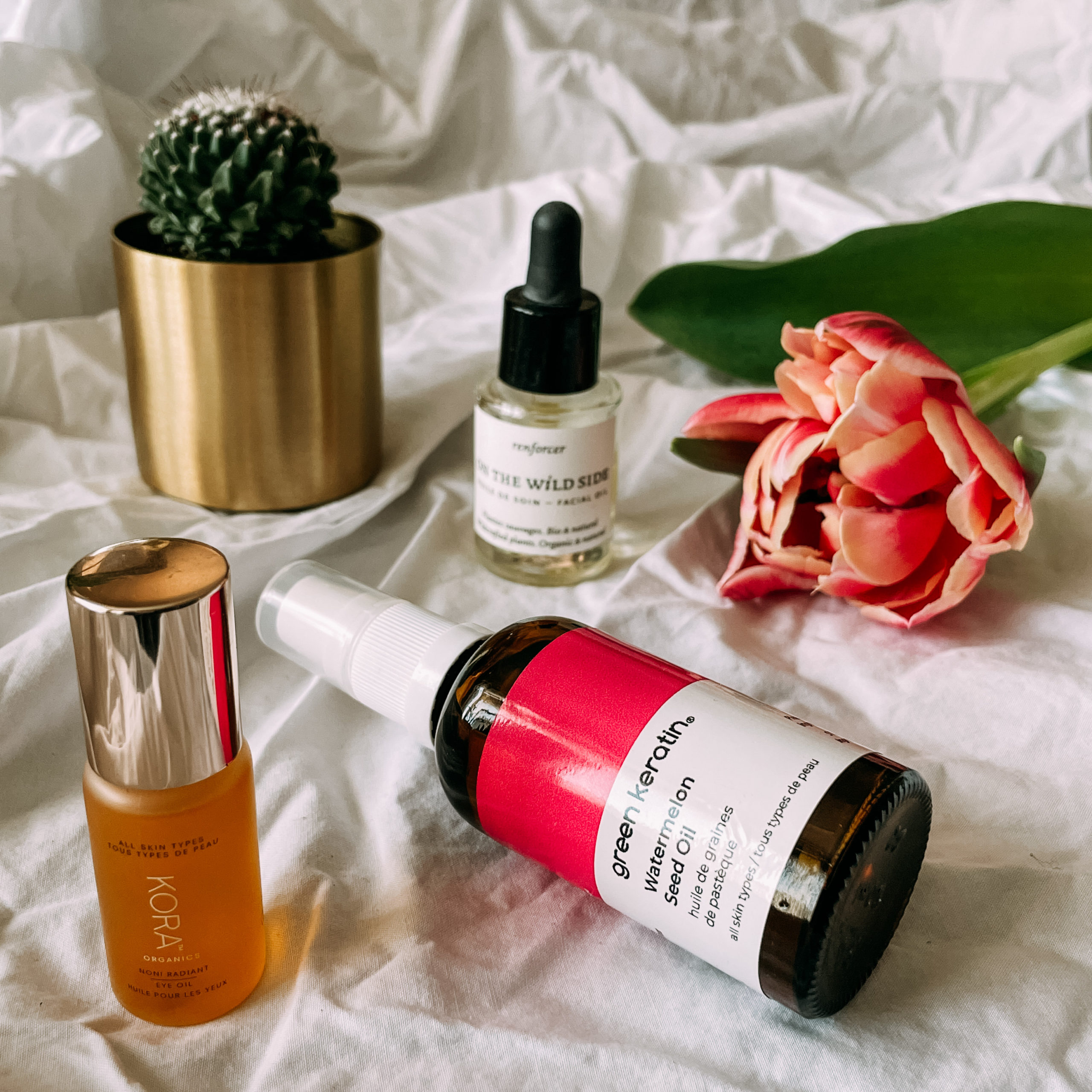 Body oils
The oil is always better tolerated on the body's skin because it is generally drier and thicker. In terms of sensoriality, there are two that I love: pink coconut body oil from Herbivore that I just bought, it's a mixture of coconut oil and rose oil, a delight, if you like the rose sent, of course, lol, and my noni body oil from Kora organics, that I keep presenting to you year after year. I love the botanical scent of this brand, the oil leaves skin looking firm, fresh, plump, and smelling divine, nothing to add, perfect.
About hands, if you are looking for a good oil for the nails and cuticles, I have found the grail: The green oil by Manucurist. In three days, you'll have back decent nails and cuticles.
Application tip against "crocodile skin": For plump and beautiful skin in the blink of an eye, generously spread the body oil on wet skin, just after showering, then massage until the skin has absorbed everything. You will love to do without your towel.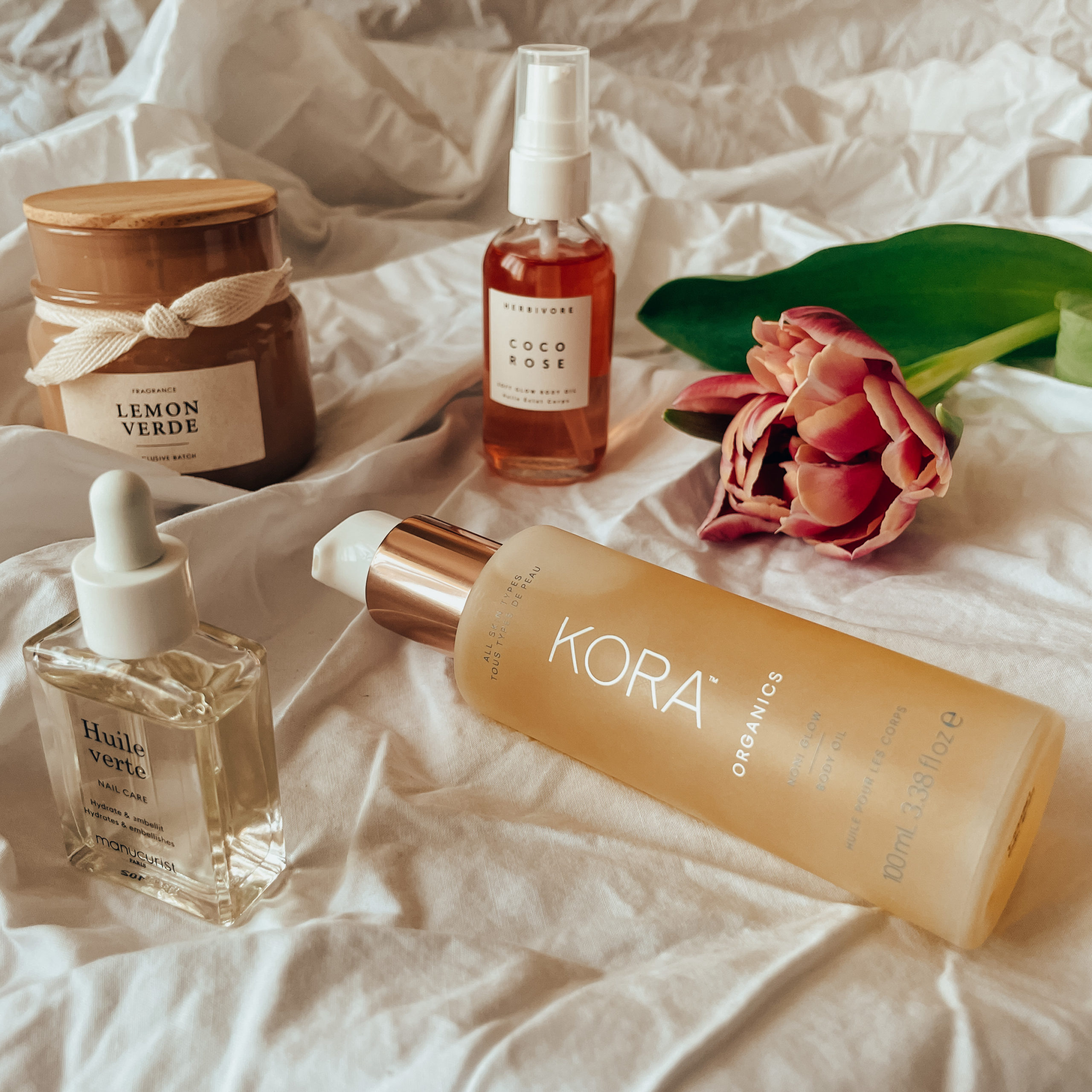 Hair oils
Almost all hair types will appreciate them as long as you adjust the amounts and find the right type of oil. Indeed, the more dry and curly hair, the more you can choose a dense, nourishing oil, and the more you can add for bouncy curls of the most beautiful effect. Conversely, the finer and flatter your hair, the more you choose a light oil and in very tiny quantities, for example, one or two drops only on the ends for a divine silky effect.
Afterward, it's up to you to choose; either you set your sights on a particular oil for its x or y properties or choose synergies of oils. As far as synergies are concerned, there are two types of oils that I like to use on my fine hair: That of Gisou for its divinely soft hair rendering and its fragrance to die for, and that of Cut by Fred for its repairing side. It smells very nice too.
Each hair has its own type of oil; it's up to you to try and find what you're looking for, and you will have to get to know your hair too in this process. Indeed, oil alone did not suit my hair, unfortunately, but it is much more beautiful than before since I use oil synergies.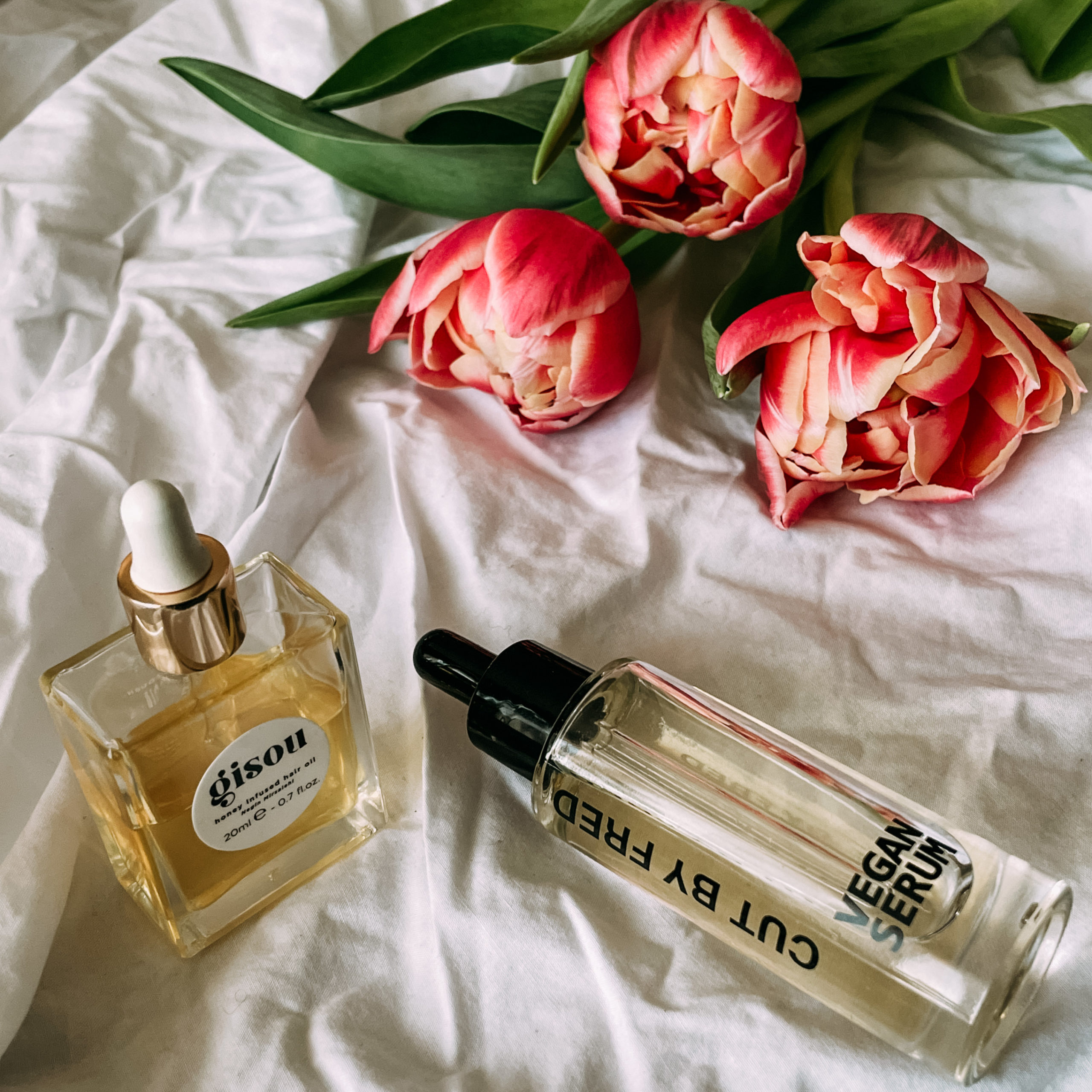 The little touch of beauty oil
Because we couldn't decently end this little article on oils without talking about lips…, sorry? You don't know about lip oils? Well, it's very simple. It's like a lip balm, but less pasty, or like a gloss but nourishing and less sticky. In other words, it's just awesome! It's up to you to add a touch of shine, even color for plump, healthy lips, even, let's say it, it's spring: sexy.
My three favorites: A neutral lip oil in shade 01 Honey – not colored – but which smells divinely of honey from Clarins, lip glow oil with cherry oil from Dior backstage, in shade 015 cherry, which brings a pretty pink tint, and that of M.A.C in doll to diva shade, a very transparent cold fuchsia pink that brings just a touch of freshness to the lips – They come out every year around April-May.
Well, I hope this little article on oils will have reconciled you with them, if only for a little harmless lip oil, for example. As you will have understood, skincare in general and particularly that of the face requires, to be optimal, to know your skin at least, and not to insist if you see x or y reactions appear, so that the ritual of care remains pleasant beneficial to your skin.
You are now a Padawan expert in oils, so take care of your skin; I'm off to take care of mine!
XO 🌾