Hello, young Padawan
The holidays are behind you (hey ! did I hear "shush !!"??) and you want to keep the benefits of this sweet summer rest or to keep fit, you want to keep the good look that characterizes the lucky ones who could lay their ass on a piece of beach this summer …
… Or recover from this monumental party in Vegas where you woke up at 6 pm with two strangers under the sheets, a naked Chippendale on your left and a madam on your right who was de-wigged de-makeup and looked like your 6th grade English teacher (you thought she had known the dinosaurs). And a thong between your teeth, still asking yourself who does it belong to ???!
A black thong with a tiger's head on it, it could be hers too, no I'm not talking about your English teacher, please try to keep up, I know times are tough. Oh boy, you need to fill up on vitamins.


This week, we are going to focus on saving vitamins. Because we do not have to cook everything, especially when it is not necessary. It is always best not to cook, or as quick as possible to preserve nutrients in general and vitamins in particular. You know it is better when it is raw. #isthereapun 😇
Here is an example of a pannacotta recipe, "cream cooked" as it indicates in Italian but the coulis accompanying it, is raw. Because we are ok to have fun but kill the good vitamins of our fruit when it's not necessary, no thank you. And you'll see it's very good anyway. I would even say that it's better than a cooked one because the taste of the fruit is preserved as there is more flavor.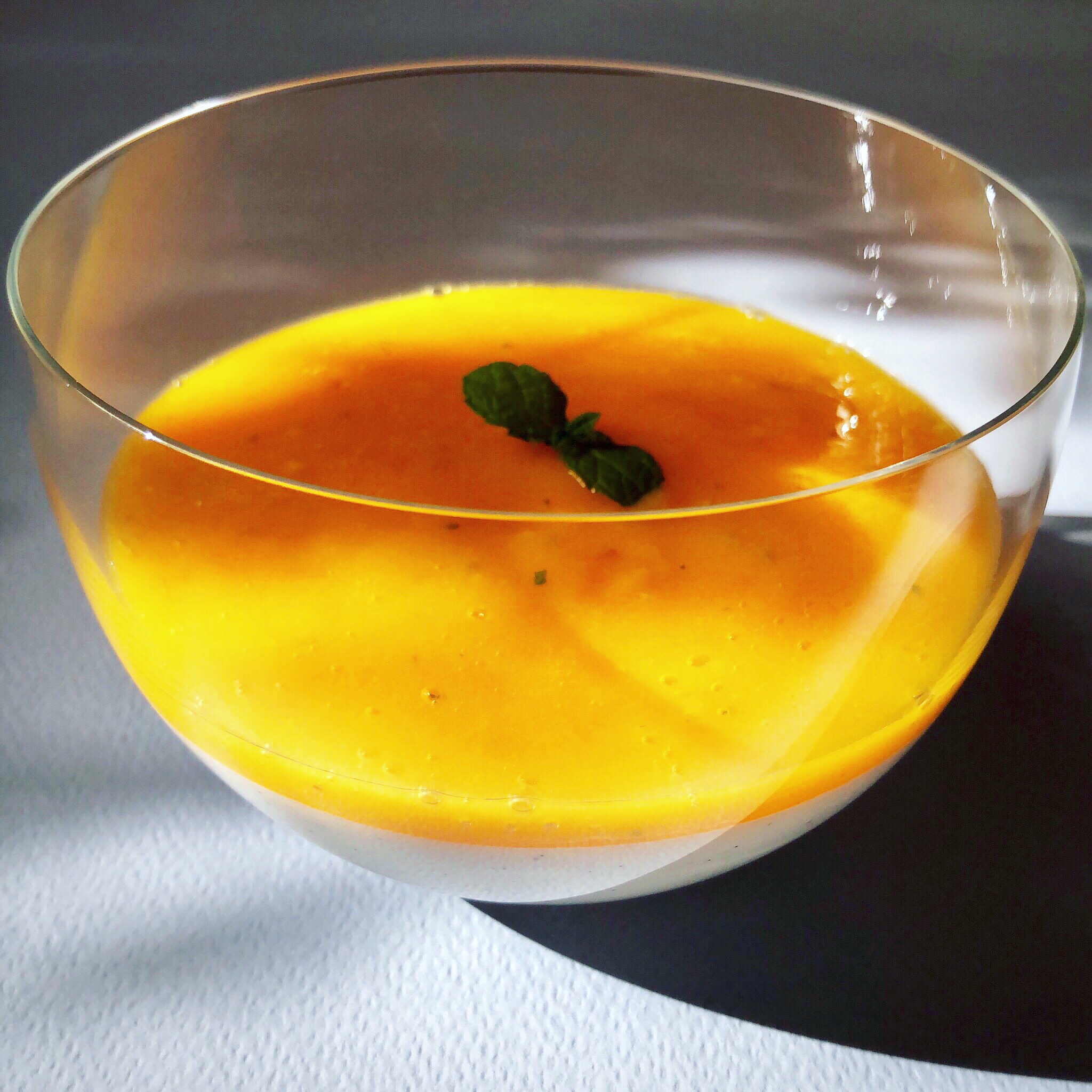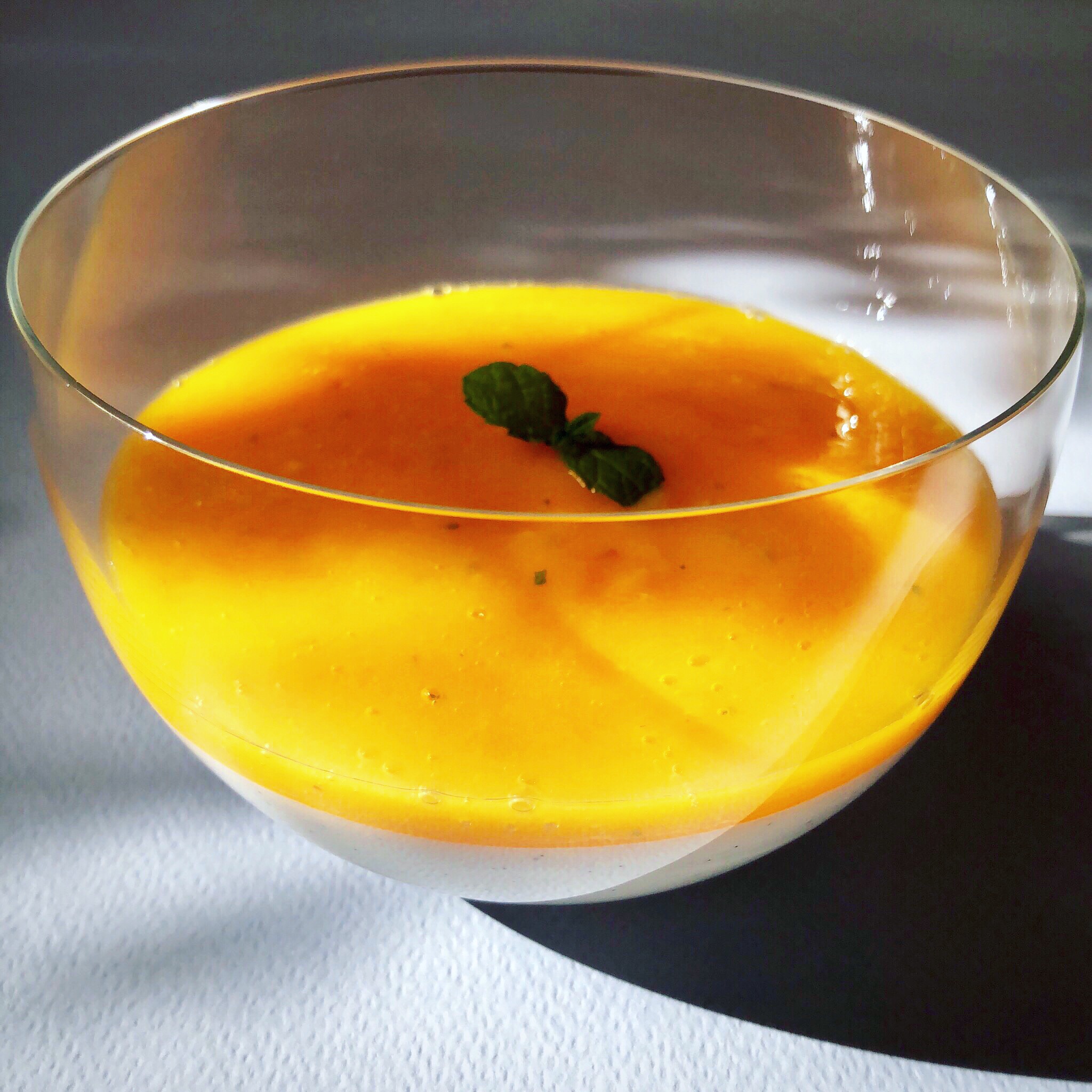 Panna Cotta Mango Raspberry
For 4 people
For the pannacotta :
1 can of coconut milk (40 cl – about 1 and 1/2 cup)
1 brick of soy cream (25cl – 1 cup)
2 tsp of agar agar powder
1 vanilla bean from Madagascar
2 tbsp of cane or coconut sugar.
For the topping:
1 punnet of raspberries (about 2 cups)
1 tsp of agave syrup (or classic sugar)
2 mint leaves
1/2 ripe mango
3 tbsp of water
3 mint leaves
Plus some mint leaves, raspberries or diced mangoes for presentation.
It is also great to add a few roasted hazelnuts crushed for a little crunchy touch!
RECIPE
Prepare the small containers of your choice (ramekins, verrines, cups, glasses …) to present the pannacotta. I leave it to your own inspiration.
Split the vanilla pod lengthwise and pick up the grains with the back of a knife. Put the empty pod and the grains in a saucepan.
Add the coconut milk, soy cream and agar agar powder, whisk together a few seconds. Bring to a boil, stirring gently without stopping.
Once the mixture boils, lower the heat and cook for 2 min while stirring gently with the whisk.
Pour at once into the containers.
If you want to do like my pictures, I mean that the pannacotta remains diagonal (without screaming every 2 minutes "it does not stay put !", "I dropped everything on the floor !!!") It's very simple:
Prepare in advance an iron muffin pan (if your mold is soft like silicone, put it on a cutting board), cover the holes of the mold with a big cloth and arrange the glasses at the desired angle by helping with the cloth to maintain everything.
You should do an empty test before, to check that your mold (or mold + cutting board) fits well in your fridge to avoid any drama. You're welcome.
And just keep one lil detail in mind: the more you put the containers diagonally and the more it makes the fancy effect indeed, but the more you will have to put fruit coulis to cover it up.
I prefer the coulis over pannacotta so I lean the glasses cheerfully, but for the purists, I would recommend you to not tilt them too much.
If you're less reckless, just fill your glasses on the worktop, the pannacotta will stay horizontal but it will be just as good believe me. Choose the filling height according to your desire of fruit coulis, without forgetting to leave a mini space so that the verrines are not filled to the brim.
Let it cool to room temperature before putting 2 hours in the fridge, at the risk of screwing up your fridge. Yes, in this blog we take care of humans and their appliances. #waw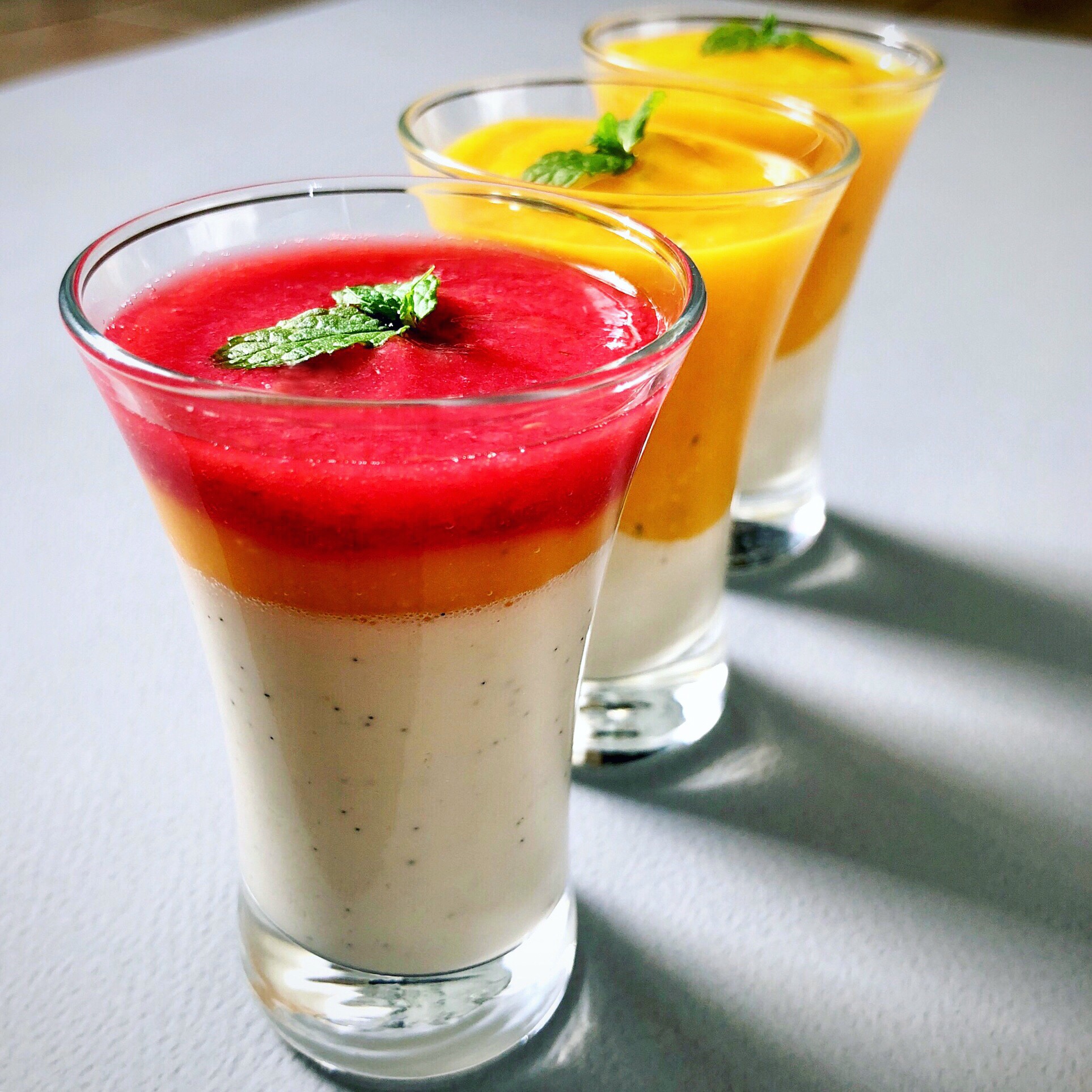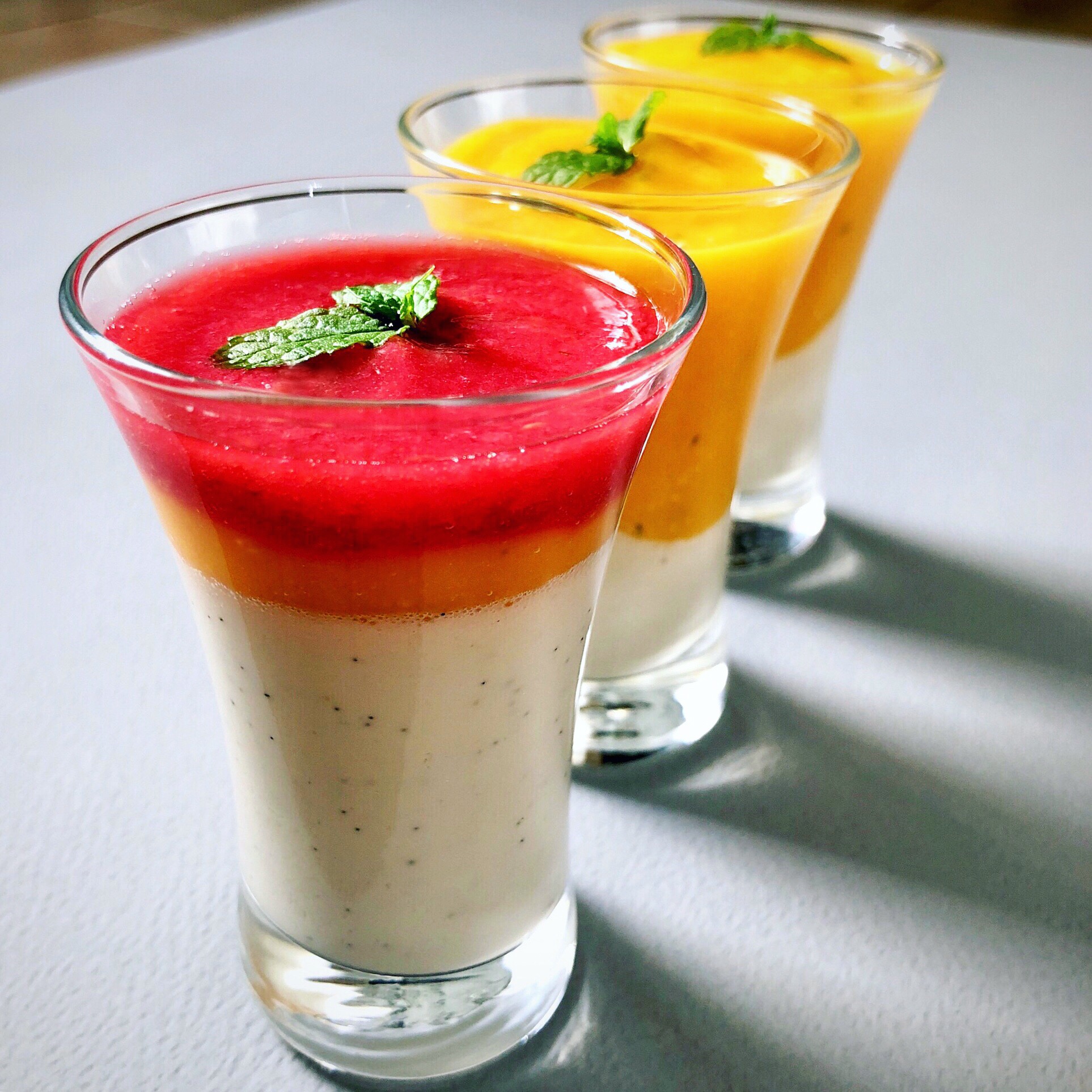 PRESENTATION
At the time of serving …
(So a maximum of vitamins are preserved. It takes 2 min to do it.)
Cut the mango into pieces and put them in the bowl of a blender. Add the water, mint and mix until the mixture is smooth, the right texture for a coulis. Reserve in a container with a spout.
Rinse the blender briefly and add the raspberries, mint and agave syrup. Mix to obtain the same texture as before. Your choice to pass or not the coulis to eliminate the small raspberry seeds.
Take the pannacotta out of the fridge, pour the coulis of your choice on top of it (you can pour both carefully to have two colors on your pannacotta but always start with the thickest, in this case, it is the mango) and decorate with some mint leaves, crushed hazelnuts according to your desire and your imagination.
And here is my little pannacotta (vegan but you have not even noticed) so good with its coulis full of vitamins from outer space await you for tasting.
Now you know it is possible to combine health benefits and party food in #foodporn mode (don't even need to go to Vegas lol).
Kiss kiss mango mango