"True generosity towards the future is to give everything to the present."
Albert Camus.
Hello, young Padawan
Well, it's official. You now control the editorial line of the blog. Or almost. In any case, we are not far from it, and this is for my greatest pleasure, I must admit. It is real happiness to have readers' feedback, sometimes discussions, in short, exchange; my little heart is all warmed up, so thank you.
Even today's topic responds to multiple requests. Indeed, many of you have this problem of pores that are a little too apparent for your taste, especially in summer, like your faithful servant, but without necessarily having oily or teenage skin. But why so much injustice? Don't worry, we'll take care of it, and above all, let's explain why.
The history of pores through the ages and humanity
First, the pores are not only visible on oily skin. Then, to not offend the "pore purists," the notion of "dilation" is false. So, yes, the skin's pores do not dilate; they are only more or less visible. Even if everyone had understood, we no longer have the right to use this expression on the internet under the penalty of a hundred years in a dungeon. #sarcasm
There are three main reasons why pores can be more or less noticeable. :
-Inadequate care. Use of too aggressive cleansers and/or not enough hydration. Indeed, the key to barely visible pores is good hydration, i.e., the use of serums/treatments containing a lot of water and not too much fat in this area. The more hydrated the pores are, the less visible their appearance will be.
-Heredity or age. For young people, often for lack of hydration, or for older people because of ptosis of the skin. This is because pores can be more noticeable as we age, although there are many tips for maintaining peachy skin.
-Inadequate diet. Better to drink plenty of water and opt for an anti-inflammatory diet; see my article here for more info.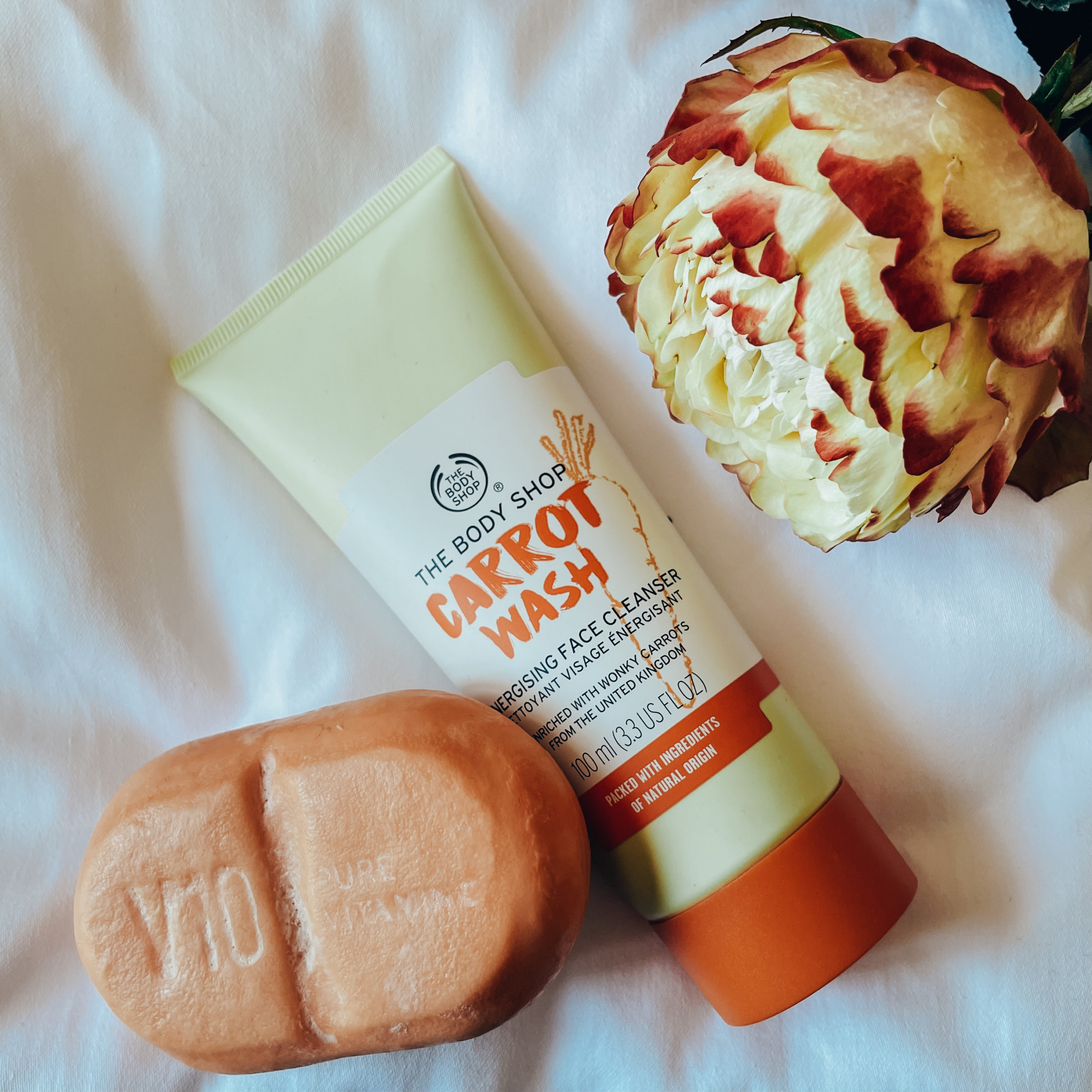 Cleaning
As you know, I am against overly aggressive cleansers, whether on normal, dry, or oily skin. When the need arises, it seems better to me to use cleansing masks or deep cleansers specially formulated for this area, but that is my perspective, of course. You do what you want.
-For the evening, the same great classic: double cleansing with the cleansing oil of our choice, and as for gentle cleansers, as usual, I find my V10 soap from Some By Mi very relevant, because it contains 10 vitamins including vitamin C, which is excellent because it is an antioxidant for the skin, good for pores. I also love The Body Shop Carrot Wash because it is very gentle, shielded with antioxidants, and smells a wonderful fresh botanical scent.
-For the morning, as usual, a mild, non-foaming cleanser like Lush's Herbalism or Dr. Hauschka's cleansing Cream – more than enough. Even if I admit that the Carrot Wash is so soft, even on sensitive skin, that it can be used morning and evening in the summer season.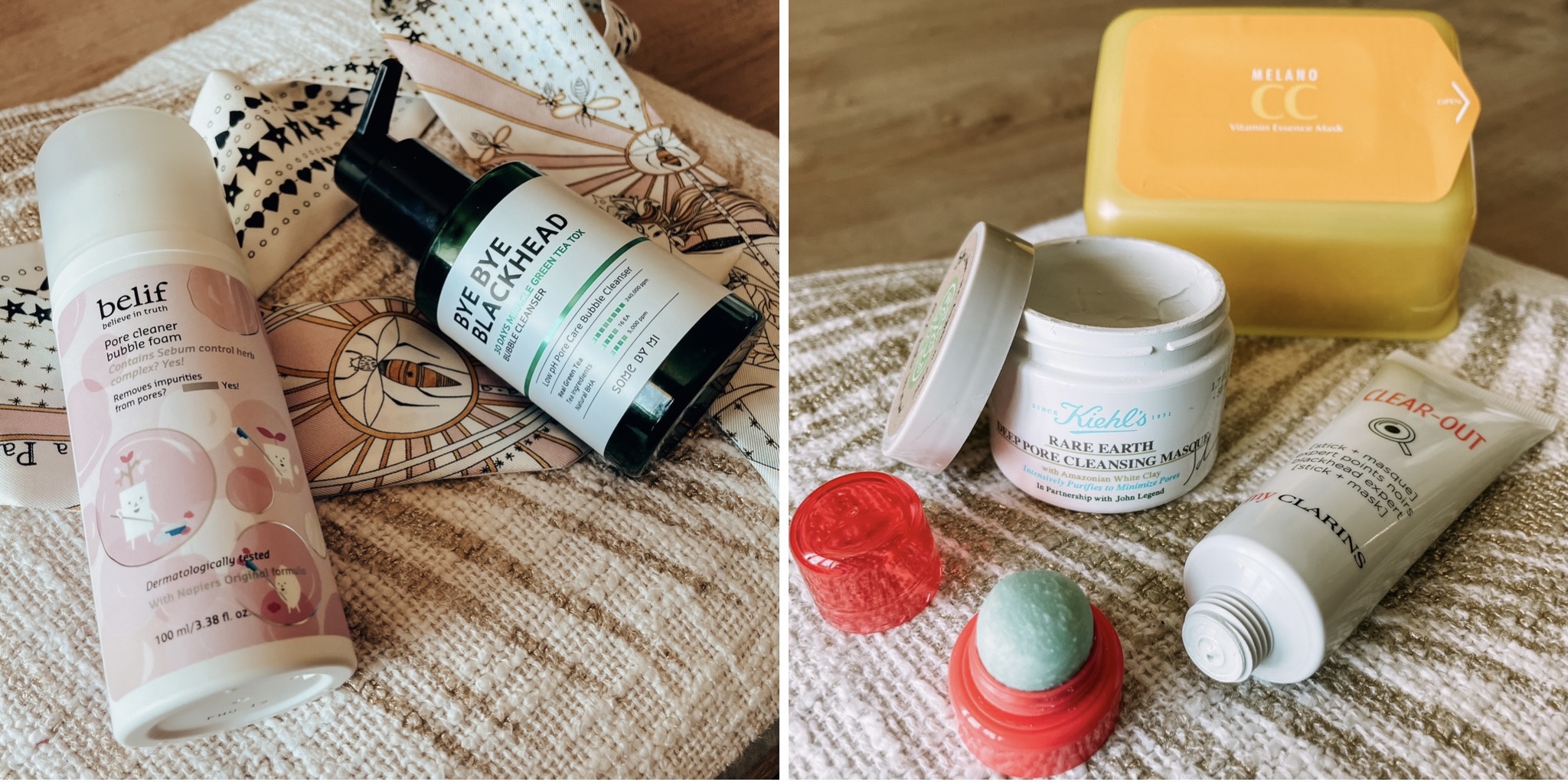 Deep cleaning and face masks
Once or twice a week, a mask or a special deep cleanser for pores, only on the area affected by "too" visible pores.
-Deep cleansers are indicated for people with either blackheads or clogged pores because of pollution, for example. These are creams to be applied on dry skin; it swells, bubbles, and then you rinse it. It's pretty fun to use.
I know three of them, the Pineapple Bubbles from Pacifica, which I loved but which is no longer manufactured, the Pore cleaner from Belif, which I just finished, and the Bye Bye Blackhead from Some By mi, which I prefer, but I can only use it in summer because my skin is too sensitive in winter for this one. I remind you that these products are to be used only in the affected areas.
-Clay masks (white clay, a.k.a Kaolin, the one for the pores, ed) are more indicated to deal with the problem of visible pores once the area has been rid of its impurities because they will be all the more effective. Never let a clay mask dry on your skin, whatever the color of the clay. Always have a spray bottle of water next to you to moisten the skin regularly. Indeed, clay dehydrates the skin as it dries, and that we do not want. At all!
I usually use Kiehl's Rare earth deep pore cleansing, but I also wanted to test the Clarins Clear out pore, which comes in a mask and scrub (the little blue thing you see in the photo). The little blue scrub thing is not great, too aggressive for my skin, but the mask is nice; it contains both kaolin (white clay) and green clay to conquer skins with excess sebum.
A five-minute leave-on time is sufficient to achieve the desired effect for sensitive skins. So to make the most of this moment, I put my hydrating/nourishing mask on the other areas of my face beforehand (which corresponds to my skin's needs). When the exposure time of it is almost finished, I place my special clay mask for pores on the affected areas. Some call it zoning; I call it genius. As a reminder, the skin, especially that of the face, does not have the same needs everywhere. The cheeks will need more smoothness, hydration, and/or nutrition, while the T zone will need to be purified and hydrated.
-Vitamin C sheet masks. In summer, I always do a cure, with a box of 20 masks soaked in Melano CC vitamin C serum from Rohto Mentholatum. On the one hand, because vitamin C is an antioxidant (by repeating it, we will print it in the brains, even for the half-sleeping ones at the back of the class, lol, ed), it has an action on pores and pigment spots. It looks like a packet of baby wipes, except that they are fabric masks impregnated with vitamin C lotion, lol. To be used as a treatment, leave on clean skin for the shower duration or a moment of relaxation. Last but not least, vitamin C improves the action of sunscreen. Always 5% reduction with the code CHILLBYCARO on the whole Yesstyle site.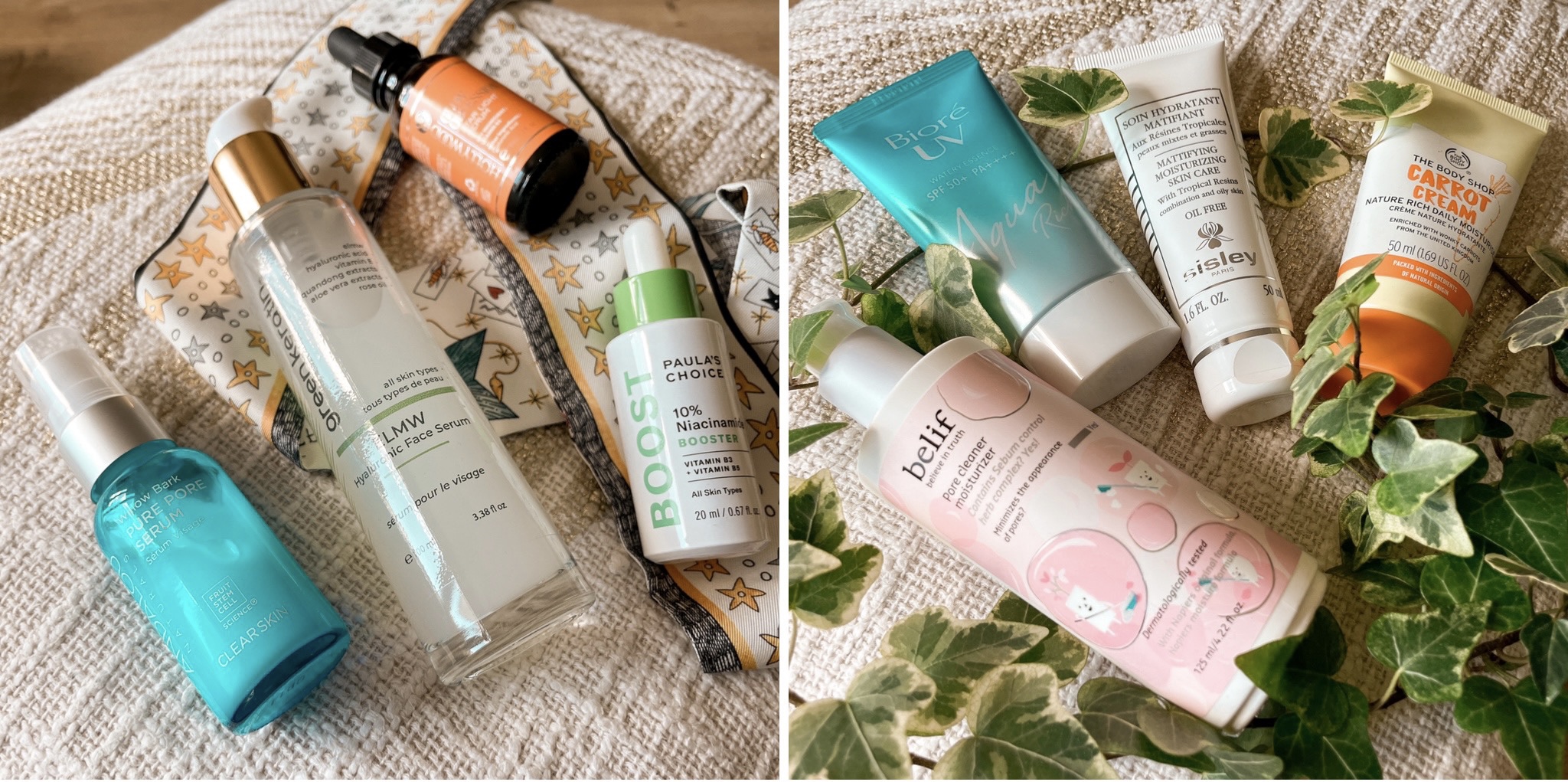 Serums and creams
-Serums are of paramount importance in the care of pores. Most particularly those containing hyaluronic acid and/or vitamin C and/or niacinamides. These three active ingredients, moisturizing, antioxidant, or rebalancing the skin flora, are essential to have the skin of a goddess or a Greek god, just that. That said, their ragweed is a vitamin C bomb; that might explain it, lol.
As for hyaluronic acid, I love my ELMW from Green Keratin because hydration via hyaluronic acid of different molecular weights makes the pores really less noticeable, even the first time you use it. I'm still on the Niacinamide booster Paula's choice, which acts over time. And as far as vitamin C is concerned, I have a particular affection for the Hollywoodskin Glow Obsession serum. These three serums are interesting to apply on the whole face because they have many other virtues than "the pore effect," see, for example, my article here.
Last but not least, you know it since it is the Pure pore serum from Andalou Naturals, which also contains salicylic acid (which eliminates dead cells, ed) and moisturizing aloe vera. I apply it only on the pore area, just before the moisturizer.
-The creams should be moisturizing but not too nourishing in this area. Especially in summer, it may be appropriate to do zoning, with a water-based cream on this area and a richer one on the cheeks, for example. Belif Moisturizer Gel is great for that, but I highly recommend Sisley Mattifying Moisturizer, which is remarkably effective when it comes to absorbing excess sebum.
Otherwise, a good summer moisturizer that will be suitable for the entire face, cheap, which is not too oily for the T zone while being sufficiently oily for the rest of the face: the Carrot Cream by The Body Shop. And which smells botanical heaven, lol. You have the concept, I think, lol.
-Without forgetting the SPF. A non-greasy, non-shiny one, a gel that certainly contains alcohol but which is particularly well formulated to be neither irritating nor drying the sensitive skins (Koreans are the best): UV watery essence SPF 50 PA ++++ from Bioré. (I remind you that the indication "PA" – protection grade of UVA rays – is the anti-aging protection effect, and there are four of them, that's incredible!).
Here you are ready to have the smoothest skin in the whole universe, in natural photoshop mode, lol.
In summary: hydration is the key – lots of water, but not too much fat, thanks to hyaluronic acid. We do not use too harsh cleansers daily not to aggravate the problem, while deep cleaning once or twice a week with suitable pore products, in zoning, only on the affected area and if necessary. NEVER let a clay mask dry, whatever its color, at the risk of turning into a wrinkled gremlin that sings out of tune, but you are, however, allowed to eat after midnight. And don't forget to protect your skin from UV rays.
I wish you a beautiful summer, as beautiful as your skin, and believe me; it's gonna be awesome, lol.
XO 🌞