"A perfect summer day is when the sun is shining, a light breeze blows, the birds are singing, and the lawnmower is broken.".
James Dent.
Hello, young Padawan
There are two problems with summer for people who tend to blemishes, especially hormonal blemishes. Firstly, the heat and perspiration on skin that hasn't received the proper care can turn into skin drama lol; secondly, even if the sun helps blemishes disappear for a while, they come back with a bang at the end of summer and worsen the initial situation.
So, at the request of many Padawans who are concerned by this summer's skin distress – especially since wearing facial masks at work – and to avoid long-term skin problems, we are doing today an anti-blemish ritual from which can inspire you for your SOS moments.
Before we start …
The basics: No matter what, one must drink at least two liters of water per day in hot summer weather. Non-negotiable. For your health, of course, but also to have beautiful skin. Eating lots of fruits and vegetables and following an anti-inflammatory diet, see my article here, is no longer to be demonstrated.
Then, it is better to slow down on everything that is inflammatory: alcohol, sugar, processed foods, cigarettes, stress, pollution … Well, like 90% of people who will read this article, if you can't live in the countryside to breed goats while listening to Bruce Springsteen, let's say that "doing the best you can" is always better than nothing, even if you're not born in the USA, lol.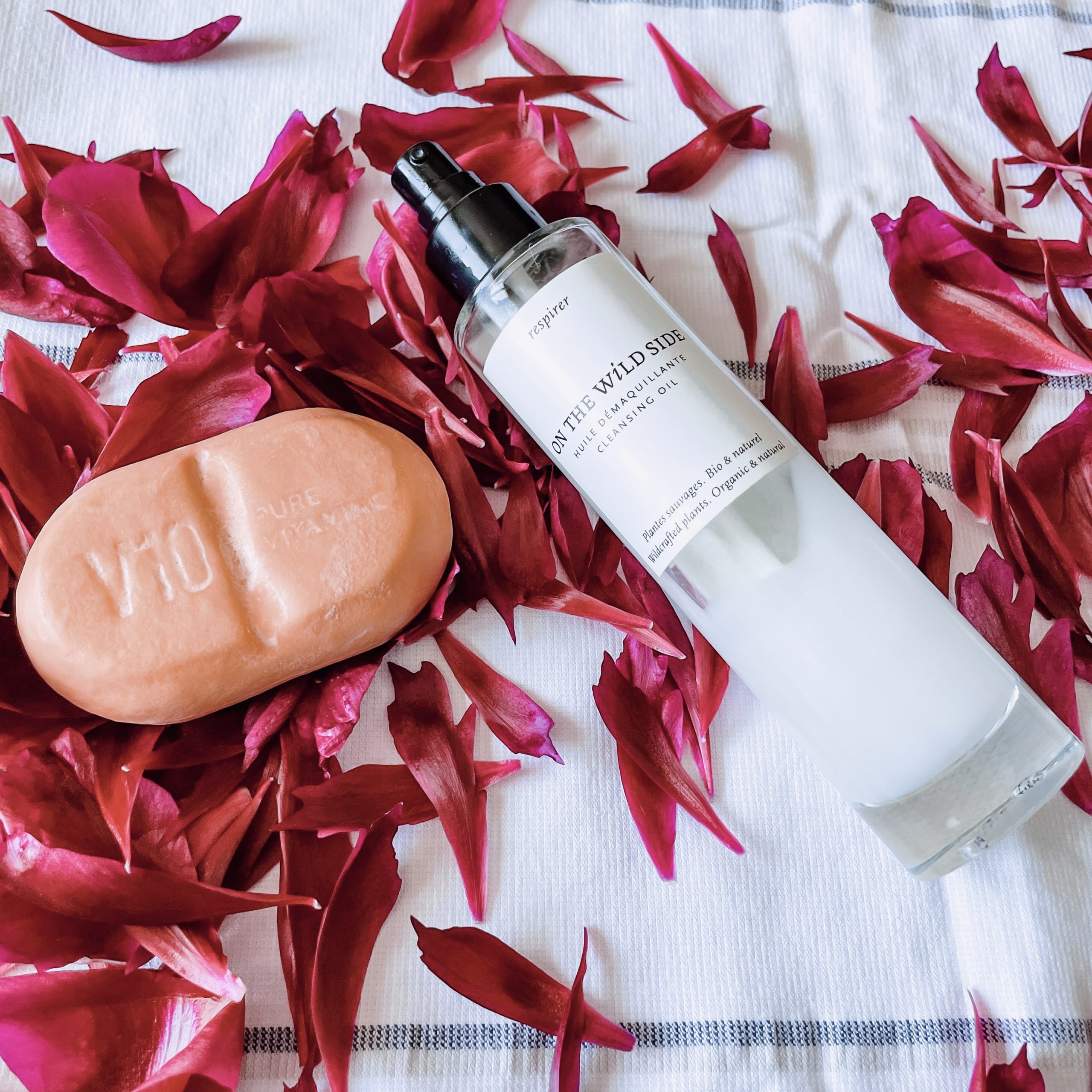 A very gentle cleaning
Blemish-prone skin is often sensitive, so one must be careful to maintain its balance. This is often what is wrong with skincare rituals: either products that are too aggressive or unsuitable. As for all skin types, all types of seasons, and even more in summer with sun filters, a double cleansing in the evening with gentle products is great – and a simple and ultra-soft cleansing in the summer mornings is the most effective solution to have beautiful skin.
Mornings :
A super gentle cleanser that does not foam. For example Herbalism from "Lush", or "Dr. Hauschka's" cleansing cream which are pastes to mix with a little water and to gently spread on the face.
Evenings :
-A good cleansing oil that emulsifies with water (that is to say that the oil turns into milk on contact with water, which makes it very easy to rinse and less heavy for the summer, ed). My favorite at the moment is the "On The Wild Side" makeup remover oil, I have bought it twice now, I will change it when it is finished, just out of curiosity, but I will probably go back soon, as the sweet almond smell is pleasant.
-A gentle cleanser, if possible with vitamin C. Vitamin C has two properties, the first to be antioxidant, the second to help remove scars and pigment spots. The "Some by mi" V10 washing bar is a soap specially created to gently wash the face. It contains 10 vitamins and niacinamides to reduce redness, pigmentation marks and help the skin to keep its hydration.
-The little extra: performing this double cleansing with a Konjac sponge, which will perfect the cleansing in a gentle and skin-friendly way.
-Gently dab the face with a CLEAN towel – reserved for the face – that is washed at least twice a week, then proceed to your skincare routine.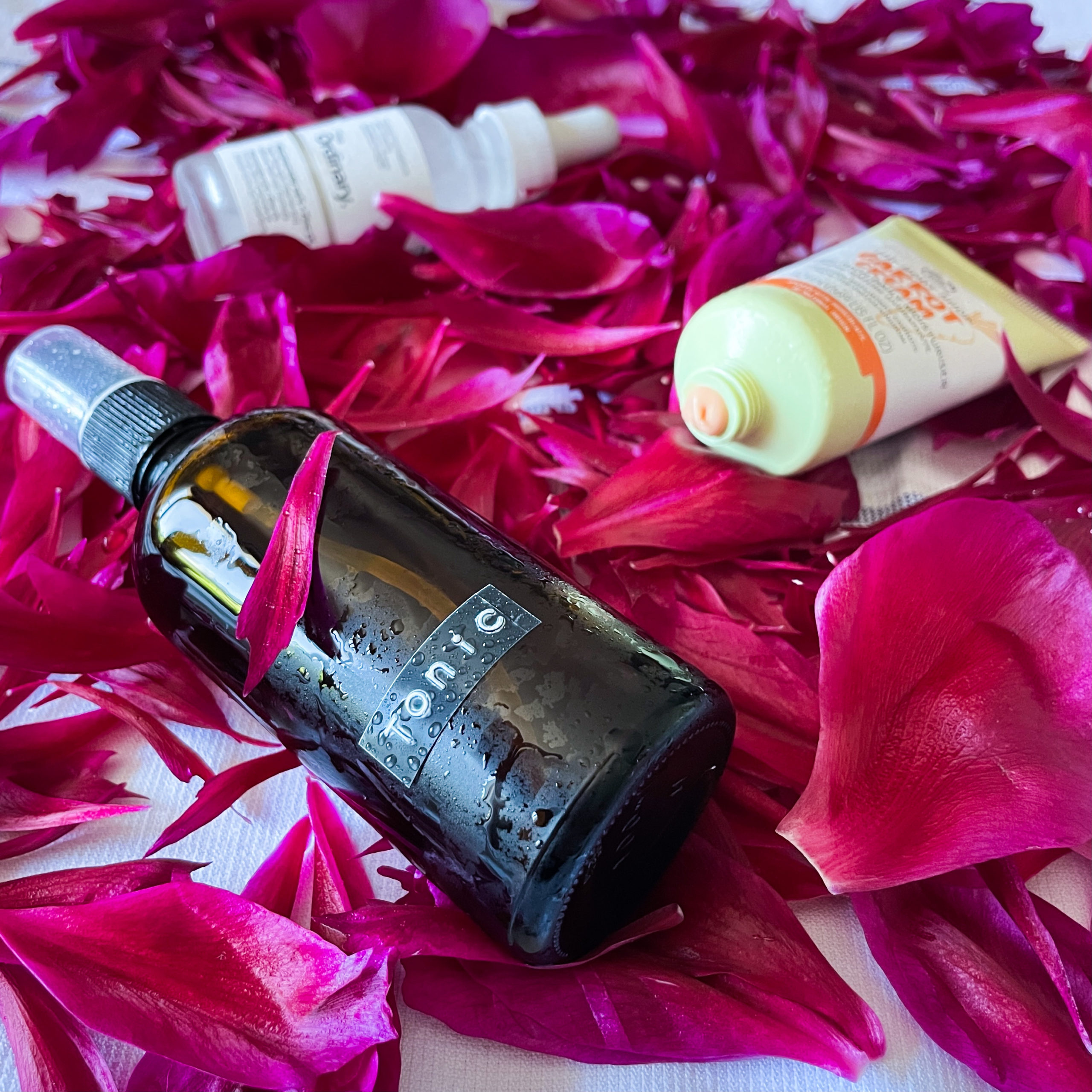 A homemade tonic
For once here, I will give you an ultra-simple anti-blemishes and large pores tonic recipe to spray on the face during the skincare ritual, and regularly during the day for when you are wearing facial masks, or when the weather decides indecent temperature, lol.
Healthy skin tonic
-6 untreated organic (or from the garden) true lavender flowers (not to be confused with hybrid lavender…).
-1 sprig of organic rosemary (about 4 inch), or from the garden, untreated.
-5 fl. oz of filtered tap water (with a berkey type filter, or neutral spring water (I always provide a little more water than the container because infusion and boiling lose liquid, hence the 5 fl. oz, ed).
-a small spray bottle previously sterilized (about 4 fl. oz).
-a small funnel.
Boil the water in a mini saucepan (or a bowl in the microwave), add the rosemary and lavender to infuse, covered, for 10 minutes.
Filter, then let the tonic cool and pour it into the vaporizer using a funnel. It will keep in the refrigerator for a week. To be repeated at will, or at the beginning of each menstrual cycle, for example.
Rosemary regulates sebum production, and lavender has soothing and purifying properties.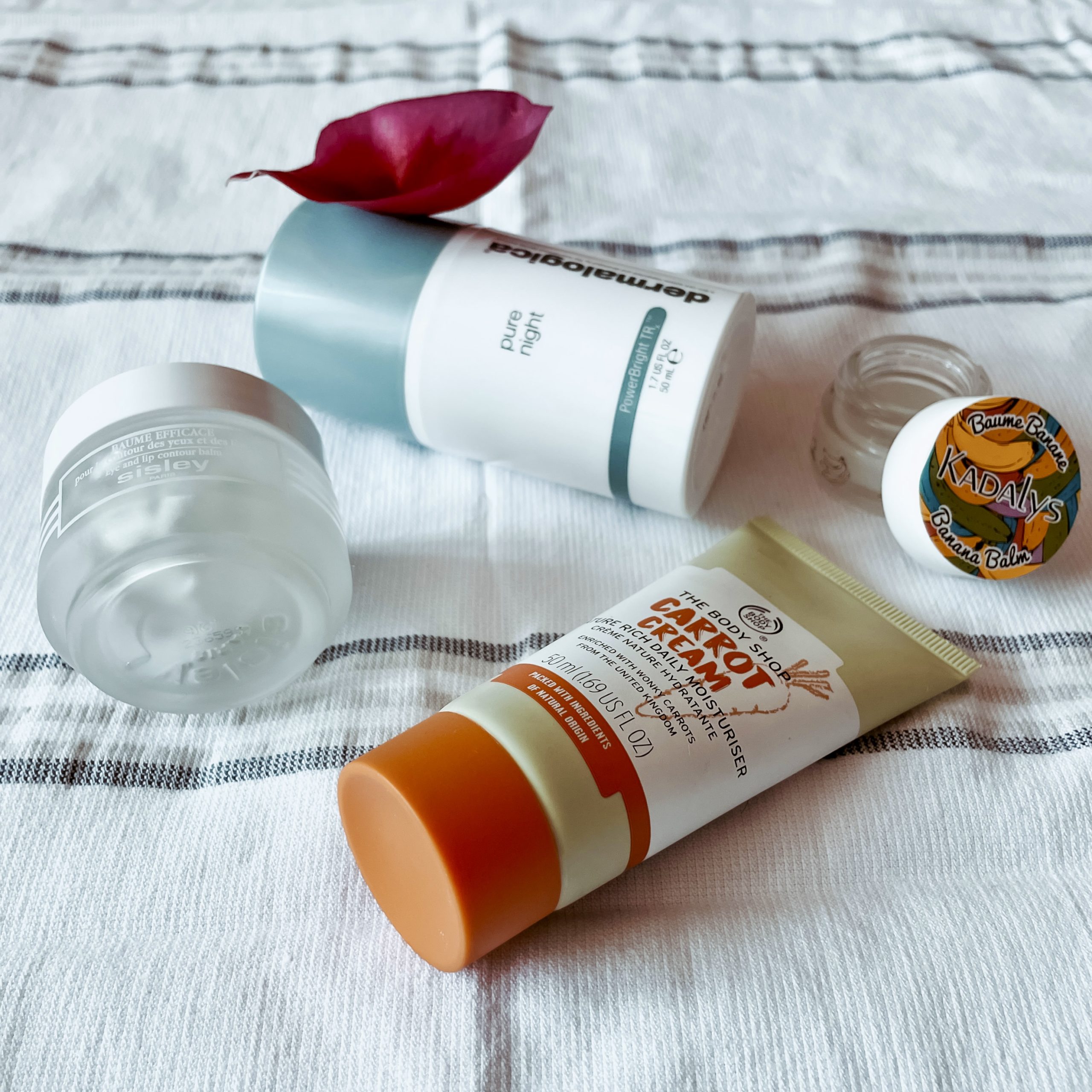 Three steps for a great skin
1-Moisten the skin
As always, apply the serums and creams to damp skin (see my articles on evening and morning skincare rituals). If you don't want to make this homemade tonic, you can always buy a ready-made one, like for example the "Thayers" lotion with lavender.
2-Serums for perfect skin, morning and/or evening, depending on the skin's needs
a/ Don't forget about hydration! My favorite, the ELMW from "Green Keratin", contains lots of hyaluronic acids of different molecular weights, which also makes the pores less visible.
b/ A cheap SOS serum to make pimples disappear: Niacinamide + Zinc from "The Ordinary", to use occasionally in case of blemishes, or as a cure for people prone to acne (a vial once or twice per year).
c/ A serum to remove scars and restore a good skin balance: for example, "Paula's Choice" Niacinamide booster (which, in addition, makes the pores less visible) or "Ole Henriksen" Banana Bright with vitamin C (which also has anti-aging action).
d/Do not forget about the eye area, which needs lots of hydration in summer. A great cheap serum: The SubQ eyes of "Hylamide".
3-A good summer cream
For hot summer days, it is better to choose a light and simple cream. My favorite for these days is the same for two years, that's to say if I love it, is the carrot cream from "The Body Shop" – By the way, the carrot cleanser from the same line is great too for the second step double cleaning in the evening. A botanical, fresh smell, not too heavy on the skin, it is a treat for hot summer weather.
For the evening, "Dermatologica" powerbright overnight cream prevents and reduces pigment spots and scars. And it also has an anti-aging action. This one is a wonder.
For the eyes: in summer we need lightness and hydration, for example, the Baume Efficace of "Sisley".
Don't forget the lip balm! Right now, I love the baobab banana balm from "Hurraw!" which smells, oh surprise, a delicious banana scent, lol.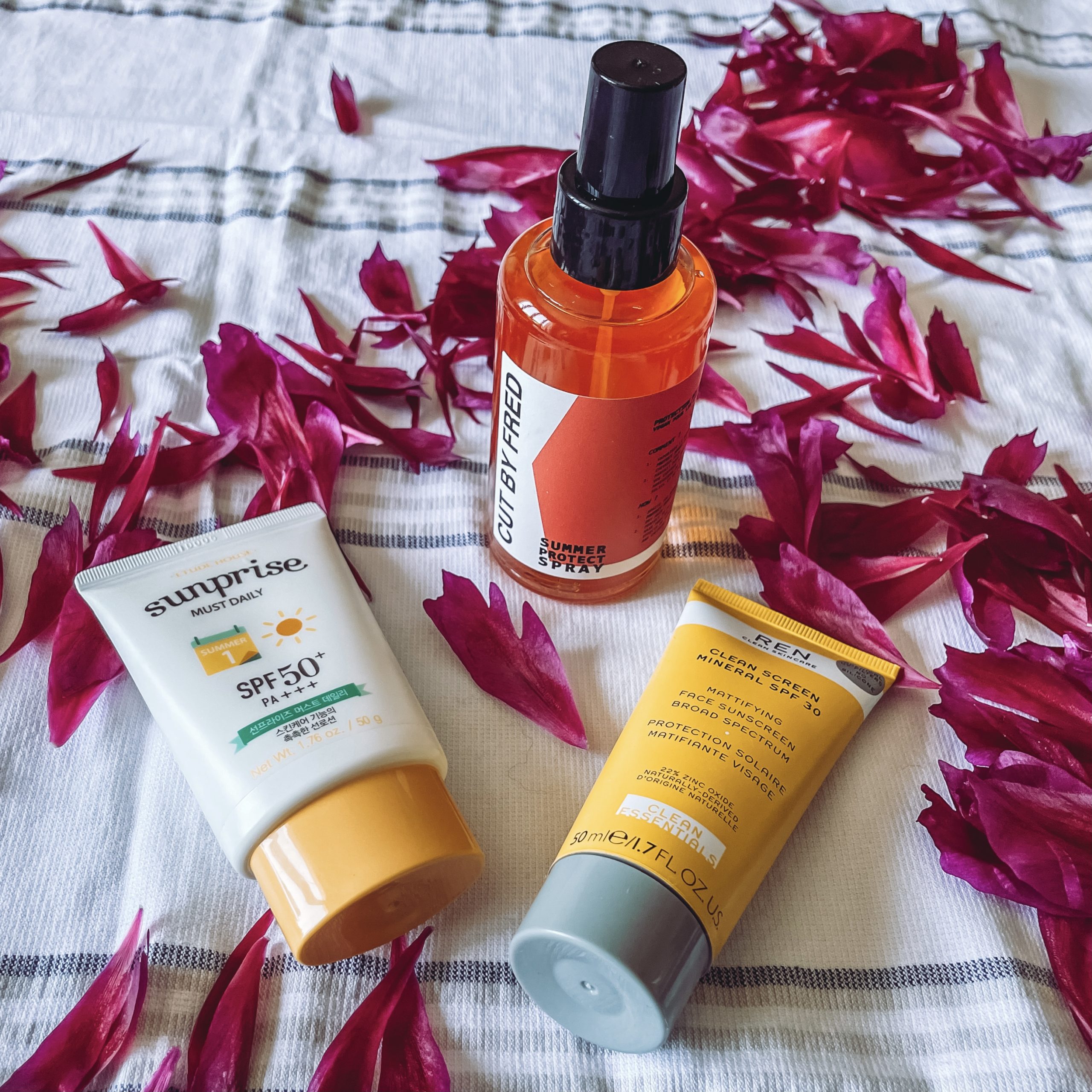 Sun protection and more
-Do I still have to talk about sun protection on this blog? Of course not, so we'll do it anyway, lol. Sun protection is beneficial for skin with blemishes for two reasons. Firstly, so that the pimple scars do not get the sun and thus avoid lifelong scars and hyperpigmentation spots, secondly, at least the skin will be overloaded with UV, at least there will be a "rebound effect "from acne that comes back right after.
My favorite is the "Etude House" sunprise, the "Svr" is also great, both light and not shiny on the skin. As for the mineral filters, I buy the one from "REN" every year, because yes, it is preferable for sensitive skin to alternate, that is to say, to have two small tubes of facial sun filters, one mineral and one chemical so that the skin does not show intolerance.
-And because having beautiful skin does not prevent taking care of your hair, "Cut By Fred" has just released sun protection in the form of a mist, whose scent is to die for … I slip that here, we never know, lol.
-Regularly spray your face mask with alcohol (previously poured in a small spray for ease, ed). At least there will be bacteria on the mask, and at least the bacteria broth inside will damage your skin.
-Spray your face with the homemade tonic (or the Thayer's, or one with tea tree, for example, ed) several times a day, to refresh it, moisturize it and reduce the multiplication of bacteria in the mask.
These are my keys to have nice summer skin. Now let's rest a bit, drink a lot of water and spray with this simple homemade tonic that will conquer your pores and blemishes!
XO 🌞