Hello, young Padawan
The days are getting longer, it's less cold outside, it smells of spring, and it makes you want to take advantage of the outdoors by spending a bit less time in the kitchen, for example.
Never mind, what if we made a quick, excellent, and fragrant recipe today? And since we eat in season here, let's go for a cute dahl (or dal) in spring mode.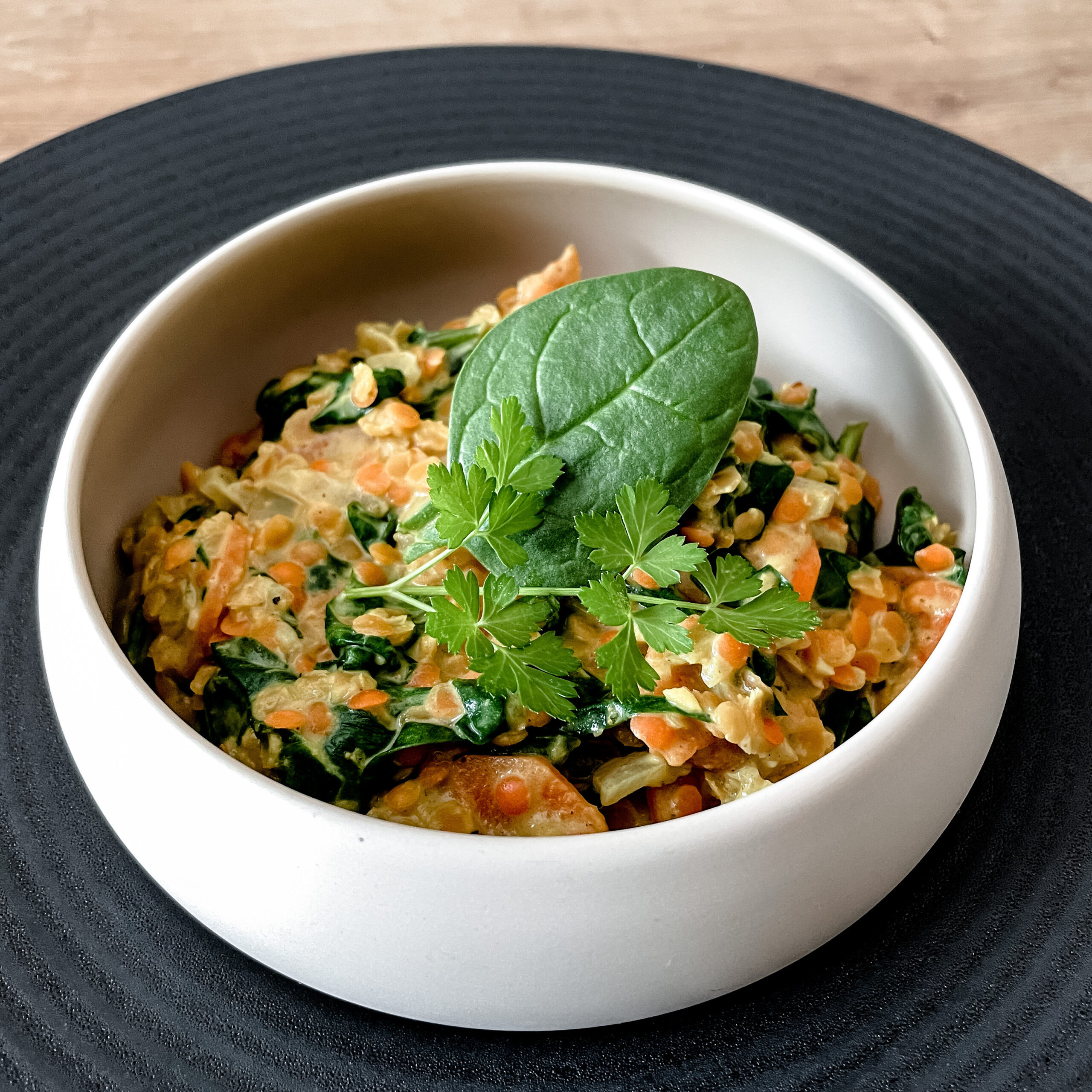 Spring red Lentil Dahl
For two servings
1/2 cup of red lentils
2 handfuls of fresh baby spinach
2 medium carrots
1 onion
1 clove of garlic
1 small brick of coconut milk (about a cup) + its water content
1 tsp of ghee (clarified butter) or olive oil
1 tsp of ground cumin
1 tsp of powdered ginger
1 tsp of curry
1 tsp of ground coriander
Salt, Madagascar pepper.
Optional: a handful of cashews

Recipe
Rinse and soak the red lentils for at least an hour beforehand.
Peel the garlic, onion, and carrots. Using a sharp knife and a cutting board, finely chop the onion, and cut the carrots into thin rounds. Cut the garlic clove in half to remove the germ, then reserve it for the garlic press. If the spinach leaves are very large, cut them coarsely, if they are small, keep them whole. Save a few leaves for decoration. If you want some, coarsely chop the cashews and reserve them for the end of the recipe.
In a wok over medium-high heat, pour the ghee (or olive oil), then sauté the onions, garlic, and carrots for 5 to 7 minutes. Add the spices, stir, and cook for one to two minutes.
Pour the brick of coconut milk in the wok over the carrots, fill it with water, pour it again into the wok, salt, and pepper, and continue cooking over medium heat for about ten minutes. When the cooking of the carrots is well advanced (between half and three-quarters cooked), add the red lentils previously removed from their soaking water, and continue cooking over medium heat. Add a little more water if necessary so that the preparation cooks harmoniously, does not stick, and is in the end a little more fluid than a risotto, but less than a soup.
When the carrots and coral lentils are cooked, i.e., the carrots are al dente, and the lentils still hold together without mashing, turn off the heat, add the baby spinach, and, if using, the cashews. Stir gently so that the leaves benefit from the heat, and stop when they are melted.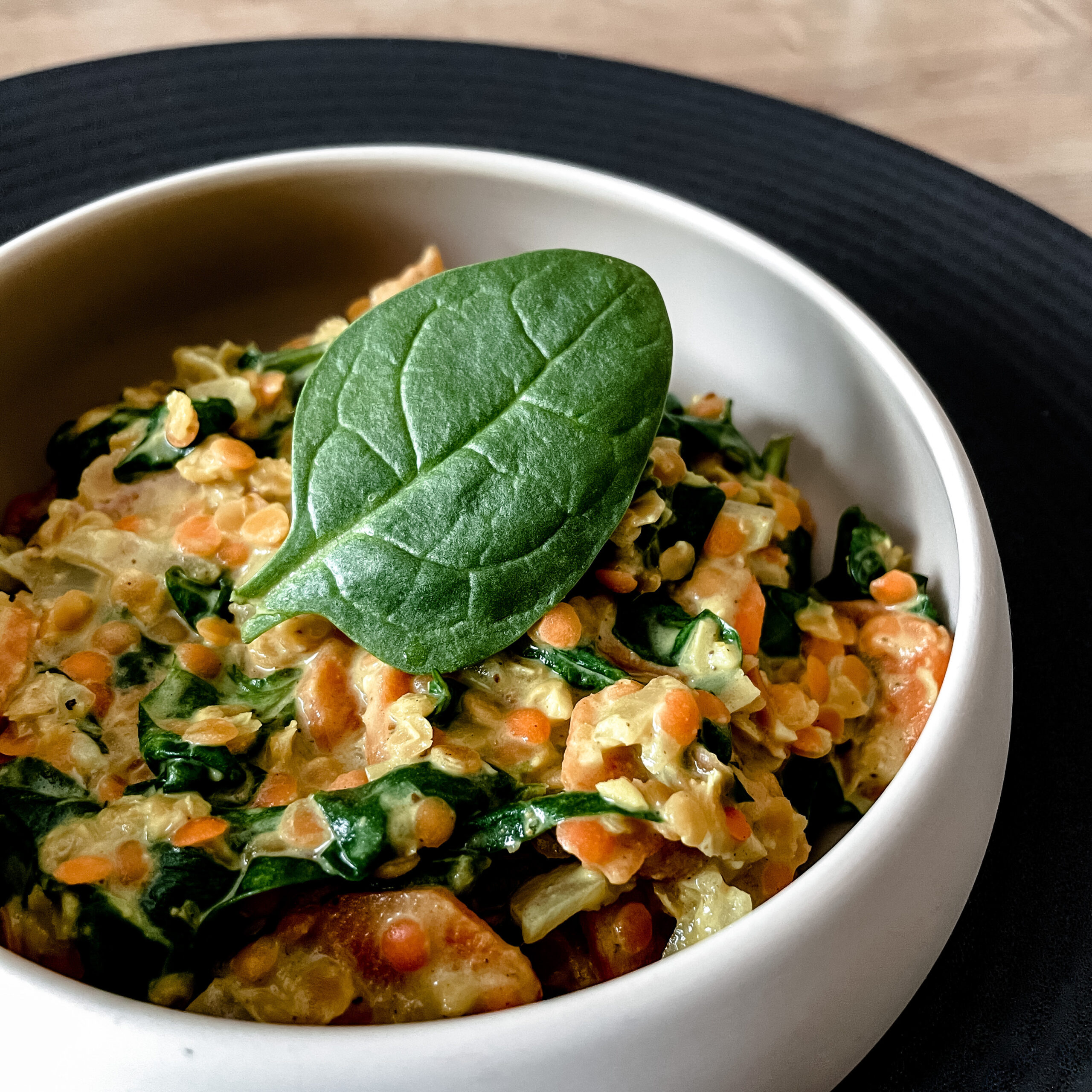 Presentation
In your prettiest soup plate, bowl or cassolette, pour a few spoonfuls of this sumptuous spring dahl, add one or two pretty spinach leaves for decoration in the center, and you're done.
And that's it for the simple, effective, and quick little recipe. To go with it beautifully, I would have a French Bugey wine, like a Mondeuse. Yes, it's a Savoie wine, nothing Indian here, but after all, we are free, lol. For those who want to stay in the tradition, go for a mango lassi!
XO 🥭
Note: if you are wondering where to find ghee, look for oils in your organic store.