Hello, young Padawan
I promised you another little recipe; here we are!
Today, we are doing the recipe for my lentil dahl, as famous as my butternut soup or rice pudding recipe, just to tell you how wonderful it is, lol!
Optional: You can serve a few spoons of basmati rice if you will, flavored with cardamom, alongside the dahl and zucchini. You put 1/2 a cup of rice in your pot of boiling water with 2 or 3 cardamom seeds previously crushed on your cutting board with a flat knife (As you do with garlic, do you follow me? Great).
After 10 min, the rice is cooked. I advise you to remove the cardamom seeds before serving the rice because if you inadvertently bite into them, it will not be nice, lol … it's very strong.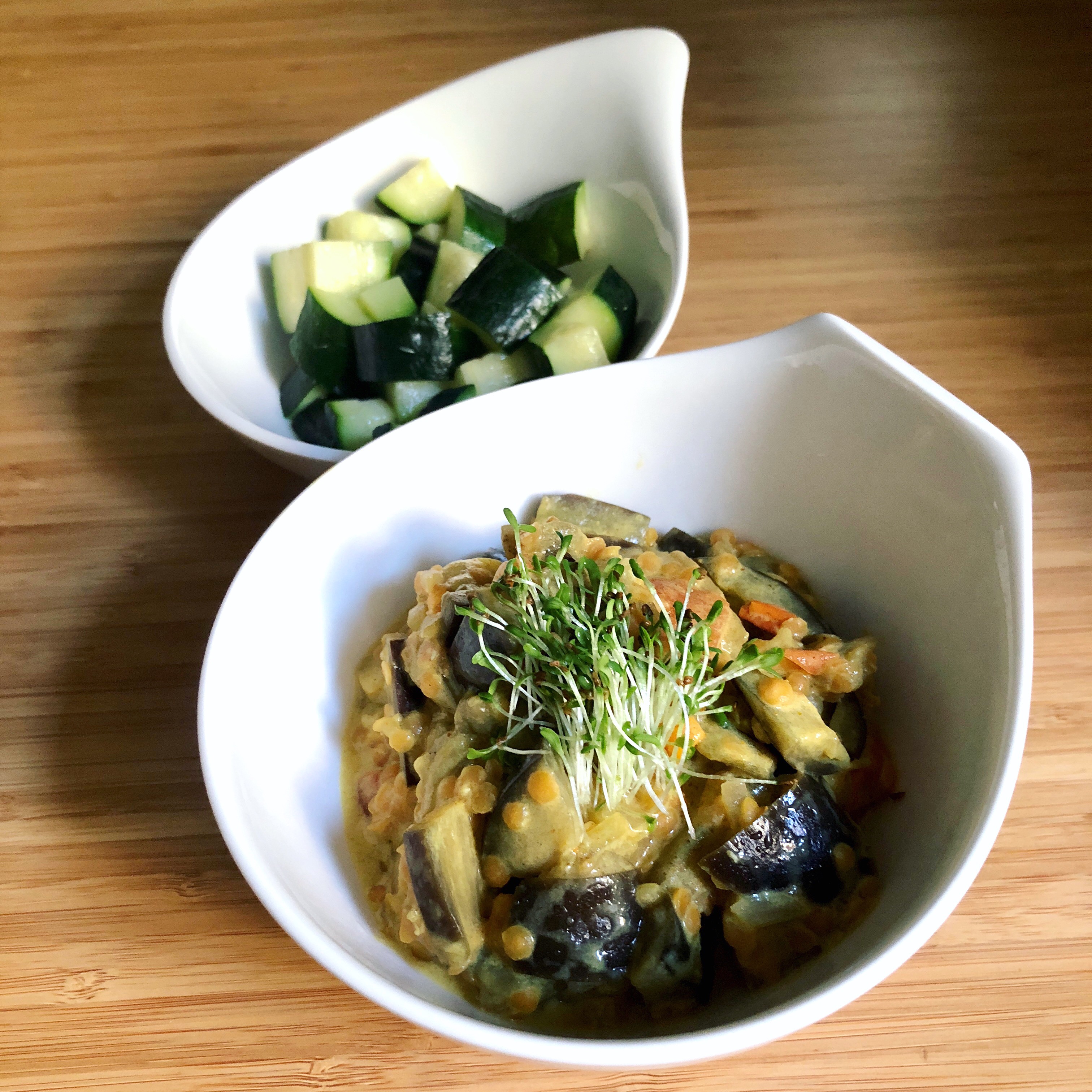 Dahl of Coral Lentils
For two servings and a little extra for lunch. You'll need a wok and a steamer to do the recipe.
An onion
2 tbsp. coconut oil
2 tomatoes
2 medium (or one large) eggplant
2 zucchini
1/2 cup of red lentils
2 tsp. ground turmeric
3 tsp. curry powder
A clove of garlic (and a garlic press)
1 teaspoon ground vegetable broth (or 1/2 cube)
A small brick of coconut milk (about a cup)
A nice handful of cashews previously roasted for a few seconds in a very hot pan
Two handfuls of germinated seeds for the topping (here I choose alfalfa, but you do what you want!)
Salt, Madagascar pepper
RECIPE
Soak the red lentils in a large bowl of water for about one hour beforehand, then rinse them with clear water for a few seconds. Then put them in a saucepan with a large volume of boiling water and cook them for a maximum of 5 min. They must remain al dente. Set aside.
In your steamer basket, place the eggplants previously cut into small dice and cook them for 5 min.
Once the eggplants are cooked, empty the basket, set them aside, and then cook the zucchini previously cut into medium-sized dice for 4 min.
Set aside the zucchini, try to keep them warm, they must remain al dente, 4 min in gentle steam is more than enough.
Thinly slice the onion, sauté it for 5 to 7 minutes in a wok with coconut oil on medium-high heat. Cut the tomatoes into small cubes, add them to the onions, and continue cooking for about 5 more minutes. Add the eggplants, continue cooking for 5 minutes then add the coconut milk, turmeric, curry, vegetable broth, coral lentils, cashews, salt, and pepper, just wait 2 min, stir and turn off the heat.
Add the squeezed garlic clove once the heat is turned off under the wok. Stir well, gently.
PRESENTATION
In a bowl, pour a few spoons of dal, and put the zucchini in another bowl next to it.
Add a handful of sprouted seeds topping over the dal.
Usually, I serve this meal with a cute plate of raw vegetables as well. For this recipe, the cucumbers are pretty cool!
A word from the cook …
If this is your first time eating al dente eggplant, it will be weird at first but you will quickly discover it is very good. In any case, none of my friends has ever vomited anything after eating at my house, lol … and they are still alive. All of them. I promise.
Joking aside (yes, sometimes it happens here) the least you cook your vegetables and the more you keep the vitamins, that's why vegetables are always cooked al dente on this blog. I want you to be on top of sexiness, beautiful skin, energy, and immune system.
Filling up our stomach is good; if it is smartly, it is better, and if it's good and smart, then it's paradise for body, heart, and soul! 😉
XO 🥒