Hello, young Padawan
Golden leaves, days that are shorting faster and faster, colchicum in the meadows, … no doubt, we are in autumn. All that's missing is a nice seasonal dinner, comforting, gourmet, which warms up the bones, and we will be on top.
Would you like to know the recipe for the best autumnal soup in the world? Well, it is in all modesty that you will find it below. Thank god, it's not the watermelon season anymore, lol.
Chestnuts
Fruit of the chestnut tree (waw, we learn some crazy stuff here! ed), they are a good source of minerals such as magnesium, potassium, iron, and phosphorus. And in what the good minerals help you for? We talked about it not long ago … repeat after me: "It's good for the mood"!
Their low glycemic index makes them a panacea for diabetics, but also for athletes because they contain all the amino acids necessary for the body to transform them into 5 g of protein per 100 g. In addition, some athletes will appreciate them, just like bananas, for their low sodium and high potassium content to help them restore their potassium-sodium balance.
Without cholesterol, they provide omega 6 and omega 3 fatty acids in good proportion to take care of your cardiovascular health.
Chestnuts have diuretic properties and take care of transit thanks to the fibers they contain. Finally, in case you were in doubt: chestnuts are gluten-free, of course.
BUTTERNUT VELVETY SOUP, WITH CHESTNUTS
For four servings
A small organic butternut squash (between 1.5 – 2 pound)
1/2 small jar of chestnuts (mine is half a pound). Keep 8 for decoration.
1 + 1/4 cup of water
1/2 + 1/3 cup of unsweetened organic oat milk
1 tsp of nutmeg
8 hazelnuts, for decoration
Salt, Madagascar pepper
RECIPE
Coarsely crush the hazelnuts on a cutting board, using a large chef's type of knife. In a hot pan over medium-high heat, place the crushed hazelnuts, brown them for a few seconds without ever stopping stirring, turn off the heat when they have just started to brown taking on a honey-yellow color on the white sides (indeed, they will continue to take color with the heat of the pan, ed). Put in a separate container for decoration, when their color suits you.
If you have a soup maker: Put all the ingredients in it (except the chestnuts and the roasted hazelnuts), meaning the squash emptied and cut into small cubes, the liquids, and the spices. Cook at 212°F (boiling point) for 15 min. Add the chestnuts (minus the ones for the decoration), mix for 30 seconds or a little more, depending on the power of your device, and we meet for the rest of the recipe.
For the others: Cut the squash in half without peeling it. Empty the inside and remove the peduncle (no, that's not a rude word, check it out on google, lol). Cut the whole squash into small cubes, with the skin on, and place them in a saucepan with the water, oat milk and spices (nutmeg, salt, pepper). Cook the whole, counting 15 min from the boiling point, covered, over medium-low heat.
Add the chestnuts (minus the ones for the decoration), and mix the soup using a blender or a food processor, being careful not to burn yourself.
PRESENTATION
Pour a few spoons of this wonderful soup in your most beautiful soup plates or your cutest bowls.
Crumble two chestnuts per bowl, and sprinkle with roasted hazelnut pieces. Serve without further delay for guaranteed success.
This recipe is pure happiness, I don't even know why I didn't share it with you before, it's now done. You just have to put your feet under the table dear padawan, the soup is ready, and you will enjoy it!
XO 🌰 🎃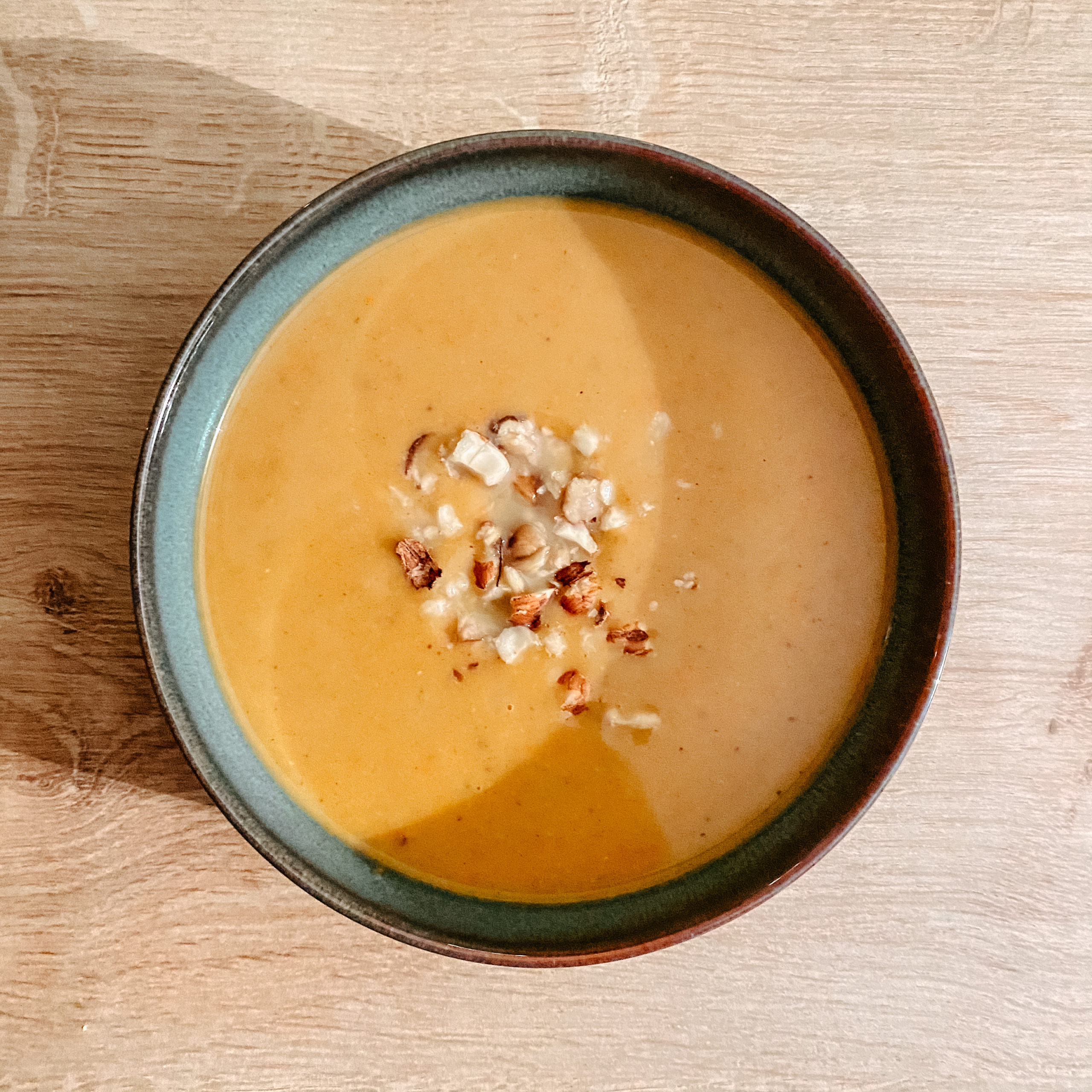 Chef Caro's delicious soup!