"We are all stars, we just need to learn to shine"
Marilyn Monroe.
Hello, young Padawan
Without transition, and in a blind mode on this far too gloomy world to be interested in it for more than two minutes a day, let's talk about futility, let's talk about light, let's talk about the glow.
When your cute summer tan wears off or when you realize the days get shorter, you need a little comfort, and above all, you feel the need to have skin that seems to look much better than your mood. And for a good reason: it is by pretending outside that we realize that inside, things are already getting better.
For this, there is a professional trick that has fortunately been democratized for 10-15 years: highlighters.
Highlighter
It can be a liquid, a powder, or a cream containing pearlescent and/or glitters of different colors, in different quantities to reproduce or accentuate the natural reflection or artificial light on a skin full of hydration, glowing, and health. Yep, what a dream skin, but that was before having the youngest one who does not sleep at night, lol.
We apply them to the face's high points or where we like the most to emphasize and highlight. It can also be applied all over the face, in tiny amounts for dry skin or dull complexions that lack light. We can either use them on bare skin as part of a no-makeup-makeup, on the top of the cheekbones only, for example, or after the foundation or the tinted cream in light touches on the forehead, the cheekbones, the bridge of the nose, the cupid's bow, the browbone, and/or the eyelids, to recreate the natural glow of a 20-year-old skin on a face that no longer is.
They can also reveal the elegance of a collarbone or a shoulder, a tibia, a knee, or an ankle, for example. Whether on the face or body, the highlighter knows how to makes you glow.
The result is stunning. You can remove the tired or the gray appearance of a face, bring a glow to a suffering skin after some medication, for example, and artificially recreate the light of a healthy complexion because that is also makeup.
I had the opportunity to make up people suffering in their bodies or their heads, and seeing them discover a radiant face is priceless: the soul lights up, hope is reborn. When we broach the makeup subject, I often hear about ego, beauty obssessed by mirrors, in short, a rather negative image, while it is often a question of a touch of pink on the cheeks to hide a sleepless night, or red lipstick to forget some tears. Let us never forget that some of us are far from self-centered delirium and that these self-care sessions are vital for them to maintain dignity as human beings or the connection with their bodies. Hiding your illness from others when it is visible allows you to take a break in this thousand-eyed society, where breaking out of conformity is a ticket to judgment and social disapproval. A breath of fresh air to feel worthy, liberated. And the highlight technique is a real magic wand when you know learn to use it.
It is also the great artists trick so that under the spotlights, the light can capture the high points of their face, reveal their expressions and thus immerse you into the intrigue of the play, the musical, or in the emotion of the flagship song of the long-awaited concert (we are still waiting, and it's not for tomorrow. Oh damn, ed).
To master the art of highlight, there aren't thousands of solutions: you have to either use one of your champagne eyeshadows, for example, or invest in a cheap highlighter to start and see if you like it. You can also take one of your sheer glosses and try to place it on your face on the light reflecting areas, it is a little old school and sticky, but it works well. Delete and start again until you find the look that suits you. Finger, brush, or a sponge, it's up to you to find your best tool, depending on the product and your preferences. There are billions of tutorial videos on youtube, so I'll let you type "highlighter tutorial" to see the "how to do," but honestly, it's not rocket science. I recommend cream products to beginners if they do not use foundation or powder products if they use one.
The illuminators are also available in several colors. From champagne to gold, from bronze to pink, it all depends on your skin tone, your tastes, and your artistic desires, since there are also green or purple luminizers. Now it's time for products.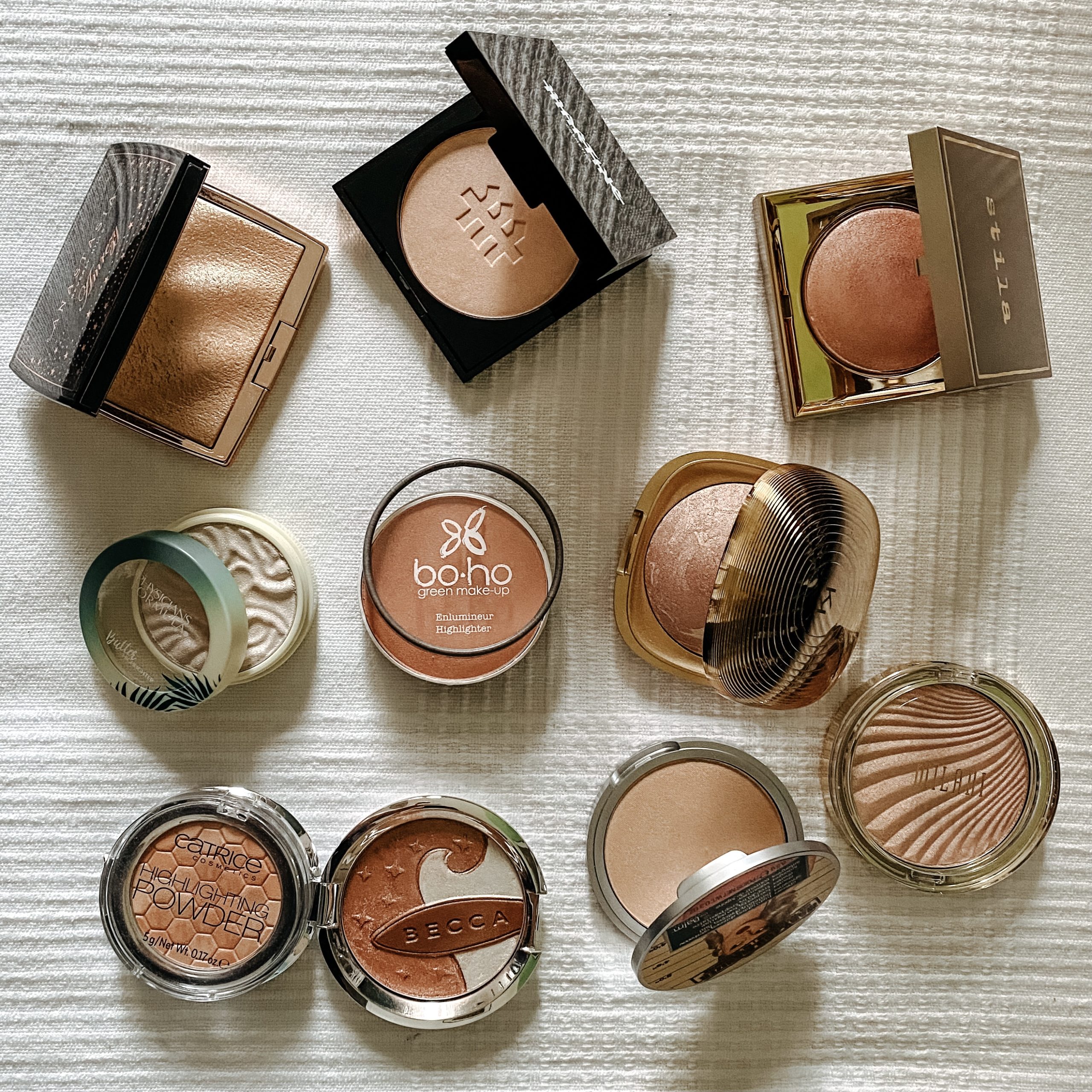 Powder highlighter
They are the most famous and the first to have been used by professional makeup artists since they originally used eye shadows to highlight Hollywood's faces. Before that, they were using some vaseline, which glows brings the necessary light on faces for the camera; do we count it or not?
For highlighter with micro-glitter or glitter: They can mark wrinkles, fine lines, dryness, pimples, skin texture … if that's not what you want, be careful.
For a natural look, I have three :
Catrice highlighting powder, a champagne with a very light glow, in the shade 020 champagne campaign.
Bo.ho green makeup illuminator, a very natural rosé, in the shade 02 spring glow.
Milani strobelight, a champagne with a mini hint of pink, in the shade 01 afterglow
For a slightly brighter effect :
The balm, the Mary-loumanizer. A slightly yellow champagne, with a beautiful light.
Martine cosmetics, Elizabeth, a colder champagne, with some micro-glitter.
Kiko Ocean feel, shade 02 golden rose, as its name suggests: a rosé champagne not too yellow, just perfect.
Stila, Heaven's hue highlighter in the shade Kitten. A magnificent rosé-beige highlighter:
Anastasia Beverly hills, Amrezy: a beautiful golden wet skin effect. Perfect for the skin of a Greek goddess or a Greek god, Zeus or Athena, you make your choice.
A touch of fantasy :
Physician Formula, butter highlighter in pearl shade. It is the daily highlighter of the Snow Queen. A very white champagne, a kind of luminous off-white, perfect for fair skin (be careful with darker skin or with olive undertones: it will look gray, ed). It's the little round white thing with a green cap in the photo.
Becca: The kings of highlighter. I have an Australian limited edition that was brought to me. The one with the pink wave and the brown surfboard. It is a magnificent multi-reflection highlighter. There is a pink part, a bronze part, and a white part with slightly glittery blue reflections. All the colors together give a kind of tanned shimmer gold with a light white/pink/champagne/bronze tone and a few mini-glitters: For a tanned surfer skin effect that comes out of the water. Just stunning.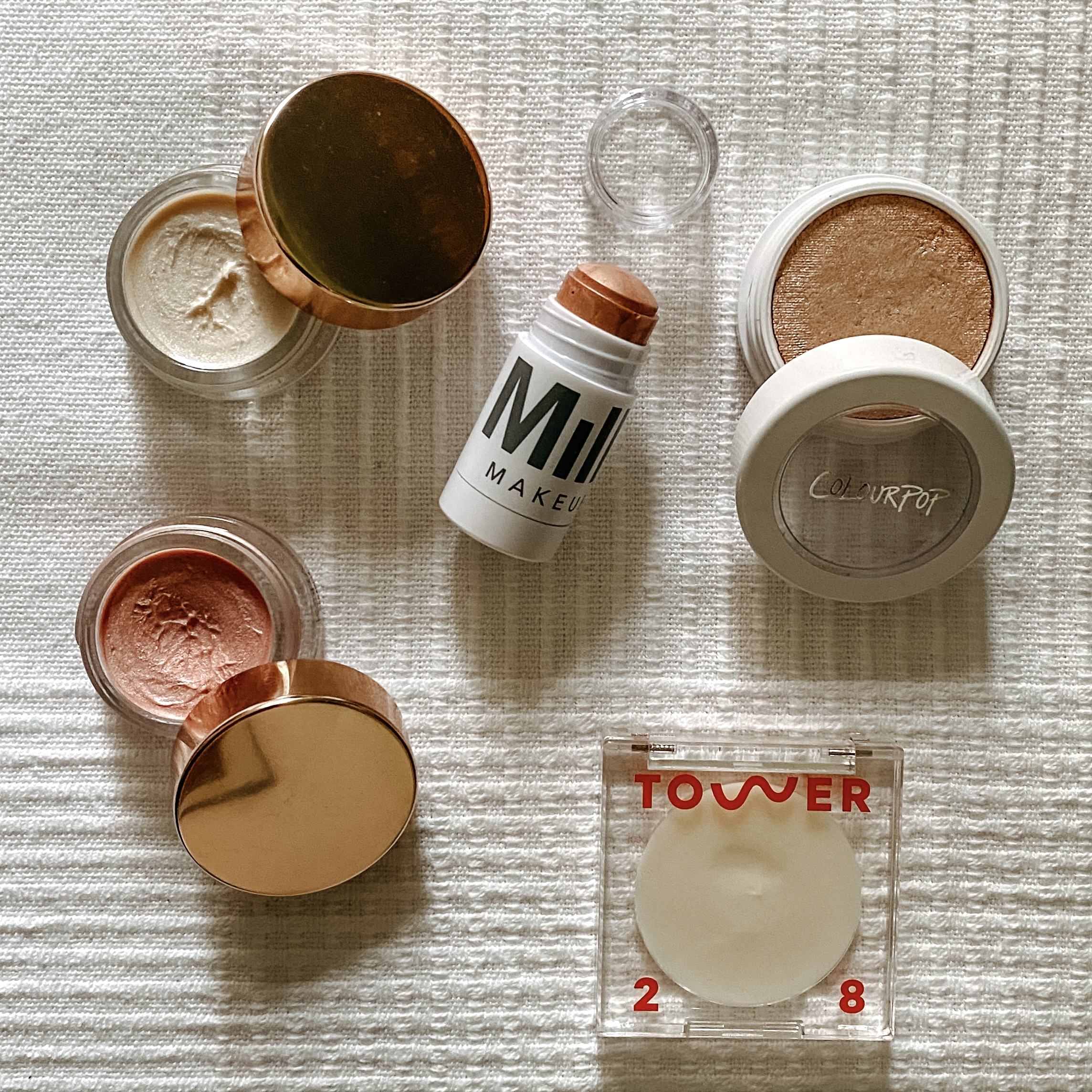 Cream highlighters
They are the easiest to apply if you don't use foundation; you'll just need a lil'more practice if you do. You take them with your fingers, two or three taps on the face, and done. I love these things. Even on bare skin, they bring a beautiful light. Dull skin becomes radiant in a single gesture.
Tower 28 – Superdew no shade. We were talking about vaseline; we are not far from it. It is a greasy but moisturizing product that provides a wet or just luminous finish depending on the amount used. No missteps with that one, at worst people will think you sweated a little too much on your cheekbones, lol.
Milk makeup – Lit. A champagne stick that tends very slightly towards bronze, to be used for a beautiful sun effect.
Kora Organics luminizer: My favorites. Two beautiful luminous creams with a very natural effect if you have a light hand. I have the rose quartz shade that will suit everyone and the white shade, which will look gray on darker skin. These products are also moisturizers infused with noni oil.
Color pop – Flexitarian. It's a cold champagne, but be careful: it is heavy, but so beautiful. There are some glitters in it, FYI.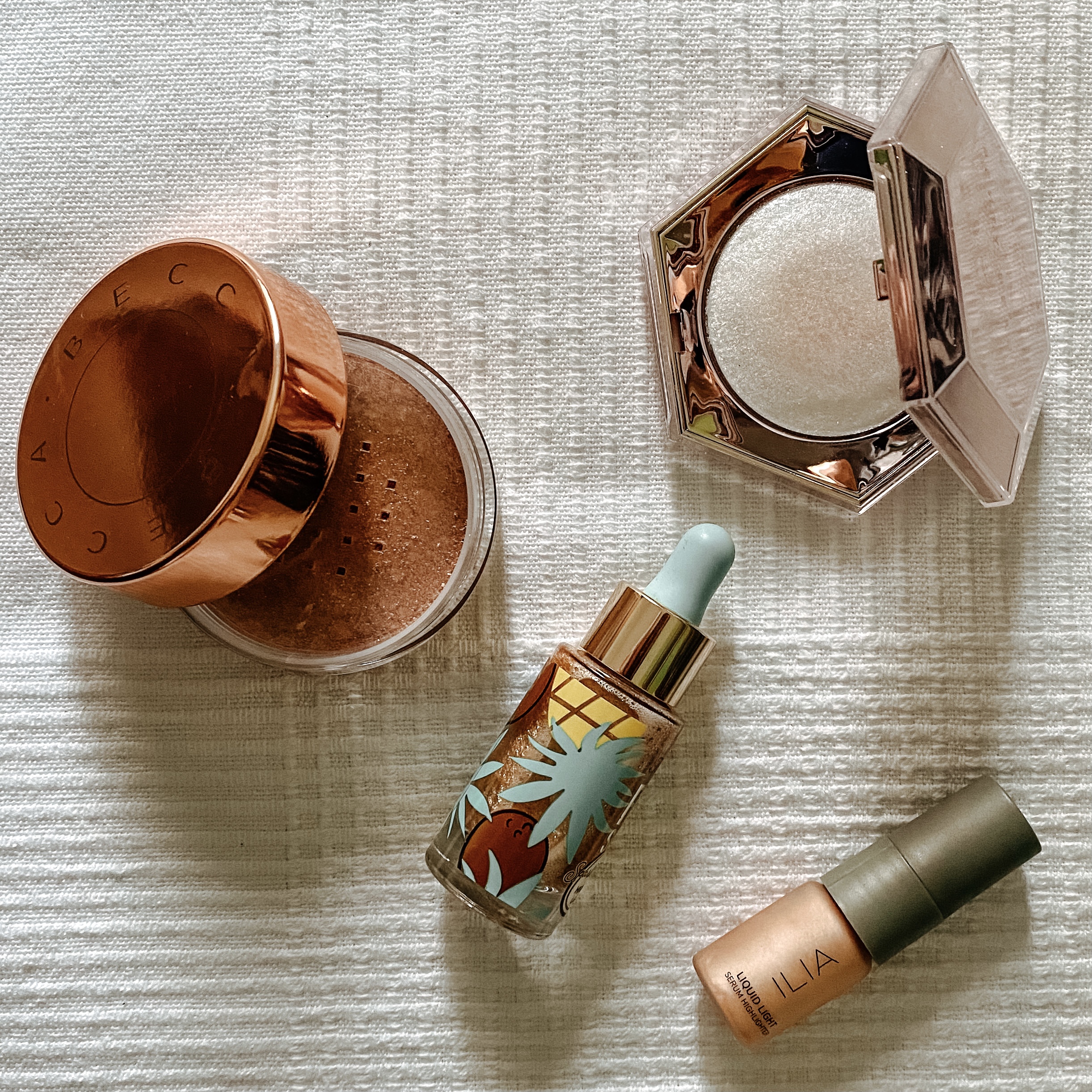 UFO products
Liquids, loose powders, little jewels for a party, here we are, and you are not ready.
You can use all the face products mentioned above for the body, but I don't really like using too much my pretty pans because I don't want to damage them. Yes, your faithful servant is a maniac. So I use either illuminating loose powders or liquid products for that:
Fresh Squeezed Golden Glitter Dry Oil – Too Faced. Sublime on decolleté or a shin … or even on the face, why not.
C-POP highlighter in loose powder format – Becca. Beautiful gold with some very fine glitter to highlight a collarbone, a shoulder, the top of a breast, a leg… even to roll your entire self in it, lol, it's only makeup after all, you do what you want. On the face too, it is so good.
Ilia – Liquid light serum in the shade Nova. It is a serum mixed with a highlighter, in a liquid version. A little pressure in your day cream, your primer, or your foundation to give you a healthy glow. In subtle touches patted on the cheekbones, mixed with your cream or liquid blush or bronzer, on the body, it is beautiful—pure light, no glitter, a beautiful warm champagne tone that will enhance all skin types.
Fenty beauty – How many carats ?! This is the snow queen version for the new year, lol. A glossy highlighter, stuffed with lots of glitters. To be used on the eyelids for the shy people, or on the cheekbones for the others … or everywhere ! It will be beautiful on your skin. There is also a bronze version for a magical effect on darker skin. You will glow to the moon and back with this beautiful thing!
Here we are, ready to shine in society… or at home, because after all, we do all this for ourselves, above all. You will be a true ray of sunshine in this world of brutes and madness and it will give you, and the others, a little warm in the heart.
XO ✨