"Freedom is an immense good, but one can only taste on condition of living".
Jules Verne – The survivors of the "Jonathan".
Hello, young Padawan
Well, this title was easy but so much in the theme!
To live here and now, to live in the moment.
Carpe diem also means enjoying everyday life, whether extraordinary or totally banal. Today, we will relax, sip a good tea, light a candle, and decorate the Christmas tree. Or not, you do what you want, whatever, here it's already done. Yes, last Sunday, I was seized with "acute sapinitis," which is an imperious need to put on my Christmas decorations against which I had been struggling for about a month. Indeed, since mid-October, I tell myself that it could be nice to have them on in the house, but it's too early, blah blah … so I waited and last Sunday, I relapse, lol. Do you have it, this irresistible need to want to put glittery garlands everywhere in this shitty world of 2020 – pleonasm?
Well, all that to tell you that at the moment, a bit of sparkling and frills are truly welcome while keeping in mind that I am neither a supermarket on legs, nor a psychopath, so not only I have always the same tastes, but in addition, I will tell you about things that you have already seen here and there in previous articles.
Now, time for winter lovers fantasy.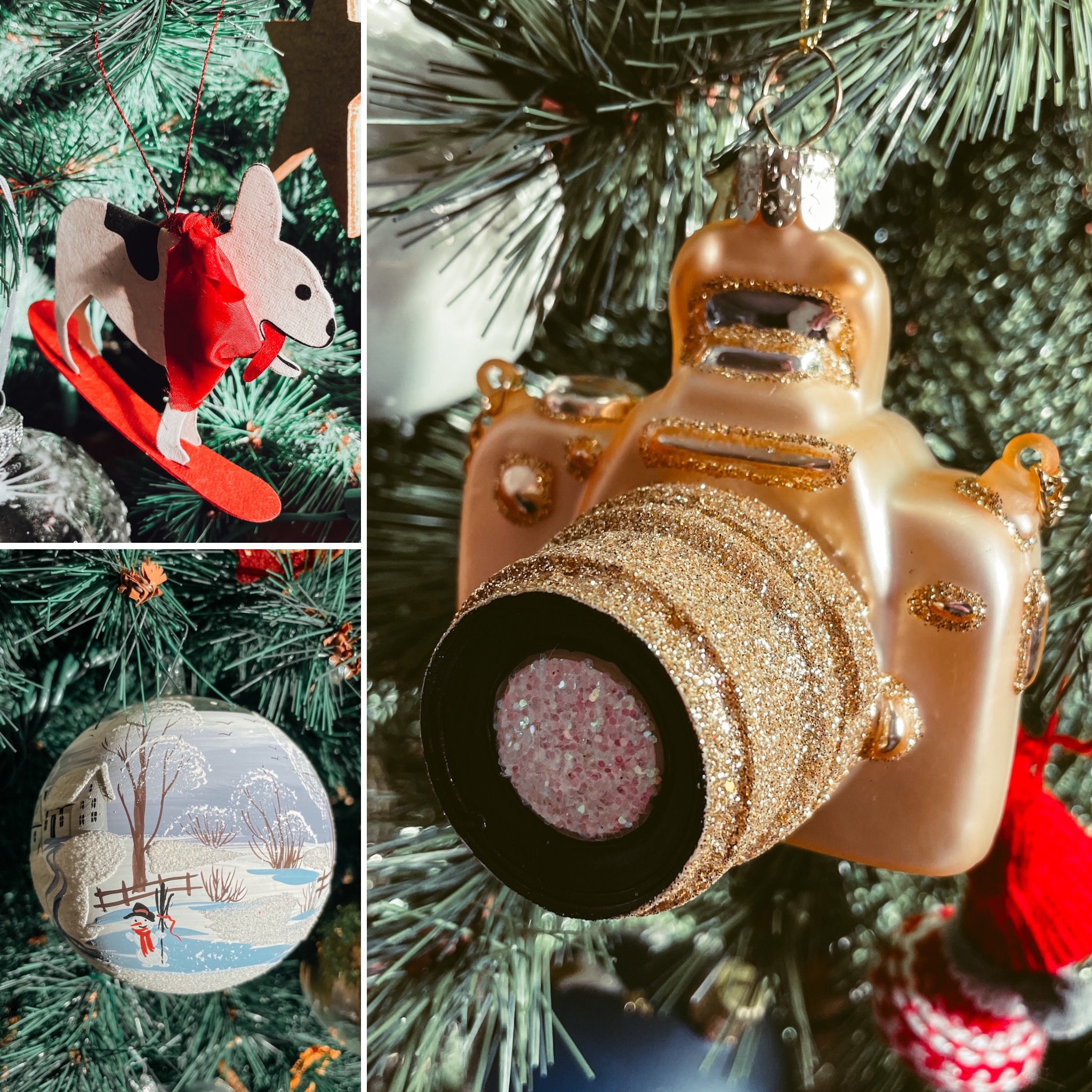 Winter is coming, and I love it!
– Let's start with the main course, lol. When you sit like me on the floor on your carpet with your cushions, or like a civilized human being on your sofa or on your armchair: you need a fucking blanket or a nice Throw. Mine is a pearl gray throw, very soft, not eco-friendly at all because it comes from Ikea at 10 bucks, but I have had it for so many years that Greta will not be mad at me. A good blanket, then. Whether it is in North Pacific goat butt hair or synthetic, the important thing is that it keeps you warm and that it is very soft … and lasts you a long time; otherwise, Greta will hide under your bed with a knife butcher (yes, I also love Halloween, ed).
– Nice slippers that keep your feet warm. For that, a great classic: the french "Charentaises" slippers, but real ones, those made with real wool. This is the second winter that I spend in those of "Le Slip français", which is a cute french brand, and believe me, they are super warm, pleasant and comfortable. Beautiful? These are "Charentaises" slippers, let's use this adjective wisely, lol. These are comfortable, durable, and warm without making you sweat, it's terrific, lol.
– Annick Goutal. You tell me winter, I tell you Annick Goutal, you scream Christmas, I shout "Une Forêt d'Or" (A forest of gold, ed). Those in the know are already nodding, but for you who may not aware: this candle smells exactly of the fir forest when you ski there in winter. Happiness.
And so, if your Christmas tree does not smell because it is a Nordmann or that like me, it is synthetic, … do you feel the big scam coming?! Yes absolutely, I have a house that smells like the beautiful winter pine forest of the Alps, while my tree is made of plastic. Unbelievable, lol.
So, to bring a bit of poetry to your interior, or a bit of show off to your tree that doesn't smell, this candle is a marvel. Yes, it is expensive, but know that a large candle of 300 g lasts for a very long time, and only lighting it in winter lasts me 2-3 years.
– Spiced pumpkin and Campfire from Pf candle. Spiced pumpkin, delicious scent of a cinnamon cookie, and Campfire, which takes you to a scout camp even if you've never been a scout, are for me two essentials for a joyful winter and good mood. One is cute and warm and the other makes you want to remake the world with your friends until 4 a.m.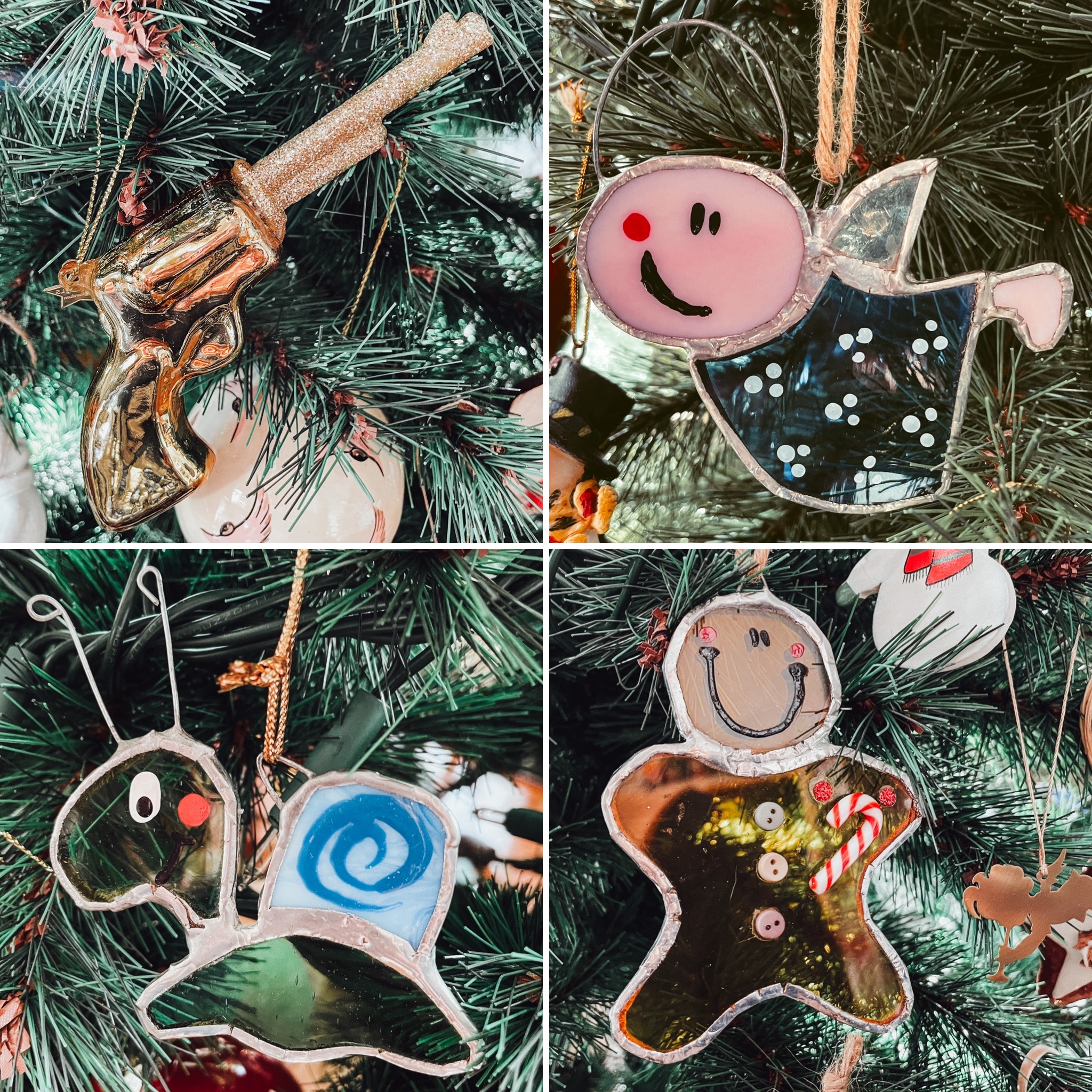 – Christmas ornaments from small traders. This is a subject that is of paramount importance today. I took some pictures of Christmas decorations from small artisans, from here and elsewhere, to give you an idea and especially to show you that it is super nice to have a beautifully unique Christmas tree while supporting local artisans.
– The gun and the camera come from a local store in Annecy, France. The others are souvenirs of handmade decorations from the Colmar Christmas market, in France too: A craftswoman who works stained glass in the form of cute little characters with an offbeat touch that I love, and a glassblower who then paints beautiful bucolic sceneries on his spheres (you saw, I didn't say balls, ed ). The cute snowboarding dog is from Birmingham, Michigan, USA. There is plenty of homemade ornaments on Etsy or in the local Christmas market of your city; I'm pretty sure of it.
– Tea Advent Calendar. Some have asked me for more info; here, they are. This (photo below) is this year's edition of the French brand "Mariage Frères" Advent Calendar. Each day: a wonderful tea to discover. Today, I had the "Tea on the Nile," a treat. Three advantages: the surprise, the discovery, and the joy of the small daily gift. If you are crazy about teas, I recommend that you treat yourself to some of those. I know that in Canada and the USA, the one from David's tea is pretty loved.
– Winter drinks. Besides the tea calendar, there is the carob we saw here, but, I recently made another discovery, and a beautiful one: the "Cocoa x Maca latte" from Purasana. It's a powder to mix with your vegan milk, or whatever milk you like. This gives you a wonderful comforting drink, sweet and slightly spicy (this powder contains a little cinnamon for info, ed). If you live in the UK, Canada, or in the USA, there is the one from Pukka, it looks the same, but I haven't tested yet.
– Oranges, mandarins, clementines. Because between the end of summer and the beginning of autumn, when it comes to fruits, apart from the grape, we go through a somewhat uninteresting period, so it's real happiness to find these little wonders of winter — the bare necessities #baloo.
– Christmas chocolates. Everyone has their own tastes; I leave you those with alcohol and those with mint, like after-eight, I take all the others, lol, with a preference for Mendiant chocolate. Do you know what it is? It is dark chocolate with oilseeds and dried fruits on it. Typical, Christmas, winter vibes, perfect!
– The winter shower gel. At Lush, "Roasting chestnuts on an open fire". Oat milk and chestnut puree, cinnamon, and a touch of cedarwood, a real treat.
– A nice hot bath. For example, I love Lush's ones, like the Butterbear or the Winter garden (cocoa butter, ylang-ylang), the Golden wonder (citrus fruits), the Deep sleep (lavender-neroli) or my favorite the Turmeric latte (Tonka, vanilla, coconut milk, turmeric).
– Winter movies. Some people like Christmas TV soap, I'm more of a movie. Here are my favorites, just to give you some ideas:
The whole "DieHard" series with Bruce Willis, especially the first three, are really and without hesitation the best Christmas movies of all time. I can't live a winter without watching them at least twice each.
"Harry Potter's". Whether you are from the generation or not, which is not my case because I was already an adult, these movies are really great to give you a smile. The atmosphere, the light, the characters, the story, everything. Especially Hagrid!
"The Holiday," "You've Got Mail," and "When Harry Met Sally." Three cute movies as we like them for holidays when it's all gray outside on a Sunday afternoon.
Cartoons, like Tom and Jerry, for those who love. Disney's "The Jungle Book," "My Neighbor Totoro" and "Princess Mononoke" by Hayao Miyazaki.
Tim Burton's, all of them. My favorite? "The Nightmare Before Christmas."
– Winter readings:
For all ages, if you read French (I don't know if these books are edited in English, ed): The series of the Malaussène's, by Daniel Pennac, starting with the first book, of course: "Au Bonheur des Ogres". If you want your teens to love reading (not younger, there are detective stories, without telling you too much … ed), try with those, success guaranteed. For the youngest, I recommend "The Tales of Broca Street: The Witch of Mouffetard Street" by Pierre Gripari (original title in French: « La sorcière de la rue Mouffetard et Autres Contes de la rue Broca », ed), it's THE book that made me love reading, I read "the pair of shoes" at least a hundred times, lol.
Good vintage detective story. Like Agatha Christie ("Murder on the Orient Express", "Death on the Nile", "The Murder of Roger Ackroyd", "The Secret of Chimneys" …), Sherlock Holmes with my favorite "The Hound of the Baskervilles", Mary H. Clark ("A Stranger is Watching", "Where Are the Children?", "A cry in the night", …)
There are also feel-good novels with messages like "The Alchemist", by Paulo Coelho, or even cookbooks to make yourself nice desserts.
– Beautiful walks. So you are going to tell me: "It all depends where you live, eh, and you, with your lakes and your mountains blah, blahhhh", lol. Yeah, you're not entirely wrong, but you're wrong anyway, lol.
No matter where you live, there are great discoveries to make, for all ages, alone, with friends, or with family. Walking along the Marne in France, the Detroit River or Anchor bay in the USA, in a park in the Creuse, Yvelines in France or Stony Creek in Michigan, a cute little town center, or a busy main street, everything is good for getting around. There's nothing like breathing the fresh winter air, which freezes your cheeks and invigorates your lungs.
With all that, I hope I have given you some inspiration to make you love the coming winter, my favorite season, or more modestly to have brought you some ideas so that this season seems to you a little shorter. Well, that's not all that, but I have some tea to discover from my calendar.
XO 🍵