« I love and admire everyone who is different. I like it. The "jet set" is boring. "Good taste" is commonplace. The eccentricity is chic. Good taste paralyzes. But punk or street fashion or tattooed body is interesting to me, and I love it».
Jean-Paul Gaultier.
Hello, young Padawan
Today we are going to talk about tattooing care, from A to Z. If you want to have beautiful tattoos, it's here, my dear Padawan.
A tattoo is like a short skirt. Only intolerant souls, with unfulfilled and meaningless lives, see it as a problem; because only those who have lacks in their existence judge others. It's funny to see that the one who points the finger to others is sometimes the same one who goes orgy in the worst sordid places, in the greatest discretion. "Look at your own behind", like my grandmother said (and I spare you a little because she said "ass", ed). Now that we have set the atmosphere like an elephant in a porcelain store, a little history.
The art of tattooing is a bit like makeup: it's anything but modern. If you wanted to be trendy, you missed it, because with a dolphin on your lower back you're closer to Neanderthal than to Kim Kardashian. It's like Cleopatra, do you know she's closer to the first iPhone than the last pyramids? We learn crazy things on this blog!
Indeed, tattooing is a practice attested in Eurasia since the Neolithic and the death of "Ötzi", the ice tattooed-man discovered frozen in the Italo-Austrian Alps, has been dated around 3100 BC.
Formerly from India ink, charcoal or tallow, today we are fortunate to have great sanitary inks over many decades, with beautiful renderings over time, but also new techniques like blacklight (UV tattoo). There is therefore something for all tastes, all technologies, all colors, the only limit is that of your imagination and that of your tattoo artist. (see Wikipedia, to get more info on the very interesting and millennial history of tattooing, ed).
A last little word before moving on to the article: it goes without saying that we do not get tattooed in the same sordid places as mentioned above; that once the artist has been chosen, we take care to see if his personality matches ours, that is to say, that even if he or she is the artist of your dreams if you feel uncomfortable, or if you cannot explain to him or her what you want, or if he or she does not understand you: you will not get what you want. We are talking about a work that will stay on your skin until your last breath, it is not a makeup that you can remove with water in the evening, so pay attention to communication.
Finally: if you do it at 20, think of your 40, 60, 80-year-old "you". Will you always assume this slightly childish drawing, these initials on your neckline, this big "FFS" on the scapula to make your friends laugh at college, this large portrait of your ex on your right ass cheek? , this "Brandon Forever"… what if it wasn't forever? What if you had to go out only with a "Brandon" until the end of your life? Do you see what I mean? I'm sure you do.
Finally, a quick disclaimer, take your tattoo artist's advice seriously. After all, they're the experts and have seen all their clients through the healing process. Different inks and needles will require different care, so if your artist contradicts anything you read here, listen to them. Now time for the article.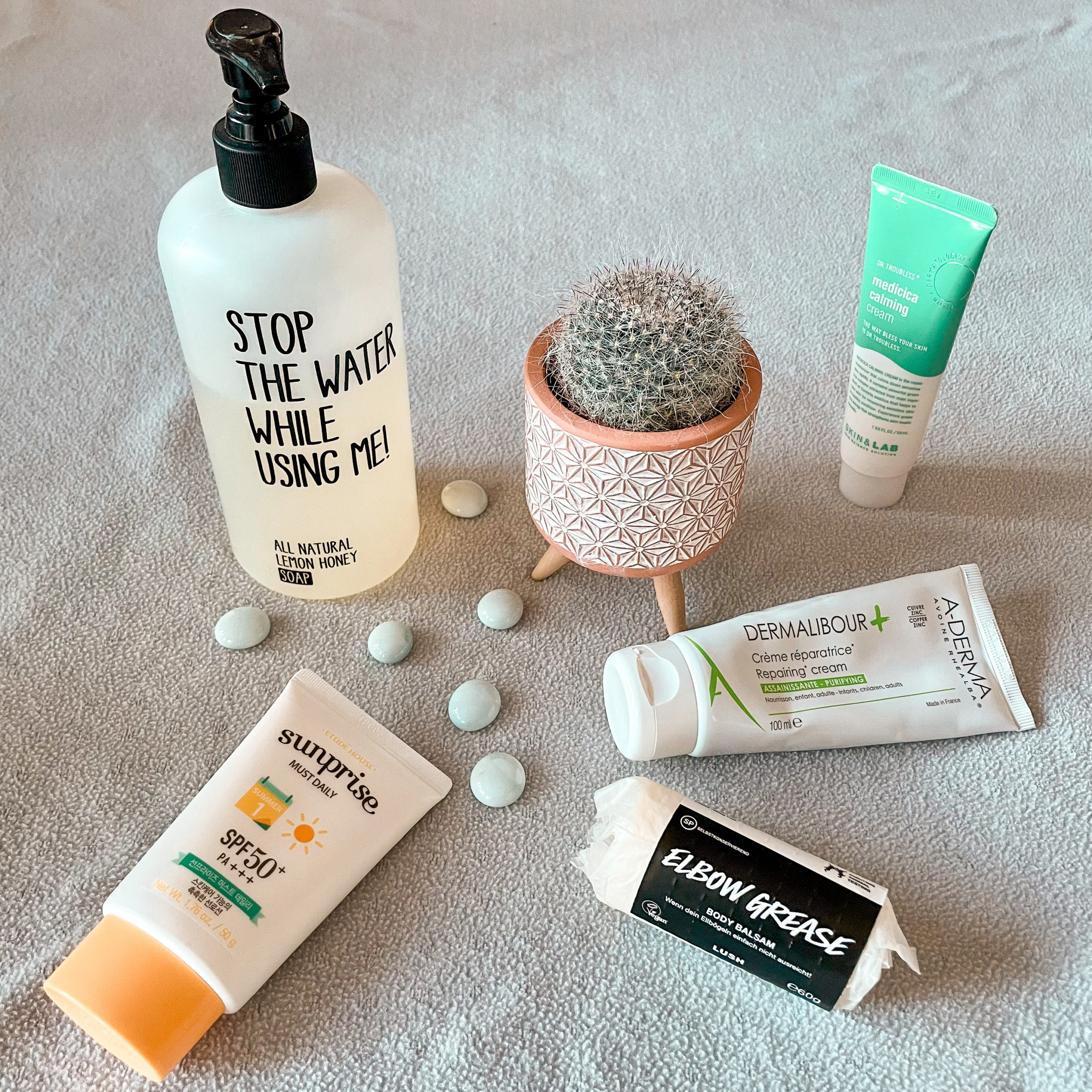 From two days before to two days after.
The fundamentals :
Two days before getting a tattoo, let's do a little scrub on the area, then hydrate correctly. It removes excess dead skin and will help with better healing. Why not the day before or the D-day? Because we do not show up with micro-damaged skin at our tattoo shop.
In terms of lifestyle, before and after: Eat well, neither too much, nor too much fat, nor too much sugar, no alcohol, no drugs, avoid the meds which thin the blood like aspirin, go to bed early, arrive healthy, clean, with healthy skin and a good mood. Clearly, you will have understood it: common sense.
On D-Day, your tattoo artist will apply a balm and a film on your new tattoo, he will tell you when to remove it, then you can leave it in the open air, no clothes on it, as much as possible. In the evening, it is time to take care of it, but not too much. The right dose.
– Rule number one: Let it in in the open air, as much as possible, because a tattoo is above all a lesion of the skin that has been scratched repeatedly, a sore. I know the old schools praised us for wrapping it in the film with some sort of healing cream, but, again, common sense: when you hurt yourself, you notice that your scarring is always more invisible and fast if you let your body do it and the sore is in the open air (we are not talking about a double fracture of the tibia here, but just a sore, ed). However, the tattoo wrapped in cellophane with healing cream for days has the disadvantage of blurring the edges and enlarging the features, I tested it myself on my first tattoos and I saw a real difference when I changed approach. Afterward, you do well as you want, each one his beliefs, his experience, his body, and first and foremost, listen to your tattoo artist.
– Rule number two: NO SUN. Neither during healing, nor after. If you want your tattoo to look great and keep beautiful colors for the rest of your life, it will be sun protection whenever there is no clothing to cover it.
-Rule number three: No beach, no bath, no sea water, no swimming pool … common sense !! Also avoid chemical perfumes if you are sensitive to them, and choose shower gels and moisturizers without perfume.
Care :
1 – The evening, a cleaning with a gentle cleanser. Either the usual gentle cleansing gel for your face, or a classic mild and neutral soap. As an example, because any soft foaming cleanser will do the trick: I use either the "Kora organics" cleansing gel (available in the USA at Sephora, in Europe at Net-à-porter …) or the mild honey-lemon soap from "Stop the water while using me" (at Ecco-verde, Zalando, or on their site directly).
Rinse well, pat dry with a clean, soft towel so as not to hurt the skin. (For sensitive skin: a generous Avene Thermal spring water spray, to soften the skin and remove any chlorine and/or lime residues before patting dry).
2 – A splash of antiseptic spray.
3 – Healing cream (I use A-Derma's Dermalibour cream, because it is cleansing but also soothing, thanks to the oats it contains – Otherwise you can also take the one offered by your tattoo artist, for example). If the skin is sensitive or dry: pat a thin layer of your body moisturizer before the healing cream (here Atlantic Kelp from Ren, or Hand balm Lemon Honey from Stop the water ..).
Try to leave it in the open air, no clothes on it as much as possible. Repeat this little ritual twice a day, then regularly during the day, apply a thin layer of cream, either the healing one or the moisturizing one, according to the needs of the skin, as often as necessary.
Usual questions concerning the first two days : Does it ooze a little? It's normal. Is there ink on the sheets or the pillow? It's normal. Is the skin a little warm and burn slightly? It's normal. Welcome to the sensitive skin club.
Your tattoo will gradually form a crust that will peel. The process will take about a week to ten days. The final result will take about 6 months. The black ink will turn into a magnificent gray-blue or gray-green, more or less dark, depending on the acidity of your skin and of your lifestyle.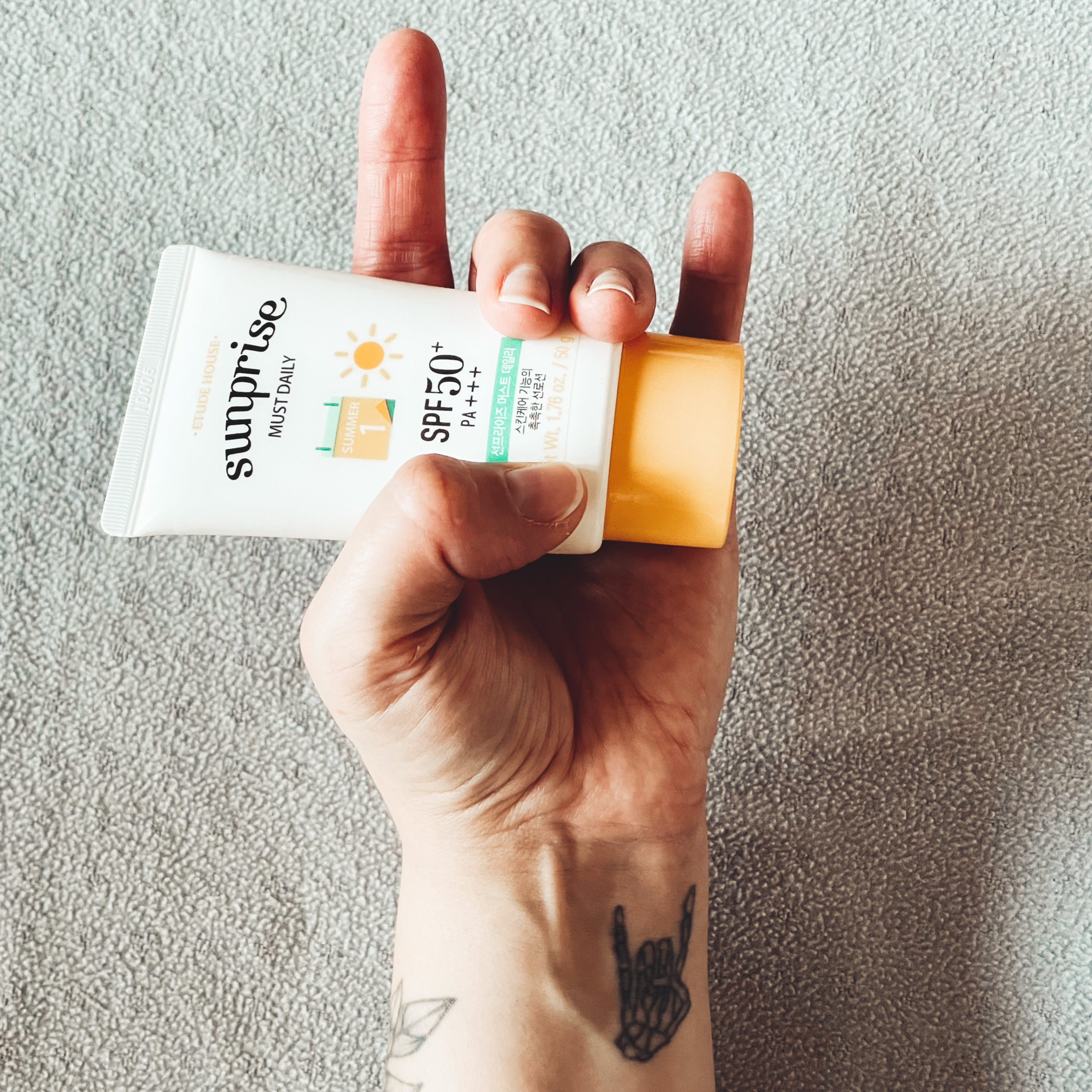 From day three, to the rest of your life
From day 3 your skin turns less red, more normal, is no longer hot, and a crust begins to form. Do not touch, scratch or anything, it goes without saying so I prefer to say it anyway. And if one day I happen to have slower healing: I will stick to the first ritual until the skin itself is at this stage, of course.
So from day 3, crusted tattoo, lol, I switch to only one cleansing a day, I stop the healing cream because the scab has formed (and these products are not moisturizing enough for my skin prone to dry, dehydrated and sensitive, ed), but I maximize on the hydration, and that's where it all plays out.
1 – In the morning, I cleanse, add an Avene water spray, gently pat dry with a clean towel, and then on still very damp skin:
2 – Hyaluronic acid. It is THE secret to a skin that recovers quickly, well, and beautiful. THE secret to keeping beautiful colors, recovering healthy skin, and lines that do not bleed. So I use a hyaluronic acid-based face serum on my crusted tattoo, lol, for that there are different options. The one that works the most, because it has a cellular repairing complex, but is also a bit (a lot) expensive (know that it is possible to have it at -25% at Sephora regularly, for example, ed), it's the ANR (advanced night repair) from Estee Lauder (the new formula released a few months ago is not tested on animals, FYI, ed). If you are looking for a cheaper solution, there is the Goku Jyun lotion from Hada Labo on the Yesstyle website (there is always the 5% reduction with the code CHILLBYCARO, ed), the Hyaluronic Booster serum from Paula's choice, the one from Evolve beauty, or that of The Ordinary.
3 – Then I moisturize immediately after the hyaluronic acid, without letting it dry, then throughout the day when I feel that the skin is tight. I'm still on REN (Atlantic Kelp) or Stop the Water .. (Lemon Honey hand cream) cream, as they both contain nourishing AND moisturizing agents. Any cream containing these two essentials will do.
If your skin is not as dry as mine, a centella asiatica gel-cream (repairing agent) may be suitable for you, for example the medicica calming cream from Skin & Lab on Yesstyle.
After 10 days and for the rest of your life, two little actions: After each shower, simple hydration of the tattoos, and if they are exposed to the sun (wait several months before exposing a tattoo): put on an SPF 50. The moisturizer and sunscreen of your choice will do. If you don't like the oily effect of sunscreens, you can try Etude House's Sunprise, on Yesstyle.
Golden rule: I don't want to repeat myself, but I will. Never expose a tattoo to the sun, at the risk of having real problems: Colors that tarnish, lines that thicken, blur, disappear in some places …
To bring a nice shiny effect that smells good to the skin, and all 100% natural, the Elbow grease by Lush is great, smells of orange blossom, but not available all year round, otherwise, they have plenty of beautiful natural and nourishing massage bars. It also brings suppleness and nutrition to dry skin.
There you go, if you don't have the most beautiful tattoos in the galaxy with all that, I eat my cap. And don't mess around, eh, especially with the sun.
And whatever we do with our life, let's remember that, tattooed or not tattooed, « we are all tattooed in our cradles with the beliefs of our tribe; the record may seem superficial, but it is indelible ». Oliver Wendell Holmes.
XO 🧴