« Perfume is the most intense form of memory »
Jean-Paul Guerlain.
Hello, young Padawan
We haven't talked about perfumes for a while around here. Month after month, I have finished some bottles and brought a few novelties, so I thought the arrival of sunny days was a good idea for a new post on this subject.
I always try to be in tune with the atmosphere of the season, depending on the light, the atmosphere, and the warmth it offers us, to propose fragrances that correspond to what we desire at the present moment. In May 2021, I proposed Neroli, bergamot and mimosa, a first article centered on my essentials in the spring-summer season, and in November 2021, I wrote Vanilla, banana and tonka, my little favorites for the cold season.
Let's go, for a selection of spring and summer notes, 2023 version.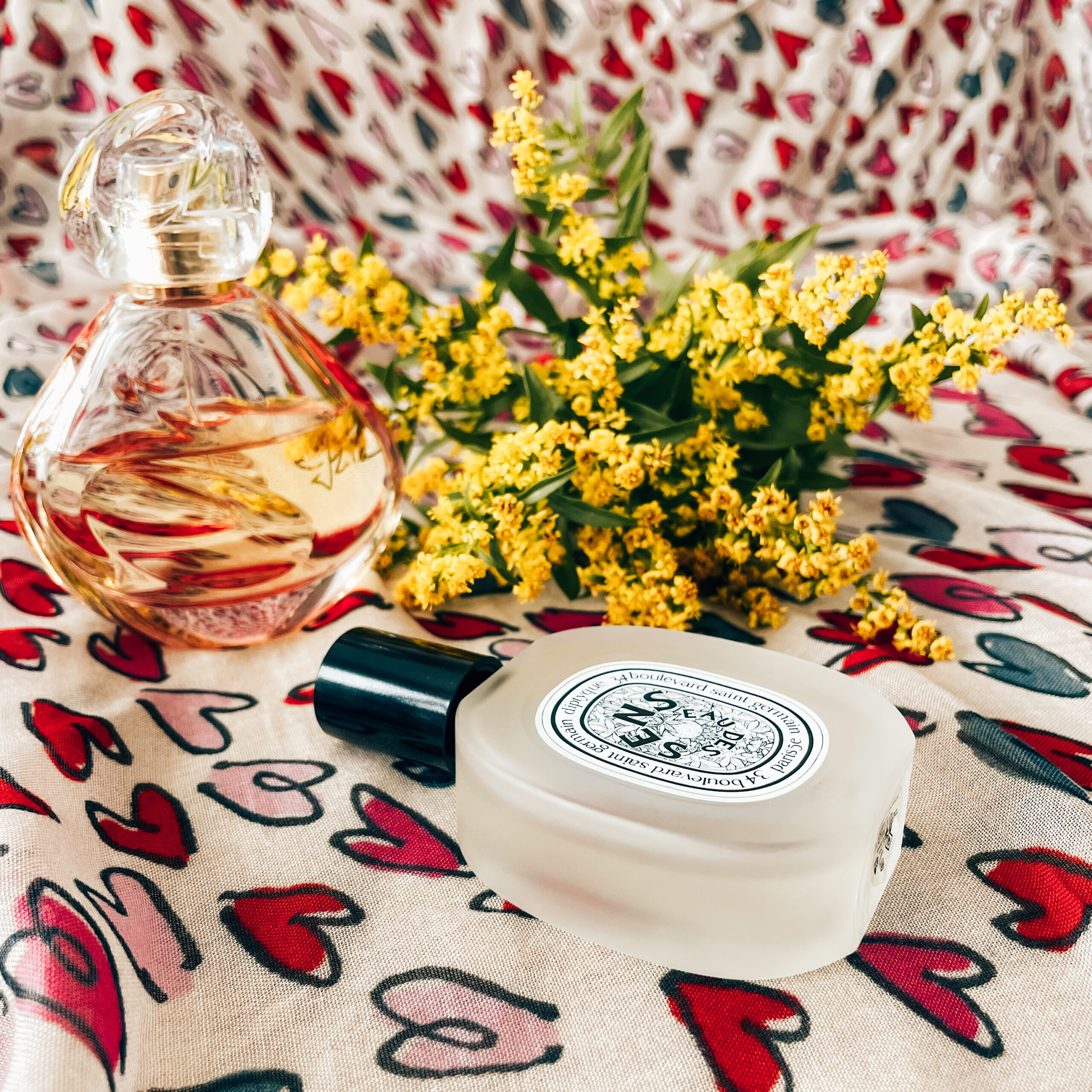 When you're a citrus lover, you stay that way!
You thought you could escape it. You're kidding, I hope! A citrus girl one day will always be a citrus lover.
I have made two great discoveries over the past two years, of which I am very proud since they are neither new nor confidential, lol. You missed my second degree, and here it is again.
The first from Sisley is supposed to be an ode to the rose of Ornano, the precious flower from Isabelle d'Ornano's Polish castle gardens, the designer of this perfume. And it bears her name, Izia (Isabelle nickname in Polish — with the Polish accent, it is pronounced « Ee-gee-ah », ed). I see your question. A perfume that smells of rose in the citrus category? Do not be shocked, oh purist of the scent, since the top note of this juice is indeed a white bergamot of the most present and captivating, for my greatest happiness, with a touch of pink pepper for the naughty side. The rose arrives, in the heart, to leave a note of cedar and amber at the end of the day. A wonderful fragrance that calls for the sun, for longer days, for little light dresses, but also for joy, youth, and dynamism. Remarkable.
The second is Eau des Sens, by Diptyque. This perfume is definitely sensual citrus for me, very feminine, even if I have smelled it several times on gentlemen. Everyone has their tastes, the magic of scents. The very slightly present patchouli, at least on my skin, allows the marvelous orange blossom to hold like a perfume (and not a cologne), that is to say, to last over time, in contrast to a cologne that is forgotten after a few hours on the skin. With angelica and juniper berry, it brings a sensual whole without ever being heavy. Perhaps this is what these gentlemen like. In any case, here I am, won over by this subtle juice, fresh, delicate, and sensual at will.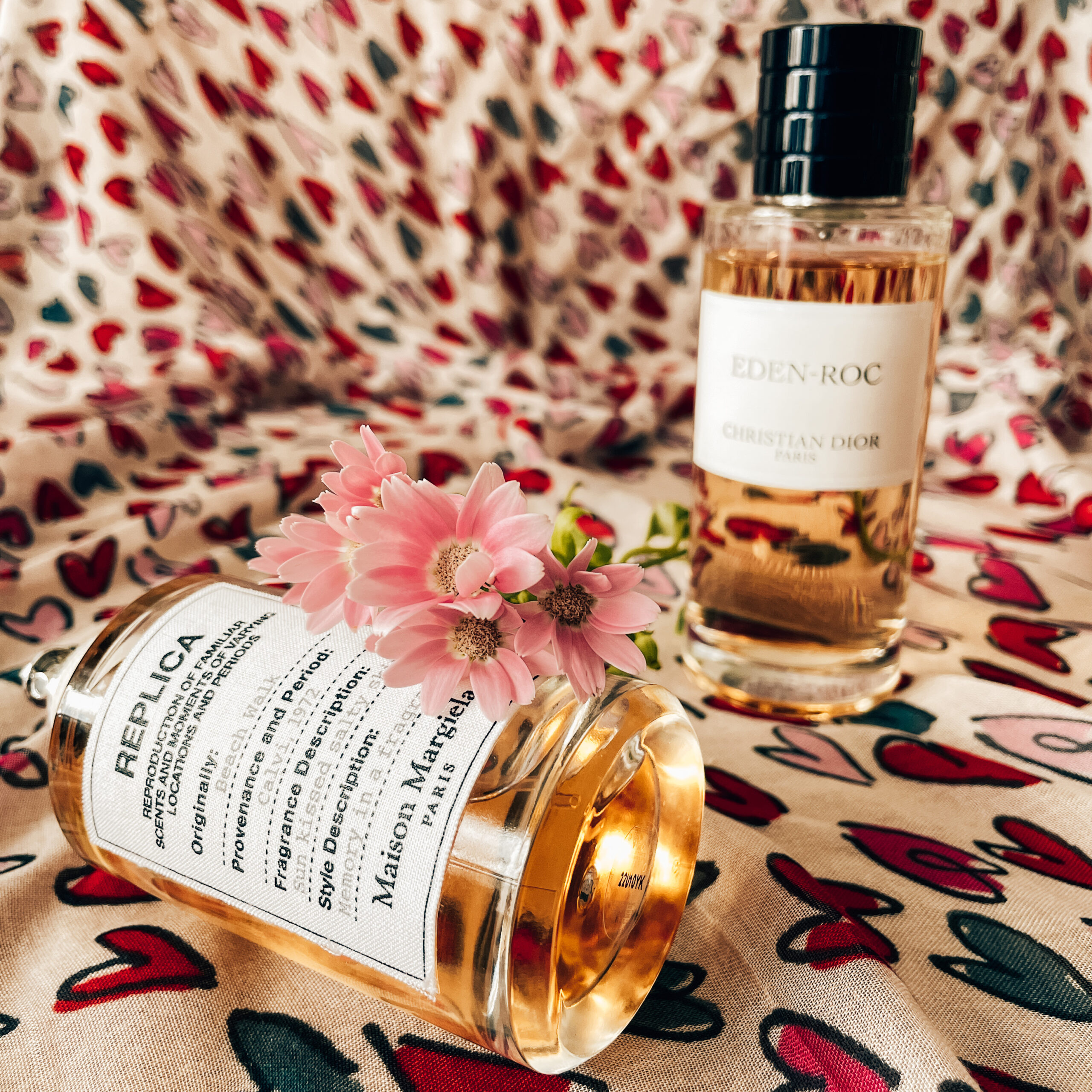 The scent of holidays, all in finesse and voluptuousness.
I also have two-holiday scents to offer you. Besides, it would be fun to smell them and tell me what beach you were on, what trees, what sea, and what kind of sand. Since I challenge you to imagine anything other than a summer vacation with these two juices.
First, we are going to Antibes, to the Hôtel du Cap Eden Roc, the name of this perfume, with the house of Dior and its designer, Mr. François Demachy. Even if we don't know this establishment, which is my case, I immediately smelled the Côte d'Azur, and I even thought of Cannes and the Lérins islands in particular, where I went once with my family a long time ago. Antibes is between Cannes and Cagnes-sur-Mer, and after that, there is Nice – a very special atmosphere in this geographical area, especially in summer.
This perfume, woody floral with central notes of white flowers with a hint of salt, reminds us that we are by the sea, even if only in thought. Smell this perfume, and it will make you travel from ever you are to the beach of your dreams in three seconds. And then, if you think perfumes are expensive, smelling Eden Roc will always cost you less than one night at this hotel, lol.
The second holiday fragrance, in the same atmosphere, is Beach Walk from the Replica collection by Margiela. For those who are unfamiliar with the Replica collection from Margiela, it is a range of perfumes that claim to evoke memories. A smell, an atmosphere, a memory, in Proust's madeleine mode, so to speak. And it's pretty successful. Apart from this bottle, I have a few samples that I had fun smelling before looking at their name or description, and each time my idea relatively corresponded to the proposed atmosphere. This line is superbly crafted, and this fragrance in particular is one of their biggest hits.
With this juice, we go to Calvi, in 1972. It's precise, and I was not born, but I must admit that the first time I smelled this fragrance, I imagined myself on vacation in the summer, and saw Sicily. Well, we weren't that far off. A divine scent that really tends towards the bewitching white flower of the natural beaches of Corsica (or Sicily! ed). For the notes, we start, as on Izia, with bergamot and pink pepper, with a touch of lemon. This top note does not stay but takes you on a ylang-ylang and coconut heart, to finish on cedar woods and white musks for the round, sensual side.
An authentic summer fragrance, whether you're going on vacation to Corsica, Sicily, or staying home.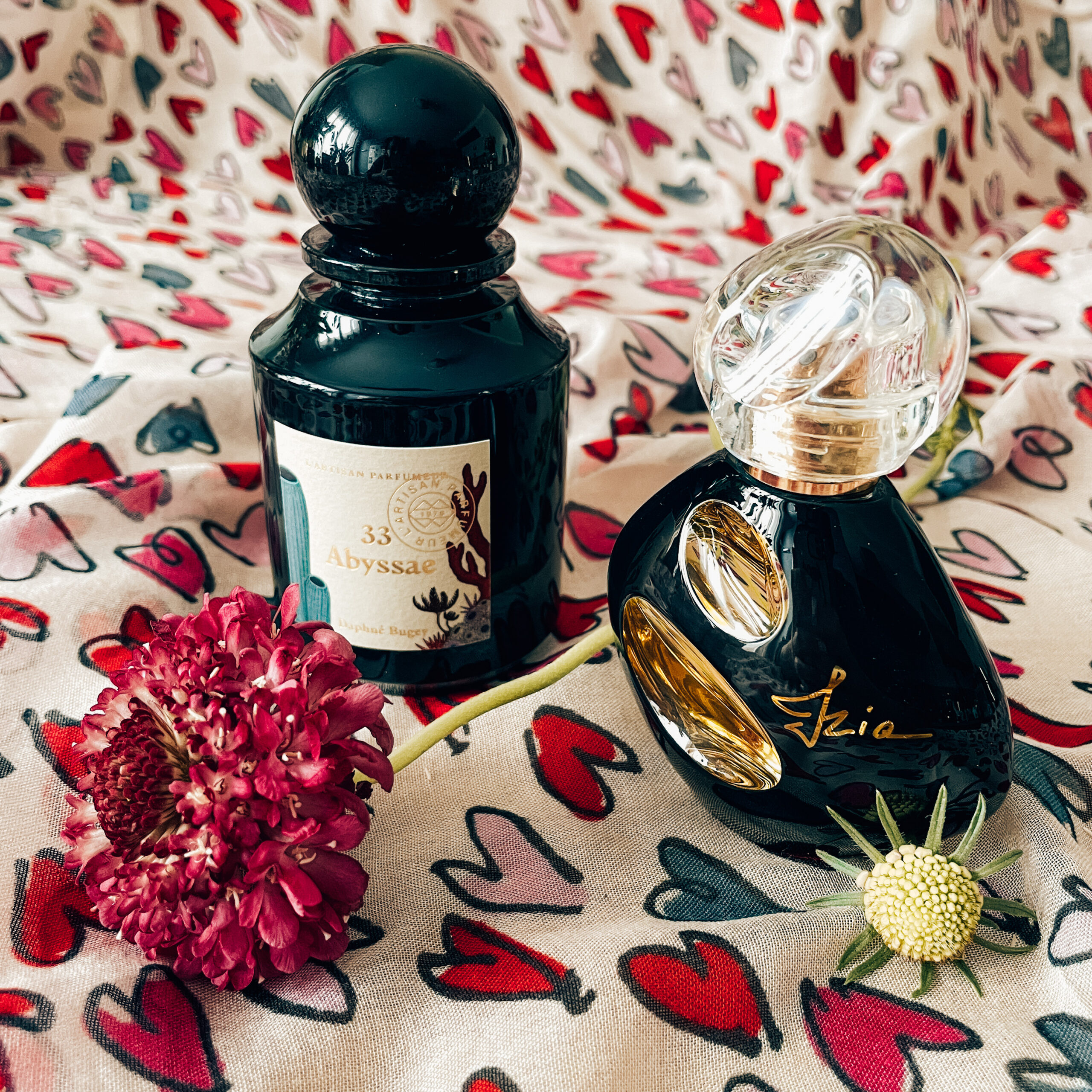 And for the night?
For the evening, I have two finds. One entirely in the theme of sunny days and holidays, and another proposal that I would describe as incredible, unexpected, but so well worked that I wanted to share this crush with you.
The first find for a romantic evening or with friends is Izia, la nuit (meaning at night, ed). Yes, the evening version of the first juice is presented above. We start with a woody and chypre floral, captivating, almost femme fatale, but very easy to assume. It leaves neither endless trails of perfume nor headaches. This very delicate fragrance begins with a blackcurrant, mandarin, and cardamom trio to take you after just a few minutes to an Ornano rose, Freesia, and magnolia, magical. And at the end of the evening, it will bring you the charm and sensuality of vanilla with a hint of patchouli. If you're going to try this perfume, please wait for it to evolve on your skin, let's say, 10-15 minutes before judging it, because it leaves itself to be desired and only reveals its splendor at this price. And dare to tell me you are not in love with this juice.
The last one is a surprise, and believe me, it was just as much for me. Eucalyptus, damask rose, cashmere wood, or "cashmeran", for the purists. A summer morning when it's already too hot, and you decide to air-condition your sense of smell to bring you peace and softness, it's a bit of the spirit, lol.
L'artisan Parfumeur has released a dreamlike collection of seven perfumes with a unique imprint. Daphné Bugey, one of l'Artisan Parfumeur's designers, released an incredible juice, a divine sent, called Abyssae. Abyssae is a botanical fragrance revealing the secrets of nature that awakens at dusk. The freshness and soothing side of eucalyptus melt with the sensuality of rose and the woodiness of cashmeran to bring softness and magic.
Why would this juice be an evening perfume for me? Because I find that it is even better at nightfall. Abyssae reminds me of an early morning, of course, but also of twilight between mysterious darkness, a need for freshness on a too-heavy summer night, a craving for calm before sleep, and a pinch of woody rose sent for a midnight bath. This perfume is anything but expected; it will always surprise you, even when you have already emptied half of the bottle, since after each evening follow one another, but they never are alike.
So much for the spring-summer 2023 selection, I hope I have made you want to go and smell all these wonders, and above all that, they will evolve on you in the most delicious way.
As for me, I wish you a lovely weekend and see you next Friday for a new part of our red thread file on sugar.
XO 🌹