"A woman's perfume says more about her than her handwriting"
Christian Dior.
Hello, young Padawan
As promised, here is volume 2 of this mini-series on perfumes, namely my selection for fall and winter. I am one of those who tend to have a hard time when a "scent" turns into an "odor". The big perfume headache, you know what I mean? So, for the cold season, I look for roundness and warmth with notes of bergamot, citrus, orange, but also rose and white flowers. Not easy, but today we have a vast range of creations at our disposal; it only remains to smell and see if the magic operates.
No oriental notes here, therefore, but still one or two surprises, like a mythical perfume with the scent of banana. Suspense. However, a little anecdote, let's not shout at the oriental odor, because it is sometimes very handy, even for Cologne lovers: Did you know that we make certain perfumes trail holding better with a few drops of patchouli in the formula? You will never smell it, but your Cologne will stay on your skin until the end of the night.
My signature perfume and the two loved ones that I told you about in the first article on my spring-summer favorites are of course worn in autumn-winter; if you want to see them again, you know where to click (here). Let's go.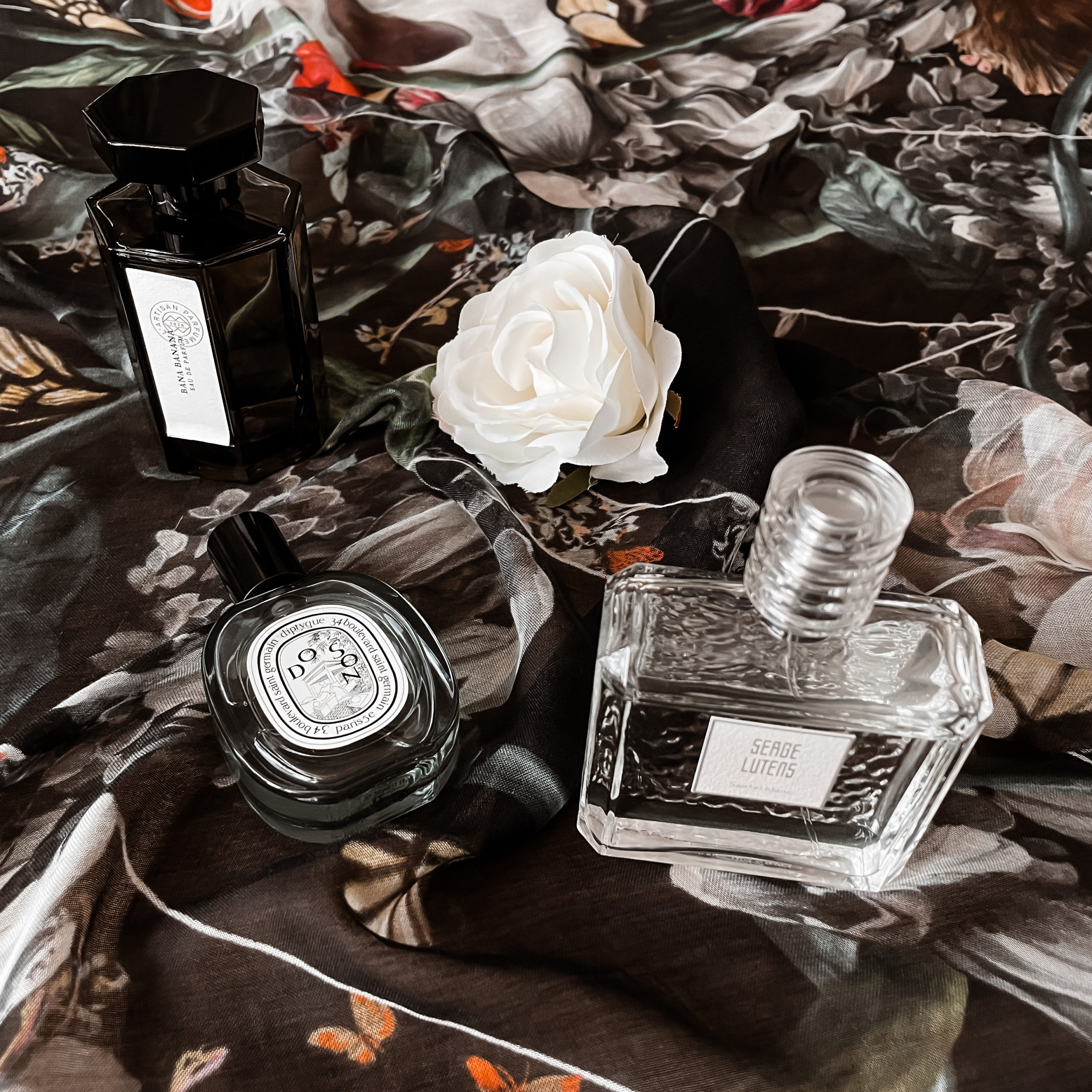 The whites and the mythical
–Santal Blanc – Serge Lutens.
This perfume is part of the "politeness" collection of this perfumer. I like very few scents about him, three to be exact, but know that Serge is more in powerful scents, like oriental perfumes, so do not be surprised that the citrus lady is not crazy about Lutens.
The fragrances of the politeness range are, as the name suggests, perfumes that do not give a headache to others, lol. He defines it as a "peppery crystal (which) reveals its infinite sweetness on a soft woody background," my personal appreciation is that its base note is more of modern sandalwood than a peppery one. In any case, White Sandalwood is sweet, a "cute smell" that has a clean scent of white flowers with a hint of sandalwood to keep it with you all day long or until the end of the night. It warms you by being fresh and is tenacious while remaining soft. For all its contradictions and soft woody background, I wear it with pleasure in autumn-winter, and for all its contrasts and complexity, it is my perfume when I am in flirtatious mode, lol. There, you know everything now, lol.
Notes: Sandalwood, Angelica, Pink berries.
–Do Son – Diptyque.
This perfume is a dream of the Corsican, Sicilian, or Calabrian coast in winter. An afternoon of reading in the sun leaning against an orange tree, facing the sea. However, the guy who created this perfume spent his summers in Do Son when he was little, in Ha Long Bay; well, the same scent can evoke very different memories for each of us, which makes its magic. Tuberose brings white notes and aromas of its own to this divine perfume.
Notes : Tuberose, Orange blossom, Jasmine, Marine accord.
–Bana Banana – L'artisan Parfumeur. The mythical.
When I heard that l'Artisan Parfumeur was releasing "a new banana fragrance" in 2019, it immediately reminded me of the house's first fragrance, which was precisely a banana fragrance. Indeed, Jean Laporte had created this very first juice to go with a banana costume. No, don't ask me how this man entertained his evenings.
This mythical perfume had become a legend since it had never been marketed, so it was a great joy to be able to smell a new version and to fall under the spell of this perfume that smells of bananas, … without bananas in it. Yes, some perfumers like a challenge, lol. Thus, the subtle bitter violet leaves and the slightly harsh nutmeg flower create the "banana peel" effect.
And for the little anecdote of nose enthusiasts, this perfume was created by Céline Ellena, Jean-Claude's daughter.
Notes : Baba fig, Tonka bean, Jasmine.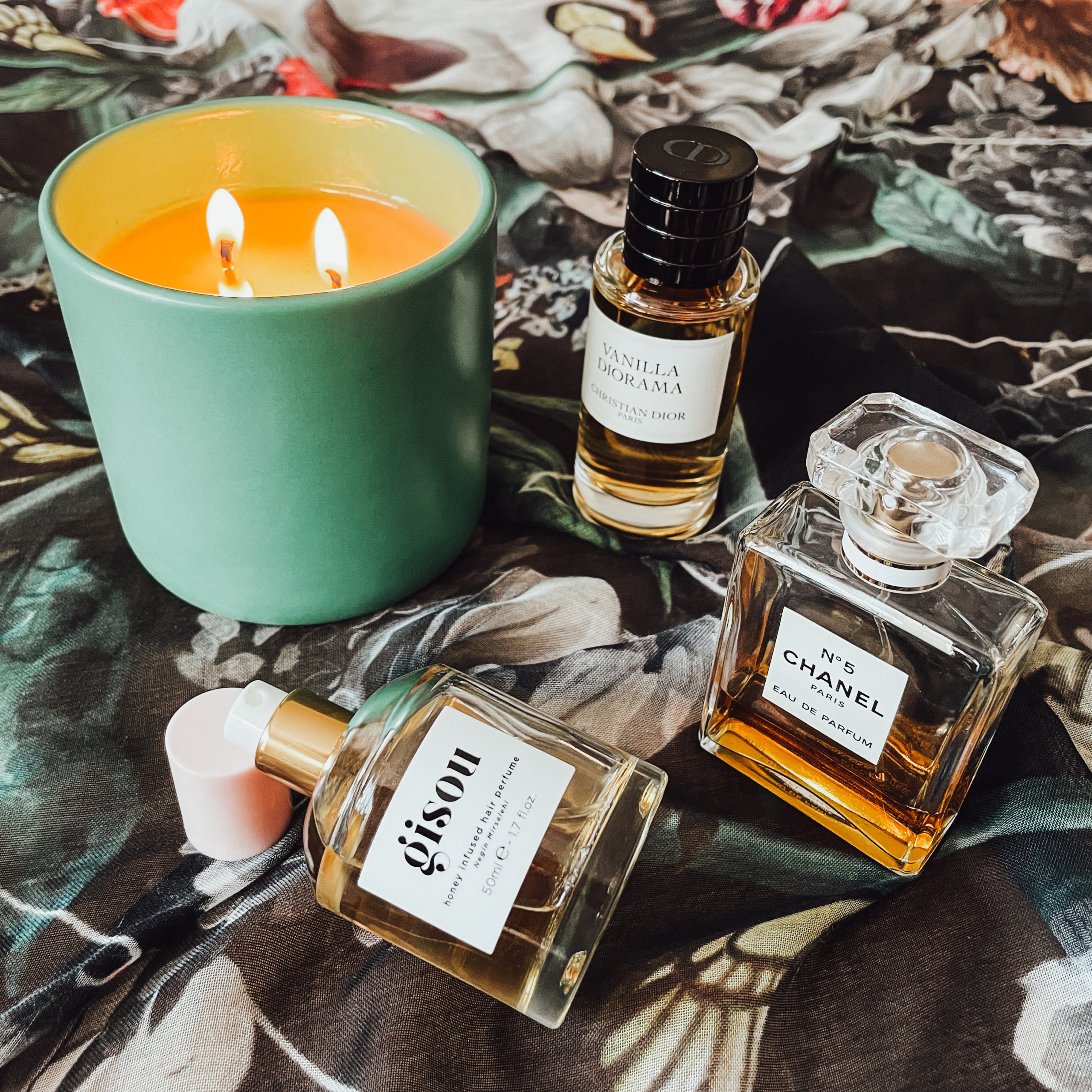 The warms
–Vanilla Diorama – Collection of the House of Christian Dior.
This perfume came out two months ago, and I'm already crazy about it. I love vanilla, but the real one, the scent of Madagascar vanilla bean when you just split it in half; proud, woody, but never sweet. There is rum accents and a touch of patchouli without your faithful servant running away crying out at the oriental smell because François Demachy had an excellent idea to bring fresh citrus notes to it. A cocoa base note finishes the trail of this beautiful, noble, and generous pod. Therefore, we can say that the perfume holds well, but without being heady, it is warm and generous, without ever being oriental or sweet. It's the warmest scent I have, and at the end of the day, it smells of cocoa bean only on my skin, happiness.
Notes : Vanilla, Orange, Cocoa (Cardamom and Sandalwood).
–N°5 – Chanel.
If I tell you "warm flowery," whether you are 80, 60, 40, or 20 years old, there is inevitably in your list the N°5 of Chanel.
Floral-aldehyde fragrance, this perfume reminds you of both your great-grandmother, your grandmother, your mother, yourself, and maybe even your daughter. Madame Chanel wanted "a woman's perfume with a woman's scent," I think she could not have chosen better, as this perfume created in 1921 appeals to all ages. Created by Ernest Beaux, Gabrielle Chanel selected the fifth juice offered and thus kept this number as the name for this legendary perfume, the N°5.
This floral bouquet is built around the May rose, and jasmine is enlivened at the top by citrus notes. The aldehydes give it a unique presence and the mellow touch of vanilla, a divinely sensual trail.
Notes: May rose, Jasmine, Hesperide, Vanilla.
–Gisou, eponymous fragrance from the hair brand of the same name.
So beware the cheat of the shame of cheating, lol. This is a hair scent, not a perfume, the one which goes with shampoo and hair care products from the same brand, but I fell so in love with this honeyed, floral, generous, but not sweet fragrance that I sometimes use it as a classic scent. What does that smell like? Well, it smells like Gisou products, lol.
More seriously, if possible in this blog, lol, the creator of the Gisou brand, Negin Mirsalehi, Dutch of Iranian origin, has a beekeeper dad. So as she puts honey in all these products, the perfume smells of honey and flowers. A winning combo to attract bees, which I find feminine, happy, round, and lovely without being sweet, as always.
Notes : Honey, Rose, Lily.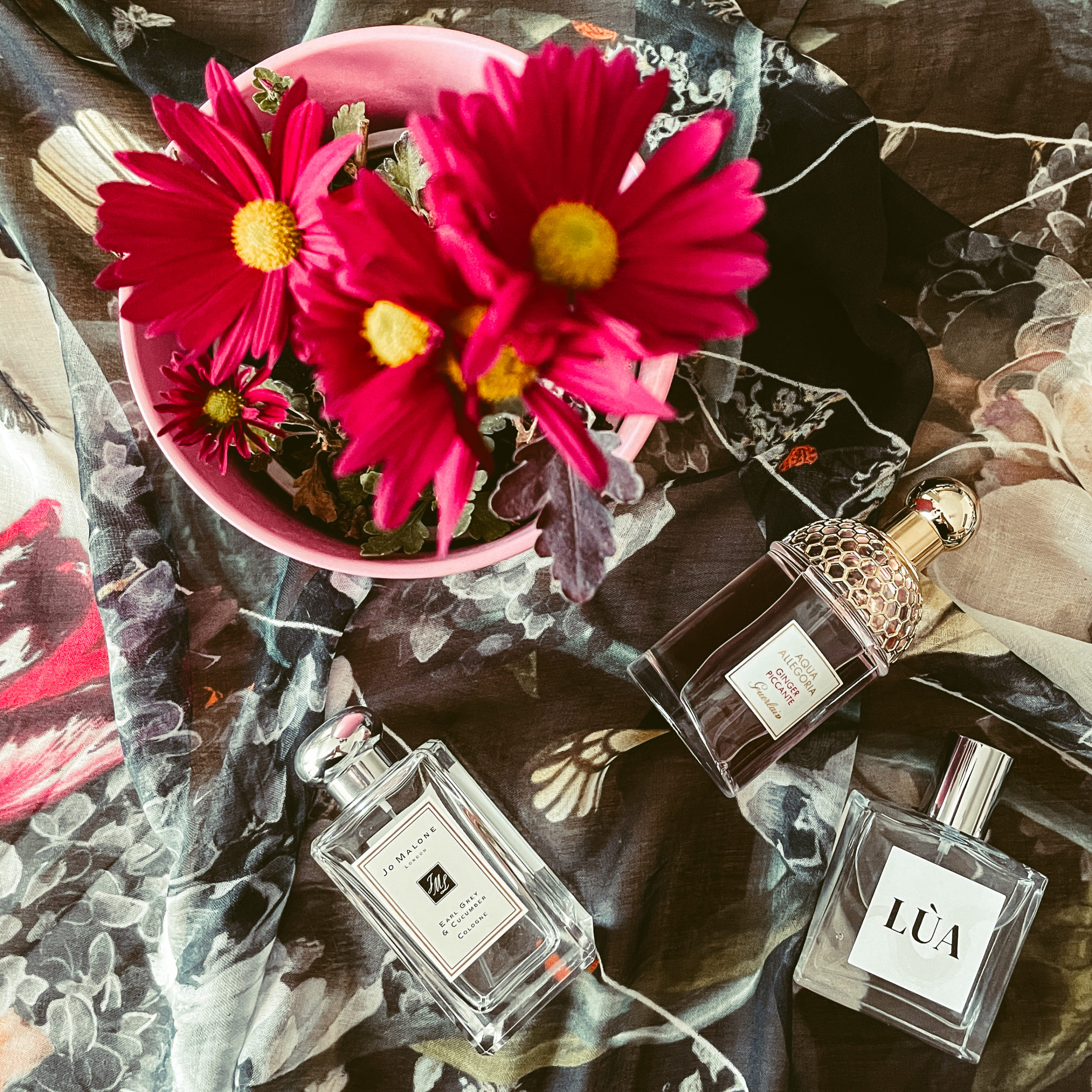 Winter Cologne
And nature is well made since in winter, the summer flower gives way to the fruit. So it makes way for fruity Cologne and tea time.
–Aqua Allegoria, Ginger Piccante – Guerlain.
As it is an Aqua Allegoria, we stay on the same common thread: bergamot. We are, therefore, still on a Cologne, but we are swimming in rose scent and slightly sweet ginger with a touch of fruitiness. The spicy dominance goes very well with the rose, and the cedar gives it a roundness that will keep this fragrance for hours—finally a Cologne with character for those who often tell me that they are tasteless for their noses. Ginger Piccante will appeal as much to the naughty young girl with Doc Martens and sequined sweater looking for a rose of character, as to the femme fatale with high heels and red mouth who does not want to weigh her mood down with oriental scents.
Notes : Fresh ginger, Candied ginger, Rose, Cedar.
–Lùa – Le Parfum Citoyen.
This fragrance was created by Parfum Citoyen x Marie Lopez, a French influencer. It is made in France, and the ingredients are sourced. If you want a committed perfume, look no further, it is eco-designed in short circuits and everything; I will let you check and see the link above if you want to know a little more. When I heard "orange blossom," I could not resist, but with the fear of falling into what I call "the stupid girly perfume," that is to say a too easy one, with no subtlety, one which does not hold and which does not have a signature. Well, let it be clear, it is quite the opposite.
It is musky floral citrus. At the first notes, we are on a Cologne, bergamot, and mandarin, then we start with rose and jasmine and finish on an amber base note, thanks to musky amber. A wonderful citrus autumn-winter fragrance as I like them, I am happy to have passed on my preconceptions and to have discovered it.
Notes : Mandarin, Bergamot, Jasmine, Rose, Sandalwood, Ylang-ylang.
–Earl Grey & Cucumber – Jo Malone.
What is special about Earl Gray tea? Bergamot, of course. Therefore, this fragrance is a marvel of freshness, bergamot, and cucumber, but since it has a sweet base of beeswax, vanilla, and musk, it is my official winter Cologne. It has a roundness that comforts in the cold season while bringing the dynamism and the joy that I love in Eaux de Cologne. All said this juice is a marvel.
Notes: Bergamot, Cucumber, Beeswax.
So, as I warned you, I shouldn't get into perfumes, lol. Hoping to have made you discover some fragrances or reminded you of an old bottle forgotten in a corner of your bathroom, these are the best, because they always remind us some sweet souvenirs! Have a nice weekend or long weekend, and see you next Thursday.
XO 🍂
Literary recommendations : Parfums – Philippe Claudel, 2014 – Ed. Le Livre de Poche (essai).