Hello, young Padawan
The beautiful walks in the mountains in the summer, or the long kilometers traveled in the magnificent cities of the south of France, have whetted your appetite. In summer, you don't want hot food, but a poor little leaf of lettuce with three tomatoes and two grains of corn is not enough.
Never mind, I have the summer recipe you need when your hunger is as sharpened as a chef's knife.
Potatoes, an asset to have energy
Steamed potatoes eaten coldly reduce inflammation, which is of paramount importance after exercise (or the tourist trip !). They are rich in vitamin B6, a substance necessary for cell renewal, and contribute to maintaining a healthy nervous system and a balanced state of mind.
Oilseeds and seeds of all kinds are your friends
Rich in protein, almonds mainly contain calcium, magnesium, potassium, and vitamin E.
Pumpkin seeds have nothing to be jealous of: magnesium, zinc, calcium, iron, vitamin C, and vitamin A. They protect your prostate if you have one and support urinary function.
Cashew nuts are also rich in protein and contain magnesium, copper, and phosphorus but are also antioxidants and contribute to good bone and dental health.
Finally, magnesium, copper, zinc, potassium, and phosphorus are the assets of walnuts.
Not to mention that oilseeds and seeds also participate in remineralization of the body in the balance of our cholesterol.
Chickpeas, very cute but so good for health
Excellent for health if they are eaten al dente. Their protein content makes them an ally for athletes; their zinc content helps regulate insulin and is also excellent for the balance of intestinal flora. They also contain vitamins A, B6, C, E, and K, calcium, phosphorus, potassium, magnesium, iron, and sodium.
It even seems that they would have aphrodisiac virtues 😇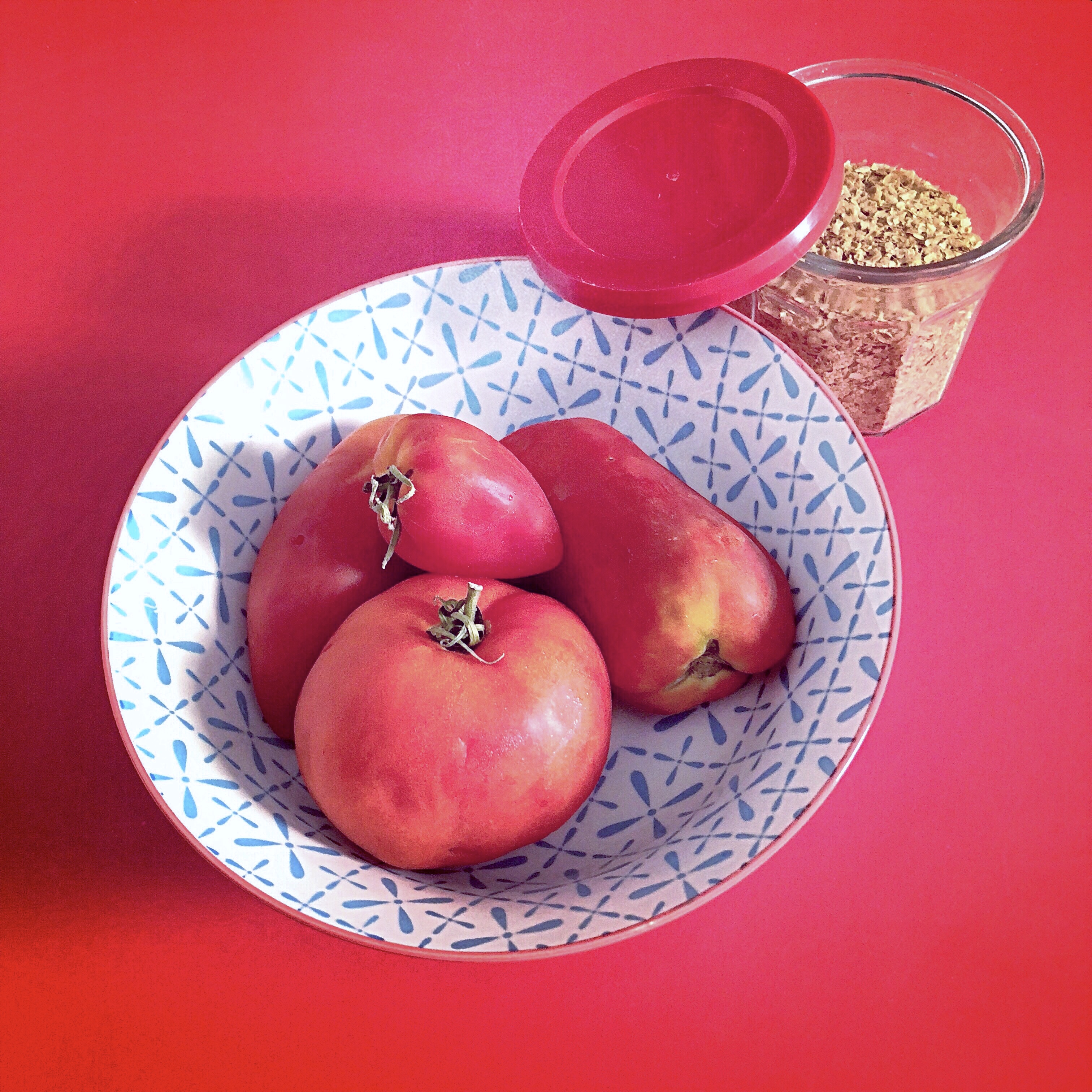 summer salad
For three servings
1/2 cucumber
1 big tomato (or 2 regular size)
1 carrot
1 small zucchini
6 small new potatoes, "ratte du Touquet" or "Noirmoutier" type…
1 good handful of pitted black olives (check that they are all pitted yourself to avoid dentist drama…)
1 handful of raw chickpeas soaked overnight in clear water on a full moon night (nah, just water is enough…)
a clove of garlic (preferably fresh)
6 walnuts with their shells (I hope you have good teeth, lol)
1 handful of cashew nuts
1 handful of almonds
1 handful of pumpkin seeds
1 handful of raisins
1 tablespoon malted yeast
1/3 bunch of fresh parsley
Gomasio (or gomashio, Japanese style. It's just a mixture of toasted sesame and ground sea salt. You can prepare it yourself. I quickly roast my sesame in a hot pan for a few seconds, then add the same quantity of salt, put it all in a blender, then in a jar, and you're done!)
Pepper
For the vinaigrette :
4 tbsp flaxseed oil
4 tbsp rapeseed oil
10 tbsp cider vinegar
1 heaped teaspoon of mustard (or 2 heaps, but I'm lazy)
salt pepper.
RECIPE
After soaking them overnight in fresh water, drain the chickpeas and cook them for 5 minutes in a vitaliseur de Marion or any other steam cooking method. Traditional steam cooking may take 7 minutes: taste after 5 minutes and adjust the time.
Chickpeas must remain al dente to preserve all their benefits, which brings chewiness to the salad ).
Set in the refrigerator once the cold chickpeas for the rest of the recipe.
Cut the potatoes into cubes, and steam them with the same water used for the chickpeas. Also, al dente, the pieces must stay a little firm, that is, cooked but not too soft so you won't get a puree. Also, store them in the refrigerator once the potatoes are cold.
We are done with the cooking.
Wash the carrots, zucchini, cucumber, and tomato. Slice the carrots into tiny dice, barely larger than a julienne. Cut the zucchini into slightly larger mini pieces. Dice the cucumber and the tomato. Set aside in the refrigerator.
Remove the nuts from their shells (nuts freshly separated from their shells always have more properties than those in the air in the plastic bags since "you don't know when."
Put all the nuts and seeds (almonds, walnuts, cashews, pumpkin seeds) on a cutting board and coarsely chop them with a knife. Set aside.
Finely chop the parsley and press the garlic (using a garlic press or if you don't have one, chop it very finely).
The vinaigrette :
Ah, this magic vinaigrette, stuffed with omega 3!
If you have a small blender, place all the ingredients in the mixer bowl and blender for 10 seconds. Otherwise, put all the ingredients in a small bowl and whisk together with a fork.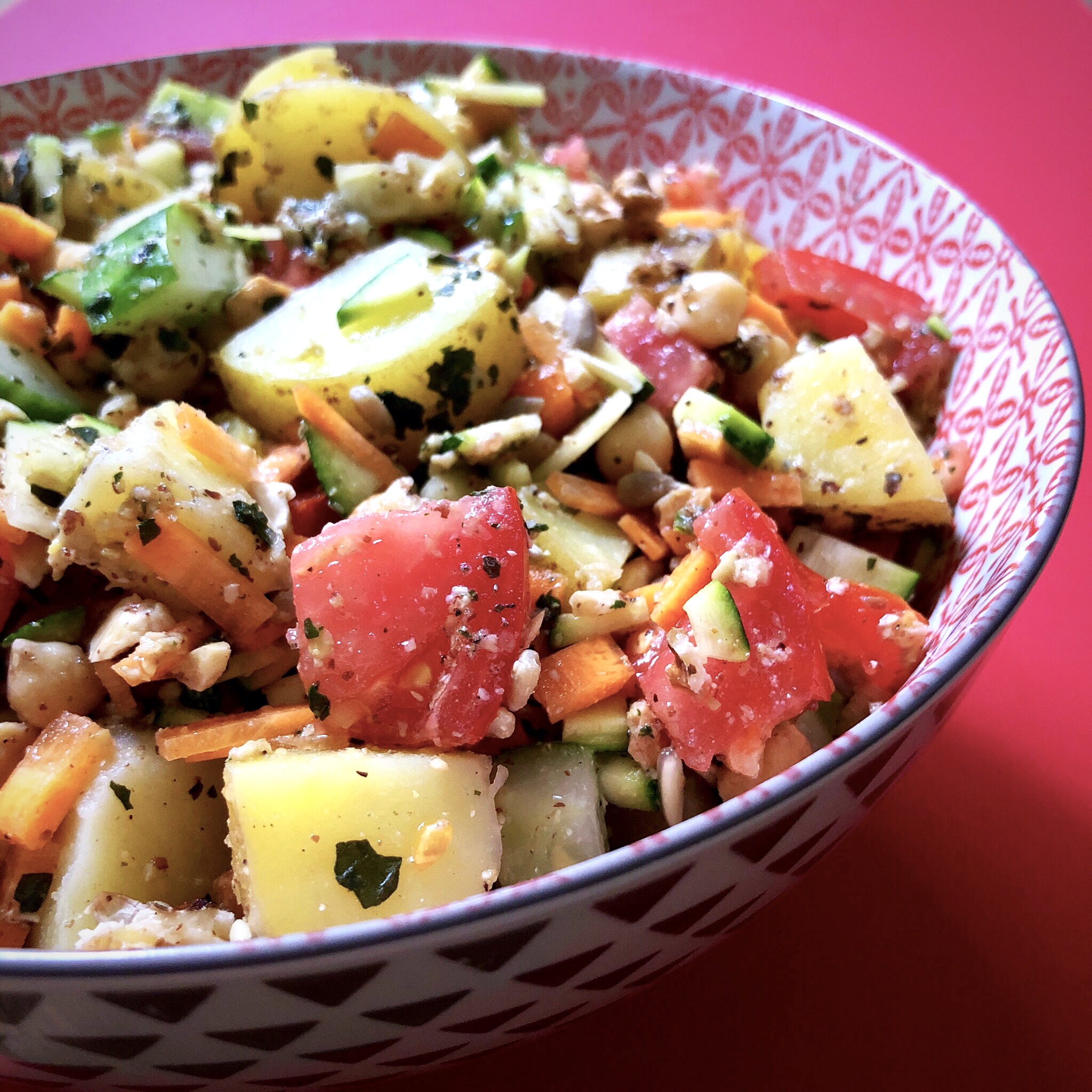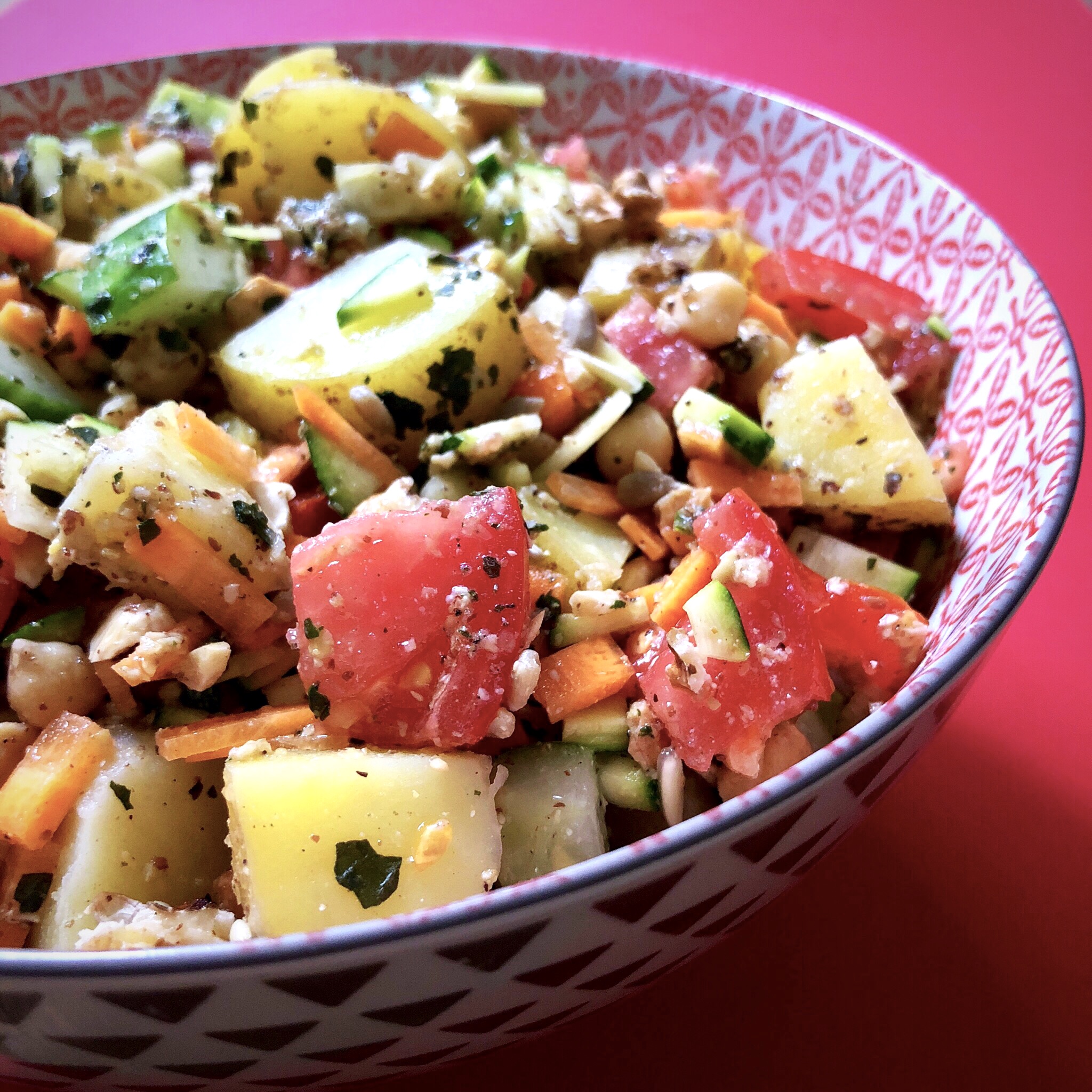 PRESENTATION
In your prettiest family salad bowl, arrange all the ingredients without forgetting the grapes, the malted yeast, and the olives, and stir them delicately with a spoon from the bottom of the salad bowl to the top so as not to break your pretty potatoes or your beautiful tomatoes —because we are not in the school canteen, lol. Season with gomasio and pepper.
Arrange the vinaigrette in a pretty bowl on the side, on the one hand, to leave the guests the freedom to take more or less, but also because if you don't finish all your salad, you can keep it for the next day. (In fact, vinegar cooks raw foods a little and denatures them. If you put your vinaigrette in the salad bowl, the next day your potatoes will be ugly and gray. Yuck !).
There you go! It seems a lot of preparation, but honestly, it takes 15 min watch in hand, dishes included, when the recipe has been made more than once.
What could be better for a beautiful summer evening than eating cold, light but consistent, full of vitamins but good, and filling up on minerals? See you next Friday!
XO 🍅