Hello, young Padawan
I already know what you're going to say yourself: "an avocado toast is an avocado toast." Well, this is where you are wrong. Prepare yourself because this recipe for avocado toast is totally crazy. After discovering it, you will do it again every week.
AVOCADO
Avocado contains many antioxidants and carotenoids which protect against ophthalmic pathologies and reduce the risk of heart attacks. Rich in oleic acid, it contributes to the balance of cholesterol, and finally its vitamin E / polyunsaturated fatty acid ratio (1 mg of vitamin E per gram of polyunsaturated fatty acid) optimally protects polyunsaturated fatty acids from oxidation which multiplies the benefit, not to mention the effect on the skin.
In addition to being good for the skin, it is also good for the hair. Good for the inside and outside of the body, what else can we ask?
Garlic
Excellent for blood circulation, its anti-viral, anti-fungal, and anti-bacterial properties will help your body to maintain or regain health.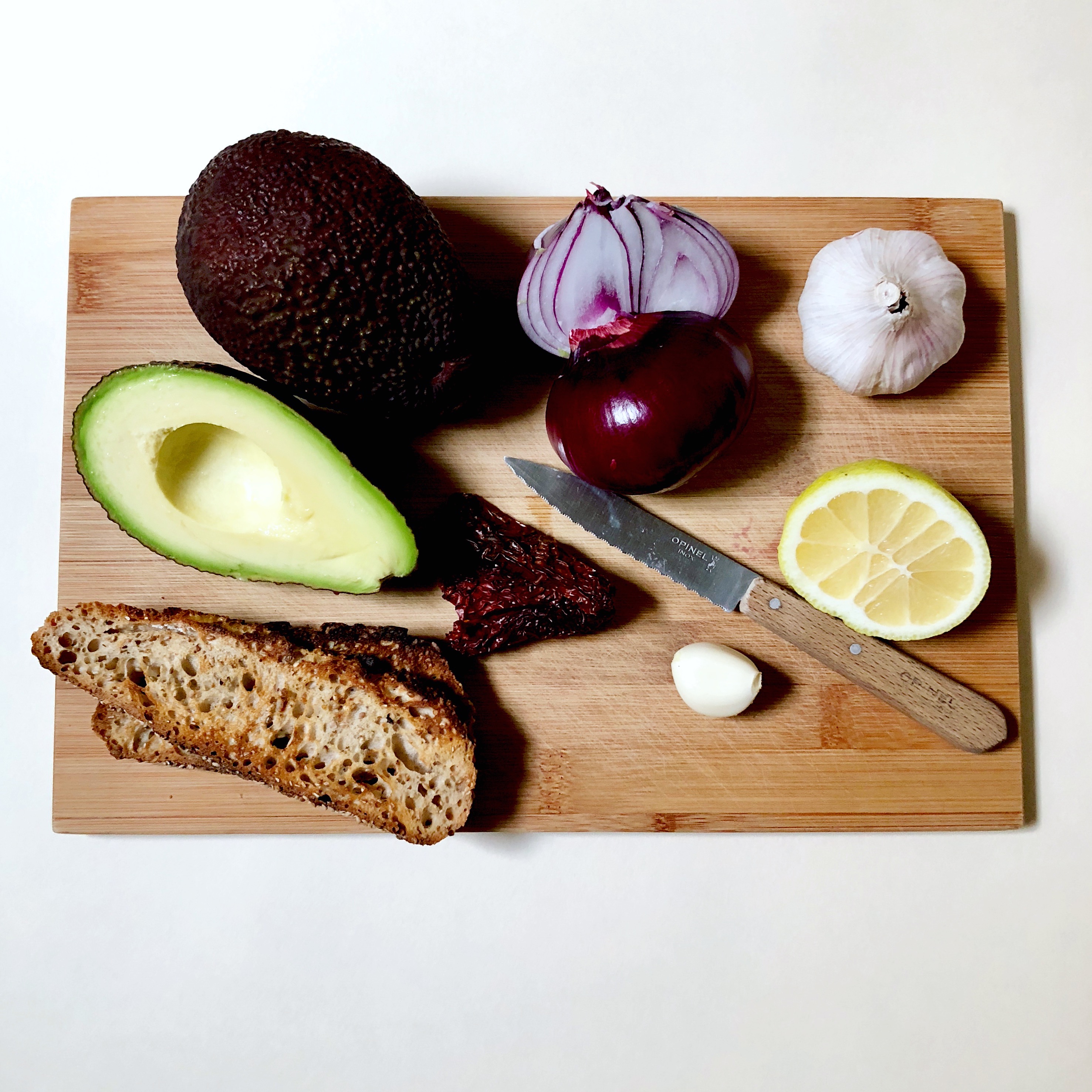 "the" avocado toast
For 4 servings
1 ripe avocado (and not rotten inside, you know what I mean…)
2 cloves garlic
4 pieces of sun-dried tomatoes
1/2 red onion
4 beautiful slices of organic wholemeal bread made with natural sourdough (for the good intestinal bacteria)
1/2 lemon
Madagascar black pepper
Excellent quality olive oil (which I recommend with a fruity taste for purists).
Guerande salt, or a pinch pink of Himalayan salt (in short, a salt-rich in minerals).
NOTE: If you put some common supermarket salt on that toast, I will be hiding under your bed tonight with a "Scream" movie mask and a butcher's knife, lol. Indeed, good quality salt is everywhere nowadays, so no excuse. Boooo! Happy Halloween 👻
RECIPE
Start by toasting the slices of bread so that they will be cold when you prepare them (and the garlic will not lose its great properties). Be careful not to darken the bread. Indeed the small black edges of the toast are carcinogenic, FYI.
Chop the sun-dried tomatoes as finely as possible lengthwise.
Cut the half onion into the thinnest possible rings. If you have a mandolin, this is ideal, but be careful with your fingers.
Separate a few rings by hand to collect some fine crescent moon of onion (see the last photo below if my culinary metaphors don't speak to you lol).
Cut the avocado in half, remove the core by tapping on it with the blade of a knife, and making a quarter turn. It will come off on its own. Peel the skin gently. Thinly slice the avocado. Sprinkle with a few drops of lemon. Peel the two garlic cloves.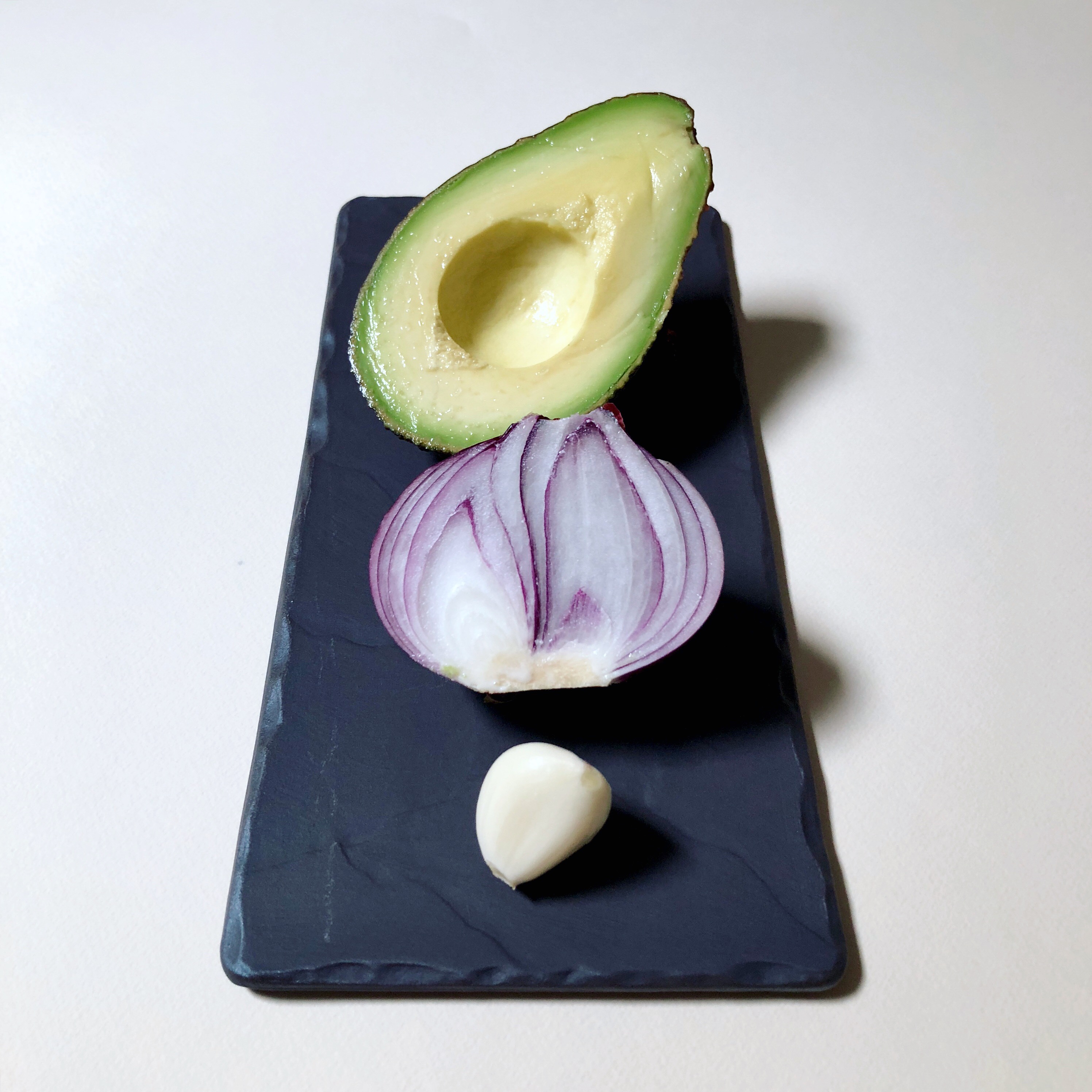 PRESENTATION
Rub the toasted bread slices with the garlic very generously, arrange the avocado slices harmoniously.
Place the toast on a pretty presentation plate or a wooden cutting board, ad a few mini sun-dried tomato slices, alternating with the thin pieces of red onions.
Repeat for each toast.
On each toast, make a turn of the black pepper mill, add a pinch of Guerande salt, and a light drizzle of your precious olive oil.
To do so, I pour some olive oil in a small ramekin, then I take half of a teaspoon and place it perpendicularly, a few centimeters above the bread, making a "line". Thanks to this trick, you won't have half of your bottle spilled, on the one hand, and more precision for a nice dash of oil on your bread on the other, just like a pro.
And here's my secret for the ultimate avocado toast. If you have not tasted it you cannot imagine how the flavors will be in a symphony. Honestly, every time I make this recipe, I have bloodthirsty rascals that ask me to do it again.
A little tip about olive oil: To avoid it becoming too expensive, buy two bottles. A large cheaper one, for cooking, and a very good quality one, a small one that you will only use for moments like this, that you will never heat, for your salads and avocado toasts.
When you get used to making it, you will make these toasts in less time than it takes to say it. In the meantime, I'll let you drool behind your screen with this little photo, and dream of the flavors that these wonderful toasts can have. Enjoy your meal!
XO