Hello, young Padawan
Today, we are going on a culinary journey. It will smell of ginger, lime, and coconut in your kitchen. A little Asian pan-fried inspiration, what do you say?
Let's go to enjoy ourselves with family or friends. Just a little advice: plan a little more in terms of quantities, especially if you have gourmets at home, because generally when I make this recipe, everyone wants an extra serving.
Ginger
Note: As usual here, we are between responsible adults who take advice from their pharmacist, doctor, or naturopath if there is a doubt, a pathology, or a pregnancy, for example.
As a grandmaster of your digestion, immune system, and youth, ginger is your best friend. Indeed, packed with antioxidants, it protects your cells against free radicals. It also allows people with diabetes to take care of their blood sugar.
Its anti-inflammatory properties are such that a study* by Dr. Krishna C. Srivastava in 1990 in Denmark revealed an improvement in arthritis pain in his patients who regularly consumed fresh ginger. In case of nausea, colds, or headaches, ginger will still be able to relieve you.
Ginger is also a source of copper, which is necessary for forming hemoglobin and collagen in the body.
It is considered by 3/4 of the planet (Indians and Chinese) as a superfood. And more: by consuming ginger with garlic and/or onion, we would create a synergy between their different antioxidant compounds, which would allow them to surpass their individual antioxidant effects – super-mega-superfood, in short. Great, that's what we're going to do in today's recipe. Let's go.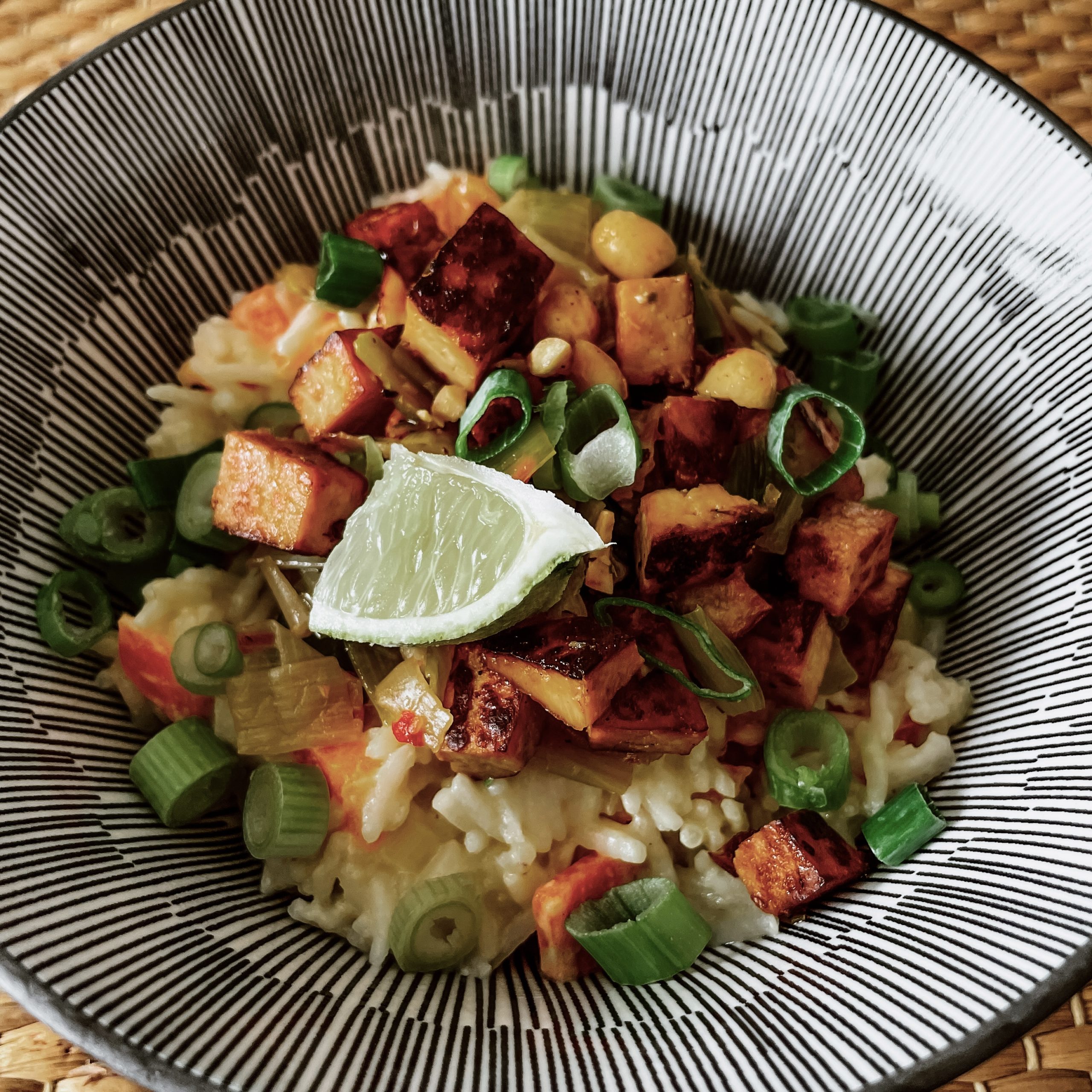 Pan-fried tofu, lime, and coconut
For 3 servings
1 lime
1 piece of ginger – about 1,5 inch
2 cloves garlic
1/2 bunch of spring onions
1 large carrot (or 2 small)
1 large white leek (or 2 small)
2 blocks of plain tofu (about 7 to 9 oz)
2 handfuls of unsalted peanuts (about 3 tbsp)
1 tbsp of sesame seeds
3/4 cup of Thai rice
1/2 cup of coconut milk
1/4 cup of soy sauce
2 tsp honey
3 tsp olive oil
1/2 tsp Espelette pepper
Salt, Madagascar pepper
Recipe
Prepare the marinade at least 3 hours before cooking.
In a terrine, pour the soy sauce, the honey, a clove of garlic pressed through a garlic press, the Espelette pepper, and the previously grated zest of the lime. Cut the lemon in half, add the juice of half the lemon, and keep the other half for serving.
Press the tofu between two clean cloths (or two paper towels) to remove the excess juice, cut it in half in thickness, and then it into small dice. Pour the tofu dices into the marinade, gently stir well so that all the pieces are impregnated, cover in film, and set aside in the fridge.
*****
Wash and cut the leek and the white part of the spring onions into thin strips and the carrot into small cubes. Grate the piece of ginger. Slice the green part of the spring onions into thin rounds and set them aside for serving. Coarsely chop the peanuts. Set aside.
In a saucepan, pour a teaspoon of olive oil and brown the carrots and the spring onions white for two to three minutes over medium-high heat. Add the rice, stir, add half the ginger, a clove of garlic pressed through a garlic press, and pour 1 1/2 cup of water over the preparation. Reduce the heat to medium and cook the rice for the time indicated on the package (for Thai rice, it usually takes 10 min). When the preparation lacks liquid, add coconut milk, salt, and pepper. Add a little more water if the rice is not yet cooked al dente when the coconut milk has evaporated. When the rice is cooked al dente, turn off the heat and keep warm and covered.
The preparation should not be pasty but look like the consistency of a risotto. If necessary, add a little hot water before serving.
In a hot wok, roast the sesame seeds for one to two minutes over medium-high heat, remove them from the heat as soon as they begin to color, and pour them into a bowl as soon as they are lightly browned. Do the same with the peanuts.
In the same hot wok, pour a teaspoon of olive oil to brown the leeks and the rest of the ginger over medium-high heat for 7-8 min.
Drain the tofu and use the marinade to deglaze the leeks halfway through cooking (I drain the tofu directly above my wok, ed), add the roasted sesame seeds.
Once the leeks are cooked and the marinade has evaporated, pour them into a terrine (the one used for the marinade now empty will do) and brown the drained tofu in the same hot wok with a teaspoon of olive oil over medium-high heat. When the tofu cubes are golden, turn off the heat and add the leeks to warm everything up. Keep warm.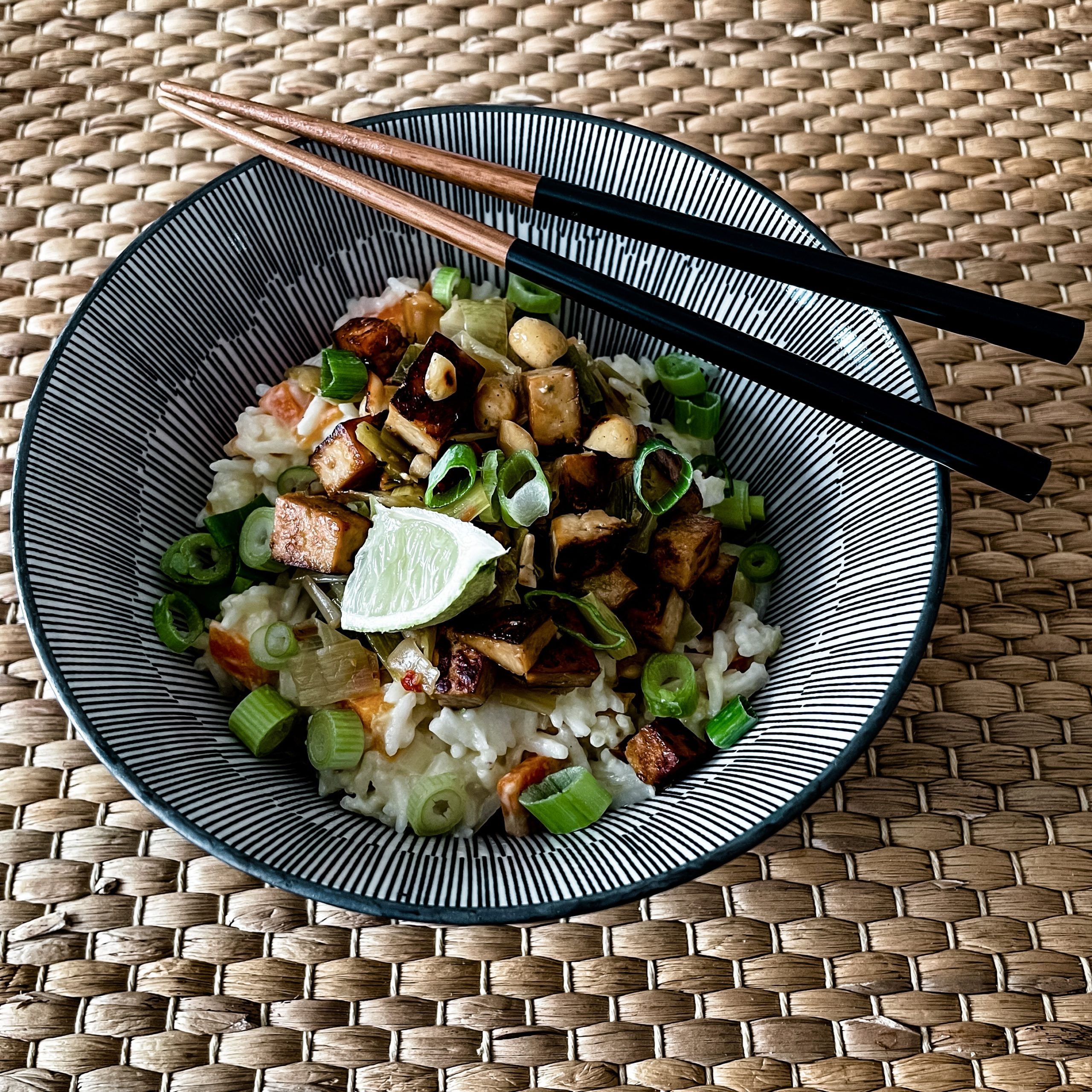 Presentation
Two options for the lemon; either you squeeze it and add the fresh juice to the tofu preparation, or you cut it in three so that each guest can help themselves as they wish.
In your prettiest bowl or deep plate, pour a few spoonfuls of the rice mixture, add the tofu mixture on top, sprinkle with peanuts and spring onion rings. Don't hesitate to be generous with the spring onions, especially if it's my plate.
Add, if you chose option 2, lol, the small wedge of lime, and you're done.
This recipe takes a little prep, but once you've done it once, you'll master it in 30 minutes. For dessert, I recommend fresh mango, in a hedgehog cut to stay on the "Asian cuisine" cliché while delighting your guests. Its sweetness will soothe the palets and bring a divine conclusion to your sumptuous meal.
Finally, a Chasse-Spleen, king of the Médoc, will be able to impose itself with this explosion of flavors while bringing the fruit and its own dose of spices. I wish you an excellent tasting, dear Padawan, and see you Thursday!
XO 🍲
*Source : L'article du Dr Peter Gesund.