"Smell the sea and feel the sky. Let your soul and spirit fly.".
Van Morrisson.
Hello, young Padawan
Many love summer because it is the sunny holiday season. If possible, I prefer to have my vacation in winter or autumn for my part, as a real snow girl. In any case, vacations are a way to rest, rest again, read, reread, take a step back, and take a little more distance from the events in quiet and peace. Indeed, dear Padawan, nothing is ever certain, and even when one feels like one has discovered "the truth," one has in fact found "a truth." Of course, this adage has always been true, but even more nowadays – the era of a thousand pieces of information per second.
Let's learn to slow down, and to put tolerance, love, and joy in our hearts. Reading, this old hobby with sepia accents knows how to soothe us – when we give it a chance in our epileptic lives – but also captivate us, cultivate us, move us and even make us laugh when given a chance.
A reading tip for this summer? You asked me; I did it. Here is my little selection. There will be something for everyone, in French, in English, both … I tried to aim wide in terms of themes, tastes, affinities. You will find there some cool but useful, nice and useful, and entertaining books. And useful ones! The goal here is not to give you a summary for each book, but rather to give you the global idea of each, and then for the rest, you have the internet.
Health/wellbeing section, to have a good time while learning tips.
-"La permaculture au Jardin" by Damien Dekarz. This book is in French only. Month by month, Damien Dekarz gives you his tips for having the most healthy vegetable garden in the whole neighborhood. Biodiversity, environment, so that your little green square is in harmony with Mother Nature.
-"Naturopathie, le guide saison par saison" by Loïc Ternisien. This book is in French only too. This truly comprehensive guide is intended for novices in Naturopathy who wish to discover this universe of natural health. You will find there the basic principles, food, health practice, advice by season, small remedies, in short, all you need to be in daily positive vibes like your faithful servant! Lol.
-"Body Book" et "Longevity Book" by Cameron Diaz. Easily found in French or English. The Body Book deals with self-confidence in physique, knowing your body, and nutrition, fitness, and mental health.
On the other hand, the Longevity Book addresses aging, self-care to age better … It is not about staying young at all costs, this is a pro-aging book, one about aging well, at best, in self-love.
– "Eat Beautiful" / "Manger sain pour être belle et en bonne santé" by Fiona Waring, Tipper Lewis, and Susan Curtis. I sometimes like to walk around in book stores, browse books' shelves, pick a pretty cover or an interesting title at random. Fortunately, sometimes we don't stop at the title! You will have understood, what attracted me is everything except the title. I found the cover of this book very nice in the French version; I flipped through it and decided to buy it. It is classified by problematics (dry skin, gum problems, brittle hair …). There are lots of tips, little remedies, and great, simple, and effective recipes.
-"Burning Bright" by Kelsey J. Patel. In English only. I really like Miranda Kerr's cosmetics brand, and it was while browsing her website that I discovered that she recommended some books. So I bought this one. It is halfway between yoga and personal development. It's written by someone who has experienced anxiety disorders, and she tells about Reiki (Japanese energy healing method), kind rituals to put in place to find a balance in your life, to learn to take care of yourself, and to regain your self-esteem.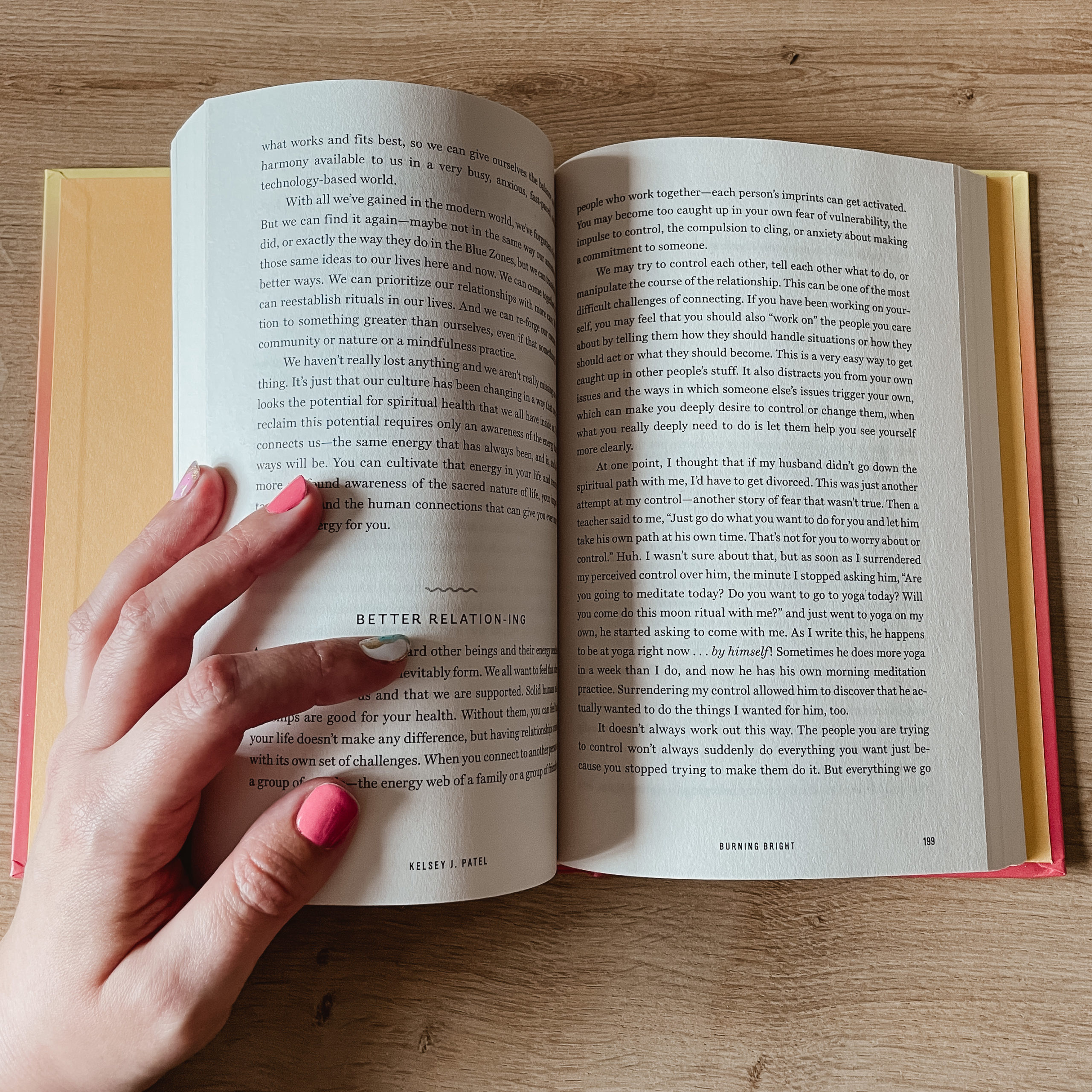 Philosophy/Psychology for Dummies (and Insiders)
-"EGO – The greatest obstacle to healing the 5 wounds" / "Les 5 blessures qui empêchent d'être soi-même" by Lise Bourbeau. Both in French and English. It's all in the title, and if you're wondering what the five wounds are, here you go: rejection, abandonment, humiliation, betrayal, and injustice. I really enjoyed this little book, and learned a lot; to put in everyone's hands.
-"The four agreements" / "Les quatre accords toltèques" by Don Miguel Ruiz. Don't take it the wrong way if you love this book because I tend to call it some "pub philosophy," you know, like widespread thoughts. But even though the author pushes many open doors, I often recommend it for the uninitiated because it is very easy to read. It gives a good mood, wise, timely advice, and good energy. But still, a great book to read.
-"Écrits pacifistes" de Jean Giono. In French. When I was younger, I bought lots of books from Folio (it's a french publisher, ed) because I loved the clean, white design of a row of books from this publisher. And then I opened one, then two, and then I came across this one. The first time I started it, I couldn't finish it, as the story is moving, so much it takes to the guts, figuratively and literally (it's a story about WWI, ed). So you're going to tell me that you don't want to read such a heavy book for your vacation, I hear, however, I would answer you with a short excerpt from the back cover: "What disgusts me about war is his imbecility. I love life. I only love life. It is a lot, but I understand that it is sacrificed to a just and beautiful cause ". It's up to you.
-"The Alchemist" / "L'alchimiste" by Paolo Coelho. Quite simply, the teaching of life in the form of a tale. Must read if you haven't already.
-"The Prophet" / "Le prophète" by Khalil Gibran. This is a philosophical work in the style of the alchemist. So if you enjoyed Coelho's book, you will enjoy it. Full of wisdom.
-"Thus spoke zarathustra" / "Ainsi parlait Zarathoustra" de Friedrich Nietzsche. This book is for the initiates of philosophy. It's difficult; I'm on my fifth or sixth reading. It is one of the books that made me progress the most; even if I still don't know anything about anything, I have at least understood two or three trinkets, humbly, according to my rereadings.
"Become who you are."
So yes, because Nietzsche divides a lot, I allow myself to give you a little tip: Never forget to read an author taking his time into account. It's like Agatha Christie and her "Ten Little …" you know what book. When we dive into a book, we put on our crinoline, or we adjust our mustache and top hat, we climb in the DeLorean and we soak up, the time of reading, in this eternal time.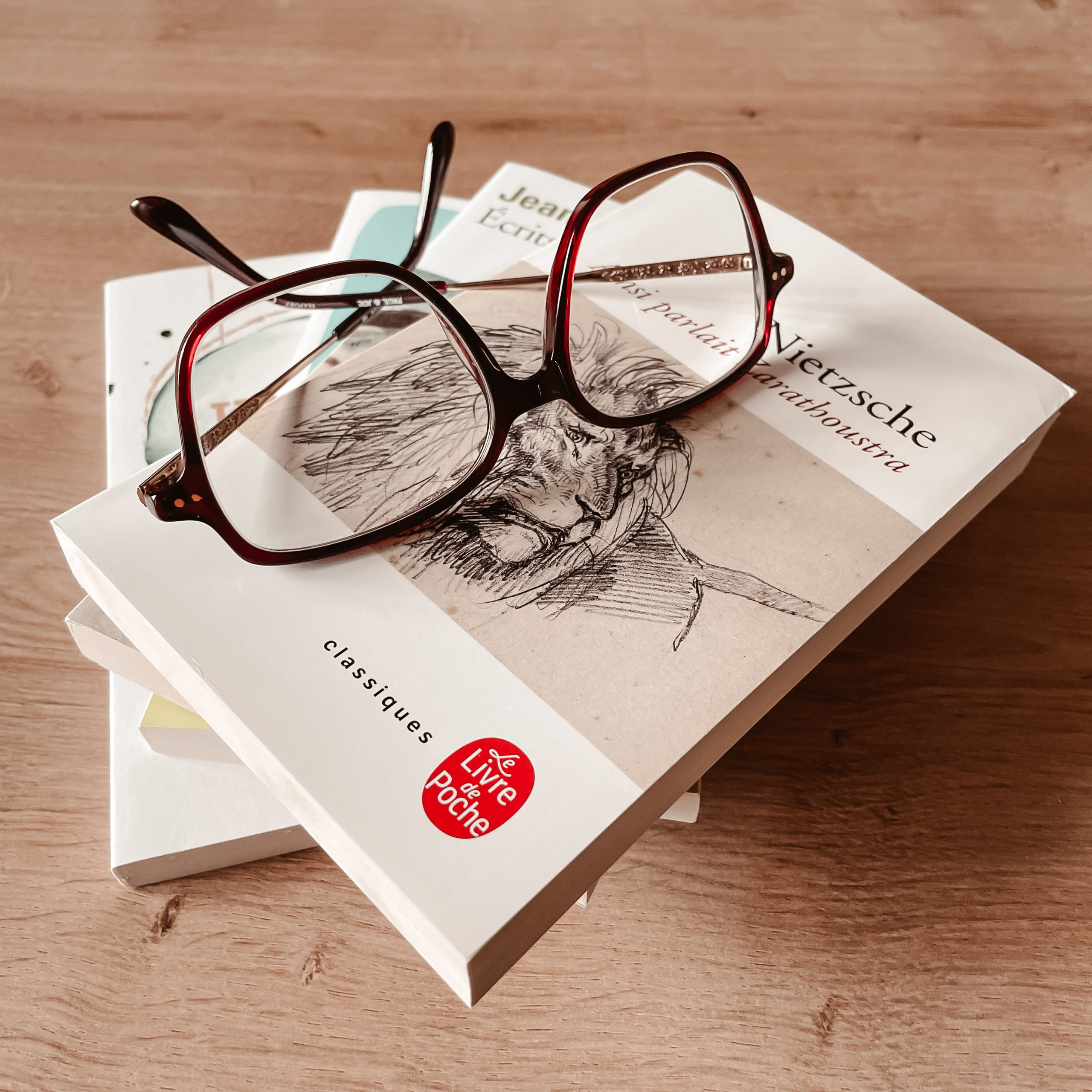 Mad about detective novels … and culture
-I haven't opened a detective novel since Christmas, so I'll leave you with this article here if you want to have one or two ideas …
-"It's so easy (and other lies)" and "How to be a man" by Duff McKagan. In English or French. This guy is Guns N'Roses' bassist; I love him; he wrote two funny, useful, exciting, and captivating books. The first, "It's so easy," which I am talking about here, and the second, "How to be a man," which is to be put in the hands of all men, especially yours. I won't tell you more, trust me.
-"Hard Rock, la décennie ultime". In french only, but there are many more great photos than text. Be careful, do not order this book to go on vacation because it weighs the weight of a dead donkey. It is a beautiful book, large, great quality, to leaf through with love, glory, and beauty. It is full of wonderful photos, articles with anecdotes about your favorite bands from the ultimate decade of hard rock, '80 to '90s. This book will also make a great gift for all rock'n'roll lovers. Ozzy, Mick, The Guns, Mötley, Metallica, … what a time!
You're all set with your readings, but don't forget the sunscreen!
XO 📚