"Music gives soul to hearts and wings to thoughts".
Plato. (again)
Hello, young Padawan
We are going back to the new blog music section today – for my happiness and I hope also for yours – by browsing one of my favorite folk music artists with the thinnest discography, indeed, but not the least. This artist was a soft ballad genius, but with sometimes complex and technical agreements; the perfect music for when you need to clear your mind, to take a good bath after a tiring day, to recharge your batteries, to meditate, to bring life to your home, or to start a philosophical conversation at 4 a.m. in the morning with good friends, a beer in the hand … or a nice glass of burgundy, you have the choice at my place, lol.
The first time I heard of Nick Drake was while listening to an interview of Robert Smith from "The Cure" as one of the artists who influenced him as a youngster. He specified that the name of his group came from a line from one of Drake's songs, "Time has told me": "A troubled cure for a troubled mind". Since I never heard this artist, I did, and since then, not a month goes by without my turntable playing a Nick Drake vinyl.
As usual, for this second "real" article, I will put the links on each song I talk about, so that you can listen to them if you wish (note: the first article in the "music" section was on the Walkmans, what am I saying, THE very first Walkman the earth has ever known, lol, see the article here – and the second one on the most legendary Beatles album, you can click here for more info).
Let's go for a light, soothing and soulful sound: that of the talented Nick Drake.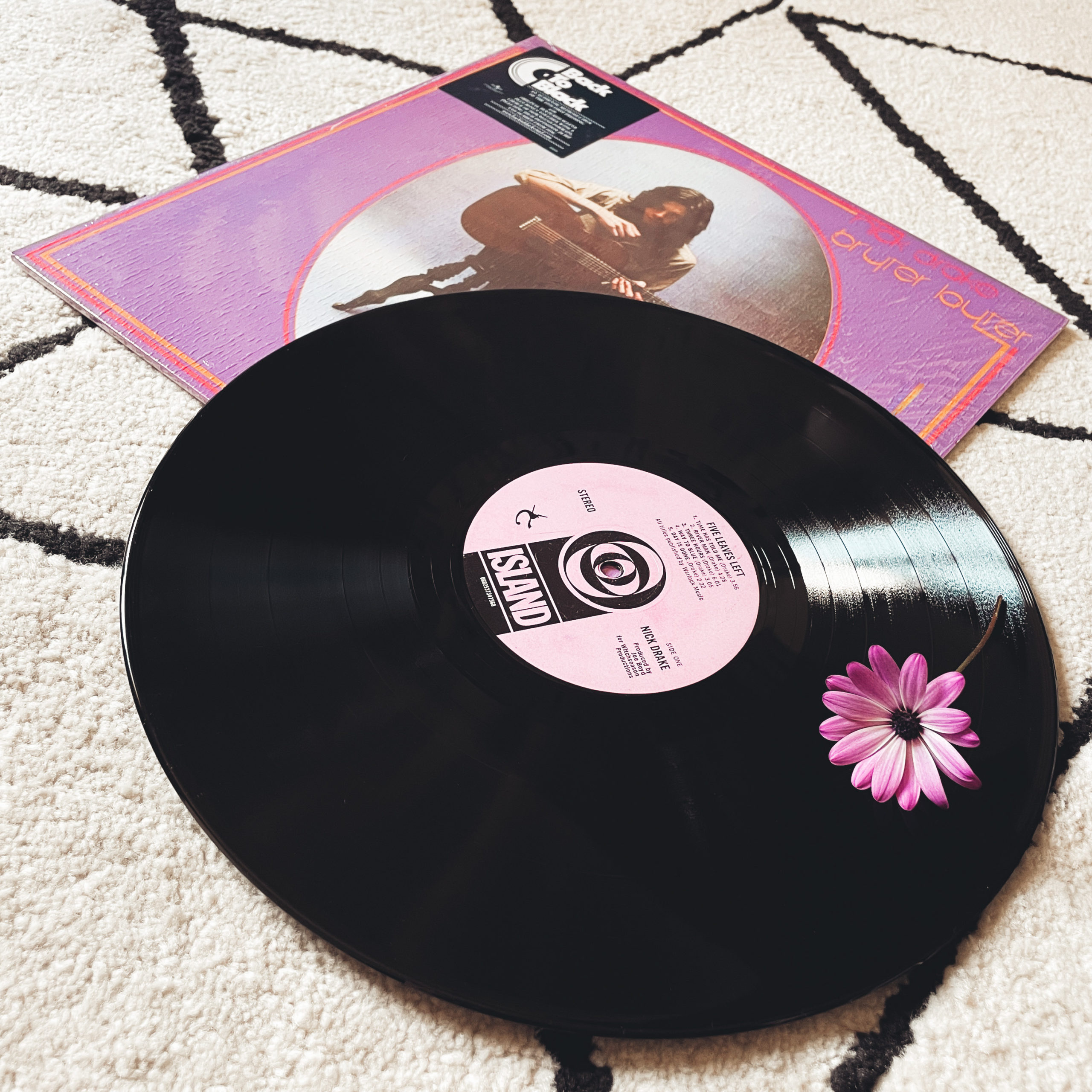 Nick Drake, an artist's life
Not to be confused with rapper Drake, thank you from the bottom of my heart, lol.
Born in 1948 in Burma while his parents were expatriated there for professional reasons, he lived almost all his life in England. He began to play at a very young age several musical instruments such as the piano, the clarinet, the saxophone, and he started a band with four of his classmates at the end of his adolescence, "The perfumed gardeners", where they covered songs, including rhythm and blues, and jazz standards. Nick played mainly piano in this band, and he discovered the guitar a year after, which became his favorite instrument, in 1965.
In February 1967, he left England for six months to study at the University of Aix-Marseille, France, where he began to play in public, and go back to England to his new Cambridge School in October, where he spent more time playing the guitar, listening to his favorite artists like Bob Dylan, Josh White and Phil Ochs, smoke cannabis and take LSD than doing his homeworks.
In February 1968, he was noticed at a Country concert of "Joe and the Fish" by Ashley Hutchings, the bassist of "the Folk Fairport Convention" band. He introduced him to an Island Records producer and Drake left Cambridge University to work on his first studio album.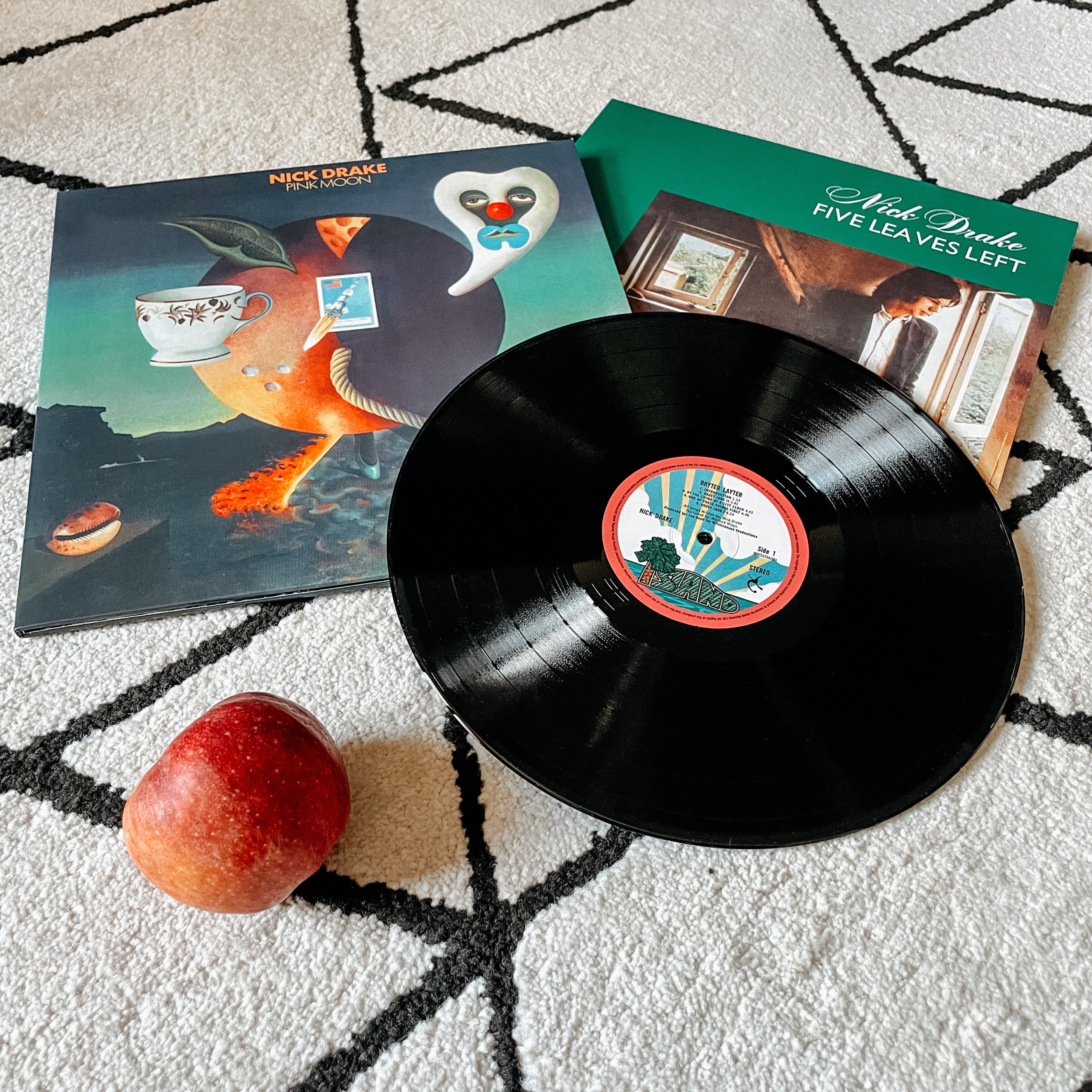 One of the shortest careers, Three albums.
– "Five Leaves Left", his first studio album, was recorded at the end of 1968, with producer Joe Boyd. Several songs, like Fruit Tree, my favorite song from this album, were arranged by one of his Cambridge buddies, Robert Kirby, and the album's flagship song, River Man – a true masterpiece of chords complexity while remaining light and soothing – was managed by Harry Robinson.
This album is reminiscent of the summer season, sun and wheat fields, like the song Saturday Sun and its soft and joyful music, but the very melancholy tone lyrics already suggests at that time that this young artist, unfortunately, begins to be affected by his cannabis use. Yep, cannabis makes you depressed, and in repeated high doses over the long term, psychotic. Be careful, young Padawan, not to end up like Nick Drake.
– "Bryter Layter", (whose eponymous song I have linked to you) his second album released in 1970 leaves on a more joyful, more jazzy sound. It seeks to shed its poetic image of the first album a little, which did not find its audience. The sound of this opus will therefore include bass and drums.
The music on this second album is playful, makes you want to move your head to the soft and elegant rhythm of the drums, and smile at these jazzy melodies. The Introduction of the album makes one think of a sunny, almost magical morning. The guitar chords mingle with the violins (no, this intro has no drums, lol) to make way for Hazey Jane 2, the first song on the album, with cheerful and dancing music. And yet, the lyrics are also offset …
Many like the complexity of the chords and the originality of One of These Things First, but my heart balances on Northern Sky, where the piano and the guitar harmoniously dialogue to leave room for rather positive lyrics, well, at least for Nick Drake's style.
However, it will only sell three thousand copies at the time. Nick Drake failed to do the necessary promotion to publicize this superb album. Indeed, his appearances on stage were very painful for him. Being in depression, he could not communicate with his audience during concerts and closed in on himself, tuning his guitar between each song for several minutes.
– "Pink Moon", his last album, released in 1972. Eleven tracks, 28 minutes. Short, efficient, ten guitar-voice songs, no-frills, except for the title song, Pink Moon, which will have the right to a piano moment. Ditto, sad lyrics, this time really depressive (even worse, ed), but a so soft, soothing, and relaxing music that we come to wonder if this man would not be an oxymoron on his own, lol.
On this album, for sure, we hover on top on Himalaya, no pun intended with his addiction. The melodies are once again, oxymorons, very easy to listen to but of an impressive complexity in terms of the chords. Yet, he was self-taught. Each of his songs is a feat, a miracle even – given the amount of drug he took – to have managed to keep a clear mind to compose such wonderful melodies.
Wich will is one of my favorite songs from this album with Pink Moon and Place to Be, which I advise you not to listen to the dark lyrics of this music, yet so pleasant and relaxing to listen to. I know I'm repeating myself in this article, but damn his music is great, so don't listen too much to what he says to enjoy it, lol.
Each music of his is a universe, with its atmosphere, but always in a great serenity. It gives an instant of relaxation, and even inner peace. And so, to finish on this album, my ultimate favorite song is Things Behind the Sun, which is complex, but again so easy to listen to and ends with hope … in the music. Well, for the lyrics, I don't even want to talk about it otherwise you're not going to go listen to this masterpiece, lol.
This album sold even less than the previous ones, insofar as it was released almost anonymously. Indeed, Nick Drake accepted only one interview in the Sounds magazine for the promotion of this album, where he spoke about his aversion to concerts. Not very seller, indeed, lol.
He died in England in 1974 at the age of 26, from taking too many pills.
I was always surprised that he was not better known – even today – but let's say that it was a good thing for him, so much he had supposed the evils of celebrity, fantasized in advance through his song, Fruit Tree.
His melancholy is never heavy or sad, on the contrary, it allows one to create a vacuum, to think of nothing, except the accuracy of the melody and the softness of the atmosphere of each of his songs; as if through this talent as a composer, he had found the remedy for his depression, but like the shoemaker's children: the worst shod.
His albums are to be listened from start to finish, like reading a novel, like listening to an opera. No song is boring or laid there to furnish. When you listen to a Nick Drake album you enter a poetic universe, you soar, and you only land at the end of the last song. Dark words and soothing music, this man had developed in his paradox an incredible talent on the guitar, succeeded in creating complex harmonies, but of incredible accuracy. Nick Drake is definitely an artist to listen to, whether you pick up the guitar, love folk music, or just love to relax in your hot bath with good music.
It only remains for me to wish you good listening.
XO 🎵
Source : Nick Drake, The Biography – Patrick Humpries (ed. Bloomsbury).
Nick Drake Biography – Britannica